New boutique with designs made for and by women opens in Oak Park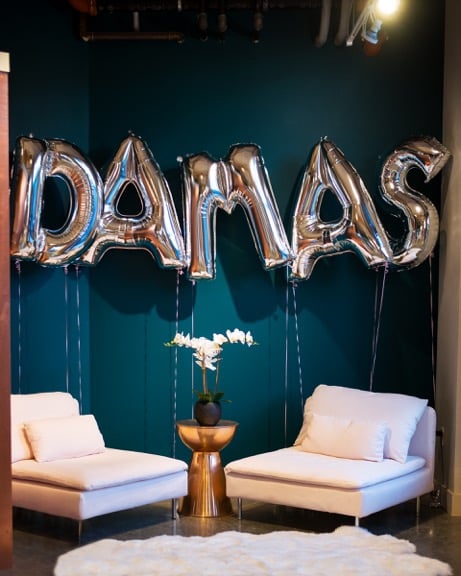 A new women's boutique from the folks behind Display California has opened in Oak Park's burgeoning shopping district.
Damas, which opened in September, is owned by husband-wife duo Maritza and Roshaun Davis (who also run next-door's Display California and the event company Unseen Heroes) with Maritza's cousin Sylvianette Thomas and her husband Marvin.
Maritza says the idea came when she realized she was seeing a number of great designers apply to have their goods sold at Display, many of them female, but who were automatically disqualified because they weren't from California. During a visit to her cousin in Southern California, the two discussed developing a place that empowered women in the fashion and retail industry.
"Our family comes from a long line of female entrepreneurs," Maritza Davis says. "Our aunt owns a beautiful ranch down in Mexico. Another one of our aunts has a business in San Diego. Our grandmother used to own bakeries. We wanted to be able to support other women and foster a beautiful space where their designs are embraced."
The shop—inhabiting the space that for a short time housed the men's boutique Oak Park Men's Supply until it closed its doors in April—caters to what Maritza describes as simple styles and a "classic female look, sometimes androgynous." Lines include the minimalist Corinne (think casual sheath dresses and comfy tops in basic colors like black, white and gray) by L.A. designer Susan Kim. Shoppers can also find artisan candles, stationery and accessories like hats, cuff bracelets and necklaces, all made by women.
Beginning in the spring, Damas will also function as a space where women entrepreneurs can network, pitching their businesses and product ideas to other women, and Maritza plans to offer classes in the space, such as floral design or hand lettering, as well as workshops like one she will host about balancing career and motherhood. Damas will also have an internship program for teen girls who are interested in the fashion industry.
Mostly, Maritza hopes to help breathe life into Sacramento's specialty retail: "I love online shopping, but the ability to connect the designer with the actual person who is purchasing [the product] is really powerful," she says.
3417 Broadway. 822-4295. Open Tuesdays through Saturdays from 11 a.m.-5 p.m. Visit the shop on Instagram at @shopdamas for more information.
You Might Also Like
A new fair-trade boutique opens in midtown
Art Hotel creators plan to open larger ArtStreet exhibit in February
Sacramento fashion designer creates retro baby onesie line