New interactive cycling facility to open downtown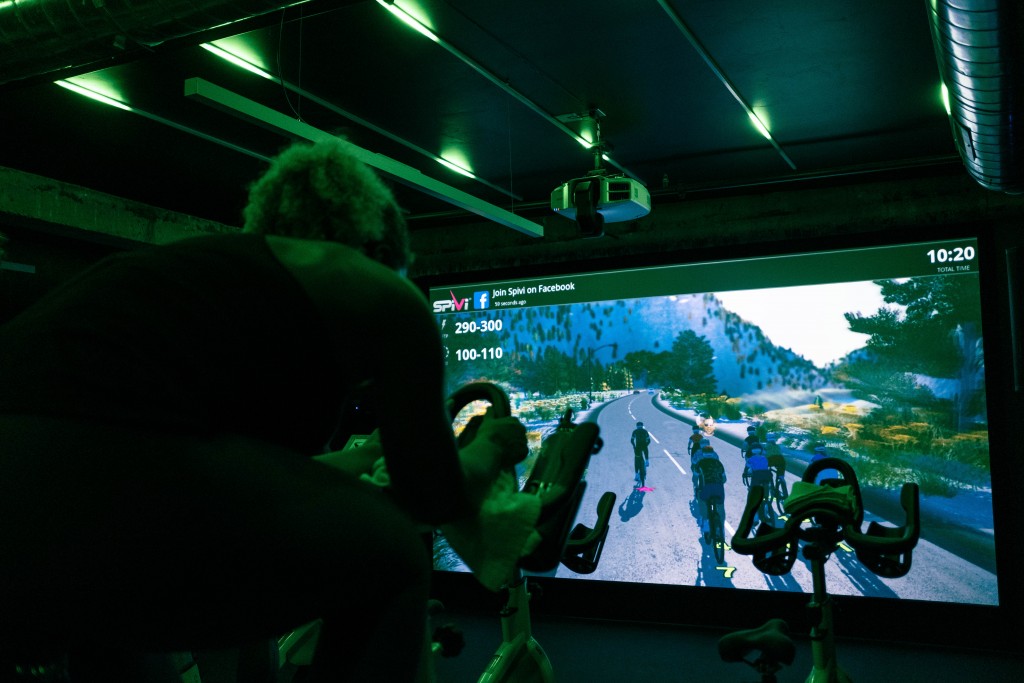 UPDATE FEB. 26, 2019: All City Riders, the cycling studio that takes riders on treks through the streets of cities like Paris, Berlin, New York, L.A. and Sacramento via a gigantic 20-foot-wide by 8-foot-tall video wall, is in its soft-opening phase, which began Feb. 19, and is offering limited classes until the grand opening March 9. For a schedule of available classes visit All City Riders' Facebook page.
***************
Sacramento, get ready to ride. A new cycling workout facility is launching at the 700 block of K Street in downtown Sacramento across from Golden 1 Center.
All City Riders will offer an immersive workout experience featuring 32 stationary bikes set up in front of a 20-foot-wide by 8-foot-tall video wall that will play first-person footage of rides through the streets and trails of Sacramento, as well as through cities like San Francisco, New York, Los Angeles, Berlin and Paris; scenic routes through the Cascade Mountains; and all the stages of the Tour de France with themed music fueling each energetic class.
"Imagine lights are flashing, music is loud; it's going to give the rider an experience that is very similar to being outside riding in a particular environment," says owner Bryan Washington, who also founded The Academy Training and Performance Center in downtown Sacramento.
The 2,200-square-foot modern, industrial space is located on the upper floor of a building that previously housed the clothing store Joe Sun & Company, and will boast an urban aesthetic, with touches like a New York-style subway sign at the entrance, LED-lit artworks by Sacramento-based artists Brandon Ortiz and Isela Perez that represent the city's downtown grid and light rail system, and walls of exposed concrete and white, yellow and red subway tiles.
Washington says that unlike at most "rhythm classes" á la Soul Cycle and other popular spin gyms, the instructors at All City Riders will be part of the group facing the video screen instead of the class. Most of the classes will be 45 minutes long (with 30-minute weekday lunchtime classes), and in an effort to make exercise a part of locals' active lifestyle and the burgeoning downtown scene, Washington says he is in talks with local entertainment group Hall of Fame (HOF) to get Friday-night riders—who will spin their wheels to popular music videos—onto the guest lists for a post-cycle evening out.
Washington is most excited about the technology going into All City Riders' video (which is being captured via GoPro-clad cyclists and bike messengers) and its Bluetooth-enabled system that will allow participants of all fitness levels, from beginner to avid cyclist—who will hop on Schwinn AC Performance Plus bikes, which Washington calls the "Cadillac of indoor bikes"—to track data on their speed, RPM and calories burned for each class. Members can also choose to create an avatar that will appear on the screen during a ride and "compete" with other classmates for top position on virtual races.
Washington's father, an avid bicyclist who once rode a cross-country trek with Lance Armstrong, inspired him to open the new facility, which he calls his flagship location, citing the dream of eventually expanding his Sacramento-born company.
"Sacramento is a biking community, so I really wanted to bring the city something new and exciting like this," Washington says. "Our growing downtown culture encapsulates everything I want this company to be."
708 K St. allcityriders.com
You Might Also Like
Exclusive sneak peek at K Street's new Jewish deli
Estelle's Patisserie moving to DOCO and opening new Arden-Arcade location
New cart-service restaurant and bar to open downtown this spring