New Mexican
The former chef of Mayahuel opens a "Mexican gastronomy" restaurant in East Sacramento, importing authentic flavors and infusing a fresh take on south-of-the-border cuisine.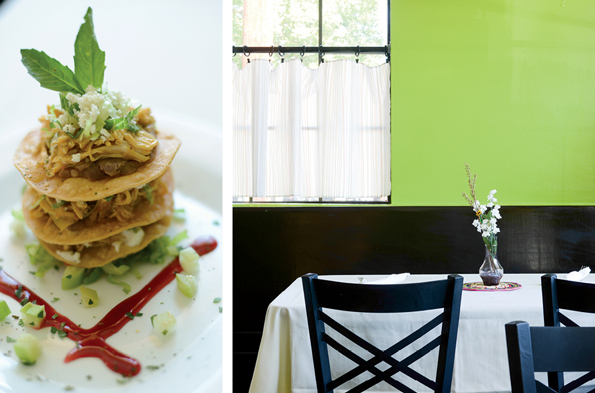 Cielito Lindo
3672 J St.
736-2506
cielitolindomexicangastronomy.com
CChef Ramiro Alarcón's new restaurant Cielito
Lindo may be small (colloquially, the name means "little darling"), but his dreams for it are big. In fact, he hopes his modest but charming East Sacramento eatery will do nothing less than bring what he calls "Mexican gastronomy"—the true diversity of what he believes
to be one of the world's great cuisines—to Sacramento.
Alarcón—a native of Mexico City who trained at two cooking schools there—has had this dream since he first visited family and friends in Sacramento years ago. They took him out to eat at a couple of local Mexican restaurants (he smiles but won't name them). "When I tasted the food, I said, 'No, that's not real Mexican food.' And I believed that I could do something about it," Alarcón says, with his wife Claudia translating from Spanish. "I started making plans and then I went back to Mexico. After a few months, I came back. Not just to vacation; this time, I came with a vision to do something. I realized I could change the mind of Sacramentans, to open them up to the idea that Mexican food is not just rice and beans." With dishes like a piquant salad of purslane and watermelon, spaghetti in a tangy chile poblano cream sauce, and rib eye topped with chorizo on the menu, Cielito Lindo will certainly expand diners' horizons beyond tacos and enchiladas.
Alarcón's vision was first given expression when he served as the executive chef at downtown's modern Mexican eatery Mayahuel, working there for two years, after which he oversaw the kitchens at the Latino grocery chain La Superior. Striking out on his own with a new restaurant was a risk, but one his wife and their two daughters encouraged him to take. "We're happy to be here," he says, smiling broadly. "It was a good decision. It's going to be worth it, with all we can do in this place."
He chose East Sacramento—which is currently undergoing a mini gastronomic boom, with several well-regarded restaurants, such as Formoli's Bistro and Juno's Kitchen, along the stretch of J Street that Cielito Lindo inhabits—because he felt the affluent surrounding neighborhood would support his style of cuisine. So far, he's been delighted with the response: "I'm very excited, because the people recognize the real Mexican food," he says. "I see it in the expression on their faces." Even after being open only a few weeks, the restaurant was already attracting a coterie of neighborhood regulars—as well as plenty of diners originally from Mexico coming in for a taste of home.
By coincidence, his location—once a KFC, then a Thai noodle restaurant—was most recently a blink-and-miss-it short-lived quick-service joint, California Burrito, an exemplar of precisely the stereotype of Mexican food Alarcón is fighting. Despite that, he says, when he saw the location he knew at once it was the spot for him: the seats may be few, but the kitchen is spacious and well equipped. "When I saw the kitchen, I thought, the people before me—it was like they had a BMW and didn't know how to drive it," he jokes. "When I came here and saw this place and the kitchen, I told myself I need to work here. And I'm very happy in this time of my life because a lot of people recognize my work and they come from so many places to enjoy this place and eat my cooking."
The warm, friendly service is also likely to keep diners coming back. Unusual for a small neighborhood place, an amuse-bouche welcomes each diner: savory albóndigas (meatballs) in spicy broth one evening, a tiny, crunchy chicken tostada another lunchtime. If you hesitate even slightly over the freshly made aguas frescas, which come in surprising, delicious flavors like refreshing celery-pineapple or beet-orange, the servers pour you a sample. And if you set your purse on the floor (which is bad luck in Mexican folklore), the manager will come over and offer you a purse hook, yours to keep.
The setting is just as welcoming; although from the outside, the spot still bears traces of the fast-food restaurant it once was (the exterior still sports the telltale roof tiles), vibrantly painted walls in apple green (just the color of that celery-pineapple agua fresca) and pumpkin spice tones brighten the interior, as do pretty woven baskets and tiny blown-glass flowers in a vase on each table. For Alarcón, the setting and service are just part of his larger vision. "Each of my servers knows me," he says, "and they know that what I do is my passion, and my food must come with courtesy. [I want guests to] sit down, take the time to eat in a beautiful space and be treated with courtesy."
Though the setting and service charm, it is Alarcón's modern Mexican cooking that is the real star. His dishes often fuse the country's many and diverse regional cuisines, which he studied during his training through field trips and externships. "I don't limit my cooking, because I want to bring food from all of Mexico," he says. In the past 10 years, he says, a fuller range of Mexican ingredients (such as distinctive herbs like epazote and the corn fungus huitlacoche) have become available here, making his task easier, and he's constantly experimenting with new dishes. "In December, I will introduce a lomo de puerco (pork loin) stuffed with seafood, with achiote salsa." A classic version of the dish, the cochinita pibil, pairs pork and achiote—Alarcón's dish with a seafood twist thus riffs on tradition. The rest of the menu balances offerings both familiar and less so: enchiladas, for instance, in addition to enfrijoladas (in which stuffed tortillas are bathed in bean sauce rather than chile sauce). He offers several moles, including the green pipian (pumpkin seed) mole of Oaxaca as well as the more well-known, brick-red mole poblano from Puebla. Among desserts, there's the well-known flan—but it is spiked, unusually, with earthy-sweet ancho chile.
The restaurant's name, too, brings a fresh angle to a well-known classic. "Cielito Lindo" is perhaps the best-known song of Mexico (think of mariachis crooning, "Ay, ay, ay, ay" and you've got it), and the name was suggested by Alarcón's daughter. "It was a family decision," he says, smiling. "One of my daughters said Cielito Lindo, and my mind just flew to that title. That is a song that represents Mexico." Alarcón wipes away a small tear as he speaks of it. "I am crying because that song goes all over the world. It crosses borders. And I want my cuisine—not just my cooking, but Mexican cuisine—to cross borders, too."