NFL Star Arik Armstead Has a Few Things to Say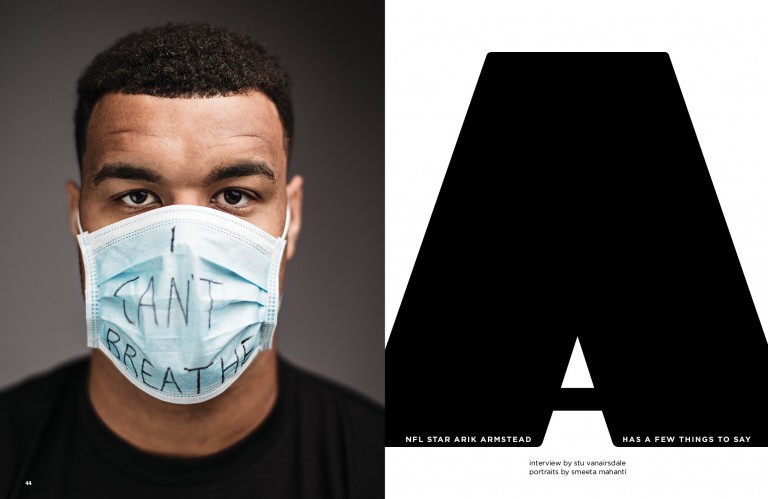 TThere was never any doubt about Arik Armstead.
As a young man growing up in Elk Grove, he confidently played hoops with Mike Bibby, Bobby Jackson, Matt Barnes and other local pros who trained with his father Guss Armstead, a celebrated basketball coach and trainer. Along the way, he learned the intricacies of football from one of his older brothers Armond, an All-American standout who attended USC and was signed by the New England Patriots. College recruiters from both sports orbited Arik, who excelled on the hardwood and the gridiron. After spending his freshman year at Jesuit High School and graduating from Elk Grove's Pleasant Grove High School, the 6-foot-7, 290-pound Armstead landed at the University of Oregon, where he ultimately chose to focus on football, and was swooped up by the 49ers in the first round of the 2015 NFL draft. His professional career as a defensive end has been exceptional, culminating in his breakout year in 2019: Armstead's career-high 10 sacks in the regular season helped the 49ers dominate their conference and advance to Super Bowl LIV. Their excruciating loss to the Kansas City Chiefs (San Francisco gave up the lead with just 2:44 left to play) hasn't hampered Armstead's spirit, nor has it dampened the 49ers' commitment to their rising star: This past spring, the standout inked a deal with the team worth up to $85 million over five years.
As his profile grew in the NFL, Armstead established equally prominent community initiatives back home. He launched a free football camp in Elk Grove in 2016, bringing 49ers teammates like Richard Sherman and Ronald Blair to town for big-ticket fundraisers. His Armstead Academic Project, meanwhile, endeavors to support education for kids in low-income neighborhoods and districts around Sacramento.
The twin shocks of the coronavirus pandemic and George Floyd's killing by Minneapolis police—and the subsequent national uprising against systemic racism and police brutality—have stirred the 26-year-old to new action, from incentivizing takeout from hard-hit area restaurants to speaking out amid the surging Black Lives Matter movement. Along with his new bride Mindy Harwood, a UC Davis Health fellow in psychiatry, Armstead moved permanently to Sacramento in June. "I love being from here," he says. "I love how united our city is—the diversity in our city. It's a great place to grow up, and it's a great place to raise a family."
This interview has been edited for length, flow and clarity from several conversations that took place in mid-June.
Welcome back to Sacramento! It sounds like you just moved this weekend?
Yeah, I've been back and forth from the Bay Area to Sacramento. My family still lives here. So I'm here all the time and [usually] just stay at my parents' house. But now I'll have my own place here. My [wife] will be doing a fellowship in child and adolescent psychiatry at UC Davis. I'm happy to be back, and we're excited to continue our lives here.
Whereabouts in town did you move to?
I'm living in the city—[near] the midtown area. We're right in the mix of everything.
You've publicly told a story about how when you were a teenager, a law enforcement officer accosted you when you were in an affluent neighborhood near Jesuit High School visiting a friend. The officer didn't leave the scene until you entered your friend's house. Once you became a star and planned a return to Sacramento, you actually considered buying a house in that neighborhood.
I was. No longer. [The incident] definitely impacted that choice, and it was a conversation I had with my family. It was a moral conversation: How would I feel morally about getting a home in a neighborhood I was racially profiled in? Do I move to a neighborhood where Black people aren't represented and change the demographic there a little bit? Then also a safety conversation: When I buy a house someplace, I have to worry about being racially profiled and being pulled over and being viewed as a threat because of the color of my skin. [The implication is that] I don't deserve to live there, or I don't fit in.
And then I broke that down even more, and I realized my own privilege, and how I'm a well-known athlete and I'm well connected. I could probably call the police chief and tell him that I'm living there so people don't bother me. And I could get by. But would my family get profiled and get pulled over or be in harm's way for coming to visit me? I decided to not do that and live in a more progressive, multicultural part of Sacramento.
It's amazing to hear you're still having conversations related to this incident that happened so long ago.
Those situations stick with you for a long time. You learn from them. You guard yourself in situations, and … You know, it's sad. I've never been in trouble. I have never done anything to be considered a threat to anybody. And just because of the way I was born, I was born a threat, and that makes you fearful of me. You view me a certain way because of the way I was born. That's a sad, sad pill to swallow. And, you know, I just don't understand it all the way at times, but I just hope that people can learn and change their ways. I've been even trying to change my ways and remove implicit bias from the way I think, and how I interact with people. So I'm trying to do my part, and be a better person and learn more. That's all you can hope, that people do the same as well.
My rookie year, I was staying in a hotel long-term, and I had just gone to the grocery store. You know—you get all your stuff, and you're trying to hold everything, bring it inside in one load. You don't want to make multiple trips. I'm in flip-flops, workout gear, holding all these grocery bags. I'm walking in, and on the side is a glass door. You need your key card to unlock the door. I have all these bags in my hand, and my key's in my pocket.
So there's a white lady walking out. I'm thinking, "OK, I have eight bags in my hands. I don't want to put my bags down, grab my keys, all that. She's walking out. I'll just go in when she comes out." So she sees me and comes to a complete halt—stops dead in her tracks. Now we're looking at each other through the glass, and we're talking to each other. I'm like, "Are you coming out?" She's like, "Are you coming in?" I'm looking at my bags and all this stuff. Like, "What do you think I'm doing?" I'm like, "Yeah." She said, "Well, where's your key?" I said, "Wow." I put all my stuff down, grabbed my key out. She was like, "Ha, I'm just trying to protect us all." She refused to open the door until I got my key out.
How did you respond?
I was mad, but I mean, what could I do? I'm going to go off on a lady? You know, I'm a larger male. Really nothing I could do. You know, it's just me trying to go to the grocery store and get groceries for my place, and I'm seen as a threat. First off, it's a hotel. What am I going to do, rob a hotel? What could I possibly be doing with flip-flops and eight grocery bags in my hands and food, and I'm still viewed as a threat? And she was scared of me and "trying to protect us all," which is… I don't know what "us all" means, but I guess she was trying to protect everybody in the hotel. She would've been trying to protect me, because I was staying in the hotel too.
So I don't know. There's nothing I could really do. Just laugh it off, shake my head. Definitely an experience I'll remember—just trying to mind my own business, and I'm viewed as a threat.
You've spoken pretty evocatively about tearing up while watching the video of George Floyd's death in May—feeling helpless, feeling frustrated, feeling angry, as well as motivated. What social changes do you want to see as a result of ongoing protests against racism and police brutality?
I think we're seeing them. I've been motivated by the unity and the humanity shown by so many people coming together in solidarity—being fed up and protesting. I think what I would want to see is conversations change in households. I would want to see people start rebuking racism and speaking out against it even more. It's been far too long, and I think a lot of people are fed up. I want to see change from the local and the national elections. I want to see [elected officials] who are progressive and speak out against racism and are for breaking down and dismantling systemic racism. I want to see people like that in power. I don't want to see people who are bigots and promote racism and use it for personal gain or political power. I want to see people like that out of these positions of power.
I think we're going to get there. If we continue to work on ourselves individually, go out and use our voices and vote in local and national elections and put people who are speaking out against racism in these positions, then I think we can go far as a country.
What were your thoughts as this phase of the Black Lives Matter movement started—as you watched this wave of protests unfold around the country and globe?
I was in Buffalo during that time. [Armstead's wife Mindy Harwood, who hails from nearby Hornell, was completing her residency in psychiatry at the Erie County Medical Center in Buffalo.] My first thoughts were, "I wish I was in Sacramento or the Bay"—you know, a place where I live so I could go be part of those protests. I saw what was going on in Sacramento, and a lot of people were hurt and angered and frustrated, just like I was. I wish I could have been here. I felt a little disconnected from the community I care about. I was also extremely motivated by them, to see the turnout, to see the unity, to see how multicultural the protests were, to see how nationwide and even worldwide the protest had become. I was certainly motivated and inspired by that.
When there was looting at Sharif Jewelers on K Street, you tweeted support for the owners there. Do you know them?
Yeah, I know them very well. They're amazing people who support Sacramento—they support my initiatives, they support the community, they support young people. They donate their money, and they're just generally great people, so to see that happen to their business was saddening.
My perspective was that there were three types of people out there during the protests, especially the first ones: There were people who were peacefully protesting, which is their right. There were also people who were protesting and they were angered and mad and frustrated. So those protests turned into frustrated violence or rioting, I would say. And then there was a third [type of] person out there who really didn't care about what was going on and just was going out for something to do and looking to steal or just take stuff because they had the cover from the protest. So it was a mixed group. There was a lot going on. And that was another reason why I wish I was in California and in Sacramento at the time—so I could have a better pulse of what was going on, and see how I could have had an impact here to try to make things better. And also voice my opinion with the community I cared about too.
You and your wife did get to participate, though, in an event called "White Coats for Black Lives," right?
Yes, in Buffalo, and that was amazing. They had an organized protest for the entire medical field in Buffalo. And Mindy and I were able to protest together. It was a powerful experience.
Does it come naturally to you to speak out and to protest?
Yeah, it comes naturally for me. I think about it all the time, what our ancestors went through in dealing with racism and slavery and not having basic rights and going through segregation and all these trials and tribulations—the oppression that people of color have gone through. I think, "How could I have dealt or lived in those times?" It would have been extremely difficult for me to not be rebellious and not speak out. And the consequences back then were much graver for doing those things. I think that that confidence and that boldness [I have today] comes from people long before me who have done a lot of work to get us to this point. And it's for us to carry that on.
The NFL has been heavily criticized by its handling of racial issues. Obviously, the most prominent example relevant to right now would be exiling Colin Kaepernick for kneeling during the national anthem in 2016 to protest everything you just described. NFL Commissioner Roger Goodell recently apologized for not listening to players, and the NFL has pledged $250 million over 10 years to fight racism. Do you think that was enough?
No. I personally feel—as you're seeing with a bunch of other players in the NFL too—that we're demanding the NFL do more. You know, change—radical change—is going to come from people in positions of power changing big business. They have the power. So the responsibility for them is to do more. When you have a league [composed of] predominantly African American players, we're the product. This is what people come to see, to watch us play. And you know, these issues affect us. They affect our families, they affect the communities we come from. And so it has to stop becoming so much about dollars and cents, and [rather about] what makes sense. And that's speaking out against racism, speaking out against police brutality and breaking down these systems of oppression. We won't fully function as a country until racism is eradicated.
So it's businesses like the NFL—it's their responsibility to [help] end it. And you know, we demand them to do more. They should apologize to Kap personally—not in a roundabout way. They should come out and say, "We apologize to you for not supporting you and failing you in your fight against injustices." And you know, they should commit to doing more, more and more.
How do you feel about the way the 49ers ownership treated Kaepernick in 2016? Have you talked to any of the ownership about what happened?
No, I've never talked with any of the ownership. I was on the team, I was around, I saw everything that was going on. I know there were a lot of personal conversations between Colin [and 49ers management] surrounding the protest. I wasn't privy to those conversations, of course. I just remember as a team, we had a team meeting. Colin got up there and expressed why he was protesting and what he was doing and the reasons why, which I knew—which everybody should have known—was taking a stance against systemic oppression, racism and police brutality. I was in full support of him and respected him for taking that stance and doing what he was doing and in deciding to put it all on the line for what he believed in.
Did you ever consider joining his protest, like some of your other teammates?
I definitely considered it. It was a tough position to be in because you understood what he decided to do and the reasons why. And for people to hate you and say all these things about you for simply trying to stand up for what you believe in was just wrong.
I was going back and forth on it. I thought that it was Colin's stance—this wasn't my idea or something that I wanted to necessarily jump on for me personally. But once I saw what happened and how he became blackballed, that's when others started to join in on the protest [by kneeling], and I did too.
Whenever athletes speak up about politics and social issues, there's always a backlash from some fans or observers, who'll always respond with, "Stick to sports," or that kind of thing. You recently urged some of your Instagram followers to vote in primary elections, and a commenter replied, "Stay in your lane, Arik, you're a good kid." What would you say to comments like that, whether they're directed to you or to athletes in general?
"Stay in your lane"? "You're a good kid"? I mean, what is my "lane"? What do you define me as? How do you determine what my lane is? I'm a person first. I'm a Black man first, before I was ever in the NFL or ever had this platform. I dealt with these issues growing up before any of this. For me personally, my lane is speaking out, letting my voice be heard. The ideals of this country give me that right to speak out for what I don't feel is right. It gives me the right to support and protest and make sure that this country holds up to [its] standard, which is liberty and justice and equality for all.
That comment is just like the "shut up and dribble" comment made to the guys in the NBA. What? We can't speak now that we're saying something that you don't agree with or something you don't like or something that you don't care about? You want to watch us play and enjoy what we do on the field or court, but you don't want to hear what we have to say about tough issues or something you don't agree with? If you don't want me speaking out against racism and social issues and social injustices, then don't watch me play on Sundays. Can't have a piece of me and not all of me.
You recently tweeted, "For the people stuck in their ways, unwilling [to] educate yourself and [who] continue to uphold racist, social constructs. I hope your kids look up to me and think I'm cooler than you. And listen to me over you." That seems to sum it all up.
Yeah, that's truly how I feel. I think there are some people who may be unreachable, but I hope their children are reachable. I hope that their kids don't like them too much and they don't get indoctrinated into this way of thinking. Hopefully, if they're fans of mine, I can impact their thinking and, in a way, you know, try to eradicate these [racist] social constructs. It's learned behavior, and it can be unlearned.
There's also still the coronavirus pandemic unfolding. As a doctor, has your wife been on the front lines of COVID-19?
Yeah, she's been working this entire time. She's in psychiatry. So they have been still going in, working on the front lines. There was a lot of fear swirling around [especially at the beginning]: What would happen if you put yourself in harm's way? But that's her job and fortunately enough she's been able to stay COVID-free and remain healthy and continue to help people throughout this process. And her role is extremely important right now with so much going on in the world. Certainly there are different issues that people are dealing with, and you know, it's a mental strain on a lot of people. And so she was very pivotal and vital and serving her patients during this time.
Does having a physician in your family make the threats of the coronavirus any more immediate or real to you?
Yeah. You know, learning about it on a daily basis, her updating me and telling me what's going on at the hospitals—they have all the facts and they also know what it does to your body from a physical standpoint. So it definitely made it more real for me, being able to, to see what was going on and keep updated on the statuses of the cases, especially with someone I love being in harm's way like that.
As we speak [in mid-June], since you played in Super Bowl LIV in February, there have been over 2 million confirmed cases and over 115,000 people dead of COVID-19 in the United States alone. Those numbers will continue to climb through the summer and fall. What will NFL camps and games even look like during that time?
I have no idea. And we asked our coaches, and they really have no idea. Everybody's taking it day by day. I expect us to play in some capacity, but how that's going to look, no one really knows.
Is there any way the athletes can stay safe and socially distant at least while they're training?
I don't think so. I mean, you play football. You tackle each other. It's a contact sport. You can't play football with 6 feet of separation between you. I think it's nearly impossible to do that. So we'll just have to see what the experts say is best.
Baltimore Ravens coach John Harbaugh also recently called the NFL's preliminary coronavirus safety protocols—which include mandatory face coverings and 6-foot distancing—"humanly impossible." NFL stars like Ezekiel Elliott and Von Miller have been diagnosed with COVID-19. How do you react to all this as a player?
I mean, it's reality. No one's immune to it. It seems like you know, when it first started, [experts] were saying, "Oh, you can only get it if you're this or that." But everybody's getting it. I don't think it's going away. I think we have to find what's best moving forward. I'm not necessarily fearful for myself, but of getting it and passing it to someone I love or care about who may have some compromising issues. That's one of my biggest fears.
In the NBA, Brooklyn Nets star Kyrie Irving and other players have said that sports are actually a distraction from social justice issues and the current Black Lives Matter moment, and that the league shouldn't resume this summer as planned. Does he have a point, and if so, does it extend to the NFL?
Yeah, I could see his point, that without having much to do, everyone has been focused on these issues. And there hasn't really been an escape from it. It's taking up all the headlines. Every time you turn [the news] on, that's what people are talking about. If sports were on, that gives people something else to talk about, and it would deter from what's going on. I could see the other side too—that sports bring people together. Sports is a platform with all eyes on you to lead and create some change on that front. So I see both sides of that argument.
Regardless of what happens, the 49ers have invested pretty heavily in you: You signed a contract this spring for five years worth up to $85 million, with more than $48 million guaranteed. Has the magnitude of that deal sunk in yet with you?
Not really. It was great to receive the contract. I definitely didn't want to be anywhere else. It's long-term security for me and my family, so that's amazing. But beyond that it was pretty regular. Things haven't changed too much for me. I hold myself to my own personal standard, which I believe is very high. I know what I'm capable of. I know what I want to accomplish. I know how to work to get what I want. And so that's the standard I hold myself to. And that's how I take my career. There's a lot I want to improve on and continue to get better.
This year I want to play quicker. I want to always take my pass rush to another level and continue to dominate in the run game as well. That's how I get going in games, making plays in the run game. I feel that sets everything else up for me throughout the game—when I get involved early and I start to make plays. So I think I can improve in every facet. I feel like I'm just getting started.
The Super Bowl was such a tough loss. What went through your head when you were out there on the field in the fourth quarter and the Chiefs overtook you guys?
You know… [pause] shock. Stuff just didn't seem to go our way towards the end of the game. It felt like opportunities slipped through our fingers.
Is that the kind of thing that you get over, or do you just chew on it as motivation to get you back to the next one?
It's definitely motivation, but I don't chew on it or put it in the forefront of my mind. I know it's there. I know what we want to do, what we want to accomplish and how bad we want to get there, but we're not just going to get there by wishing it. We're going to have to put in the work, and dwelling on it is going to deter from that work. So we'll keep grinding to get back there. And I think we have the team to do it.
Do you think about life after football—life with Mindy here in Sacramento?
Yeah. I plan to live a long time when I'm done playing. I definitely think about life after football and what's that gonna look like. You know, eventually having kids, being a good father, being a good husband. Continue to make my community a better place. Use all my resources and influence and everything I have to make people's lives better in my community.
Speaking of this community, what did you like about Sacramento while you were growing up here, and what are you most looking forward to now that you're back?
I just love everything. I love everything about it. I love being from here. I love the small-town vibes. I love how united our city is—the diversity in our city. It's a great place to grow up, and it's a great place to raise a family. We have the Kings, and we'll be getting an MLS team here soon. We're the Farm-to-Fork Capital, so I love eating here—going to a nice dinner. Me and my family, we just like to hang out, go to some restaurants, chill downtown. I love [the delivery service] Cookies & Milk—I always order cookies from there late at night. I love El Novillero, off of Franklin close to Sac City. They have these flour [tortilla] chips. And I get them with guac, of course. I like Pushkin's restaurant [now Sibling] for breakfast. I usually do scrambled eggs with chicken apple sausage and hash browns or pancakes. I'm a big breakfast person.
I want to get into some more things. Last time I got out on Folsom Lake was when I was young. So I want to get out back on the water and go tubing and stuff like that. I'm looking forward to being here a lot more.
Neighborhoods and communities around Sacramento kind of have their own unique flavor. You grew up in Elk Grove, right?
Yeah. I've lived in Sacramento my whole life. We kind of moved all over. We used to live in the Rosemont area, and I went to high school in Elk Grove. The main thing I loved about Elk Grove was the diversity and also how rapidly it was growing. You know, I feel like when I was a kid, Elk Grove was just starting to develop. So as I evolved and grew, the surrounding areas around me did too. Things were popping up—new developments, new construction—all the time.
You're incredibly active in the community. You recently donated $50,000 for supplies to help kids in lower-income areas with distance learning. Just today, you made an appearance to deliver Chromebooks to families. How did that go?
It was great. We went to a Mercy Housing project. There were about 25 kids in this particular project [Land Park Woods apartments] who needed Chromebooks and school supplies to continue their education this summer. So we went around passing those out to the students. They're obviously extremely happy and excited to receive those, so this was a great day. It felt great putting a smile on people's faces and just trying to provide opportunity and hope and the resources they need to be successful.
What makes you so passionate about education in particular?
When you look at the socioeconomic disparities in our country, a big part of that is education. When you look at the difference between the haves and have-nots, I just didn't feel like it was fair that students would have a better or worse education depending on where they live. I'm trying to even out that playing field, provide opportunity and hope for students in low-income and Title I schools, and try to decrease that achievement gap that we see all across our country, but try to focus that here in Sacramento.
Recently you've also supported local restaurants and health care workers through the #eat91six challenge, where participants use that hashtag with their social media posts from local restaurants. [Armstead's jersey number is 91.] Where did that idea come from?
That idea came from when COVID-19 sparked up. I knew Sacramento was made up of a lot of small businesses, [many of which are] restaurants, and I knew we needed to keep our economy afloat. And so I wanted to incentivize people to continue to buy food from local restaurants. These restaurants employ a lot of people, and they're a big part of our city. So I wanted to find a way to support them and try to drive some traffic to them. I launched the #eat91six challenge, and I gifted items—jerseys, signed footballs, game tickets—to people who supported their local businesses. My partner was [fellow Sacramento-area native] Shaq Thompson, a great friend of mine who plays for the Carolina Panthers. And we also provided some meals for health care workers.
You played both basketball and football at Pleasant Grove. What ultimately drew you to pursue football?
I also played both in college. I had to make a decision at that point what was best for the long-term in my career and where I was at. And I decided to put my focus and my attention towards football and see where that took me. And I think I made a great decision. I've been extremely blessed to have a great college career and go on to the NFL.
Is it true that Notre Dame basketball coach Mike Brey tried to recruit you in math class?
Yeah, he came to PG and was outside of my classroom. A knock came on the door and I see Coach Brey in the window. My teacher was kind enough to let me go out of class and talk to him for a little bit.
You weren't the first football player in your family.
Yeah, my brother Armond went to University of Southern California and [signed with] the Patriots. He didn't play in games due to medical reasons, but he was on the team for two years. I definitely started playing football 'cause I wanted to be like him. He was an All-American. I looked up to him and wanted to follow in his footsteps.
I've read that you weren't a 49ers fan growing up. Or even a football fan for that matter.
No, I really wasn't. I was more into basketball growing up. I got serious about football in eighth grade.
Were you a Kings fan?
Yeah, definitely a Kings supporter. My dad's a professional basketball trainer and he had a bunch of guys he trained on the Kings, of course. So it was amazing to grow up around them and be around them at a young age.
Like who?
Matt Barnes, Kevin Martin, Bobby Jackson and Mike Bibby used to come to the gym. Chris Webber came to the gym a couple of times. I was able to meet all those guys and a whole host of other guys back in the day and grow up around them and see them train, see them work out. When I got old enough, I was able to work out with them too.
Do you have any favorite memories of Arco Arena?
Yeah, I've been to Arco Arena probably a hundred times in my life. Just being in that arena and knowing people playing on the floor [showed] me where hard work and effort can get you. I'd seen them train. I'd seen them work out, and then I was able to watch them perform at Arco. It was an amazing experience for me to really see that being a professional athlete was attainable. And they made my dreams even bigger and added that fuel to my fire to get to where they were one day.
Did you have a favorite player?
My favorite player was actually Kevin Garnett, when he was on the Timberwolves. I love KG.
Did you ever get to meet him?
Yeah, I met KG, he took a picture with me. So that was amazing. There were plenty of experiences [like that]. I think C-Webb was dating Tyra Banks at some point. One of the games we went to, we sat close to her. So that was a moment. I remember a lot of experiences seeing Shaq play there. I remember the Kings had a road playoff game, and everybody used to go to Arco to watch the game on the big screen. The game wasn't even there, but we were watching on the big screen with all the fans and going there for that. That was amazing, too.
As a Kings fan, what did you make of broadcaster Grant Napear's comments about the Black Lives Matter movement? [Former Kings center DeMarcus Cousins had asked the longtime team broadcaster via Twitter for his take on BLM, to which Napear replied, in part, "ALL LIVES MATTER…EVERY SINGLE ONE!!!" Napear's response led to his resignation from the Kings organization and firing from his radio show.]
It's definitely frustrating. I've met Grant a couple of times, been on his show a couple of times. I've been saying this whole time if you're not speaking out against [systemic racism], then you're for it. If you're just acting like it's no big deal, like it doesn't exist, then you're part of the problem. Obviously comments like that are part of the problem. And I hope that he can learn something from this experience and learn how to empathize with people and what they're going through and not be so concerned with what just affects him. Try to listen and learn and understand what other people go through. Those comments were definitely disheartening, frustrating. And that's part of the problem we're seeing in society today.
What do you foresee or hope for yourself? What do you want to do to help this messed-up world recover?
I just want to continue to be a leader—continue to challenge people to improve themselves and the way they think. One challenge I have for people— especially white people—is that when you're in situations and you hear a racist remark, speak out against it. Stand up and say something in those moments. Don't let it slip past and brush it off or not say anything. We have to rebuke and fight against racism with passion. It's not going to go away by just thinking, "Oh, with time, with multiple generations, it will just naturally go away." I think we have to have a swift reaction. Also, at the local level, [I encourage] voting—voting for people who are progressive who also speak out and rebuke racism and want to tear down this system of oppression and this systematic racism that our country was built on 400 years ago. I think there are some action items there, and I'm going to continue to challenge people in that way.