Off the Grid food festival launches in Sacramento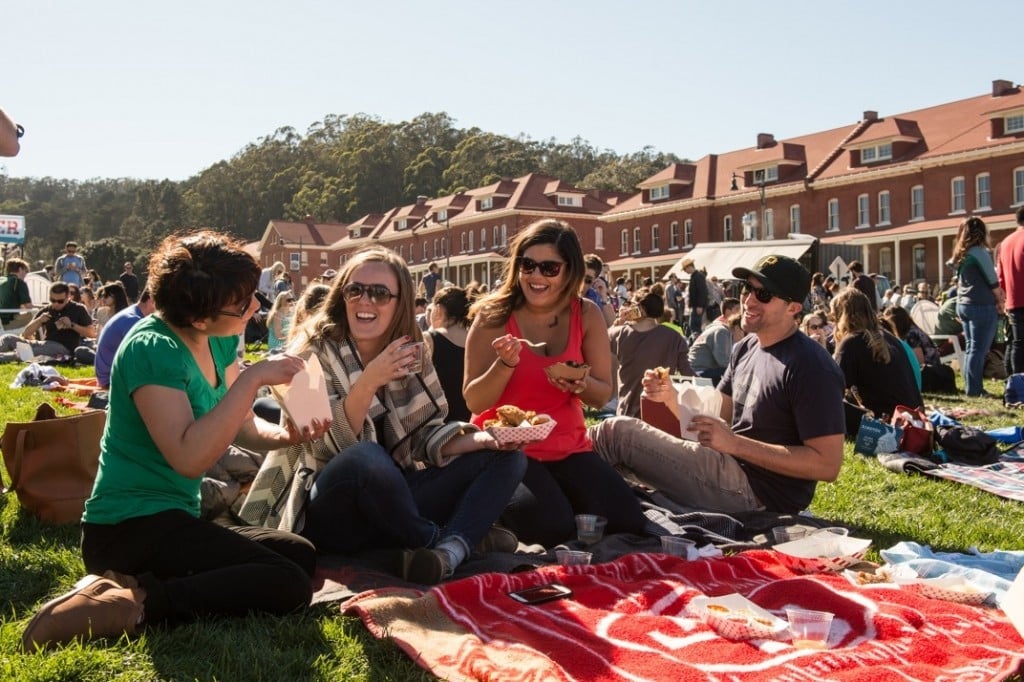 UPDATE: Off the Grid is launching a a new weekly food truck festival, Fridays at the Barn, starting Aug. 5 and running through October. This version features extended, weekend-launching hours, 5-10 p.m., and offers dancing. So dust off your blue suede shoes and head down to the Barn, the newly opened waterfront pavilion (profiled in our June/July issue) on West Sacramento's River Walk just south of Raley Field, to browse 12 local food trucks and listen to swinging tunes selected by Capital Radio DJ Nick Brunner, host of Saturday evening radio program Blue Dog Jam.
Sacramento, get ready to feast your eyes—and feed your face—at the region's newest foodie event.
Off the Grid, a popular food truck festival that launched in San Francisco in 2010 and brings public, food-centric events to underutilized spaces, is launching a weekly series along the river in West Sacramento.
The first event will take place June 12 at River Walk Park in West Sacramento and continue every Sunday, from 11 a.m. to 4 p.m., through the end of October.
In the Bay Area, Off the Grid puts on more than 50 weekly markets in 27 cities, from Berkeley to Sunnyvale to Larkspur and about a dozen within San Francisco. Founder Matt Cohen, a former Davis resident, says that expanding to Sacramento has always been his plan, especially as he noticed more and more Sacramentans visited Off the Grid's Bay Area events.
"We saw an opportunity to create something that's interesting and different but still feels like it's uniquely Sacramento." says Cohen. "I used to row on the river, so I am familiar with the area and the river walk. It's going to be similar to the larger events we put on at Fort Mason Center and the Presidio, which are destination events with a whole day's worth of activities that people can come enjoy."
Twenty of the Sacramento region's street food vendors and trucks will participate in Off the Grid, with 10 popping up at each event and rotating on a biweekly basis, including local favorites like Bella Familia Pizza, Wandering Boba, Culinerdy Cruzer, Drewski's Hot Rod Kitchen, FatFace popsicles, Kado's Asian Grill, Fusion Eats, Rudy's on the Roll and Chando's Tacos. Plus, 10 out of a rotating group of 20 local restaurants will set up tented booths to serve up their flavorful offerings, and Rye on the Road (a San Francisco-based cocktail catering company) will offer wine and beer from local purveyors, as well as their own specialty craft cocktails.
"Off the Grid has such a great reputation and puts on such great quality events," says Culinerdy Cruzer chef Keith Breedlove. "It's a beautiful location out there on the river walk and I'm excited there's a new opportunity in town for folks to check out."
Off the Grid is also known for its entertainment. D.J. Jay Sumabat will be spinning records and children's entertainers dressed like fairies from Sacramento's Pixie Tribe will offer activities like face painting and balloon animal making. Attendees are encouraged to bring picnic blankets and lawn chairs to set up along the park, and Off the Grid will offer sun shelters and cabanas for rent, as well as a shaded Chill Zone with water misters for hot summer days.
Every Sunday from June 12 to Oct. 30 from 11 a.m. to 4 p.m. River Walk Park. 651 2nd St. West Sacramento. offthegrid.com
You Might Also Like
Sacramento's first "Taco Party" comes to downtown in October
Owners of Mother and Empress Tavern roll out a new food cart
New locally grown on-demand food app launches in Sacramento