One of the Best County Fairs in the Country Runs Through Aug. 12 in Grass Valley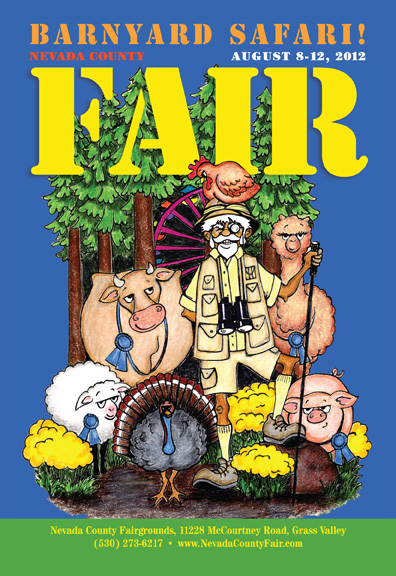 Missing the State Fair already? If you're looking to get your fix of furry friends and deep-fried foods, head to the pine-covered hills of picturesque Grass Valley this week, as the Nevada County Fair—which has been hailed by the Los Angeles Times as "one of the top 10 county fairs in the United States" and crowned the most beautiful fair in California by the state Senate—kicks off its 128th year this Wednesday and runs through Sunday, Aug. 12.
This summer's "Barnyard Safari" theme will feature more than 600 animals—from horses and sheep to quails and miniature donkeys—along with a herd of animal shows, including an alpaca agility competition, a pygmy goat obstacle contest and an exotic bird extravaganza with eagles, macaws, pelicans and a condor boasting a 10-foot wingspan.
Don't miss the rodeo on Thursday with bull riding, barrel racing and mutton bustin' for the kiddie cowboys. Your little ones can also show off their skills during a Lego-building contest on Saturday, try their luck at gold panning or watch baby chicks hatch at a small animal exhibit. Hypnotist Michael Mezmer puts fairgoers under his spell Thursday through Sunday, a monster truck show and a demolition derby roar into the arena over the weekend, and carnival rides like The Zipper and Super Loop thrill adrenaline addicts all week long.
And of course a trip to this fair wouldn't be complete without a stroll down Treat Street for all the fried fodder that your heart—and taste buds—desire, like the event's signature hand-dipped corn dogs, as well as other fair fare, such as Cornish pasties (baked pastries filled with meat and potatoes). Assuaging the guilt about blowing your diet is the fact that the food booths will be manned by and benefiting 32 nonprofits, like Job's Daughters and Meadowlark 4-H Club.
Aug. 8-12, 10 a.m.-11 p.m. 11228 McCourtney Rd., Grass Valley. Tickets are $8 for adults, $6 for children ages 6-12, and $4 for children ages 5 and under. For more information, visit nevadacountyfair.com.