Oscar-nominated short films to screen at Crest Theatre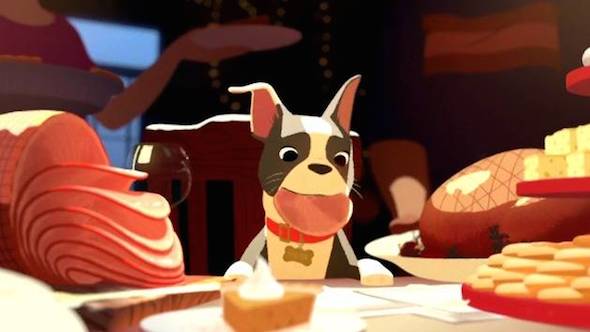 The nominations for the 87th Academy Awards were announced Thursday morning, with feature-length movies like Birdman, The Grand Budapest Hotel, Boyhood and others getting the lion's share of attention as the Oscars' leading nominees for 2015. But don't overlook the short films—15 titles from around the world just scheduled to screen throughout February at the Crest Theatre.
Below, check out the complete list of dates and times for next month's short film program, as well as a new slate of features added to the theater's ongoing Cinema Classics series, which began earlier this month. (Oscar-short synopses via oscars.com)
Documentary Short
Feb. 7-8 at 2:30 p.m.; Feb. 18-19 at 7:30 p.m.
Crisis Hotline: Veterans Press 1 (Directors: Ellen Goosenberg Kent and Dana Perry)
Each month, the Veterans Crisis Line receives over 22,000 calls from military veterans, who account for 20% of all suicides in the U.S. each year.
Joanna (Directors: Aneta Kopacz)
As she faces a terminal illness, the mother of a young son writes a blog in which she tries to leave a record of what she hopes to teach him.
Our Curse (Directors: Tomasz Śliwiński and Maciej Ślesicki)
A mother and father face the difficulties of caring for a baby who has been born with a life-threatening congenital breathing disorder known as Ondine's curse.
The Reaper (La Parka) (Director: Gabriel Serra Arguello)
For the past 25 years, Efrain has worked in a slaughterhouse, where he has developed an intimate relationship with both death and what one must sometimes do to live.
White Earth (Director: J. Christian Jensen)
Three children and an immigrant mother face a long and difficult winter in North Dakota, which has attracted many people seeking work during an oil boom.
Animated Short
Feb. 1, 7, 8, 12 at 7:30 p.m.
The Bigger Picture (Directors: Daisy Jacobs and Christopher Hees)
Tensions arise between two brothers as their elderly mother requires more care.
The Dam Keeper (Directors: Robert Kondo and Dice Tsutsumi)
A lonely little pig in charge of maintaining the town dam is cruelly bullied by his classmates.
Feast (Directors: Patrick Osborne and Kristina Reed)
The story of the relationship between a young man and the stray puppy he takes in is told through the food the dog receives.
Me and My Moulton (Director: Torill Kove)
Three sisters growing up in an unconventional Norwegian family ask their parents for a bicycle.
A Single Life (Director: Joris Oprins)
A mysterious vinyl single gives a young woman the power to move back and forth through the years of her life.
Live-Action Short
Feb. 4, 16 at 7:30 p.m.
Aya (Directors: Oded Binnun and Mihal Brezis)
A young woman waiting at an airport has an unexpected encounter with an arriving passenger.
Boogaloo and Graham (Directors: Michael Lennox and Ronan Blaney)
Jamesy and Malachy are presented with two baby chicks to raise by their soft-hearted father.
Butter Lamp (La Lampe au Beurre de Yak) (Directors: Hu Wei and Julien Féret)
A photographer and his assistant photograph the inhabitants of a remote Tibetan village.
Parvaneh (Directors: Talkhon Hamzavi and Stefan Eichenberger)
An Afghan teenager living in a refugee center in Switzerland encounters difficulties wiring money to her family and asks a young Swiss woman for help.
The Phone Call (Directors: Mat Kirkby and James Lucas)
A woman working for a crisis center phone line receives a call from a suicidal older man.
Cinema Classics
Feb. 5: The Birds
Feb. 13: Amelie
Feb. 20: Amadeus (Director's Cut)
Feb. 27: E.T. the Extra-Terrestrial
Prices vary. Doors open at 6:30 p.m.; screenings at 7:30 p.m. The Crest Theatre. 1013 K St. 476-3356. crestsacramento.com