Owners of Binchoyaki plan new bento box spot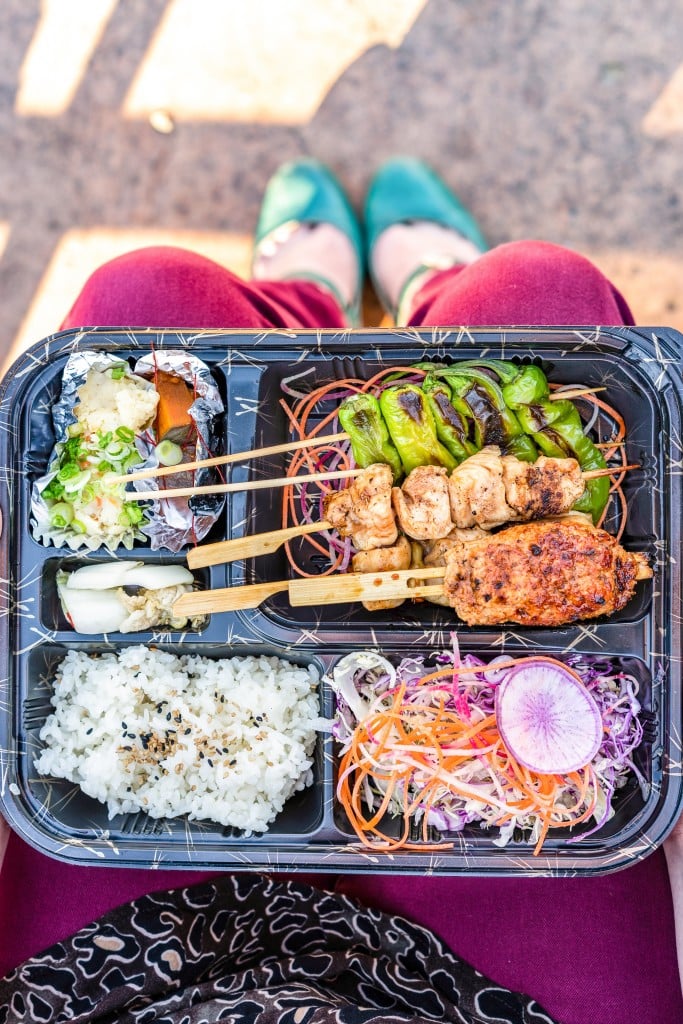 The owners of the buzzworthy Binchoyaki Izakaya Dining are thinking inside the box for their upcoming grab-and-go spot, Kizuna Bento.
Husband-wife team Craig Takehara and Tokiko Sawada currently offer bento boxes at Binchoyaki, their wildly popular Japanese small-plates restaurant in Southside Park that opened in 2016 and specializes in meats and vegetables grilled over binchotan charcoal, heated upwards of 1,000 degrees. At Kizuna Bento, which is set to open next year in downtown Sacramento, the couple plans to incorporate those same expertly grilled meats and vegetables into an expanded lineup of bento boxes, which will be available either at the ready or made to order and feature varying combinations of rice, miso soup, salad, pickles and a main—think grilled Jidori (free-range) chicken skewers in a sweet soy tare sauce, furikake-crusted salmon, braised kabocha squash and New York strip loin with garlic ponzu sauce—for busy locals.
"Most people are on a time crunch here in Sacramento," says Takehara. "So this allows them to get high-quality food without having to sit down at a restaurant and wait for the servers and that kind of thing when they need to get back to work."
Good thing, too, as there won't be any seating in the 700-square-foot space, which is situated on the bottom floor of 1430 Q Street, the eight-story mixed-use building currently undergoing construction. (Kizuna Bento is the latest retail addition to the building, joining The Good Scoop ice cream shop and Majka Pizzeria & Bakery.) There are plans for a standing bar along one wall, at which patrons can swiftly eat their bento, but Takehara and Sawada—who both trained at Le Cordon Bleu in Pasadena—expect most customers will take their box and eat elsewhere, including Fremont Park, which sits directly across the street.
In addition to the approximately 15 different versions of bento boxes offered daily, Kizuna's menu will also likely include items such as rice balls, hand rolls, salad and noodle options, and rice bowls topped with a choice of fish, chicken or beef. Sawada hopes to offer a brown rice option, as well as bento boxes for kids. "Sometimes moms are busy," she says, "and they could pick something up for the next day for their kids to take to school."
Kizuna—which, in Japanese, means "bond" or "connection" ("It is our vision to bond with our customers through our bentos," says Sawada)—is scheduled to launch in late fall or early winter of 2019 and be open for lunch and dinner hours. On weekends, it's set to remain open until 3 a.m. as a quick and healthy option for the late-night bar crowd as well as restaurant industry folks just getting off work.
"Japanese people eat bentos all the time," says Sawada. "You can take [bentos] to your soccer tournament or an outdoor event. Or, if you're going to go up to Apple Hill or Tahoe, on the way you could just have a bento box. This is what I grew up with and I get to share how we eat in our daily lives with the Sacramento community. We're able to spread the knowledge of Japanese food beyond just sushi and teriyaki."
Stay tuned to sactownmag.com for Kizuna Bento's progress, or follow Binchoyaki Izakaya Dining on Instagram at @binchoyaki.
You Might Also Like
Alum of Berkeley's legendary Cheese Board Collective to open vegetarian pizzeria and bakery in Sacramento
Meet Winston, Camden Spit & Larder's scooter-riding, martini-wielding boar mascot
A new traveling Yuletide cocktail bar with a tiki twist pops up in Sacramento