Paragary's Part Deux
California meets Paris as local restaurateur Randy Paragary reimagines his eponymous flagship restaurant as a Napa-style French bistro.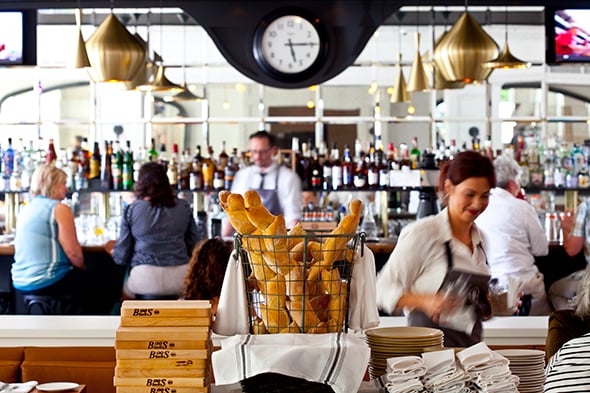 Paragary's
1401 28 St.
457-5737
paragarys.com
R
TThe corner of 28th and N is sporting something new and something old: A completely renovated Paragary's restaurant, reopened in June after a year-plus makeover, but filled with its original winning mix of good food and good fun.
To understand what the 2.0 incarnation of the restaurant means to the Sacramento psyche, lace up your Reebok hightops, zip up your Guess jeans and pull on that Members Only jacket. We're headed back to 1983—the year fern-bar-owner-turned-restaurateur Randy Paragary felt the tectonic plates of tastes and trends shifting and decided to open an innovative eating establishment that riffed on the California cuisine he had experienced at Alice Waters' Chez Panisse in Berkeley.
Eponymously named (unlike his Lord Beaverbrook's, the drinking hole it replaced), Paragary's boasted simple dishes with ingredients that were local, seasonal and fresh—long before farm-to-fork was a thing. The pizza came from a wood-fired oven, a first for the capital city, and the pasta was made in-house and hand-cut.
In an era when fine dining largely meant red-boothed steakhouses and the hottest culinary trend in mainstream America was the introduction of the McNugget, it seemed like a long shot. But, with that eye for the au courant that has become a Paragary trait, it was the right concept at the right time for the right place.
​Sacramentans yearning for something more from their restaurant scene ate it up. And they continued to eat it up—for decades. Paragary's became the go-to spot for first dates, anniversaries, graduations and other special occasions. Its success helped its owner open other eateries and bars—Cafe Bernardo, Esquire Grill, Centro Cocina Mexicana, R15, Monkey Bar, Hock Farm, etc.—creating a sprawling empire that currently includes some 600 employees.
But time and taste wait for no man, not even the enduring Paragary. A few years ago, the crowds started to thin. Like the moonwalk and Swatches (wait, aren't those back, too?) his namesake flagship eventually aged out, especially in the minds of a younger generation that takes advantage of diverse and vibrant dining options at places such as Ella, Grange and Shady Lady.
So Paragary did what Paragary does best—reinvented. Never much of a sentimentalist when it comes to opening, closing or changing his restaurants, he embarked on a $1 million, down-to-the-studs renovation in February 2014 that literally touched every inch of the space.
When its double doors swung out to welcome guests a couple of months ago, the restaurant had become an almost-unrecognizable Napa-esque bistro with an airy feeling, thanks to big front windows and a folding glass wall that opens onto the revamped patio out back—Paragary's favorite touch. "It's just the freshness of it," he says. "When we open those, it totally makes it one dining room, partially indoors and partially outdoors."
That outside patio, with its pine-plank tables, water features and corner fireplace, is the ideal spot for a weekend brunch or a summer dinner, protected and peaceful but with a lively conviviality. And inside, elegant gray-and-white mosaic tiles cover the floor, while dark wood bistro tables and banquettes hold court surrounded by simple white walls. "We don't have paintings, so the art is our floor," says Paragary. "It's a dynamic part of the design."
Other design elements include mirrors along one wall that allow those facing them a full view of the room, a long bar that takes up the entrance area and a high ceiling (with special acoustic dampeners) that keeps the noise at a comfortable buzz.
Meanwhile, back in the kitchen, Paragary Restaurant Group co-owner and executive chef Kurt Spataro and newly hired chef de cuisine Scott Ostrander (formerly of Esquire Grill and the triple Michelin-starred Alinea restaurant in Chicago) have updated the menu, shifting the food's former Mediterranean influences to more of a French focus. Petite plates of inventive hors d'oeuvres like Dungeness crab beignets with mascarpone, chives and piquillo pepper aioli or wood-fired mussels with cherry tomatoes and sweet corn soffritto will tease your taste buds for entrées to come.
The main dishes, which range from a salad niçoise to chicken ballotine, offer more variety than the old menu, while keeping the sensibilities light and flavorful. The hanger steak, for instance, is juicy, and its frites come in the form of tangled potato crisps nestled on the side.
But fans of the original Paragary's will happily note that not all is new. Those thin-crust wood-fired pizzas are alive and bubbling. Ditto on the hand-cut pasta. The rosemary pappardelle with chicken, leeks, pancetta and artichokes still features the thick, chewy noodles that made it a cult favorite in the 1.0 version of the dish.
At brunch, a meal Paragary is doing fancier than many other spots (leave the sweats in the laundry basket), there's vanilla custard French toast with local peaches and nectarines, and a couch-nap-worthy buttermilk biscuit Benedict with smoked ham or salmon.
As for the drinks and desserts, they are both some of the best in town. Bar manager Brad Peters, previously of Hock Farm, has crafted a cocktail menu that's at once whimsical and spot-on trendy (witness an entire section devoted to French 75s and a house-made version of the suddenly ubiquitous vinegar-based shrub), and among the after-dinner sweets, a vanilla bean and buttermilk panna cotta served in a rustic ceramic bowl is a revelation on a standard—creamy and rich and somehow melt-away light. The cherry tart tatin, made in the Paragary bakery across the street under the expert eye of bakery manager Laurel Sanders, is no less stellar.
That brings us to the million-dollar question: Has Paragary pulled it off? Has his namesake restaurant regained its relevance as an all-ages spot for good food and good fun?
The answers—so far, anyway—are yes and yes. Paragary seems to have succeeded in drawing in the city's young tastemakers without alienating his regulars. Some nights, the restaurant serves an astonishing 300 meals. "It starts right at 5," he says, surprised at how quickly the crowds have come. "It opens and every single seat is filled by 6 or 6:30."
One recent evening, two fashionable women in their early 30s were taking selfies in front of the patio water fixture, near a table where three generations of a family were gathered for a shared meal. Every table was taken and more patrons waited their turn in the bar—all while a tanned and smiling Paragary and his business partner and wife, Stacy, worked the room, their presence a reminder of the good old days, and the better ones to come.