Past Perfect
Saddle Rock, Sacramento's first restaurant, rises from the ashes of history, reinvented by a new generation of culinary pioneers. It's time to reconsider the oyster, among other delectations of Gold Rush gastronomy.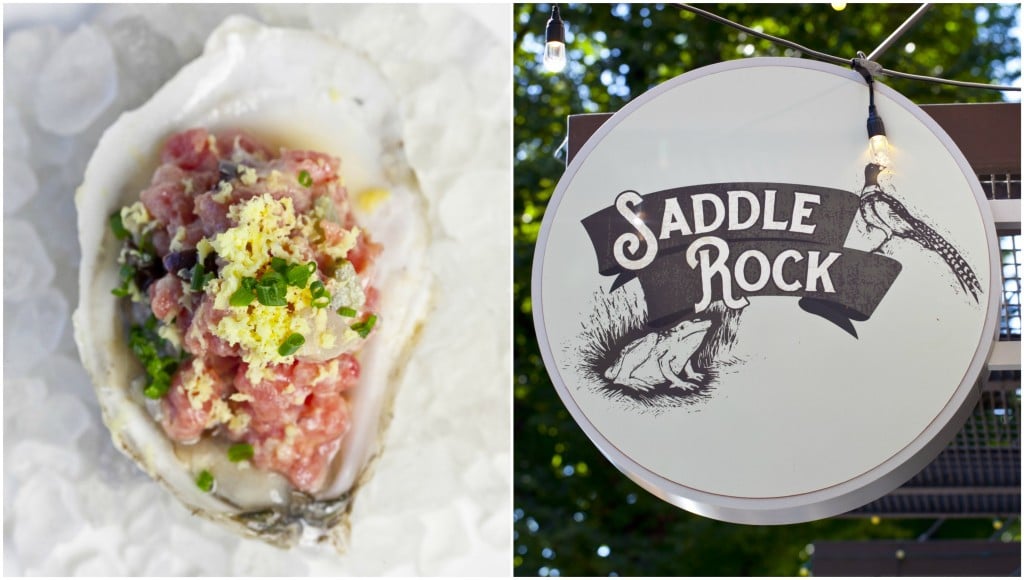 Saddle Rock
1801 L St.
706-2011
saddlerockrestaurant.com
R
BBaked oysters. Oysters on the half shell. Oyster bread. The Hangtown Fry. When Saddle Rock, Sacramento's very first restaurant, opened in Old Sacramento in 1849, oysters were all the rage worldwide, a staple in the diets of the rich and poor alike, shipped to California on ice from as far away as Long Island and used in a dizzying array of dishes.
"Saddle Rock is actually the name of an oyster—a huge, rough oyster," says Matt Masera, executive chef at restaurateur Chris Jarosz's midtown reinvention of the legendary restaurant, which opened in early August near 18th and L streets in the space formerly occupied by Jarosz's Capital Dime. Saddle Rocks, hearty and sturdy, were the ground chuck of the time; cooks of the era would chop these colossal mollusks to bits and add them to recipes like the namesake establishment's signature oyster bread.
That oyster bread. When Masera and Jarosz were refining the concept for their reboot, Masera felt Saddle Rock wouldn't be Saddle Rock without it, but feared modern diners might not warm to the idea.
He needn't have worried; his 21st-century take on oyster bread is a revelatory golden popover served sliced open with a dollop of whipped, dill-infused butter melting into the airy pockets of dough. It's chewy and crunchy, and like a soufflé, best devoured still steaming, within seconds of its appearance at your table. The oyster flavor comes from fresh oysters, ground and folded into the batter, and is but a subtle umami note, much the way anchovy informs a well-balanced Caesar salad.
The original Saddle Rock flooded, caught fire, closed, opened, and closed and opened again several times before finally shutting down for good in 1995. Jarosz stumbled across an article about the historic restaurant a few years ago, while researching Sacramento's food history for another project and was bowled over by the elaborate menu and colorful past. Mark Twain was a regular. Charlie Chaplin dined there. Babe Ruth loved the oyster bread.
"It shaped the restaurant scene for Sacramento," Jarosz says. He realized he had found the key to a truly regional vernacular cuisine that was ripe for exploration, and might just form the basis for the next phase of the capital city's culinary consciousness-raising.
Still, the idea was a long time coming to fruition—Capital Dime closed in August 2015, and it was another year before Saddle Rock served its first meal. Jarosz, who started his entrepreneurial streak with a lone food truck in 2010, now has seven restaurants either open or in the works: three iterations of his popular hamburger joint, Broderick, upscale dining spots Localis and The Patriot (the latter is scheduled to launch in October at the Milagro Centre in Carmichael) and Rush, a coffee house and bike shop in partnership with Land Park institution College Cyclery to open next year. He's also in the midst of taking charge of food services for the State Capitol. It's no wonder Saddle Rock took a while to come together.
Not to mention, chef Kevin O'Connor, formerly of Blackbird, was originally slated to helm the Saddle Rock kitchen, but withdrew abruptly in May, just weeks before a planned June opening.
Jarosz is easygoing about the split. "Finding a chef is like dating. A lot of relationships don't work out," he says. He can be sanguine now, having landed Masera, who had serendipitously just departed his gig at Empress Tavern and Mother, to replace O'Connor. "I have to pinch myself and say, 'You were a food truck guy five years ago, and now one of the best chefs in town is on your team.' " Jarosz says. "That's a pretty humbling thing for me."
Masera, a Folsom native who has also worked as executive pastry chef at James Beard-nominated Merriman's in Hawaii and as chef de cuisine at Food Network star Tyler Florence's Wayfare Tavern in San Francisco—and once cooked for President Obama alongside Florence—immediately latched onto the Saddle Rock concept. "The world revolved around this city for a period of time; very few cities in the world can say that," Masera says. The idea of being part of a historical tradition excited him.
"I found myself ordering books online and reading up on Old Sacramento saloons and the fare of that era," Masera says. The old-fashioned menus with their pickled, preserved and roasted ingredients left him undaunted. Having cooked vegetarian food at Mother, Masera was used to being inventive within constraints, likening it to "cooking with one hand tied behind your back. It forces you, as a chef, to be more creative and edgy."
As such, the new Saddle Rock is an inspired homage to the original, but the address—and the concept—have moved decidedly uptown. Masera has enlivened his Gold Rush-inspired menu with fresh ideas and ingredients, and the result is nostalgic without being anachronistic.
The same could be said for the restaurant's space, which is warm with touches of mid-century styling in the details. Jarosz steered clear of old-timeyness in favor of millenial chic, with Eames-era lighting, rough-hewn yet modernist tables, tufted leather and wool sofas. The references to the past are subtle, including a wall of leather-bound books and a commissioned portrait of Mark Twain by local artist Raphael Delgado that graces the bar area. "I really like the idea of having that modern feel, but then having the reference to history," Jarosz says.
The small plates menu is cleverly titled "Snacks, Salad & Hardtack," the latter a wink at the stale, dense biscuits the miners ate to stave off hunger. Masera's biscuit is the opposite of hardtack: fresh, soft, and larded with rendered and crumbled chicken skin and white cheddar cheese. "It just bleeds chicken fat throughout the biscuit," Masera says, "and then we serve it with juniper butter and pine bud syrup, so you get the flavor of the mountains. I'm trying to capture the terroir."
But the most popular appetizer at Saddle Rock is also one of the most deceptively simple: the chicken fried catfish nuggets served with preserved lemon and fried herbs and chilies. The catfish from Passmore Ranch has a delicate, clean flavor (it's flushed in fresh water circulation tanks prior to harvesting). Masera's stroke of genius here is grilling the preserved lemon. With a generous squeeze over top, the dish achieves a hyper-saturated citrus flavor with an almost dark intensity, the chilies providing a fresh, bright crunch. The nuggets arrive without a dipping sauce, and they don't need one.
The lounge and bar area of Saddle Rock is conducive to lingering over small plates. One could have a perfectly delicious evening there without ever taking a table in the back dining room. The extended front patio is ideal for warm fall nights, and the groupings of low-slung sofas near the entrance make the place feel more like a lounge with a restaurant than a restaurant with a bar.
The nicely curated cocktail menu created by mixologist Karina Martinez, formerly of LowBrau, will ensure that it stays that way, with drinks that include crafty notes. For example, the Cabrillo is made with rum, absinthe and Szechuan peppercorns, and served with a rolled, dried fig leaf "cigar" that's ignited and clipped to smoulder away on the side of your glass for added aromatic punch. The Ramos gin fizz is lighter on alcohol and towers frothily above the rim of the cup.
The exotic ingredient lists belie the deftness of Martinez's hand with a cocktail. The Dirty Means—a bourbon infused with peanuts and food-grade leather (yes, leather), laced with Thai chilies, Mexican chocolate and peanut oil, and swirling with flecks of edible gold leaf—may sound desperately hip, but proves to be a surprisingly smooth drink that tastes like a classic cocktail. The leather functions the way musk or civet does in a perfume blend, as an under-the-radar animalic note.
"Karina is a savant," Masera says. "She found food-grade leather! I love how her brain works."
Meanwhile, the servers at Saddle Rock are smartly trousered and tailored and look like they should be riding bicycles with giant front wheels to work, and they've been educated with an encyclopedic knowledge of the restaurant's roots and the reasoning behind the cuisine. Jarosz even brought in local food historian Maryellen Burns, author of Lost Restaurants of Sacramento and Their Recipes, to deliver a history lesson.
On a recent visit our server, Julia, easily describes the origins of the Hangtown Fry's ingredients (the Gold Rush omelet was created to showcase the most decadent ingredients available at the time: oysters, bacon and eggs). Masera's version uses goat cheese and V. Miller Meats' coffee-rubbed bacon, which is exclusive to Saddle Rock.
Julia recommends the beef Wellington, a reimagining of the classic in which the traditional puff pastry encloses not a tenderloin but a rich short rib braised with a hint of fennel and accompanied by a rich bordelaise and a nicely poached egg.
Masera's menu gives a nod to the culinary influence of the region's very first farm-to-fork restaurateurs, the Chinese immigrants who came in search of gold but often ended up finding it more lucrative to feed the other miners, many of whom had scurvy, and Saddle Rock features a dish that was created by them.
The 49ers "weren't eating any vegetables, just meat and starch," Masera explains. The Chinese "found this abundance of amazingness all around them, and they just started grabbing fresh vegetables, chopping them up, stir-frying and tossing them over rice or noodles." The miners went particularly crazy for this new dish, chop suey, word of which made it all the way to New York, igniting an ethnic food trend and giving birth to the westernized Chinese food of every American's childhood.
Saddle Rock's desserts are more unfettered by tradition. The Bay Chocolate, a unique take on devil's food, is a heap of rich brown loam that bears no resemblance to a cake. As Masera says, it's "supposed to look like someone pulled a pie knife out of the land and put it on your plate." It's nicely salted with an herbaceous note from sorrel. The toffee roasted pear with Brie sabayon and olive crumble, Masera's "play on a cheese plate," is unctuous, pungent and ever-so-slightly caramelized, as savory as it is sweet: a dessert for non-dessert lovers. And fans of Masera's fabled brown butter cookies from Mother will be thrilled to note that they are here, listed on the menu as "BBC: the one and only."
Masera sees what he's doing with Saddle Rock as an indication of what comes after farm to fork. "I'm trying to [go] deeper," he says. "Why do we have these amazing farms? Why do we have this amazing city? Where did it all come from?" When people ask him what kind of food he's cooking at Saddle Rock, Masera replies, simply, "It's Sacramento food."