Perfect Picnics
We've filled our wicker baskets with the best takeout en route to eight sonnet-worthy spots across the region for your alfresco dining pleasure. Whether you're unpacking a gourmet BLT on toasted artisan bread while gazing upon a sweeping view of Gold Country or digging into a bucket of crispy fried chicken while smelling the roses at McKinley Park, we prove that life in the wake of a pandemic can be a picnic after all. (Just don't forget the sunscreen.)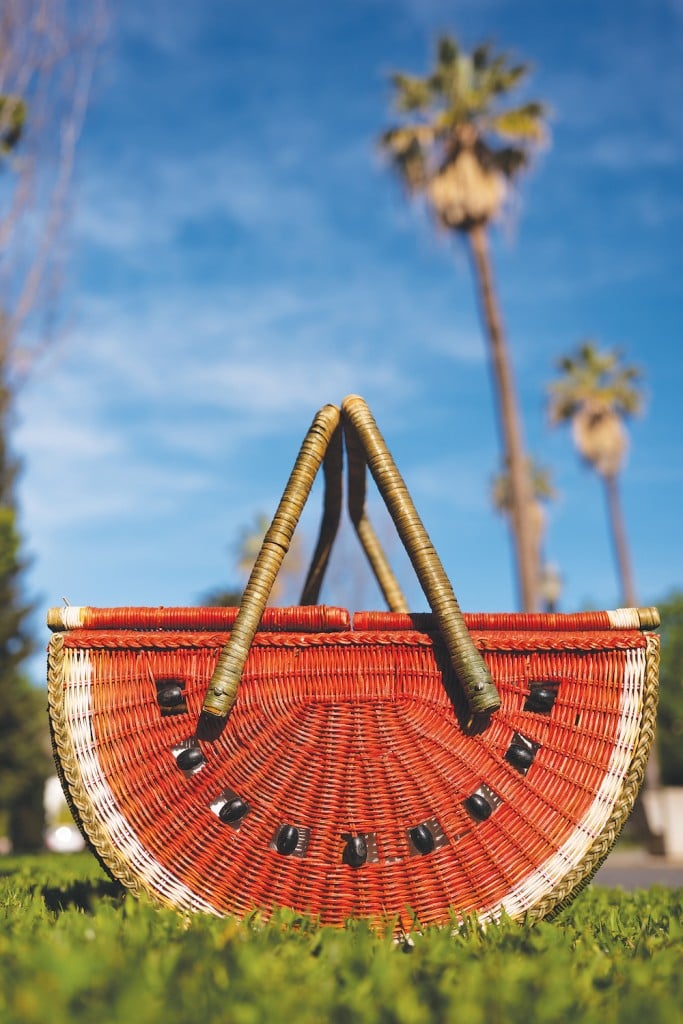 Marshall Gold Discovery State Historic Park
Chicks and ducks and geese had better scurry as you hike up 2 miles of oak-shaded switchbacks—and travel back in time—to what may be one of the most picture-perfect picnic tables you'll ever lay eyes on, overlooking the wild American River in the midst of historic Gold Country.
Now, there are plenty of local hikes to vista points where you can perch on a rock and wolf down a protein bar, but not so many that reveal the delightful surprise of a picnic table framed just so—right at the meeting place of sky, hills and river valley—that it transports you to an earlier era when you'd most likely arrive at such a spot in a surrey with fringe on top.
Pick up the trail behind the Marshall Gold Discovery State Historic Park's visitor center (maps available inside) opposite the site of Sutter's Mill, where carpenter James W. Marshall discovered gold in 1848. Since it's a loop, you have two options. Head counterclockwise for a shorter (1 mile), steeper approach that will lead you to your alfresco dining destination sooner. But we prefer taking the long way up, going clockwise. This shallower trek along a well-groomed single track isn't strenuous, just rigorous enough that you'll be ravenous by the time you reach this high point, at the second summit, a couple of miles in.
Such an iconic view deserves a memorable repast, so as you pass through Loomis on your way up to the park, hop off I-80 a few exits early for a short detour to the timelessly wholesome Flower Farm Café, open Thursday to Monday, 9 a.m. to 2:30 p.m. Choose from a lineup of classic wraps and sandwiches—we're particularly fond of the BLT on toasted bread from Auburn's Baker & the Cakemaker—or various boxed picnic options (including a vegan plate that comes with gluten-free crackers, hummus, fruits and nuts). After this throwback feast and frolic, you'll be glad for the downhill stroll at a slow clip-clop. 310 Back St. Coloma. 530-622-3470. parks.ca.gov —Hillary Louise Johnson
---
McKinley Park
For almost a century, the picturesque 1.5-acre rose garden at McKinley Park in East Sacramento has served as the backdrop of choice for countless Sacramento wedding photos, awkward prom-date poses and memorable kisses—including that of the titular character in Greta Gerwig's semi-autobiographical film Lady Bird. If the track-shaped plot—featuring about 1,200 rose bushes and more than 200 varieties of roses, as well as towering palms, sculptural honeycomb lattices in the butterfly habitat and a small clematis-strewn central courtyard—is good enough for the big screen, you'll relish the location for a late afternoon picnic on an ordinary Monday, timed to the weekly fried chicken special at nearby Hawks Provisions & Public House.
Preorder and pick up a sunny yellow bucket—illustrated with a happy-go-lucky caricature of a rooster—filled with 10 pieces of extra crispy chicken, a few bonus boneless strips and wedges of lemon for spritzing. Sides of fingerling potato salad and summer bean succotash, plus house-made Calabrian chili aioli round out the meal ($55), which can be scheduled for takeout as early as 4 p.m. (As a pro-planetary measure, don't forget to bring your own silverware and reusable melamine dishes or camping enamel plates from home—we did.) From the restaurant, it's a three-minute drive—or six-minute bicycle cruise—to the rose garden, if you catch all the green lights.
The flower beds, which bloom robustly in May and June (the garden is a strict no-pluck zone), are symmetrically inlaid within the grassy oval, so there's plenty of cushy surface area on which to spread a blanket. If you prefer to take your picnics properly seated, wooden benches are strategically located to capture the best sightlines. Wherever you set up your summery Southern-style spread, you'll witness the garden in motion: Butterflies and bees gently dusting plants with pollen, rosebuds incrementally unpacking, loosened petals delicately adrift. And for a balmy late afternoon on a now not-so-ordinary Monday, that kind of slo-mo is just the right speed. 3255 H St. 916-452-8011. cityofsacramento.org —Leilani Marie Labong
---
Hidden Falls Regional Park
Two roads diverge as you set out to traverse the gentle, oak-studded hills of Hidden Falls Regional Park in Auburn, but no matter which one you take (contrary to poetic precedent), the reward is a memorable alfresco excursion. More than 10 picnic tables and scenic benches lie nested like Easter eggs along the park's 30 miles of winding trails, covering a wide variety of landscapes.
If you're simply looking to soak up the area's undulating grandeur, take your picnic no farther than the scenic bench on the edge of the first of many verdant meadows at Hidden Falls. A short five-minute jaunt from the parking lot and you'll feel afloat amongst the swath of green scruff that blankets the Sierra foothills.
But if adventure is what you seek, lace up your boots and strap on your CamelBak for a hike along South Legacy Way, which borders the park's central creek, following the fork to the left at Pheasant Trail to reach the Golden Eagle Loop. Halfway through the 1.7-mile circuit, our favorite picnic table sits slightly off the beaten path, offering a much-needed respite from both the trek and the hustle and bustle of city life. Here, you can drink and dine in a glade full of young oak trees while butterflies, yellow-rumped warblers, red-shafted flickers and the loop's majestic namesake birds gracefully cruise the skies.
For easily transportable fare that will hold up on a hike, stop by Auburn's Flour Garden Bakery on your way to the park and pick up some prewrapped sandwiches on house-baked bread (the turkey pesto will certainly hit the spot) and decadent butterscotch oatmeal cookies or soft-baked gingersnaps with candied ginger. Pandemic bonus: Thanks to the limited-reservation parking system enacted at Hidden Falls on weekends to keep visitor numbers low (advance booking is required on Saturdays, Sundays and select holidays; $4 per vehicle for partial days or $8 for full days), you will scarcely see another soul along these roads less traveled. Robert Frost would approve, and so do we. 7587 Mears Pl. Auburn. placer.ca.gov —Hannah Ross
---
Capitol Park
Whether you're a protester, a peacenik or a politico, you've doubtless watched countless events unfold on the California State Capitol steps—our collective front porch. But civic planners knew way back when that the best conversations happen over the backyard fence, so they set aside a stately, verdant swath of 12 city blocks behind the legislative hall as a place for Sacramento's citizens to kick off our shoes and—literally and figuratively—smell the roses while honoring our shared history.
Start your visit with a stroll through the recently enhanced Victorian-styled World Peace Rose Garden near 15th Street and Capitol Avenue, where over 150 varieties blossom, from pastel Blue Girls to two-toned Betty Boops. Next, take in the nearby cactus garden, with its blooming prickly pears and massive hedgehog aloe adorned with vibrant blood orange petals. Pay attention to the placards as you meander, since surprising treasures abound, like a patch of trees transplanted from the fields at Gettysburg, or a Coast Redwood sprouted from a seed that orbited the moon in 1971.
This 40-acre urban park practically demands a wicker basket stuffed with grilled prosciutto or eggplant and Teleme cheese panini with all the sides and trimmings from Zia's Delicatessen, a stone's throw away from the southeastern end at 14th and O streets. [2022 Update: Zia's closed its Sacramento location in December, but as luck would have it, 14th and O boasts other great basket-filling options. Pizza Supreme Being serves up crave-worthy thin-crust pizzas (cheese and pepperoni) by the slice, while Sam's Market—a family-run corner store that's been in town since 1941—offers delicious deli sandwiches (our favorite is the egg salad on sweet French roll) and classic picnic sides like sliced watermelon and potato salad in to-go containers. For dessert, hop across the street to Mud Pie Stand bakery for decadent vegan treats like strawberry lemon cupcakes and maple pecan scones.] You can't go wrong with where you choose to set up your spread, but our favorite spot to alight lies along the park's east side, under the dusky canopy of a California redwood—at over 100, a wise elder statesman whose dignified silence somehow says it all. 15th St. and Capitol Ave. 916-445-3876. capitolmuseum.ca.gov —Curtis Yee
---
UC Davis Arboretum and Public Garden
Remember those halcyon days of youth when you lounged beside a creek cradling your college sweetheart's head in your lap while reading aloud romantic phrases from Omar Khayyam about "a loaf of bread, a jug of wine—and thou?" Not quite your college experience, you say? It's never too late to create (or recreate) that scene with a romantic picnic on the shores of Putah Creek as it winds its lazy way for days through the 100-acre UC Davis Arboretum and Public Garden, founded in 1936 as one of the school's earlier "classrooms," with thousands of species grouped into picturesque, picnic-perfect backdrops for your warm-weather idyll.
Pick up your picnic provisions from one of the restaurants at Davis Commons, located at the arboretum's eastern end, and you can park for two hours for free. Your tasty choices include Mikuni or My Burma, but we most like to pair our Middle Eastern poetry with a couple of flavorful falafel or gyro sandos from The Halal Guys.
From there, it's choose your own adventure from among the lands of this arboreal theme park, but our favorite shady spot is just a short clockwise stroll from the east entrance—straight to the Mendocino Coast, or so it seems when you arrive at the T. Elliot Weier Redwood Grove, a leafy cathedral of giants scattered with inviting picnic tables. Sun lovers should bring a blanket and meander a mile further, to the Mediterranean Collection along the manicured shores of Lake Spafford, where a grassy sward invites you to spread out and recite, "Oh, wilderness were paradise enough!" 500 1st St. Davis. 530-752-4880. arboretum.ucdavis.edu —Hillary Louise Johnson
---
Folsom Lake State Recreation Area
When Folsom Lake gets a healthy influx of runoff from the nearby Sierra Nevada mountains, its shoreline is ideal for a classic day at the beach: You can settle into some chairs under a pop-up sun shade, munch on a hot, prosciutto-loaded Neapolitan panini from Dominick's Italian Market & Deli in Granite Bay, and watch the kids splash the afternoon away in the inviting shallows.
This year, however, the snowpack was almost 40% under the average—but don't hang up your floppy straw hat just yet. When the lake level is low, the exposed earth offers up an entirely different sort of adventure, one where your crew can transform into fearless pioneers traversing an almost alien landscape.
Beals Point at the Folsom Lake State Recreation Area ($12 admission fee) boasts traditional table-and-bench picnic areas that present beautiful views of the lake and dam. Ignore these. You'll want to head past the green grass and down the hill, to spread out your blanket on what would be the sandy lakebed in wetter seasons. Piles of granite boulders welcome scrambling, and sharp-eyed treasure hunters are likely to find anything from barnacle-crusted shells to glittering crystals to bric-a-brac lost by boaters of seasons past.
Scattered trees provide shade for those who want it, but most of the area is as wide open as the sky above. Some stretches extend five times farther than you could throw a Frisbee, so if you have a football or a kite, this is the place to burn off all that cooped-up quarantine energy. You can also, of course, trek out to the water's edge, but be prepared to stop at every puddle, rock and sparkly bit of fool's gold along the way. And if you anticipate trouble rounding up your young explorers once it's time to leave, plan to lure them back with the promise of a cheesecake pop or cream puff from Julian's Pâtisserie and Café on the way home. 1 Beals Point. Granite Bay. 916-988-0205. parks.ca.gov —Ryan Miller
---
William Land Regional Park
Sundays in William Land Park: Golfers traipse across lush rolling greens, toddlers waddle first steps next to lily-studded duck ponds and couples amble along a tree-lined perimeter path while pods of picnickers unfurl colorful blankets across 248 acres of daisy-dotted grass. Squint and you might easily mistake the sun-dappled scenery for a 19th-century Parisian landscape by Georges Seurat. The park's centrally located, socially distance-able amenities have provided a well-trod pandemic reprieve over the past year, but there are still hidden corners of the greensward to explore.
Forgo the popular WPA Rock Garden for its more secluded but equally scenic neighbor: the Swanston statue area, where you can settle into one of four circular stone-benched bays along the zig-zagging path, shaded by a trellis of wood and flowering vine for a secluded déjeuner sur l'herbe beneath the gaze of a 1925 likeness of pioneering cattleman Charles Swanston. A selection of house-cured charcuterie from the award-winning butchers at neighborhood favorite Taylor's Market would serve as the appropriate culinary homage to the rancher.
And leave the EarPods and AirPods at home, as you'll have musical accompaniment aplenty from the recently restored babbling stream and the trills and tweets from Sacramento Zoo's exotic and native birds who reside just over the garden fence. Once you're sated with salami and song, you can spend the rest of the day peregrinating the park's walkways and marveling at the century-old oaks and sycamores that helped burnish our reputation as the City of Trees. 3800 Land Park Dr. 916-808-6060. cityofsacramento.org —Hannah Ross
---
Effie Yeaw Nature Study Area
Want to hear an 8-year-old whisper "This is totally awesome" while gazing upon something other than a screen playing Mario Kart or Minecraft? Here's how, in five easy steps: First, stop at Mesa Mercado in Carmichael's Milagro Centre to grab some crispy, kid-friendly "smashed potato" tacos (and a couple of battered cauliflower ones for you). Second, head to nearby Ancil Hoffman Park and say hi to whatever native fauna they have on hand at the Effie Yeaw Nature Center, open Tuesday through Sunday, 9 a.m. to 5 p.m. (Covid and weather permitting), February through October. Third, meander down to the surrounding 100-acre preserve's quarter-mile Natoma Trail (open dawn to dusk), which leads to the American River. Look down for lizards, up for hawks, and just about anywhere around you for turkeys. You might even encounter a small herd of deer crossing just a few feet in front of you. The best place to set up your picnic blanket is right where the dirt transitions to a field of about a bazillion and a half river rocks—but spreading out directly on the ground makes for a lumpy experience, so take a seat in the nearby stand of eucalyptus trees that forms a little island in a sea of lava. Or a jail. Or a pirate ship, complete with a bowsprit where only the bravest can balance. You get the idea. Fourth, before you go, be sure to rock-hop down to the river to skip stones into the current with a kerplunk that's every bit as rewarding as any digital ding. Step five: Retrace your steps home, with a new appreciation for the game of life. Yeah, totally awesome. 2850 San Lorenzo Way. Carmichael. 916-489-4918. sacnaturecenter.net—Ryan Miller