"Pop" Art
Two men hope to pay tribute to their fathers by building what could become an instant architectural icon. But it won't be a piece of cake.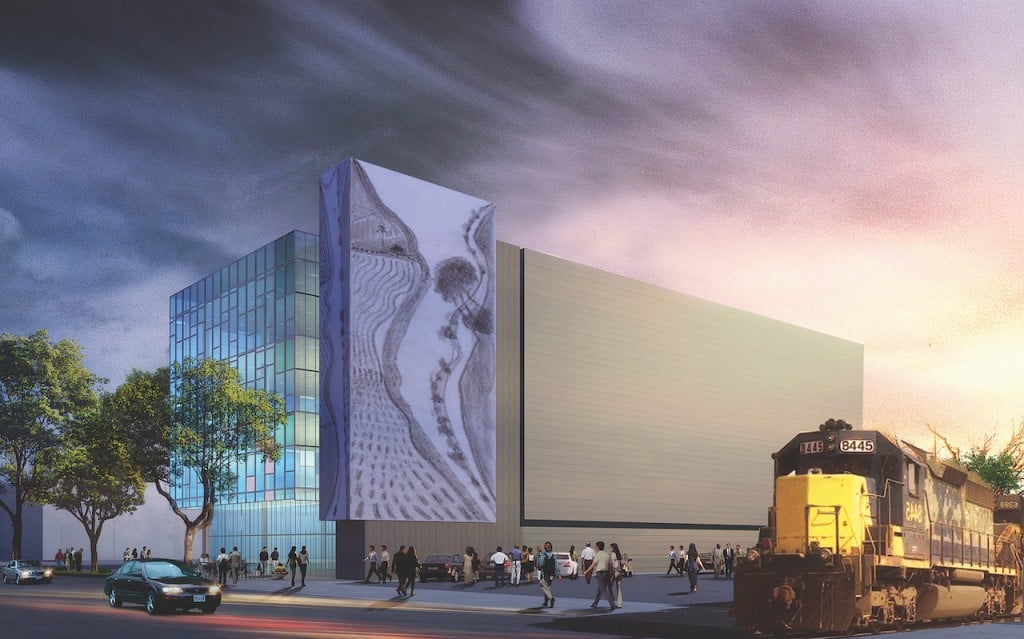 Believe it or not, Sacramento's newest office building was almost going to be—if only for one fleeting moment—in the shape of a four-story frosted birthday cake.
Almost.
So reveals artist Wayne Thiebaud while talking about the new project that his gallerist son Paul and developer Michael Heller are trying to get off the ground at 20th and Capitol.
"It even had a little piece cut out of it," laughs the younger Thiebaud, "with little pine trees on top like candles."
Practicality prevailed, but the idea is a glimpse behind the curtain at the creative evolution of a project that, if built, will give the city a 52-foot-tall piece of art from the highest-profile artist ever to emerge from Sacramento.
The concept actually has its roots in the 1950s when Heller's father, Mike Heller Sr., was the contractor on the original SMUD headquarters building off Highway 50 near 65th Street. That's when Heller Sr. first worked with Wayne Thiebaud, then a young art professor at Sacramento City College who was asked to design a massive mosaic tile mural for the ground-floor exterior of the building.
"I think we figured out that it ended up being about 17-and-a-half cents per hour," chuckles Thiebaud. It's a far cry from the $4.5 million that one of his paintings brought at Christie's in New York in 2007. "But that was one of those projects that had nothing to do with money. It was just such a thrill to get to work on it."
For the mural, Thiebaud and his students spent nearly two years creating the image and the detailed mosaic schematics of a "highly abstract kind of water city" that was referential to Sacramento, but not specific to it.
The result: a landmark building for the city, and a legacy project for both men. Now, 50 years after the SMUD building was completed, their sons are ready for a modern take on this architectural classic.
Heller, 44, has become a champion of urban infill with his projects that include the MARRS Building at 20th and J and the Retro Lodge at 11th and H, as well as the East End Lofts (along with developer Mark Friedman).
Paul Thiebaud, 48, is a gallery owner (he has galleries in both San Francisco and New York), serious art collector and helps manage his dad's art sales.
Longtime friends, they knew they wanted to do a project together ever since they made a pact to do so at the base of the Eiffel Tower when they took their families to Paris in 2001. "A lot of guys we grew up with were either complaining about the city or doing something about it," says Paul. "The ones who were doing things were a lot more fun to be around."
But the opportunity didn't present itself until Heller's father, long one of the city's biggest contractors, died in October 2007. A few days after his dad's death, a friend of Heller's told him about a piece of land that was available at 20th and Capitol, across the street from The Waterboy restaurant where Heller and his parents spent many meals. Mike remembered one lunch there with his dad when his father pointed to the lot. "My dad said to me, 'Why don't you go get that piece? It's a good piece.' "
So when the chance came, Heller didn't hesitate.
As the design progressed, what emerged was the city's largest art canvas. "I wanted to create the most dramatic platform for Wayne [Thiebaud] and just give it to him," says Heller.
"I was looking for some inspiration as to how to honor my dad," he says. "I thought there was no better way to honor him than to build something. He taught me about building and he gave me an appreciation for modern architecture. And those became my internal marching orders."
When Heller approached Paul Thiebaud about becoming a 50-50 partner in a building that would honor their fathers, the deal came together quickly. Fittingly, they met over lunch at The Waterboy and hammered out the plan to build a four-story, 48,000-square-foot, LEED-certified office building with ground-floor retail and restaurant space.
"I've always been a closet developer," says Paul. "But I didn't want to do a project that was just financially motivated. For me the motivations of this project were architectural, and the fact that our fathers worked together. And Mike and I always wanted to do something that would contribute to the city."
But neither of them knew how Wayne, now 88, would respond or if he'd even want to be involved. Turns out he did.
Heller remembers the moment that Paul told him that not only was his dad interested, but that he was willing to create original artwork for the building. "The hair stood up on my arms just thinking about the potential of that," he says now.
After settling on local firm Lionakis for the architect, the building began to take shape. Lionakis' Nick Docous realized the significance of the project early on, and says the firm held spirited brainstorming sessions. "The tracing paper was flying," says Docous, who calls the SMUD building, designed by local firm Dreyfuss & Blackford, one of his favorite structures in town.
As the design progressed, what emerged was the city's largest art canvas, and likely one of the largest in the world. Heller and Lionakis wanted a massive backdrop for one of Thiebaud's works. But it evolved into four original pieces by Thiebaud, three of which would wrap around an architectural feature on the northwest corner, providing the chance to see three different works from three different directions.
"I wanted to create the most dramatic platform for Wayne and just give it to him," says Heller, leaving the subject matter entirely up to the artist.
Each of the pieces is based on Thiebaud's "Delta Series"—aerial-style landscapes inspired by the geometric forms of the Delta region with its meandering waterways and patterned agricultural fields. The series is one of Thiebaud's three best-known subjects, with the others being his cakes, pies and other sweet treats, and his San Francisco cityscapes.
It was the latter that ended up getting its own accidental homage. When the team from Lionakis met with Thiebaud in his studio, they picked up on his palettes and incorporated some of the colors into the building's window treatments with a mix of glass panels—tinted blue, opaque white and clear. Paul thinks it subtly hints at his dad's cityscape series, suggesting an urban skyline. (All they need now is a bakery on the ground floor selling cakes and pies to complete the homage.)
With the museum-quality floor-to-ceiling glass, abundant light and white interior walls, each floor will be designed to more or less resemble a gallery, with Paul supplying a revolving selection of pieces from various artists.
But Heller is setting his sites even higher. Literally.
"We don't use our roofs in this town," says the developer, who's planning a rooftop garden for the project. "If you go to New York, there are so many things going on on the rooftops."
Heller envisions a space for the tenants during the day, with an outdoor conference room and a cool lounge atmosphere for the community during nights and weekends, "to make use of those great spring and fall days here in Sacramento." Bonus: it would be anchored with one of Thiebaud's new works that would be visible only to those on the roof.
But the pièce de résistance of the project, of course, is the four-story vertical artwork that will grace the west side of the building. After much debate, Wayne surprised everyone by suggesting the work be done in black and white, not the rich colors that he's best known for.
"I love black and white," he says. "I don't know of many color murals outside that look good. They tend to look too bright or garish."
"We also thought black and white would be very elegant," adds Paul. "It just clicked with the modern look of the building."
Thiebaud created his original drawings using black and white acrylics over a 10-week period, finishing in February. The main piece is a mere 30 by 40 inches, but will be blown up to 52 feet high by 42 feet wide, with a river image running down the middle (there was even brief talk of pumping water to the top of the building so that real water could flow down the river—an idea that was quickly killed by cost issues).
And after exploring methods ranging from using sign painters to a ceramic tile firm to a laser-cut steel process, Heller found a family-run tile business in Mexico, who will likely use glass tiles to construct the massive works.
"Can we duplicate it on such a massive scale?" says Heller. "That totally remains to be seen because none of us have ever done this."
At least not like this. Thiebaud's SMUD mural was created using a manual process that would be cost-prohibitive today, says Heller, with each square inch of ceramic tile—many broken into even smaller pieces—placed by hand. These new drawings will be digitally reproduced onto the surface of glass tiles.
"If we can pull this off," says Heller, "it will be nothing less than mind-blowing."
But he needs to finance it first—a tall order in this economic climate. Still, he's hopeful that he can secure financing this spring (he plans to consolidate his three regional offices in the building) and break ground soon after, with the goal of opening the doors by Labor Day 2010. (2020 update: Sadly Paul Thiebaud died from cancer in June 2010, putting the development on hold. Heller still plans to complete the project.)
"It's still a risky venture," says Heller. "But I think it will help raise Sacramento's profile on the national art scene. And if I were to ever, ever, ever truly make a civic gesture without typical developer returns, this would be it. I told my old man up there in heaven I was going to do this, so we're going to try real hard to get it done."