Q&A: Food Writer Hank Shaw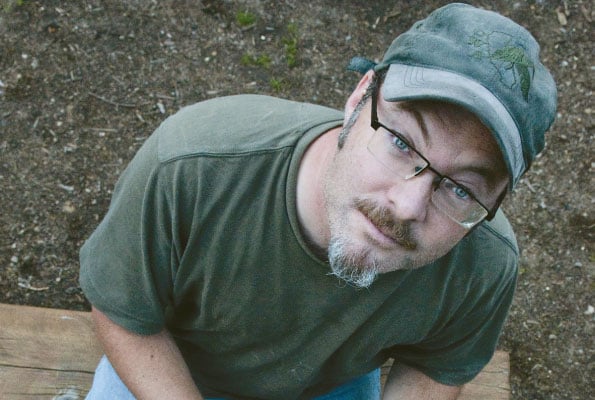 Sacramento food writer
Hank Shaw
spent years as a political reporter, but now follows his passion for wild food—first on his blog, Hunter Angler Gardener Cook, twice nominated for a prestigious James Beard Award, and now in a new book,
Hunt, Gather, Cook
, a lively primer to sourcing, cooking and eating everything from elderberries to eels. We talk to him about his book tour, his blog, his Jersey-boy past and his secret fast-food habit.
How did you get started fishing, foraging and hunting for wild food?
Fishing and foraging are about as much a part of me as my right arm. My mom taught me how to fish when I was five. I've been foraging since I could walk, probably even before that. It's part of our family's culture. My mom is from New England, and when she was a little girl her job was to dig clams for Friday chowder. She used to go and pick blueberries. She passed that on to us.
I didn't pick up hunting until I was 32. I was in Minnesota, and my friend Chris said, "Why don't you come to the pheasant hunt?' I'd never shot a shotgun. It was an amazing, life-changing event. I realized that everything about fishing and foraging that I'd applied to the coast—gathering beach plants, clams, crabs, fishing—I could apply to a landlocked area. An entirely new vista opened to me. I did not grow up knowing anybody who hunted.
And where did you grow up?
New Jersey. Hunting was just not part of my culture. I think that makes my perspective on hunting a lot different from someone who was born to it. I come at it with a fresh set of eyes, which is very similar to a lot of people who are approaching me now from the food world saying, "I really want to do this or that. I have no idea how." That's why I wrote this book.
What would you tell someone who is interested in obtaining and using wild food but has no idea where to start?
Start with your yard. Can you name the plants that live in your yard? You can name the ones you planted, but what about the so-called weeds? The secret is that most of those weeds were brought here as food plants by European ancestors. There's dandelion, there's chickweed, there's sorrel, there's wild lettuce, there's curly dock. There are easily half a dozen good green things to eat in your yard right now. You just go outside and you look at a plant and you try to figure out what that plant is. Once you memorize what that plant looks like, you'll never forget it, and you'll see it everywhere. You'll be walking down the street and think, "Oh, that's curly dock, I could eat that!" When I walk down the street now, it's like the Terminator, with that heads-up display of all the information that he's seeing in the corner of his eyes. I totally have that when I'm walking around: "Wood sorrel!"
So that covers how to start foraging; another question is why you might want to.
I think there are a couple of whys. The first is that the ability to name something is power. The other big reason is to take some charge of what you eat, to take the middleman out, to say, "I know how to feed myself." What animal doesn't know how to feed itself, other than a human? If you were to plunk most people into the middle of a forest full of food, would they survive? I don't know. If you know the stuff that I'm trying to teach in the book, you're going to go a long way to not only seeing how to survive but how to thrive with really not a heck of a lot of effort. I was in Point Reyes [in April], and in a half-mile radius, I found six kinds of berries, any number of wild greens, an entire spice cabinet full of herbs and spices, fiddleheads, mushrooms, all within a half a mile of where I parked my truck. Yes, Point Reyes is a special place, but in most places, even the desert, you can have that kind of diversity of flavors.
What are the most outstanding flavors people would find here in Sacramento?
Elderberries. Walk anywhere in Sacramento, especially along the rivers—they're one of our most common berries, they're delicious and they're everywhere. You can eat the flowers, and you can eat the ripe berries. You can make jams, you can make wine, you can make syrup. You can make fantastic jelly. The riparian areas around here are loaded with oyster mushrooms in the winter season. And miner's lettuce is everywhere. If you look at the botanical maps of where miner's lettuce is found, the epicenter of that species is here—actually, in Folsom.
Hence the name?
Yes. There's more miner's lettuce here than there is anywhere else in the world. It's an easy-to-spot plant, and it's better than any lettuce you can buy.
What are some childhood food memories that you look back on fondly—but that aren't so wild?
Like a nasty old processed food? I still love Taylor ham [pork roll]. It's basically made with random pig bits, and it's heavily fermented so it's very tangy. You can get it at Corti Bros. It's New Jersey's gift to sausage. It's so good, and it's so bad for you.
Any other foods you crave that might surprise your readers?
I do have a bad In-N-Out Burger habit. I'm on the road a lot, and you can't always eat natural and healthy and whatever. I've got a mental map of every In-N-Out Burger from Redding to Bakersfield.
What do you eat when you're really beat at the end of a long day?
Well, if I'm really beat I just eat bread and olive oil. If I'm slightly less beat than that, [I'll make] tomato sauce. I can do spaghetti and tomato sauce on no sleep. I can do it drunk. I can do it with one brain cell left in my flickering husk of a body. I can make a tomato sauce in any different kind of way that you want to make it—it just comes automatically.
Where do you like to go out to eat here in Sacramento?
I don't eat out much because I cook so much at home. But when I do, I like Grange, I like Mulvaney's, I like Waterboy. Those are the three high-end places I go with some frequency. I always get good food. I'm kind of a taco truck guy, though. I live in Orangevale, and if I'm driving around and hungry I look for the nastiest-looking taco truck and I order pig face or tongue or tripe or something. I dig that.
Any interest in opening a restaurant of your own someday?
No. Running a restaurant is a difficult endeavor. It's like a party that you invite everybody to, and you have to make it interesting and exciting every day of the week for years. That's not easy, and I don't think that's where my passion is. Catering is good. I really enjoy the challenges that a particular assignment will face. Do a Cajun event or do nothing but wild game birds or do an Argentine barbecue, something like that. Those are a lot of fun.
You're going on the road this summer for your book tour. Say you're at a gas station in the middle of nowhere, starving—what do you buy?
Something weird and local. Pickled eggs, Vienna sausages. If it can't be all fancy or whatever, it can be cool and local. For example, I always make a stop in Paxton, Nebraska, at a place called Ole's Big Game [Steakhouse]. There are giant bison burgers and Rocky Mountain oysters [bull testicles]. I'm hoping to find some cool places in Mississippi and Alabama, South Florida. There's going to be some weird stuff.
Will you have time for foraging, fishing or hunting on the tour?
On the first leg, May 7 to June 10, I'm going to be grouper fishing in Florida. I'm really excited about foraging in Alabama. There's an expert forager in northern Alabama who wants to take me out and show me all kinds of stuff in the Deep South, which is an area I've not really been to. I'm really excited about seeing new and interesting plants. I'm going to be fishing for redfish and cobia in Gulfport, Mississippi. I'm going to be catfishing in Austin, Texas. We're going to go pick mesquite blossoms in Phoenix. I have a lot planned.
What are some of your other stops on the book tour?
I'm putting together a series of events all over the country, restaurant events where the chef will create a menu inspired by the book with wild food from that region from that season. If there's a frontier beyond fresh and local, it's fresh, local and wild. Some of them are James Beard winners or Michelin-starred chefs—Brad Farmerie of Public in New York City, Tony Maws of Craigie on Main [in Cambridge, Mass.]—and I'm getting so much excitement from them. The chefs want to take this project on and really create something quintessentially Arizona, quintessentially New England or Minnesota. Yes, I'll sell books, but that's not the point. The point is to have one night where we can remember that feast that we used to always eat.
Anything here in Sacramento?
Michael Tuohy, [former executive chef] of Grange, is doing the book launch party on June 16. I'm sure you'll see some mushrooms on the menu, because June is good for spring porcini and morels. I would be shocked if we didn't have some salmon or sturgeon. We probably won't be game heavy because it's the wrong time of year, but Northern California is such a treasure trove of ingredients that it won't be hard to come up with something special. There's also a book signing and conversation with me, being interviewed by [Capital Public Radio food reporter] Elaine Corn, on June 11, at Cafe Bernardo in midtown. Then, in San Francisco, on July 23 we're chartering a whole boat. We're going to go rock cod fishing at Half Moon Bay, and we're going to clean the fish and present them at a multi-course wild dinner the next day at a pop-up restaurant somewhere in San Francisco.
Tell us about how you started your blog. Did you ever think it would get this big?
The blog [honest-food.net], started in November 2007. At the time, I was in a position in my political writing where I was very, very good at it, but it was no longer the thing that really occupied the center of my mind. I did it for 18 years, and I covered some amazing stuff in those times, but it got to be where it was no longer something I loved. [Shaw worked at papers around the country, including as Capitol bureau chief for The Record in Stockton and as a senior writer for the local online political newsletter Capitol Morning Report.] Food started to keep me sane. I would come home, and I would cook, and I would write about it. Did I ever think it was going to get this big? I hoped. I'd like to say yes, I planned it.
Do you ever miss journalism?
There's a certain adrenaline rush you get from being in the middle of a big story, but I don't have a lot of regrets. I've done my time.
What was it like to be nominated for the James Beard Awards for the blog? Was it fun to go to the presentation dinner in New York?
Yes. I think the coolest thing about it was how open everybody was. For example, I met [Top Chef's head judge] Tom Colicchio, who's from Elizabeth, New Jersey, and I'm from Westfield, one town over—big rival towns. So without even thinking, I said, "You're from Elizabeth? Get the f—k outta here!" And he says, "Are you from Westfield? Holy s—t!" All of a sudden, he wasn't Tom the big shot; it was two Jersey guys, saying, "Hey, how you doing?" That lack of pretension was really, really exciting. The other exciting thing was going with a woman named Pam Hunter.
You thanked her in your book, right?
Yes. She ran a PR agency in Napa, and she was the first person who said I should give it a go [with my blog]. At the Beard Awards, I knew she was sick [with cancer]. She took me aside and said, "You know, very soon you're going to have to decide what you want to do with this. I think you should go for it." She was the first and really the only person who said that. My biggest regret is I never had a chance to show her the book, because she died before the book came out. I've been nominated for the Beard award twice. I didn't have anything to say [in an acceptance speech] those first two times. This year, if I won, I knew exactly what I wanted to say. I wanted to dedicate it to Pam, and I didn't get nominated this year. I did get nominated for IACP [the International Association of Culinary Professionals]. Who knows if I'll get a chance to get up on that stage, but if I do, it will be for Pam.
So now that your book is out, what's your next project?
My next project is to go all over the country and seek out these special ingredients—whether it's hunted foods like birds or deer or fish or foraged plants—to find the native North American ingredients that are all around us. I want to bring those to the forefront. I'm doing wildcrafting in my garden now, planting prairie potatoes and American ground nuts, and camas and yampah, which are native to this area. How much of what you eat comes from North America? Not much. Wild rice, turkey, cranberries, Jerusalem artichokes; those are all North American, but almost everything we eat doesn't come from here. There's so much that is untapped that just grows here that we don't know about. The subtitle of both the blog and the book is Finding the Forgotten Feast. That's what I do.