Raising the Barn
On the banks of the mighty Sacramento River, an instant architectural icon has sprouted from the earth, connecting the natural landscape of the riverfront to its modern neighbors ashore, all while making a bold statement about our region's history and our new civic identity. Here's how our newest urban landmark was born.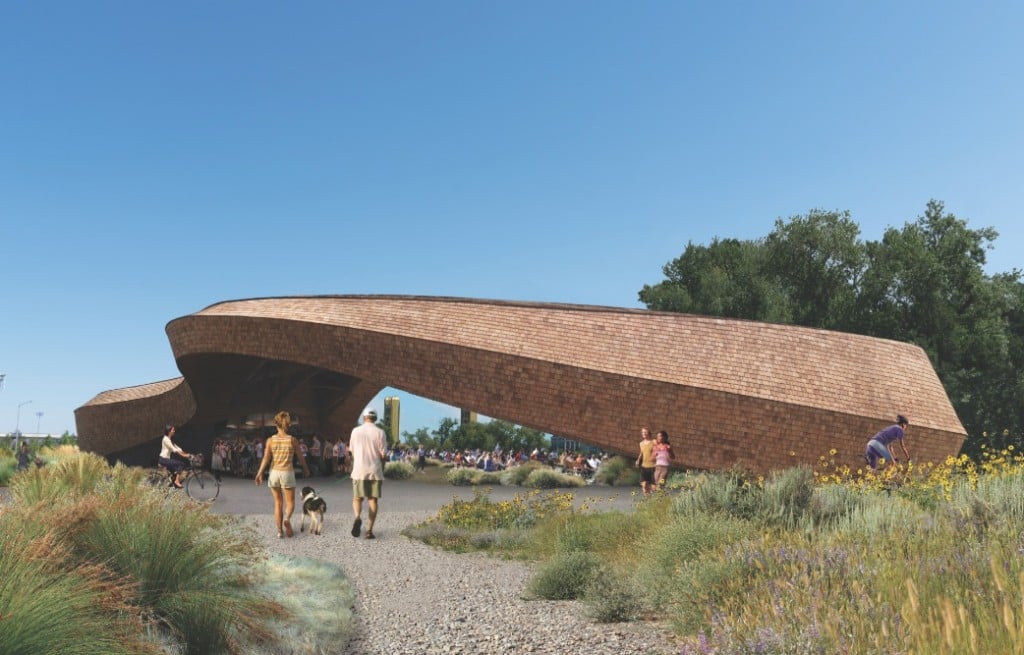 IIt's a barn. It's a bridge. It's a wing. It's a seedpod. The word "building" doesn't spring to anyone's mind when searching for a term to describe the Barn, the sweeping, swooping cedar shake pavilion rising on the West Sacramento side of the Sacramento River between the Tower Bridge, Raley Field and Highway 80.
This graceful yet humble structure, which looks like something Frank Gehry might have designed had Frank Gehry been a Yolo County farm boy, is the physical and psychic centerpiece to The Bridge District, an ambitious mixed-use neighborhood springing up whole on a 180-acre site where agricultural workers once loaded rice onto barges for transport.
Dutch landscape architect Jerry van Eyck has designed public spaces in cities as diverse as Rotterdam, Miami and Las Vegas (his design for the first public park on the Strip just opened in April), freely mixing architectural and landscape elements. When he first arrived in Sacramento in the summer of 2011 at the invitation of Fulcrum Property's founder Mark Friedman, the Barn's developer, his first task wasn't to examine the building site, but to parse the local zeitgeist.
Friedman had ideas on that score, gleaned from years of thinking about Sacramento's identity. "Much of the work that Fulcrum does is trying to identify what's great about Sacramento and make it visible to everybody else," he says. "One of the things that's so terrific about this community is our commitment to local agriculture. We really are the farm-to-fork capital. We literally feed the world."
But as much as the plan called for a piece of "statement" architecture, Friedman knew he wanted something that felt intimate and naturalistic. "We're trying to create places where people just feel comfortable hanging out. I know that sounds very simple, but for me that began with a vision of what I like best about Sacramento, which is sitting outside on a warm summer night eating dinner, and feeling the Delta breeze come in and cool the air. Honestly, the thing I like best about Sacramento is that it's really lovely and graceful."
"So the idea came up to design a barn as a pilot project," says van Eyck, adding after a pause, "Of course we didn't want to do a traditional barn." By building such a prominent and public centerpiece first, van Eyck and Friedman hoped to set the tone for future development in The Bridge District.
Choosing a landscape architect to design a building wasn't a controversial decision at all for Friedman, as few of Fulcrum's projects to date could be described as traditional. A native son whose family owned Arden Fair mall, Friedman studied design at Harvard before earning a law degree from Stanford and making his way to Wall Street in the 1980s. He returned to Sacramento in 1991 and picked up the family business, developing property.
But talk to Friedman, 59, about Sacramento, and it's difficult to remember you're talking to a property mogul. He sounds more like a 22-year-old art student who passionately and naively believes that great design can save the world. Or maybe not so naively after all, since Friedman has the will and resources to make things happen.
"At bottom, development is a form of social engineering," Friedman says. "We're trying to articulate a different way for people to live, a different way for people to work, a different way for people to have fun."
Friedman's first foray in this new direction was the development of downtown residential lofts. The loft conversions and other thoughtful infill developments have arguably helped spur downtown's renaissance as a walkable, livable urban center. Today he owns a minority stake in the Sacramento Kings and is the developer of the team's new arena.
Another step toward realizing this vision was Fulcrum's hiring of design director Stephen Jaycox in 2010. Like Friedman and van Eyck, Jaycox has a hard time coloring within the lines of a single discipline. Trained as an architect, Jaycox was the deputy director of the Cincinnati Art Museum and a founder of the San Francisco design house Perimetere-Flux, which made a name creating museum exhibits for clients like the Getty and SFMOMA.
Long before the design concept for the Barn took shape, Jaycox and van Eyck took walks along the West Sacramento waterfront, talking and thinking. Jaycox remembers how van Eyck pointed out what would typically happen on a site like this: "[There would be] buildings bulking up as close as they could get to the river, so marching down a riverfront, you'd have tall buildings on one side and the natural ecology of the river on the other, not really feeling like you belonged to either."
So they started talking about what else might be done. "This was really wonderful," Jaycox says, because the landscape architect then floated a different idea, which was, "What if there were a few places where the wilds of the [riverfront] could leap over the pedestrian path here and lock fingers with the city?" No stranger to integrating nature into the built environment, van Eyck—who founded his New York-based firm Melk in 2010 and is also helming the redesign of Crocker Park on the other side of the river—serves on the board of governors for the Frank Lloyd Wright School of Architecture, which promotes its legendary namesake's concept of organic design.
With Fulcrum's encouragement, van Eyck took the agrarian-urban motif, and got site-specific.
For instance, the Barn's curvilinear overhangs aren't just for style: The designer studied the movement of the sun across the days and seasons and optimized for 6,000 square feet of shade during the harshest summer months and light when the winter sun is low. "That's how the idea of the nontraditional form came about," van Eyck says. "We also saw resemblances in the vegetative material, the sprouting of a plant, so it became an extra layer of agricultural architecture—barn meets sprout."
As forward-leaning as the architectural statement is, van Eyck is also proud of the simplicity of the building materials. "The cool thing is that we found a way to stay true to how traditional barns are built," he says. "Using computerized software, we could deliver this project in its nontraditional shape, but only using traditional pieces of material."
This simplicity also helped keep the project's budget under control, coming in at a modest $6 million, $2.5 million of which was provided by the city of West Sacramento, which has been an enthusiastic partner in the endeavor.
When it opens this summer, the Barn will house a full-service restaurant and a counter-service cafe, and will welcome al fresco diners, festival-goers, farmers' markets and charity events, framing a view of downtown and providing a grand gateway to the riparian wonderland of the riverbank—something that has long been missing from the rest of Sacramento's urban landscape, where levees that were built when the river was considered nothing more than an industrial transportation system now block views and access.
"The Barn serves multiple different purposes," says Friedman, "and one of them is as a community gathering space. We're going to have lots of different programming, everything from movie nights when you'll sit outside watching an old Western, to pizza [parties] by the river, to Sunday morning races." At night, visitors can take in concerts under the shelter of the structure's 80-foot-long wing and gather around fire pits with friends.
The swath of raw riverfront where the Barn is going up today has already hosted the TBD music and culture festival for the past two years, welcoming up to 30,000 visitors each time to see acts like Moby, Chromeo and Tears for Fears. The plan is for the space to continue to host such events, with the Barn serving as a hub for food and drinks, at least until ground is broken for neighboring projects.
For now, the Barn will stand as the emblematic centerpiece to Fulcrum's share of The Bridge District. The company owns a little over half of the area's acreage (and all of the parcels bordering the Barn), but has deeded much of that back to the city in the form of parks, roads and easements. That leaves approximately 40 acres for actual development, which includes the completed and fully occupied Park Moderns, an enclave of single-family residences in the mid-century modern style ranged around an oval park that the firm designed and developed and then deeded back to the city so that it would be a public amenity.
Who are the urban homesteaders who have bought into this as-yet somewhat isolated slice of urban paradise?
"Our answer is always people who self-identify with design," says Jaycox. "That crosses all the market segments of real estate. People who want to live in the city, but have a need for a relationship to the outside. We have everyone from professors to young entrepreneurs to retirees to people who are very close to public policy for our region. The age range couldn't be more diverse."
The Bridge District's master plan calls for its remaining acreage to feature ground-floor retail, offices and residential units for 9,000 new residents. Other developers have similar mixed-use proposals afoot in the surrounding area, some of which include other showpiece public spaces, such as local landscape architect Kimberly Garza's whimsical plan for The Dune, an elevated "beach" overlooking the river, complete with sand and umbrellas.
In the meantime, the Barn serves as a bold statement that sets the tone and establishes a high bar of aesthetics and livability for a neighborhood that promises to be uniquely its own.
"What makes me really proud and excited about what's happening in Sacramento right now is that we've really begun to define our own identity instead of trying to be like other places," Friedman says. "I think what's exciting is that we've figured out what is good about ourselves and have decided to be Sacramento."