Raw Talent
When Kru moved from a pocket-sized midtown locale to an expansive space in East Sacramento, chef-owner Billy Ngo responded to the sophistication of his Japanese restaurant's splashy new digs by upping his already elevated sushi game and creating an even more seaworthy dining experience.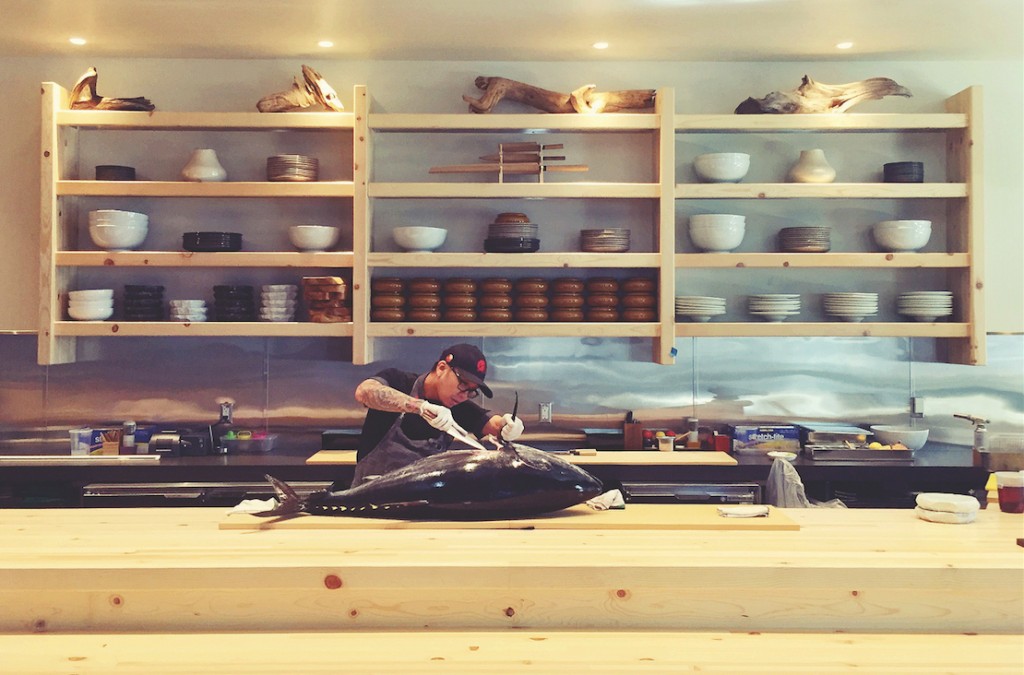 Kru
3135 Folsom Blvd.
551-1559
krurestaurant.com
R
Kru's celebrated chef-owner Buu "Billy" Ngo could fill a book with what you don't know about sushi. KSashimi, for starters, is served chilled, in big, meaty tranches. Nigiri, on the other hand, is different. "It's one bite, and you're not supposed to use soy and wasabi," Ngo says. "Everything is seasoned the way it should be." Nigiri, he adds, is served at room temperature, pressed over slightly warm rice. If you fancy yourself a sushi-phile and that sounds odd to you, read on to be further disabused and enlightened.
A lot of sushi lovers think the art of sushi prep is all about knife work and presentation, and having the freshest fish. Ngo dispels all of those myths. "At a lot of places here [in the United States] the fish isn't even dressed," he says with bewilderment. "It's just cut and served with that fake wasabi and soy. You make the 'mud' and you dip it, and all the fish tastes the same."
He also points out that, if you're eating sushi, it's probably a given that the fish is fresh. "We're all using the same purveyors," says Ngo, 35. "But the thing is, you have to treat each fish differently. Some you leave skin on and blanch, some you leave skin on and torch, some you smoke, some you grill, some you freeze and defrost, some the fresher the better, some get salted and cured in vinegar, some get a little sugar and cure in vinegar with no salt. There are so many things you have to do that people don't think about."
Many diners have never been exposed to these subtleties. "It's something that needs to be explained to our guests when they come in thinking we're a regular, roll-focused sushi place," says the chef. Even his sushi rice is tailored—he sources varieties from Rue & Forsman Ranch near Marysville and uses different vinegars to season batches for different fish preparations.
Ngo's own culinary evolution began soon after he arrived in Sacramento in 1981 from Hong Kong with his Chinese-Vietnamese parents. He was raised on a mix of ethnic home cooking and Western staples. "I grew up eating pizza and McDonald's like any other American kid," he says. But as fate would have it, his first  job at age 16 was bussing tables at the long-shuttered Fuji restaurant at 13th and  Broadway, which initially sparked Ngo's love of all things Japanese. He rose through the ranks to become a sushi prep cook, then found himself at a series of Japanese restaurants. "I worked at Mikuni when it started blowing up," he says.
He enrolled at the California Culinary Academy in San Francisco to learn technique ("I wanted to learn to cook as well, not just do sushi," he says) and, upon graduating in 2003, returned to town to complete an externship under Randall Selland at The Kitchen, where the fine-dining light bulb clicked on. "He spared no expense for ingredients," Ngo says of his mentor. Ngo opened Kru in 2005 in a small shop in midtown with a kitchen "the size of a closet" and quickly built his own reputation.
Ngo, then 24, was just happy to have his own place, but it wasn't long before he knew his food and his concept had outgrown the space. Still, it took him 11 more years to finally make a move, during which time he also opened Fish Face, a grab-and-go counter serving Hawaiian poke in the Warehouse Artist Lofts Market on R Street (a second outlet will open in Carmichael's Milagro Centre this spring).
Meanwhile Ngo's friend, the interior designer Whitney Johnson, who has developed the look of such local hot spots as Shady Lady Saloon, Hook & Ladder and Bottle & Barlow, had been begging him to redesign Kru for years, but Ngo held out, saving his energy and resources for what came next. The Goldilocks-like search for  a new venue began seven years ago and ended only this past October when his restaurant reopened at Alhambra and Folsom boulevards in East Sacramento—it took the restaurateur that long to find a space that was just right for what he wanted to accomplish.
Given Ngo's extensive sushi history and passion for authenticity, it's a surprise to learn that he only made his first trip  to Japan last year. He toured the country, dining in Michelin-starred restaurants and train stations alike, to research concepts for the new Kru and returned with a lot of ideas for Johnson, who kept the reference points from the original location that say "sushi bar," such as the blond wood tables and bar, while making the room sexier than before, with dark walls and an arched beam ceiling receding in shadow. On the lighter side, the sushi chefs' raised, brightly illuminated work area showcases their status as performance artists and the luxe caramel leather chairs that surround the sushi bar make the experience of eating there relaxed, comfortable and clubby. A peony-patterned mural on one large wall adds a touch of Asian opulence, and separates the dining room from what may be the most momentous new addition: a full bar.
As such, the expanded drinks menu—which is still a work in progress, according to Ngo—is being given as much careful attention to detail as the cuisine. "The traditional beverage [for sushi] would be a light beer or a sake," the chef says, and Kru has sake on tap, including the smooth Momokawa organic junmai ginjo out of Oregon. "But in this day and age it's whatever you like. Some wines work—a riesling, or the dryness of a sauvignon blanc. Whatever you like, we'll find something that pairs."
"Even some cocktails work," Ngo adds, citing his current favorite: Kru's old-fashioned, made with small-batch Elijah Craig bourbon. "We hand-selected and purchased a small barrel and got bottles labeled," he says.
Just past the bar area lies one of the new restaurant's more delightful surprises: a private dining room with an enormous rectangular banquet table that boasts a sunken, raked sand Zen garden in the middle. Available for dinner parties in the evenings, by day the space serves as a rare sake and whiskey shop featuring a tasting bar and shelves lined with bottles from Ngo's extensive collection.
But as attractive as the rest of Kru is,  with its dramatically sweeping ceiling and theatrical spotlights that turn every plate into a highly Instagrammable moment,  the sushi bar is still the place to be. On any given night, you're likely to be elbow to elbow with the area's top chefs, including Selland—whose family's newest restaurant, Obo', shares a wall with Kru—and it's clear why: anyone coming off hours of brawling creativity in a hot kitchen would feel salved by the cool, sophisticated simplicity of chef Ngo's sushi-craft. A fleshy sliver of skipjack, lightly smoked over rice straw and pressed onto a thumb-sized lozenge of warm rice? Practically melting on the tongue, it's the gustatory equivalent of a relaxing massage. For anyone, chef or layperson, visiting the table of a culinary wizard like Ngo is also a bit like going to foodie church. And for true acolytes, the ultimate ritual is the chef's choice omakase service.
"Omakase translates as 'I leave it to you,' " says Ngo. Served only at the sushi bar, the $125-per-person meal differs from your standard prix fixe offering in that it's got an element of improvisation, and the chef works directly across from you, giving you an intimate and conversational guided tour of your meal. At the outset, the chef graciously quizzes you on likes and dislikes, tolerances for the exotic and any food allergies. Vegetarians and the finicky or squeamish might be better advised to find happiness in a bowl of house-made ramen ordered off the regular menu, but for sushi lovers in search of rapture, an omakase experience is worth mustering up courage and saving one's pennies for.
Throughout the two-hour meal, which can include up to 20 courses, most of them single mouthfuls, dialogue flows back and forth across the sushi bar, peppered with stories about the origins of a particular fish and the sharing of colorful food memories on the part of both guests and chefs. Ngo likes learning the preferences of his repeat customers and embraces the challenge of continuing to surprise them while delivering favorites. He is, at root, an entertainer, and omakase is his jam.
"I love eating and I'm a steak guy, but I cannot sit down and do a 16-ounce rib-eye dinner," Ngo says. "After five bites, my palate is sick of that flavor."
A service might begin with a raw oyster on the half shell, a pair of duck dumplings in mushroom broth or a tempura-battered nugget with the texture of a delicate custard inside that Ngo presents as shirako—only after you've raved about the creaminess and subtle flavor might he explain, with a bit of a twinkle in his eye, that shirako is, in fact, cod sperm sac.
The second movement of the omakase symphony, and the heart of the meal, is the nigiri. "When we do a flight of nigiri," Ngo explains, "it's supposed to be a journey. It goes from lean to fat, from light flavors to heavy."
A flight starts with delicacies like scallop dressed in lemon, sea salt and soy, or Japanese baby white shrimp topped with dehydrated yuzu, and ends with an extravagantly rich bite of nigiri that might be a piece of fatty hamachi belly buried under a layer of pale "snow," which Ngo grates from a torchon of frozen foie gras—to be eaten quickly before the topping melts. The feast is punctuated throughout with delightful grace notes, like a thumb pot of sunomono salad, a miniature landscape of pickled vegetables or a tiny ball of citrus sorbet, and finishes with a mug of warm tea to help ease you back from your fish high before sending you out into the night.
Omakase is not an everyday experience, and fortunately for all, Kru offers exquisite a la carte sushi bar and table service as well. The nigiri menu, for one, is rife with seasonal items like fresh Tarabagani king crab from Norway, which is served dressed in "crab butter."
"When you rip open the head, all that fatty goo comes out, and a lot of people don't use it," Ngo says, describing the unctuous golden liquid. "We scrape it all out, mix it with sugar, miso and a little butter, and make a sauce out of it. All that flavor makes the crab even crabbier."
The sashimi plate, for which Kru is justly famous, is designed to look like a mountain landscape, with whorls of meaty sliced fish, from salmon to sturgeon, glistening on a bed of crushed ice, and accented by twigs and flowers. It's served with kizami wasabi, a chunky, preserved preparation with the consistency of a relish. "It has a really unique flavor," says Ngo, "and you don't need soy [sauce] with it because it's already salty."
If you were a sashimi loyalist at the original Kru and think the entrée at the new restaurant is even more decadent, it's not just a trick of the lighting. The dish is indeed grander and more artful. "Before, I felt like the ambiance didn't match the food," Ngo says. "Now I feel like the ambiance is pushing us to make the food even better."
While the nigiri and sashimi are proudly traditional, Kru bills itself as serving contemporary Japanese cuisine, and Ngo takes license with the small plates menu, which has been growing steadily in scope and creativity with the additional kitchen space—at 1,400 square feet, it's nearly six  times the size of the kitchen in the old location. While the raw fish and many of the meats on Kru's menu are sourced from around the world, this is where Ngo is able  to celebrate Sacramento's farm-to-fork tradition. "We are taking local ingredients and treating them with Japanese techniques and flavors," he says.
A delicate kabocha squash from West Sacramento's Vierra Farms, for instance, yields a tender, crunchy winter tempura. The chicken tail kushiyaki, from birds pasture-raised in Mendocino, is a skewer of that part of the chicken made up of fat and skin that your grandmother used to call the "pope's nose" on a roast bird. It is revelatory here, a creamy, crispy chicken flavor bomb, like a poultry version of pork belly.
There is, of course, real pork belly, paired with uni in Ngo's take on surf 'n' turf. "Uni is rich. Pork belly is rich," he says. "I like dishes that have all kinds of flavors and textures—temperatures, too. So we top the warm pork belly with cold uni."
Hot, pudding-like cubes of pork seem to hold their shape by virtue of the thinnest glassy veneer of teriyaki glaze, with a blanket of chilled, briny sea urchin from Fort Bragg or Santa Barbara draped over them like cool silk sliding over warm velvet. This could be a simple, soulfully seductive dish, but it's festooned with razzmatazz for brightness and contrast: droplets of nettle purée and fronds of frisée add freshness, while puffed arare rice adds roasty flavor  and crunch, as do Passmore Ranch sturgeon-skin chicharones, and translucent, bark-like curls of shaved dried bonito give the dish a note of earth and smoke. The plate looks like the forest floor in Middle Earth and tastes as magical. It's also so rich that it should probably be eaten last, in lieu of dessert, as it's too powerful to let any other dish have the last word.
Should you opt for a pork-free dessert instead, the lighter-than-air green tea panna cotta topped with apple-yuzu gelée, sesame powder and edible flowers is not overly sweet and as pretty as a nosegay. Either way, the meal doesn't quite end there, because you'll find yourself returning to it again and again in your mind over the next few days, savoring the sense memories that just don't seem to fade away along with your hunger, the way those of most meals do. That's when you know you've only begun to whet your appetite for the fine art of Ngo's edible masterpieces.