Red Hot
A year after starring on The Voice, Sacramento singer-songwriter Lindsey Pavao is back in the spotlight with a new radio gig and her first full-length album. Can we hear you say aah?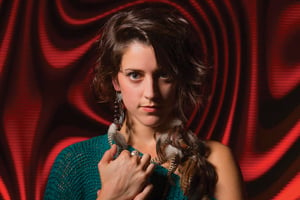 O
On The Voice, you were introduced as "a bartender from Sacramento." Where did you tend bar?
I bartended at a couple of places. I bartended at Pinkys Bar and Grill, which is in Nicolaus and right on the river. That's where I got all of my bartending skills. Then I worked downtown at Zen Sushi.
And your boss at Pinkys was the one who encouraged you to try out for the show, right?
Yeah, I'd be cleaning the bar at night and singing, and she'd be like, "Oh my God. You have to do something [about pursuing a career in music]. There's this new show. You really have to get on it." I had never watched The Voice. I honestly didn't even know what The Voice was. So I looked it up and they were coming to San Francisco [to hold auditions] later that week.
I had no delusions of grandeur. I didn't think I was going to get past the [first] audition. I was driving there with my boyfriend and I was like, "Turn the car around. I can't do this." And he was like, "No, we're going to do this." So I always tell him, in a joking way, that it's his fault that I got on the show. This was in August 2011. I think what people don't understand is that [the show] was actually a year of my life. It wasn't just the three months that people saw. There are many auditions you have to get through before you're even on the blind audition, which we filmed in October [in L.A.]. Then the battle [round] was in December, and then we came [back] for the live [shows, which started airing in April 2012].
Speaking of your blind audition—during which you performed Trey Songz' "Say Aah"—what was it like singing to the backs of four chairs? Did you ever think, "What if nobody turns around?"
It's so hard to describe. Yeah, it's that whole public embarrassment thing. I was like, "I don't want to go out there and look stupid." I was really preoccupied because I missed my cue into the song, so all I was thinking was, "Sh-t, I missed the cue. I really hope the band catches on." Then when the chairs started turning around, I almost felt crazy because I'd so mistrusted myself, thinking, "There's not a chance."
Christina Aguilera turned her chair around in less than 30 seconds, and then CeeLo Green and Blake Shelton followed suit.
I couldn't even process it. I remember seeing [Christina] turn around and it was a relief because then I was in. It was so cool. But then you have the whole scary idea of choosing somebody. I picked Christina because I knew that there weren't going to be a lot of people in my [indie, alternative] genre on her team; there was a lot of soul and pop on her team. But before that point, I was like, "I'll pick anyone except for Christina. She [as a pop singer] wouldn't understand me." I guess that was my problem for assuming that, because I did a lot of research about her afterward and [found out that] she collaborated with [Australian jazz singer] Sia a lot, who is a big influence of mine.
How was it having Christina as your coach?
I think we had a couple really cool moments. I don't think we had a whole lot of connection off camera—it is what it is. She's a really hard person to read. But I mean, it was good to work with someone who is so sure of herself. She's not sure in a negative way, she's sure in a way that's like, "You're going to be a pain in the ass to the people around you and to yourself if you don't believe in yourself." And I started to realize that, even for the costumes, when I was like, "I don't know what I want to wear." And they were like, "Well, get it together or we'll put you in something you don't like." It's just this idea of being sure of what you want. It is easier on everyone, and that's a big thing she helped me with.
Did you grow in confidence as the weeks progressed?
I did. I remember very clearly in the semifinals—after I did a performance of "Skinny Love"—for one of the first times in my life, I was like, "I did really good." [Pavao made it to the second-to-last week of the season.] It was a really big growing moment for me.
Now here we are, a year later, and you're front and center as a new on-air personality for Radio 94.7. What are you doing at the station?
I'm kind of a multitasker, which is something I like because I have a very small attention span. One of my jobs is to record content. I interview people who come in for the Perfect Playlist—you put together [a list of] seven songs and submit it on radio947.net, then we'll air it and bring you in for an interview and you'll get to talk about whatever tracks are really important to you. So I talk music with a lot of people, which is fun. I also do a lot of social media stuff, which is responding on a one-to-one level and promoting bands that we think are awesome.
Are there any Sacramento bands in particular that you're into at the moment?
There was one that I heard at Concerts in the Park [this summer], Paper Pistols. They remind me a lot of CocoRosie and Björk, that kind of electro music. It's very interesting. I love Hero's Last Mission. They've got this kind of soul-pop-rock-Southern thing that's really cool.
You're also about to release your first full-length album, The Symptom, which will be out on Sept. 19. What's the meaning behind the title?
It's about coping with your own demons and whatever symptoms they have. For me, it was dealing with a lot of anxiety and depression that I've dealt with my whole life, which got exacerbated by the situation I was put into on The Voice. There was a huge rift between perception and reality. I had all these people who began to perceive me as much more than I was. And it was like, "Do you understand there is fake hair, fake eyelashes and the lights? I am five percent of what you're seeing." I didn't have a very good image of myself, and then I had this experience where I had a lot of really beautiful input, and it was like, "OK, you can't use your bad self-esteem as a crutch not to be successful anymore."
But also, I went into a situation where I had no representation. I didn't have a manager. I didn't have a lawyer. And you're with all these heavy hitters and other [contestants] who have been in the game for a long time. They know how to market themselves. I wasn't emotionally prepared. So the eight months following The Voice were very stressful. For the first time in my life, I felt very sure that I had something to offer, but I just didn't know what it was yet. That's kind of the irony—I've gotten the [big] break. I've had big exposure and I have a lot of cool contacts all over the country. And now it's that test of, "Can you sell me? Or relate to me?" It's a scary time.
And how would you describe The Symptom's overall sound?
It's a little influenced by Radiohead. There are some driving guitar pieces. And there's definitely some Björk in there as far as melodic choices. I live in North Sacramento, and all of it was recorded here. I built a studio at my brother's house [nearby]. That's where we jam. He does the drums and a lot of the other instrumentation.
Are there any songs about Sacramento on the album?
There are things about Sacramento in it, but I don't think they're explicit. Definitely my experience in Sacramento [plays] a really big part. Coming back to Sacramento [after The Voice] was amazing because all the artists [here] have been really cool. Sacramento has been such a supportive city.