River Cats GM Chip Maxson
After 15 seasons with the Oakland A's organization, the Sacramento River Cats thrilled San Francisco Giants fans throughout the region last fall by switching affiliations to the reigning World Series champions. With the new season starting April 9, River Cats general manager Chip Maxson talks about what the change means to fans, what else is new at Raley Field for 2015, and our one-of-a-kind ballpark cuisine that has them buzzing all the way down in Florida.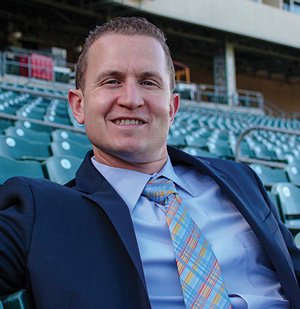 In the off-season, the River Cats switched affiliations from the Oakland Athletics to the San Francisco Giants. What was involved in that transition?
When the speculation started [last] May that we'd be switching from the A's to the Giants, truth be told, we didn't know until mid-September—when we made the official announcement. Major League Baseball keeps that buttoned up and has severe fines and penalties [for negotiating an affiliation switch before Sept. 16]. We were reading in newspapers and wondering the same things that some of our fans were asking us. 
Giants fans have a majority in Sacramento, right?
There was a [2014] New York Times article in conjunction with Facebook that showed which Major League Baseball teams' [fans are most represented in] by ZIP code. In the [Sacramento] area, it was overwhelmingly Giants. It was clear to us that this is very much a Giants area, and we had the data to back it up. We certainly don't hold all the cards and didn't force any switches. We laugh a little bit internally that people suggested we had the power to make all the decisions. That was definitely not the case.
How does a switch like this get made? What are the mechanics behind it?
This year, six teams in our league have switched affiliations, which is a little uncommon. When the Los Angeles Dodgers bought [the Oklahoma City AAA team in the off-season], that displaced the Houston Astros. That started a chain reaction from there. The process was very interesting. After the minor league season is over, there's a window where [teams] can essentially file for free agency. You don't know what anybody else is doing. We said, "OK, let's go ahead and file for free agency." We'd had a conversation with the A's; we'd heard speculation that they may be gone—that they'd been planning to move to Nashville—during that time as well. We did not get any of that information directly, so we were uncertain: If we file, and the A's leave, and we don't get the Giants, what's going to happen? Are we going to get the [Milwaukee] Brewers? That led to some stressful days there. 
On the day that Major League Baseball approved [the switch], we were able to sit down with the Giants and talk. But as you can imagine, after dealing with the A's for 15 years, it was an awkward first date when we had the conversation with the Giants. But they were great. Baseball keeps it very simple—it's literally a two-paragraph contract that simply says that the Sacramento River Cats agree to be the AAA affiliate for the San Francisco Giants, and the Giants agree to have the River Cats be their AAA affiliate. Both parties sign, and there's really no negotiation involved. That keeps it simple and allows things to move pretty quick. 
"We're Sacramento's team no matter whom we're affiliated with. If it had been the Houston Astros, we'd have still been Sacramento's team. We'd still be the River Cats."
So this is an entirely new team coming to Sacramento this year, right?
That is correct.
How do you foresee this kind of change affecting attendance and other parts of the fan experience at Raley Field?
I don't expect it to change the fan experience one bit at Raley Field. There are a couple things we've stressed to everybody throughout this process. One is that we want to be sensitive that there are a lot of A's fans who love coming out here. But the beauty of minor league baseball is that it's not about the players on the field. The guys come and go. We always focus on the experience at Raley Field—making it a family-friendly, affordable, safe experience. That's what we continue to hear from our fans, even the ones who aren't thrilled the A's are gone. We've been able to have conversations with them. They understand it. Their friends are still sitting next to them. It's still the same ushers greeting them as they walk into the ballpark. Dinger [the team mascot] is still running around making them laugh between innings. The experience isn't going to change, and hopefully we can improve in a couple other areas. But we're Sacramento's team no matter whom we're affiliated with. If it had been the Houston Astros, we'd have still been Sacramento's team. We'd still be the River Cats. We'd still make sure we get out in the community—that we're involved. From that side, the experience shouldn't change. 
What about the players? Are there any Giants players from last year's World Series-winning playoff roster that you think Sacramento fans are likely to see playing here this spring?
That's one I just don't know. We would love a guy like [Roseville native and Giants backup catcher] Andrew Susac to be down here—a local kid. River Cats fans signed a card [at the start of the 2014 World Series], and the Giants sent it to him in Kansas City. [The team] tweeted out a picture [of him] holding the card and thanking the fans in Sacramento. But we hear he's probably going to be the No. 2 catcher [in San Francisco, behind Buster Posey], which is great for him. And everybody here wants him to be successful. We really won't know who we'll get. The Giants have talked to us about some of these guys who will be getting World Series rings [which are presented early in the new season after winning the championship]. We're doing a presentation on May 1 for them. The presentation [will take place] prior to our game to give these players their World Series rings. 
You used to play, too, right? What was your path to the River Cats front office?
It [started on] one of those days back in college when I realized I was a little too short, was a little too slow, [didn't have] a strong enough arm—my playing days were limited and coming to an end shortly. I was a business major, and I loved the idea of, "Hey, if I can't play in a ballpark for a career, maybe I can work there." 
Just like a lot of the kids that we see coming through our front office at entry-level positions, I did my first internship with a club—the Kane County Cougars [the Class A team for the Arizona Diamondbacks] in the western suburbs of Chicago—and absolutely loved it. It was that combination of small business challenges, but you're at a ballpark. It's a very high-profile small business. Here in Sacramento, it's no different. At the end of the day, we're a family-owned small business. It's just that we get to invite 14,000 people out to our ballpark 72 times a year. This would be my fifth team, now, that I've worked for. 
What new or improved features should River Cats fans look for this season?
It's almost a perfect storm for us with the affiliation change, with the Giants winning the World Series again, and the addition of a couple things here at Raley Field, including the Western Health Advantage Legacy Club. It's a 5,000-square-foot, indoor-outdoor space for ticket buyers who buy into the area. [In addition to elevated, expansive views of the field and skyline from the third-base line, the Legacy Club will feature a full bar and unlimited food service; membership has sold out for 2015.] That's been a huge hit during this off-season. It's something the fans here in Sacramento have been looking for—that premium-scale, all-inclusive experience. 
We're also enhancing some things on our app. We're trying to get more interactive with our fans. You can vote for tweets of the game and pics of the game and have access to behind-the-scenes content that we're producing as well. Maybe it'll be "Here's [the players'] favorite place to eat" or "Here's how they grab a quick workout when they're on the road." It's a great opportunity for us to let our fans get to know the players—or the life of a minor leaguer—better than we've done in the past. 
On the game side, AAA [teams] are experimenting with a pitch clock—similar to a [basketball] shot clock—in efforts to speed the game up. So we'll have a 20-second pitch clock. Fans will see that out in the outfield, and there'll be two behind home plate as well. It'll be exciting to see what effect that has on the game. Last year, with the A's, we averaged about three hours and 20 minutes. The rest of minor league baseball averaged about three hours. So are we going to see an average 20-minute decrease in our game times? And will the pitch clock speed it up even more? That's something that we're watching a little bit internally, but it'll also be fun for the avid baseball fans as well.
Raley Field's food offerings are revered far and wide; Men's Health named the hand-carved, roasted tri-tip sandwich as one of America's top 11 ballpark foods in 2011. If you had to single out the most popular food item at the park, what would it be?
Our doughnut bacon cheeseburger, every year. People talk about it. Some of our folks were down in Florida [this winter] at a conference, and people were asking them about the doughnut bacon cheeseburger. 
Do you plan any exhibition games with the Giants at Raley Field?
That's definitely on both of our radars. Because of the timing of when all the affiliations changed, we were unable to do it for this year. But it's definitely something both parties are already talking about for 2016—to break camp down in Arizona a little earlier, then come up and do an exhibition game here at Raley Field. It's something we're excited about.