Riverfront Project Manager Richard Rich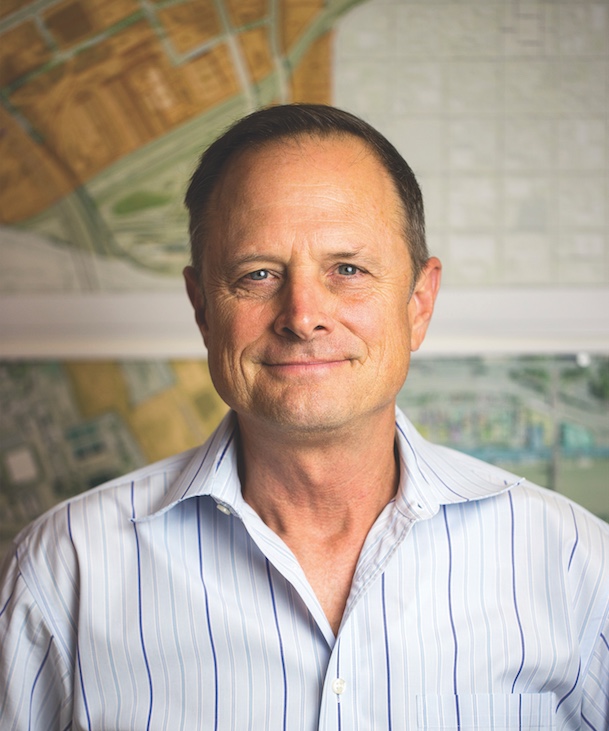 In 2016, the city of Sacramento hired Richard Rich—once the private sector development director of the railyards—to represent its interests on the massive infill project. Today, the bulk of his focus is on solving a problem that has vexed this town for decades—how to revive our underutilized riverfront. A former Disney Imagineer, Rich talks about a few of the bold new ideas for Old Sacramento, bridging the gap between the past and the future, and the possibility of a giant Ferris wheel with citywide views.
First, the basics. In terms of your purview, what physical space does the riverfront encompass?
It encompasses three and a half miles of urban riverfront that extends from Tiscornia Park, at the confluence of the American and Sacramento rivers, south to and including Miller Park and the marina.
In June, you presented a lot of ideas for Old Sacramento and the riverfront to the city council. They asked you to drill down on some of those and return in a few months. What are the next steps?
I don't think the timeline is as important as the idea that the council supported bringing the riverfront back. [We're] taking a much more detailed look at the 20 pieces of spaghetti that got thrown on the wall that night and prioritizing them. So it's taking a look at a dozen real projects as opposed to two dozen great ideas, and how we roll that out given the limitations of funding. Many of the ideas are a decade out. Some other projects, though, are doable now and in the short term with relatively small amounts of funding.
So when might we start seeing changes?
Well, some of them you see already. The Front Street Embarcadero is under construction now [replacing wood planks that have a limited shelf life with concrete that mimics the look of wood]. That should be done this November or December.
Beyond that, the first focus will be at the North Public Market building [also known as the Central Pacific Railroad Freight Depot], just north of Front and K streets. It's been [mostly] shuttered for years and is a barrier between the vitality of Old Sacramento and the riverfront. We'd like to open that up, literally and figuratively, with a series of "Made in Sacramento"-type of tenants—artists, artisanal products, food and wine, and those sorts of things. It's important to open up the building [which is a replica of the original] with large windows and openings in that [back] wall so that you could see through to the new Embarcadero, the Delta King and West Sacramento. The original building was open on both sides so it would really be making that building more historically accurate.
From K Street all the way down to the schoolhouse is an area that is less heavily used, often not used—a narrow strip along Front Street called Waterfront Park. That could be an adventure playground park—a kid-friendly, family-friendly, young-couples-on-dates-friendly promenade activity area. There are some vigorous conversations about [whether] a carousel there would be appropriate or not. There's a camp that says it would be great to have something like that, and then there are other camps that say carousels didn't exist between 1849 and 1870 and so it wouldn't be appropriate. That's a discussion that needs to mature.
What other changes might people be able to see soon?
We're looking to enhance the façades of the private buildings and, more particularly, to light them. If you go to Old Sacramento now at night, the lighting is adequate, but it is not spectacular in the way that Memorial Auditorium is spectacular at night. Memorial Auditorium, a historic building, is beautifully lit, but not garish in any way. So if we did that to each individual building in Old Sacramento, then suddenly the district is lit in an appropriate but dramatic fashion. That includes the alleys. We want people to be strolling, discover the alleys, meander through them, and find restaurants and courtyards and places where music is playing. [New lighting] could just enhance the whole atmosphere.
So if you just put those three projects together—the North Public Market, Waterfront Park, and a façade and lighting program—without doing anything else, you will have changed entirely the presentation of Old Sacramento to visitors, whether they're locals or tourists. Add music and entertainment, and all of a sudden you have a historic entertainment district. Old Sacramento has got the bones to be one of the greatest historic entertainment districts in the country.
What kind of timeline are we looking at?
I would shoot for you to begin to see this work completed in 2019.
And after that?
We've talked about the idea of a Ferris wheel. Everyone seems to love the Ferris wheel, both because it's an iconic thing and it gets you up above the tree line so that you can see [the city]. That probably won't happen in Old Sacramento. It might be close, but not exactly in it. That might be a deal where we find an operator who's interested in coming to Sacramento and operating the Ferris wheel for a profit. [Although] it could happen sooner, I think a Ferris wheel deal is more like 2020 or beyond. Finding the right site for it is going to be the challenge.
"Everyone seems to love the Ferris wheel [idea], both because it's an iconic thing and it gets you up above the tree line so that you can see [the city]."
You made some news recently when you talked about buildng a large-scale monument in Old Sacramento, citing landmarks in other cities like the St. Louis arch. Is that project still on the table?
The monument is a project that is further off. It would take a large community stakeholder group working in concert to accomplish that. The idea of celebrating the significance of the [district], I think, is vital. The idea behind the monument is about [western] expansion. What was actually happening [at the time that Old Sacramento was originally flourishing] was the transformation of our society by the Industrial Revolution, and Front and K was the landing spot of the [first] transcontinental railroad. Sacramento was the center of that innovation. So how do you capture the awe of what was happening back in 1860?
Those were the concepts behind the idea of a monument. I think people focused on the St. Louis arch [ever since that was given as an example]. Whatever happens there, I guarantee you that it won't be an arch, but it's difficult to talk about that now while people still have an arch in their minds. We'll let that conversation sort of cool a little bit and then we'll come back to the grandeur and the awe of what that place is.
You've also talked about how to change the way people get to Old Sacramento.
We want to make a great place that's easy to get to with lots of fun things to do, but nobody would say it's an easy place to get to or [that there is] a fun way to get there. The idea of creating an entrance into Old Sacramento through I Street is a big one but it's certainly doable. The bones of the place are magnificent, but the way that it's developed right now is forgettable.
Imagine this: When you go to a movie theater, you buy popcorn and then you walk down that long corridor and then you go to your seat. By the time you get to your seat you are in a different place, a place of either fantasy or horror or whatever. We have the same opportunity in the approaches to Old Sacramento to create that distance between reality and the aura of Old Sacramento. It's a place of transition. You go from the reality of the everyday world to this semi-magical place of entertainment and joy. If we do that with landscaping and with art and lighting and signage and messaging, then you'll know you're approaching someplace special. That's the idea of taking the I Street tunnel from where it is now to where it could be. The same with the K Street tunnel. How do you make that a better experience? You engage all the senses.
Outside of Old Sacramento, the city also has some new bridges planned that will impact the riverfront. What can you tell us about those proposals?
There are two bridges that are at different stages right now. There is the new I Street Bridge [replacement] that will connect West Sacramento and Sacramento from the railyards to the Washington District. It's just finishing up its environmental review at this point, and after that point, it will go into a more formal complete design phase. The Broadway bridge is just beginning its environmental review. That will go from the Pioneer Bluff area to the Miller Park area. Then my favorite is actually a planned pedestrian bridge between the R Street Corridor on the Sacramento side and The Bridge District area on the West Sacramento side. It would connect bicycles and pedestrians from one of Sacramento's coolest districts to one of West Sacramento's coolest districts with a cool mode of transit. Because it's a pedestrian bridge, it has [the potential for] a much freer [design] aesthetic to it, and I'm very excited about that.
A 13-year-old girl proposed to the council the concept of an attraction like Disneyland's World of Color. Several council members loved her idea.
The [coincidence] is that it fits in part with a number of ideas that already have come up on the river. [Former Sacramento County Supervisor] Sandy Smoley is working on relighting the Tower Bridge [with LED lights]. Other folks have talked about waterfalls off of the Tower Bridge—that could be a water curtain [for light shows]. Other folks have talked about the idea of a peace tower in the river that would be internally lit, a stained glass beacon that sort of declared Sacramento's position as an open city. So there are a lot of ideas floating around about what we can do with the river.
Speaking of World of Color, you're a former Disney Imagineer. Can you tell us what that job entailed?
Ironically, the same as it does now for the city—project management. The big difference is the product. Disney's product, of course, is attraction development but it is fundamentally development. You build boxes that are not shaped like boxes. You build projects, and you put rides, ride systems, shows and show systems in them, so the process is very much the same although it's much more complex [with Disney].
What are some projects you managed?
The first project was Splash Mountain in Walt Disney World [which opened in 1992]. It was the second Splash Mountain. The one in Disneyland was great, but there were functional issues that limited the hourly capacity. So we had to design a number of improvements that would allow more people to go through with less downtime. I worked with all 38 departments, from artificial foliage to animatronics to the rockwork people, and then all sorts of hydraulic people because it is a water ride.
Given your background, are some people worried that you want to turn Old Sacramento into Disneyland?
Yes, that has come up on more than one occasion. It's a fairly easy argument [for me to counter]. No. 1 is that Disney imports content and then does a world-class job of delivering that story through sight, sound and form. In Old Sacramento, we have content. We don't have to invent anything. We have the actual formation stories that we can tell. We have authenticity so we don't need to try and [manufacture] it. Don't worry. We're going to go with authenticity.