Field of Dreams
On the first day of spring, Ruhstaller Farm—our region's only brewery designed in the spiritual mold of a soil-to-sip winery—officially opened, with a hop yard surrounding towering twin kilns inspired by 19th-century California pioneers and 20th-century Parisian postmodernism. The Farm, with its mission to produce beer defined by the Sacramento Valley's rich agricultural heritage, is the fruition of a decade-long vision for J-E Paino—brewer, farmer, storyteller and a tenacious optimist who runs decidedly against the grain.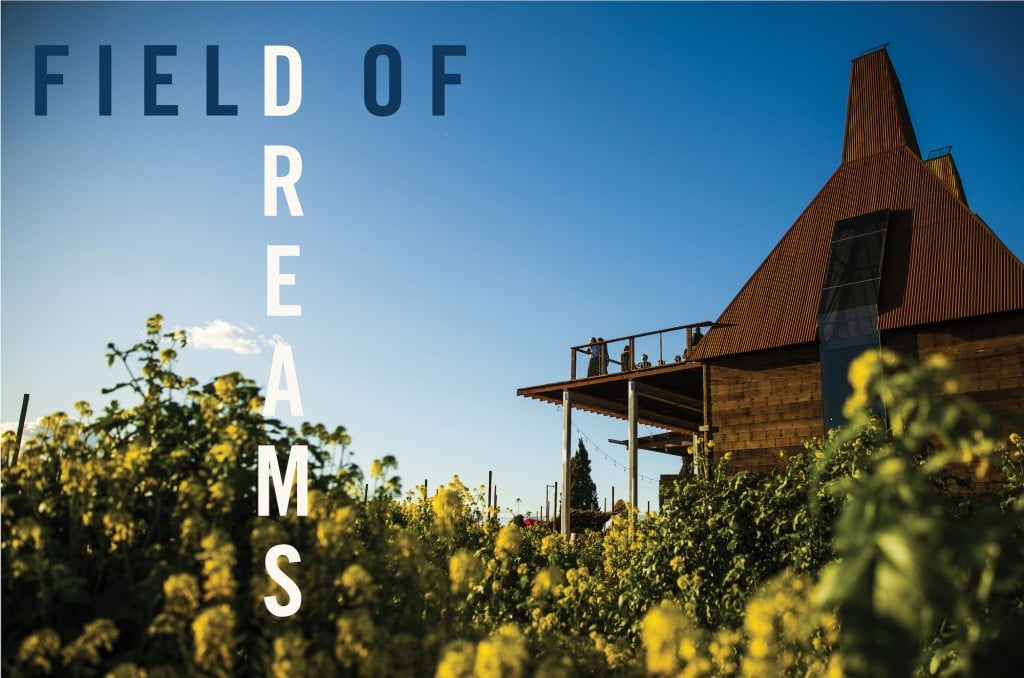 WWithin 90 seconds of arriving at the new Ruhstaller Farm on Sievers Road in Dixon, I am up to my neck in a dirt hole that only goes chest-high for the tall and lanky guy who put me there, proprietor Jan-Erik (J-E) Paino. It's not a bad place to be, all things considered. It's early March and I'm eye level with a golden carpet of flowering mustard, a popular cover crop for organic vineyards and orchards across California. Bare are the nearby walnut trees, rows upon rows of them piercing the crisp, late winter air with their bony branches, awaiting the spring bloom. And above me, a stunning sapphire sky, with few traces of vapor from cloud or plane.
But the hole in the ground is a little less bucolic, with roots thick and thin protruding aimlessly from the walls and bugs and worms animating the sediment layers. Visions of the recent Netflix period movie The Dig flicker in my mind—after all, the main character is buried alive during an excavation while standing in a crater not dissimilar to the one I find myself in now. Paino tells me that one of his guys dug the hole with the backhoe of a tractor just in time for my visit, lest I fail to understand the value of the dirt by merely kicking around the topsoil with the tip of my right Blundstone boot.
I didn't believe him at first, because it's an awfully big dent to make for a five-minute science lesson on the rich ecosystem of this particularly plush, well-aerated earth, with its infinite microorganisms, strangely pleasant dankness and healthy gradient of textures ranging from gritty sand to sticky, smooth clay. Little do I know, I am merely a guinea pig.
In a couple of weeks on March 20, when Paino unveils Ruhstaller Farm to the public as the Sacramento craft beer company's new flagship operation (the nearly 40-acre agricultural center 10 years in the making features Ruhstaller's first brewery, as well as an on-site taproom), he will lead several tours of the property over the course of a sunny and festive afternoon. Amoeba-shaped clusters of inquisitive locals—a dozen at a time—will form around the farmer, drawn by his enthusiastic storytelling about the land and history of hops growing in the area. I guess I'm here today to prove that the average urbanite will risk scuffing footwear and dirtying clothing to follow Paino—unassumingly outfitted in a long-sleeve flannel, trouser shorts, white tube socks pooled around his ankles and black New Balance sneakers—into the depths of an earthly void.
The view might also evoke a simple admiration of California's glorious springtime weather, so full of clarity and radiance that a yearlong pandemic pallor seems to neutralize over the course of an afternoon. Growing up in Houston, Texas, a massive metropolis of air-conditioned buildings, Paino relished every summer he spent with his maternal family in the fresh Scandinavian air and eternal sunshine of their native rural Sweden, so while the recognition of the Golden State's bask-worthy climate may seem like small talk to us, it's not to him.
Since sense of place is a pillar of the Farm's unique, ag-centric approach to a brewery, perspective may also take the form of pride for this unique public amenity in the region—the beer version of a winery the likes of which no modern craft brewery within 75 miles of Sacramento has ever attempted. According to the Brewers Association for Small and Independent Craft Brewers, there are about 120 craft breweries in the self-proclaimed farm-to-fork capital of America, but only one that's attempting to grow its own beer.
"When you visit a winery, you're learning about agriculture. You're learning about the craft of making the wine," says Paino, 49. "There's nature and atmosphere that is wonderful to experience. That's how wineries drive home the agriculture component that influences the beverage. And that's what we're doing here on the Farm with hops and beer."
Once upon the pre-Prohibition era, the Sacramento Valley was a booming hops region—the biggest in the nation. That honor now belongs to the Pacific Northwest, which produces over 95% of the nation's crop. Paino's tandem quest to revive our bygone prestige has a patron saint in Frank Ruhstaller, the Swiss immigrant who helmed Sacramento's largest brewery over a century ago. As a tribute, Paino flies a Swiss flag on the property (atop a pine hop pole, of course), and even offers rösti, a Swiss potato pancake topped with a fried egg, on Fridays. Ruhstaller's "proverbial" grandson Jimmy's mischievous, cigar-smoking countenance serves as the company logo.
But the actual catalyst of Paino's agricultural calling was none other than renowned epicurean Darrell Corti of East Sacramento's Corti Brothers grocery store. In January 2012, Paino dropped off a batch of his 1881 red ale with the words "Sacramento's Beer" printed on the label, and Corti told him he needed to earn those words, which meant growing his own hops. "[Our region] has a long brewing history and Ruhstaller was one of the first reproductions of that history," says Corti. "Actually growing your own hops says something to the interested consumer. I don't know if I've had a role in what they're doing, but I think they've done a great job." Corti's store director Rick Mindermann added that Ruhstaller is "one of our more popular lines and sells very well."
Nearly a decade after that first hop harvest, Paino now works with two hop farmers in the region, Calen Lang in West Sacramento and Dave Utterback of Sloughhouse, who owns part of the old Signorotti Ranch property, which contained a hop yard that ceased production in 1985. Paino tends to 10.5 acres of the crop himself, spread over Ruhstaller Farm and another plot on Kidwell Road, one I-80 freeway stop to the east.
"He's always been interested in land, and what it could be used for," says Paino's mother Birgitta. The curiosity may be hereditary—for over 30 years, the family has owned a vineyard in Sonoma County, where they grow varietals like cabernet franc for labels such as Ravenswood and Benziger. Paino worked there picking grapes after graduating from Princeton University in 1995 with a degree in architecture.
The sun is now beginning to dip behind the Vaca Mountains, casting colors from amethyst to blush to coral in the sky. This particular sunset is a real aura gilder. At the forthcoming grand opening, a bonfire will be kindled in the hop yard fire pit around this time of day, but for now a firmament ablaze is enough. We watch parents chase small children romping through the hop yard, and confuse a small terrier for a coyote. A hawk flies overhead, eyeing the ground for gophers. The Farm's public buildings are purposefully west-facing to catch the sunset, and we can hear murmurings of awe from the dozen or so people rustling below us in the open-air taproom, a hangar-size agricultural shed furnished in an authentically agrarian aesthetic of hay-bale seating and tables of repurposed wooden cable spools. On March 20, the clamor will be strengthened by about 500 more voices.
Turns out, the hollow in the ground only lasted as long as our communion with the dirt. When Paino and I finally descend from the deck, we circle back to our starting location in the walnut orchard. Only two hours have passed, but the hole had already been leveled. Dust to dust. "Farming is a partnership with God," says Paino. "In the off-season, you take stock, lick your wounds, figure out what you did good and bad. Then you get to start over."
*****
Dixon is a long way from Paris, but nevertheless shades of the Pompidou Centre, a modern art museum complex in the City of Light's fourth arrondissement, can be found in the hop kilns' outdoor staircase, which leads to the upper deck, already established as the best view in house. A photo of the Pompidou is tacked onto a cluttered mood board in Paino's Farm office, alongside other inspirations, like a close-up of the Green Monster, the tufted left field wall at Fenway Park in Boston, a reminder that texture is important in architecture. There are also photos of Nimis in southern Sweden, where Paino and his younger brother Hans once played among the towering driftwood forts of the artistic seaside installation. Paino hopes to build a version of these structures—imagine Pick Up Sticks on steroids or sculptures you might see gracing a certain playa in the Black Rock Desert—on the Farm someday.
The Pompidou's entrance is located at the top of the six-story building, making for one heck of an arrival procession via a zigzagging external glass escalator that provides a different perspective of the city, stealing attention from the building itself. "One of my architecture professors at Princeton always asked, 'Where's the front door?' " says Paino. "It's a great question because at the end of the day, the way a human interacts with a building is one of the most important considerations in architecture." Keeping this in mind, Paino and Sacramento-based Mogavero Architects gave the centuries-old vernacular of hop kilns—think round, muscular brick walls and cone-shaped, Tudor-era turrets covered in slate—a modern-day spin, while Meridian Structural Engineers of Folsom made sure the build was sound. Palm-size, three-dimensional cardboard models of his early designs are also fastened to the mood board, remarkably accurate prototypes of the final expression.
"When I saw them go from an idea to a design to a real building, I was kind of like, 'Holy sh-t, this is stuff most people don't think about,' " says Hans. "I definitely don't have the ability to picture a building in my head and make it real, much less a hop farm where people go to drink beer. The idea really makes sense, really resonates—you appreciate what you're drinking more if you see where it's coming from. Envisioning this kind of experience [seems] rare in the beer industry."
The rooftops of the Ruhstaller kilns are clad in corrugated metal, which has already taken on rusty, character-baring patina. Like the Pompidou, the hop kilns' portals of thick shower glass, surprising materiality that Paino owes to the natural resourcefulness of farmers, are located on high, at terrace-level. They open to mid-floors of redwood slats salvaged from a falling-apart 1875 West Sacramento Victorian. The sizzling summer heat of harvest time—August or September—will swell at the bottom of the structures, forcing hot air currents to frantically exit through the tiny chimney, moving along the way through the fresh hop cones, spread on burlap over the slat floor.
Ruins of hop kilns are scattered about the Russian River Valley in Sonoma County, which reached peak hop production—about 150 acres—in the 1870s. Until recently, only three such vestiges existed in the Sacramento Valley, at the old Signorotti Ranch, near where Dave Utterback grows hops for Ruhstaller on 6 acres of his sod farm using late farmer George Signorotti's "not-so-hoppy" (read: not-so-bitter) rootstock. Two kilns blew away during a winter storm in 2019, but Paino remembers being instantly enamored by them.
"When I walked into those kilns in Sloughhouse, they felt very majestic. I really saw their potential as more than what they were meant to be," he says, inspired to build his own structures, which could function as a tasting room, perhaps, and a beacon, certainly. Both came to fruition on opening day, proving that if you build it, people will come. Without a doubt, the kilns go a long way toward inhabiting the concept of a winery, in which one or more architecturally distinct buildings—usually housing a tasting room, cellar and fermentation facility—stake claim on a vineyard, making plain the land-to-liquid connection. Granted, two cool new hop kilns and an on-site brewery on Dixon farmland don't exactly a "beer country" make, but they sure as heck portend the possibility. Rome wasn't built in a day, and perhaps more relevantly, the Napa Valley took about 100 years to make its mark.
Besides, the amber glow at the end of Paino's "tunnel vision" (his brother Hans' description) isn't the beer or even establishing a beer country, though they are endemic to his ultimate aspiration—an informed public. "I've just spent so much time at beer festivals in the cold and in the beer aisle at Whole Foods and Nugget telling people about what we do and it just doesn't compare to being out here and experiencing what we do," says Paino, who plans to lead all of the weekend-only Farm tours himself. "This isn't entertainment. The experience is a lot deeper than that. We're enlightening people [to the fact that] it's possible to grow beer in Sacramento, and that it is part of a greater ecosystem." If Paino's pursuit has proven anything, it's that a bine-to-stein operation is a relatively undiscovered frontier in brewing that still could use a few pioneers.
"The craft beer industry is made up of a lot of interesting characters," says Tom McCormick, the former executive director of the California Craft Brewers Association. "J-E is a very tenacious person that exemplifies those esoteric traits—he's part entrepreneur, part scientist, part artist. You need to be all those things to pursue a dream like his."
*****
A small piece of paper on the mood board almost went unnoticed in the hypnotic blitz of thought-provoking imagery. On it was a quote by ancient Chinese philosopher Lao Tzu: "If you wish to be out front, then act as if you were behind."
Paino's first kiln was a jury-rigged shipping container that anchored his initial attempt to execute the idea of a winery-style beer operation on 3 acres of farmland on Kidwell Road, about 200 yards away from the company's original hop yard. It didn't end well. The whole project was admittedly ad hoc, a colony of shipping containers and other simple structures, but then again that's the bootstrapping charm of the proof-of-concept phase. If all had gone according to plan, the bigger, better, $6 million dream (a figure quoted by The Sacramento Bee in a 2016 story, but that Paino declined to confirm) would be his to manifest on the property. The landowner had been supportive for about two years until, Paino suspects, he began to grow concerned about the potential liabilities of running a taproom next to a major interstate.
"So we were kicked off," says Paino. The sheriff's department showed up on April 20, 2016, to post "orders to vacate" on all of the temporary builds, including an RV that doubled as an office. "That night, I slept there. I got drunk. My friends brought me a pizza," he says.
The following week, the Bee published a blistering critique of Ruhstaller and lifted the lid on the craft brewery's simmering issues. Among the transgressions was its policy of contract brewing. "It's a legit enough practice. … But of [all the] breweries in the Sacramento region, Ruhstaller may be the only one contract brewing," the article charged. At the time, Ruhstaller was making at least some of its beer in San Jose, forgoing the native character that makes craft beverages special in order to save money on expensive infrastructure—ironic considering Ruhstaller's mission is built on the importance of local ingredient sourcing.
To process the roadblock and onslaught of bad press, Paino loaded his beloved Litespeed bike into his car and embarked on a road trip to Oregon. Solo cycling—whether over the period of eight months like in a self-guided European tour he took when he was 24, or in the hour-long uphill grinds in the Mayacamas mountains (the range separating Napa and Sonoma counties) that he completes every couple of weeks—has been Paino's go-to method for taking the edge off since his college days. "At that moment in the company's history, things could have gone either way," he says. "So I did a little soul searching." When he returned a few weeks later, he temporarily moved operations into a Dixon warehouse and immediately started looking for a new piece of land. In February 2018, he purchased 6686 Sievers Road—38.5 acres that previously housed Wellco, a family-owned trailer manufacturer that was closing up shop.
"Ruhstaller is now in a much better location—there was already a lot of infrastructure there," says Mary Kimball, CEO of the Center for Land-Based Learning in Woodland, which partnered with the brewery on a hop school for several years until 2019, in which students worked the Kidwell hop yard through harvest. (After a one-year break, the hop school is back in session. The latest series of classes commenced in April at the Farm.) Kimball's husband, Isidro Lopez, has been Paino's builder for eight years, ever since he constructed the original shipping-container kiln. "Sometimes things happen for a reason," she says.
Today, it's hard to imagine Ruhstaller Farm anyplace else but where it is. One silver lining has been knowing that destiny never takes a wrong turn, and, in Paino's case, it took him just one exit down the freeway. When he was attempting to lure his brewmaster Jarred Sorci away from his post as a maltster at the Alameda malt house Admiral Maltings, Paino took Sorci to the new property at sunset. It wasn't the farm with a capital "F" yet—all that rich soil was still covered under 8 inches of crushed-cement gravel, packed down into a weatherproof driving surface for Wellco rigs. "You kind of had to imagine, you know, like 99% of it," says Sorci, who had also previously worked for Ruhstaller in the era of the fizzled Kidwell project, and who has also worked at Anchor Steam in San Francisco as a weekend manager, a beer buyer at Whole Foods and an instructor at the SF Cheese School. "But J-E started to paint the picture on this vacant lot. 'The hops could go here, the kilns could go there.' Then he said, 'This could be your office.' "
*****
Tom McCormick distills the importance of beer's farming component down to one catchy, college fraternity-style slogan: "Beer is food." After all, the beverage's minimalist ingredient list—water, grain, hops and yeast—reads like an agriculture alphabet, and rare is the brewer who wants to get his hands dirty with this atomic level of boots-on-the-ground learning. So back to the land we go.
The aquifer located about 1,000 feet below the surface has made our region a fertile, loamy wonder, meaning that the dirt generally holds just the right amount of moisture, never getting profoundly waterlogged, nor too dry and crumbly. "The whole valley is alive with dirt," says Paino. One of Ruhstaller's mottos, printed on T-shirts, mugs and other souvenirs, goes like this: "LA has concrete. SF has the Bay. We have dirt."
The hop yard's core varietals include Cascade, which imparts a citrusy nuance to beer, and Nugget, whose contribution is more herbaceous. Chinook has a piney note, and Columbus is licoricey on the nose. This spring, Ruhstaller Farm will graduate from bine-to-stein to a more comprehensive soil-to-sip concept. Three acres of its Kidwell yard will be planted with a malting cornucopia of oats, Gazelle rye, Patwin wheat and Butta-12 barley, the latter developed over the course of 20 years specifically for the state's Mediterranean climate by UC Davis scientist Lynn Gallagher. If hops are the "spice" of a beer recipe, then grains are the "soul." If all goes well, Ruhstaller's multigrain mash-up will translate into a smoother, fuller-bodied, more nuanced brew.
"There is certainly a romance about local ingredients and the story they tell about the land," says Charlie Bamforth, senior quality adviser at Chico-based Sierra Nevada Brewing Company and distinguished professor emeritus of food science and technology at UC Davis. The so-called "Pope of Foam" mentored Paino in the early days of Ruhstaller on the science of brewing in exchange for meals at Grange. "I have a soft spot for J-E. He's bringing together the importance of raw materials, the growth location, the environment," says Bamforth.
To be clear, it's not that Paino believes that local ingredients make a "better" beer. Instead, he extols the flavor fluctuations that come from agriculture, for the most part at the mercy of Mother Nature. "I'm a farmer and I'm not afraid that our beer changes every year," he says. "No one ever expects wine to taste the same from bottle to bottle."
Terroir in beer is especially interesting to Sorci, since it harkens back to the centuries-old origins of the beverage in Middle Ages-era Europe, when brewing with local ingredients wasn't a choice, it was just part of discovering fermentation. "Unlike in wine or cheese, the term 'local' in the US beer industry refers to the location of the brewery, not the source of the ingredients. What would a real Sacramento beer look like? We have some ideas."
According to VinePair, a true estate beer is rare. Defined as "terroir-driven [and] made with ingredients grown or harvested within a brewery's own property or state, [estate beer] brings attention to the drinkable details of a brewery's homeland, [and provides] a contrast to the complex supply chain of hops, grains, malt and yeast that characterizes most mainstream and craft brewing operations." Sierra Nevada has pioneered estate beer in Northern California, producing an annual Estate Farmhouse Ale using crops from its Chico farm, with fermentation courtesy of wild yeast gathered in its peach orchard. Tightening the framework of beer making—Ruhstaller's walnut grove is looking like a good spot for fermentation—seems like the ultimate challenge for a brewmaster who is lucky enough to have a farm at his disposal. "It's very satisfying to have the property that J-E has been dreaming about for so long," says Sorci. "There have been a lot of twists and turns to get to this place. It takes a lot of vision and immense patience to see through it all, and it's a good thing that he is stubborn in the best way."
Mary Kimball believes that crafting estate beer, even in 50-gallon experimental batches like Sorci is wont to do at first, is an agricultural endeavor particularly suited to the region, likening the undertaking to the "piglet to parrilla" program at the historic Rancho Llano Seco in Chico, which shepherds every step of its supply chain, from humane livestock husbandry to expert butchery to the recipe creation for the likes of its Basque chorizo sausage links and al pastor taco meat. "I could go on and on," says Kimball. "There have been many local trailblazers who have set a good example for Ruhstaller."
Still, Paino knows there are skeptics in the local brewing community for what he's attempting. But sometimes underdogs have a particular knack for getting ahead of the pack. "I chalk it up to them not understanding what we're doing or how we're doing it," he says. "You never want to feel like you're ahead, because then you stop reaching."
He's also honest about the personal cost of wearing his version of beer goggles: Two marriages have ended in divorce, and he admits that his friends are mostly work buddies. Most nights, he chops salad for one—dressing it with vinaigrette from The Alder Market, a line founded by one of Frank Ruhstaller's kin—and streams NCIS on Netflix. "I could probably be a better friend, and I could definitely have been a better partner. I do understand that there's a cost to everything," says Paino. "But you know how when you're a kid and you don't want to go to sleep because you don't want the day to end, you just want to keep doing what you're doing? I'm not trying to build a balanced life. I'm trying to build something that will stand the test of time."