The Tastemaker
He's been called the Indiana Jones of the culinary world and the man who "knows more about food and wine than anyone else in America." How did the son of a Sacramento mayonnaise salesman become a buttoned-up grocer while leading a double life as a globe-trotting gourmet? Just who is Darrell Corti and why do so many important people think he has the planet's greatest nose for quality?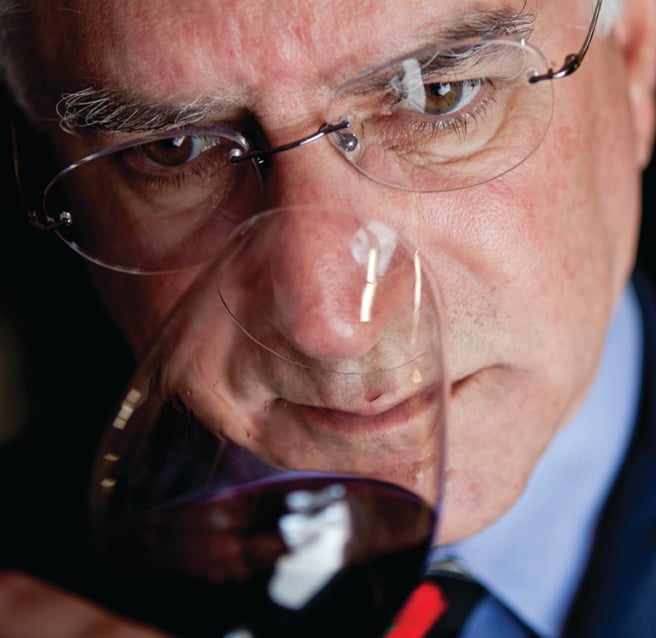 T
The early September sun seemed especially bright reflecting off their clean, white coats. Nearly two dozen of Sacramento's most celebrated chefs—boldface names like Biba Caggiano, Mai Pham, Randall Selland, Rick Mahan, Kurt Spataro, Patrick Mulvaney and Ettore Ravazzolo—had all assembled in the Corti Brothers parking lot to support a man who, as they knew better than most of us, had not only altered the culinary landscape of Sacramento but, all hyperbole aside, America.
The year was 2008. In the weeks leading up to the gathering, Corti Brothers was on the verge of losing its lease on the last of its venerated grocery stores that dated back to 1947, when brothers Frank and Gino Corti opened their first one in downtown Sacramento. This particular location at 59th Street and Folsom Boulevard in East Sacramento had remained virtually unchanged since the day it opened its doors in 1970. A new grocer had offered the landlord a significantly higher rent, and Corti Brothers, astonishingly, had been operating on a month-to-month lease for decades and was now in very real danger of closing its doors, perhaps for the final time.
Corti Brothers' predicament was, of course, somewhat self-inflicted, with the store's management through the years relying on relationships over long-term contracts. But while this decidedly old-school, handshake approach had nearly destroyed the grocery in 2008, that same philosophy, as applied to quality and service—and, yes, relationships—was the very reason that these vaunted chefs had assembled on this day to celebrate not only a store but the last remaining grocer to bear its name—Darrell Corti.
It would be six months more before Corti Brothers would be assured of staying in place with a new long-term lease, but the rally and its ensuing media attention reminded the community how much was at stake. And while Corti has a reputation for being reserved, his emotions betrayed him on that day.
When he walked to the podium to address the sea of supporters, which also included loyal customers and then-mayoral candidate Kevin Johnson, Corti looked at everyone for a few moments. Behind his wire-rimmed glasses, his eyes welled with tears. His voice cracked briefly as he began to speak.
"I'm not quite sure why you're all here," he said.
In fact, even today, as Corti Brothers celebrates its 65th year in business, many people in this region who aren't foodies or oenophiles may still wonder why the culinary elite of the city turned out en masse for a guy who runs a neighborhood grocery store in East Sacramento.
But ask some of the country's biggest culinary figures, like Ruth Reichl, the former New York Times restaurant critic and former editor-in-chief of Gourmet magazine, or the co-founder and former editor-in-chief of Saveur magazine Colman Andrews, and they'll tell you.
As Reichl recounted in her 2001 best-selling memoir, Comfort Me with Apples, Andrews told Reichl in 1978 that Corti, "knows more about food and wine than anyone else in America."
"He still does," says Reichl today. "He's the most underappreciated resource in the food world."
••••••••
Alice Waters, who in 1971 opened Chez Panisse, the Berkeley restaurant that became ground zero for the changing California food scene in the 1970s and '80s, says Darrell Corti opened her eyes to products from around the world. "Before anyone," she says, "he was importing things from Europe that were unimaginable before then. Olive oil, prosciutto, even truffles. He was the original one."
Corti is, in fact, widely credited with introducing white truffles to America in 1969. He also introduced Californians to great olive oils, Parmigiano-Reggiano and Brie cheeses, exotic salts, quality sherries, many single-malt bourbons and scotches, and much sought-after "Super Tuscan" wines. He advised the founders of Sacramento's Sterling Caviar, and Corti Brothers carried the first harvest in 1996. (Today, the local company is the largest producer of farm-raised caviar in America, counting among its customers some of the country's top chefs, including The French Laundry's Thomas Keller.)
"In the '70s, if you wanted a white truffle or a good piece of Parmigiano or you name it," says Reichl, "Darrell would put it on a Greyhound and send it down to L.A. for you. You couldn't buy it anywhere in California except at Corti Brothers."
In the 1960s and '70s, the collection of people seriously interested in food was tiny before the Food Network-fueled, celebrity-chef culinary culture exploded, and those primal foodies bonded, talked and traded information. Corti's reputation grew by word of mouth in that small, but highly influential, crowd. "People would pass along that there was this very serious, erudite gentleman who ran a grocery store in Sacramento and knew a tremendous amount," says Saveur's Andrews.
He recalls taking Reichl to dinner at Corti's Curtis Park home (the same one he lives in today) in 1977, when Corti entertained the two journalists with caviar, foie gras, sherry and other epicurean delights. "We discovered this weird, wonderful substance," says Andrews, who is now editorial director of the website The Daily Meal. "It was called balsamic vinegar. We didn't know it existed."
Corti also made friends and impressed people in the Berkeley Wine and Food Society, a group of a few dozen restaurant and winery owners and others interested in those worlds. Narsai David, who opened Narsai's Restaurant in Berkeley in 1972 (and whose wine list The New York Times called one of the "most extraordinary" in the country) says people were drawn to Corti because of his knowledge, his curiosity, his opinions and, of course, his pantry—known as Corti Brothers.
"If there was a need for some exotic foodstuff from some other part of the world," David says, "Darrell not only could get it for you, most of the time, he already had it right there." Waters met Corti in that Berkeley scene and he has been a regular customer at Chez Panisse ever since it opened (even celebrating his 60th birthday there).
"I remember that when Chez Panisse was written up in Gourmet magazine [in the mid-'70s], we were all so thrilled," Waters says. "Darrell sent a funeral wreath, thinking we would all of a sudden become trendy and forget our regulars. I hope we never have and his funny gesture is something I have never forgotten."
••••••••
Corti's palate, his ability to focus on flavors, then identify them using his vast catalog of the wines and spirits he's tasted, indexed and stored in his brain, is legend. There are many stories of Corti recognizing an obscure grape varietal or a 50-year-old wine—down to the vintage—or a component in a gin. Experts, outside of James Bond, aren't really supposed to be able to do that.
Wine merchant and longtime pal Steve Wallace, who owns the celebrated Wally's Wine and Sprits in Los Angeles, has observed Corti's talent firsthand. He tells about a bar they dropped into 20 years ago where Corti ordered green Chartreuse, a French liqueur that dates back to 1764. It was too dark to see their drinks, but Corti took a sip and told the waiter there was a mistake because the drink was yellow Chartreuse, a slightly sweeter version. He sent it back.
The next drink didn't make Corti any happier. "He told the guy, 'This still isn't green Chartreuse. It's half green and half yellow. What are you trying to do?' " Wallace recalls. "The waiter said, 'I was testing you.' "
Corti's palate, and its reputation, was one of the reasons he connected with people in the California wine world, going back to 1964 when he took over Corti Brothers' wine department at the tender age of 22.
"It was a small collection of people in the industry in the '60s and '70s," says Cary Gott, who founded Amador's Montevina Winery, went on to manage major brands like Sterling Vineyards and Mumm Napa and now runs the consulting company Vineyard & Winery Estates in St. Helena.
"Darrell was one of the smartest in the group," he says. "He listened and he learned. He got himself into the position of being able to help you make decisions: what to plant, how to operate. He essentially did what my whole company does now—teach people how to start a winery."
And he didn't just advise new wineries, he supported them through Corti Brothers. From the mid-'60s through the '70s, Corti Brothers was the first store anywhere to carry the wines of Ridge, Caymus, Schramsberg, Cuvaison, Harbor, Chateau Montelena and others. Those are some of California's cornerstone wineries. (It was Chateau Montelena's chardonnay that won the famous 1976 Judgment of Paris blind tasting that was the basis for the movie Bottle Shock. It pitted California wines against French and stunned the wine world when Napa Valley wines were voted the best red and white.)
In 1966, Corti became a partner with wine pioneer Richard Graff in the founding of Chalone Vineyard in Monterey County. In the '6s, he also met Charles Myers, a home winemaker who would start Harbor Winery in West Sacramento, and consulted with some of the biggest names in California wine, including Bob Trinchero.
Trinchero, still a close friend of Corti's, is a Vintners Hall of Fame inductee and co-owner of Trinchero Family Estates, the fifth largest wine company in America, according to Wine Business Monthly. Trinchero says Corti's "done more for the success of the Trinchero wineries than anyone outside the family."
They met in 1962, when the entire Trinchero empire was just one struggling winery in Napa Valley named Sutter Home. Bob Trinchero was the winemaker, and his father, Mario, oversaw it. Corti went to Sutter Home to bottle something called Tosca brand wines, which he sold as a Corti Brothers wine. (In 1967, they started bottling wine under the Corti Brothers label, and Corti still has wines made for the store occasionally when he finds wine or grapes he considers exceptional.)
Corti and Trinchero talked, tasted and did business together. "Darrell was a fountain of information for me. He really gave us our heading," Trinchero says.
And in 1968, at age 26, Corti set off a chain of events that would change the consumption of wine for millions of Americans.
Corti loved the zinfandel that Myers was making from Ken Deaver's vineyard in Amador County, so in early summer, he and Myers took Trinchero to meet with Deaver and look at the vineyard. "We went up on this hill under a great big oak tree," Trinchero says. "Darrell took out a tablecloth and laid it over the hood of the car, then laid out the food. We had a great time." Trinchero ended up buying 20 tons of grapes from Deaver and made it into a national-class zinfandel that The New York Times called "one of the landmark wines in the postwar development of the California wine trade."
Then in 1975, a happy accident occurred when Trinchero's normally steely, bone-dry white zin didn't ferment completely, and instead came out a bit sweet and a little pink. Corti thought it would sell well and carried it in his store. He was right. In fact, it flew off the shelves. Over the next few years, Trinchero kept it pink and sweet on purpose, increased production, and turned Sutter Home White Zinfandel into a national phenomenon that opened the door for millions of Americans who hadn't been wine drinkers before. Its sweetness and flavor made it accessible in a way that a California wine never had.
"We sold 1.5 million cases in 1985," Trinchero says. "It saved zinfandel, and it saved our winery. None of that would have happened without Darrell."
In recognition of contributions like this one and many others, Corti was inducted into the Vintners Hall of Fame, which celebrates the California wine industry, in 2008, alongside Ernest and Julio Gallo. He is the only merchant among its 43 members, effectively making him the most influential retailer in the history of California wine.
To foodies, he is a rock star and his store is hallowed, and fertile, ground. "True story," says W. Blake Gray, a San Francisco-based wine writer and chairman of the group that elects Vintners Hall of Fame members. "[A few years ago], I asked my wife where she wanted to go for her birthday. She said, 'Sacramento—I want to go to Corti Brothers.' "
Yet Corti himself takes the view of the folks who just see him as the man in the blue grocer's smock in the Corti Brothers wine department, and the store as just a friendly neighborhood market. Ask him about foodies and wine lovers trekking to Corti Brothers as their culinary mecca, or about what he knows and where he's gone and what he's done. He'll give you the answer he's been giving for decades.
"Really," he says, "I'm just a grocer."
••••••••
Darrell Corti was born in 1942 (he turns 70 on April 3) and grew up in Tahoe Park. Five years later, his father, Frank, and uncle, Gino, founded Corti Brothers on 8th Street between I and J in downtown Sacramento.
Frank and Gino were the children of immigrants from the region around the Italian coastal city of Genoa—and they were born and raised in San Francisco. Frank, the older brother, had been working for mayonnaise maker Best Foods, and when the company sent him to Sacramento, he saw a need for the kind of Italian delicatessen and specialty foods store that was common in San Francisco's North Beach.
"One of my earliest memories was, in fact, the smell of food," Corti says. "I remember this pungent smell walking into Corti Brothers." That came from the mix of spilled oil, sawdust and wood floors. It's an old-school deli smell.
Corti's insatiable curiosity and his ability to absorb and retain information focused on food from the time he was very young, partly because the subject was so pervasive in his family and in his life.
From an early age, he loved to read food magazines. When he was 7, he asked his mother, Rose, to buy him a copy of The Escoffier Cookbook, a seminal and dense guide to French cooking, which had just come out in English. (He grew up also speaking Italian with his grandparents, and by 12 or 13, he had learned—on his own—to read French.
Rose was proud of her bright, inquisitive son, and supported him when he needed it—such as when his interests took him down the road of animal husbandry and a librarian at Sacramento's main branch wouldn't let the 8-year-old Darrell read the books on his own. "My mother had to check the book out for me," Corti says, "because they said it had animal sex in it." When his father let him choose where to go on a Sunday afternoon, young Darrell usually wanted to go to the country to look at the cows.
In fact, his passion for animals has never waned. He rescued a dove, which he named Paloma, and kept it as a pet for 15 years. He has two pet parakeets now—both of them rescued—and he's always loved going to the state fair to see the animals.
But for all his reading and curiosity, Corti says he was an average student, except for when it came to math.
"I didn't like mathematics," Corti says. "I still don't. That's why I never count cash [at the store]. I fall asleep counting the money. In high school [at Bishop Armstrong High School, which became Christian Brothers], I only passed algebra because of the goodwill of the Christian brother who taught it." And don't ask him to do fractions. "Why would you want to fractionate anything anyway?" he says, laughing.
Corti says in high school he was "probably very nerdy. I didn't like sports. It was a great trial to be in high school as a freshman and have to go to gym class. I never saw any reason for that. My father was very disappointed because he could never play baseball with me."
But he did know how to trade his high-quality lunches—a piece of frittata, slices of mortadella or prosciutto on thick French bread—for sandwiches of gummy white bread and Made Rite bologna topped with Durkee's sandwich spread.
"It was so delicious," Corti says. "We never got this. It was forbidden fruit and it was terrific."
Corti went to Saint Mary's College, in part because the school had a program that would let him spend his junior year in Spain, something that was relatively rare in colleges in the '60s. (The overseas experience helped prepare him for a brief career as a high school Spanish teacher at Bishop Manogue while he split his time between the school and Corti Brothers.)
But unlike many college kids who travel for sightseeing or escape, Corti went for the food and wine and culture—which he absorbed completely the way he had the food magazines and Escoffier and everything else he would experience in his life.
Corti Brothers, meanwhile, had moved to 32nd and Folsom in 1952 and had become a full-fledged supermarket, with a meat department, produce, frozen foods and more, including wine. Corti went to work for his father and uncle upon graduation in 1964, running the wine department. And how did a 22-year-old know enough about wine for such a position?
"I didn't," Corti says.
Not that he was clueless. He'd already tried making wine once—"It was a horrible disaster," he says—and he talked to everyone he could, read everything he could, and tasted every wine he could get his hands on.
He says his father was "very indulgent" with him, letting him bring in products and wines that seemed hopelessly exotic for Corti Brothers customers, "as long as I could sell them," Corti says.
Frank was a forceful figure—tall, talkative, and proud of Corti Brothers. When Prince Charles visited Sacramento in 1977, Corti Brothers catered a lunch with the prince and then-Governor Brown. Frank's 2000 obituary in The Sacramento Bee said that the grocer was "indignant" when a paper reported that lunch was provided by "a local deli."
Corti Brothers "was not just another corner deli, he said," reported the Bee.
Darrell lived with his parents until he was 28, in part because it was convenient, but mostly because the Corti family was tight. And because the family was so closely tied to the business, Darrell's ability to sell those new products was all the more important. From an early age, part of the store's success rested squarely on his shoulders.
But he did sell them—wine, spirits, olive oils and more—in Sacramento and around the state. "I had to put products in people's hands and say, 'This is good. Buy this,' " Corti says.
He also did something that his store director Rick Mindermann—and others—have described as "pollinating." Corti introduced winemakers to vineyard owners, helped them establish connections the way he had with Bob Trinchero and Ken Deaver. Corti helped Cary Gott find the land he bought in Amador County in 1971 for Montevina, then helped him figure out what grapes would grow best (Corti pushed for zinfandel and barbera among others).
That was something Corti did throughout California, but more in Amador than anywhere else because he saw so much potential there. Through the years, Corti encouraged, and sometimes scolded, winemakers there to try for better quality and not just settle for mediocre wines. And he carried their wines, talked up the region and the vineyards, helping to bring in better and better viticulturists and winemakers.
On the food front, his connections, his "pollinating" was helping fuel that California revolution. And his impact expanded in 1967, when he started a newsletter (a rarity for a market then) telling stories, histories, small facts and big details about his new products, those wines and spirits and olive oils and more.
The newsletter originally went out to just a couple hundred people, but by the mid-'80s, it was reaching thousands across the country, including people like Russ Parsons, now the food editor of the Los Angeles Times, who was living in Albuquerque at the time. He and his foodie pals would get in a van and drive the 1,000 miles to Sacramento and Corti Brothers to stock up and to talk with Corti. "It was like going to see the Grateful Dead," Parsons says. "He's had a huge influence on what we eat and drink and how we cook now."
"Out of a small grocery store in Sacramento, Darrell Corti had turned on an entire food community in New Mexico," Parsons says. "Our community then was probably a couple dozen, but now it's thousands. Multiply that by community after community. Most of those people now may not know what Darrell has done, but talk to anyone back then, he was 'The Dude.' "
The newsletter continues today. Reichl calls it illuminating and one of the most interesting newsletters in the business. "It's wonderful and it's always surprising," she says.
"If you want a great soy sauce, he not only has it, he'll tell you everything about why it's great."
And what part of that fits "just a grocer?" All of it.
"My idea was to offer something different," Corti says.
••••••••
In 1967, Corti took his first of many provisioning trips to Europe. That first one was to France and Germany, mostly exploring wine regions, but he was always looking for foods to bring back. Master sommelier Doug Frost has called him the Indiana Jones of the culinary world, a description that isn't far off the mark. He's fluent in Italian, Spanish, German, French and Latin and has a working knowledge of Japanese, Greek, Mandarin and Portuguese.
In fact, the more he traveled internationally on the store's behalf, the more Corti's reputation and respect in the wine regions of Europe grew, but few people back home in Sacramento realized that, not even his father.
In 1969, though, Darrell took Frank with him on a trip through France. It was the first time Frank had been to that country and seen his son in his element outside the wine department or a Northern California winery. They went to champagne houses and some of the great chateaux of Bordeaux and Burgundy. Everywhere they went, Darrell, still a young man, was greeted by France's elder wine statesmen as a peer.
It was a revelation for Frank. He proudly talked about it for years, say friends. Frank told stories of the trip and boasted that his son was an important figure in the international wine world.
Corti often took friends with him on his adventures, and in 1985, led a trip to Italy with Steve Wallace, actor Danny Kaye and a few others. Wallace, through his Los Angeles store, had become friends with Kaye, who was a talented cook and oenophile.
"We learned about Parmigiano-Reggiano, he took us to the production of prosciutto, of pasta, of balsamic vinegar," Wallace says.
But Kaye, high-energy guy that he was, even at age 72, got impatient. He wanted to go other places and complained about the pace and agenda. "Darrell said to him, 'Let's sit down over here,' and they went outside," Wallace says. "And Darrell said, 'You're with me, I'm not with you. If you don't behave, you'll go home.' Danny said, 'I'll behave.' That was it. They stayed good friends."
Corti's passion for Italy was readily apparent when a young Biba Caggiano moved to Sacramento in 1969. "I would go to Italy twice a year and I'd tell Darrell, 'I just got back and I loved this or that,' " says Caggiano. "Darrell would say, 'Oh, I can get you that.' Those things wouldn't have come to Sacramento without him."
"Darrell is very Italian," she says.
Apparently the Italian government agrees. In fact, not only was he inducted into the Italian Trade Commission's Hall of Fame for opening up the American market to so many Italian winemakers, growers and merchants, but in 1992, the Italian government made him a Cavaliere—Italy's equivalent of knighthood—for his work as an ambassador for Italian food and wine. "If that were Britain," says his longtime friend and nationally regarded wine expert David Berkley, "we'd be calling him Sir Darrell."
••••••••
In many ways, Corti and his store are one. And that goes beyond the coincidence they're both having big birthdays. (Darrell turns 70 and the store 65 this year.)
Even at 70, Corti still travels for products, and also as a sought-after judge and speaker for food and wine competitions and symposiums. In the past few years alone, he's been to Chile, Argentina, Sicily, Tokyo and Hong Kong.
In fact, walking down the aisles of Corti Brothers is like flipping through Darrell Corti's passport. There's the Hungarian and Spanish paprika (mild, smoked, bittersweet or hot); salts from Japan, Italy, France, Hawaii, Argentina and the United Kingdom; honey from Chile, France, Italy and from Cistercian nuns at the Redwoods Monastery in Humboldt County (in plain, ginger, lemon and orange).
This summer, store patrons will find evidence of his September trip to Hungary and the Republic of Georgia on aisle 3: Georgian capers, which are part caper, part pickle, a bit vinegary, a little briny, and thoroughly delicious.
Most people bring back souvenirs and tchotchkes from their travels. He brings back Cambodian gourmet peppercorns (red, black and white).
The products on the shelves are lined up so straight, it's like they were set with a laser. Look at Corti. He stands erect, always wears a tie, is precise and polite.
Both the man and the store have an old-school—though not old-fashioned—sensibility that seems to resist change. Corti, for example, doesn't own a cell phone and only recently took to e-mail. And the store clock, meanwhile, is the same one that's kept time for shoppers since 1970, with lines marking the hours instead of numbers. The typography on the aisle signs is so old that it's got an undeniable retro-cool vibe to it in this Mad Men-soaked culture. There isn't a DVD rental kiosk anywhere in sight.
The large deli in the middle of the store has big slabs of meat and blocks of cheese because everything is hand cut. Corti Brothers' deli has 185 cheeses it slices daily for orders.
The wine department—that nationally renowned front corner—is small and cramped with shelves close together. Strangely, in the middle of the wine shelves, sits a small, battered, wooden desk. It's where Corti can often be found, easily accessible to anyone with a question.
Though genuinely shy, Corti relishes in helping customers find the right vintage or regaling them with historical facts or tales about a certain product he carries.
"The man is an amazing omnivore of information," says Narsai David, the former Berkeley restaurant owner who's currently the food and wine editor for KCBS radio in San Francisco. "It's almost inconceivable how broad his knowledge is. He can talk to you about Japanese single-malt whiskeys as easily as he can about classic Australian wines or wines of the 19th century or Spanish olive oils."
Mindermann, who started with Corti Brothers as a bagger in 1978, and now, as the store director, is essentially Corti's aide-de-camp, still considers himself a student after 34 years. "Whenever I'm with him, I still say to myself, 'Learn, learn. Soak it up,' " he says.
In the virtual culinary time capsule that is Corti Brothers, it's Mindermann who has brought the store into the world of websites and video, which includes Corti TV, a site devoted to all things Darrell, and a Facebook group called "Darrell Corti will always know more than you about food and wine," founded by former employee Gretchen Allen and powered by Mindermann.
••••••••
As a personality, Corti is as complex as some of the wines in his store. He is at once unabashedly shy and unapologetically outspoken.
"Yes, I'm shy," he says. "I would rather sort of fit into things than stand out. It's not the Japanese idea that a nail that sticks out gets pounded down, because I'm a very out-sticking nail, but I don't like the attention."
That might seem hard to believe if you've seen him charm a crowd talking about Chilean wine or Italian olive oils, but watch him after he walks off the stage. He doesn't wade in. He moves quietly to the periphery of the crowd and tries to blend in. He'll gladly chat, but he doesn't really initiate, unless it's with old friends.
He also resolutely resists self-promotion. That reluctance is a trait that has his friends and fans shaking their heads. They say he could have become a national figure, probably with a TV show and TV income, not someone quietly venerated by wine and food insiders.
But Corti doesn't want that burden. He's already enough of an "out-sticking nail." And it may be the one thing he does not talk about articulately.
"Being a celebrity is not a very comfortable thing. Sometimes, it's a little bit, sort of, too much," Corti says. "When I go to a restaurant where I don't go very often, I would just like to be a customer."
So how does that square with the Darrell Corti who sometimes walks into the kitchen of a restaurant and tells the chef what he thought of the meal, for better and worse?
It's complicated.
Rick Mahan, chef and owner of The Waterboy in midtown and OneSpeed Pizza in East Sacramento (both of which are regular stops for Corti), first met the grocer in a restaurant kitchen in 1985. Mahan was cooking at Paragary's Bar and Oven in midtown and heard that Corti was in the dining room.
"I was totally intimidated," Mahan says. "In my effort to not overcook his chicken, I grossly undercooked it. Darrell came walking into the kitchen with his napkin tucked into his shirt. He handed me the plate and said, 'This is undercooked.' That's it. We got it cooked right for him."
But Mahan got to know him better on future visits and learned, he says, more from Corti than any other person in his career. (Corti is also a terrific cook himself.) "He's never not returned a call, which is quite remarkable considering how many people want his time," says Mahan.
That's a story chefs all over Sacramento tell. Kurt Spataro, co-owner of Spataro Restaurant and Bar and executive chef of the Paragary Restaurant Group, says, "At some point you start thinking, 'What would Darrell think of this dish?' and use that as sort of a guide."
That's why all those chefs showed up to support him in 2008. But what's this shy, non-self-promoter doing barging into kitchens? He's teaching. He can't help himself. If there's one universal Corti descriptor, it's "teacher." His nickname with friends so often becomes "professor," though with Andrews, it was the Italian version, "Il Professore." ("He thinks about things as a scholar," Andrews says.) Information—facts, perspective, history, connections, origins—it's nearly sacred to Corti. For him, there's almost a moral obligation not to hoard it.
There may be another force at work, too. Friends of the Corti family say Darrell's mother was a fabulous cook, but when the meal was served, the discussion sometimes turned to the menu and technique analysis. This was a food-oriented family. The comments weren't mean or complaining, but they were thorough.
Perhaps because of his upbringing or because of his intellectual confidence, he can come across to some as a curmudgeon. He is, in fact, strong-willed, does not mind disagreement, is pained by misinformation and by show-offs, and he does not back down.
"He doesn't suffer fools," Reichl says. "He'll get up at some convention, somebody's giving a talk, and just tell them that they're wrong. People are always putting really bad information out there, and he won't sit still for it. He really cares. It drives him crazy when someone says something stupid about food. That's where I think the curmudgeon reputation comes from."
"He's comfortable believing in himself," adds David Berkley, who worked for Corti from 1973 to 1984 in the wine department before opening his own market. He was also a White House wine consultant for four administrations.
Curmudgeon, by the way, is the wrong word. That's something Corti would bring up. Word origins and meanings matter. It's a word that implies a grouch, a bad-tempered, difficult person.
"He's one of the nicest, kindest people you'll ever meet," says wine shop owner Steve Wallace. "He just knows a lot. Some people are bothered by that." Corti says he knows he's made some people uncomfortable with his directness, but he says what he is, is a realist.
"There are people who ask questions and they don't like the answers," he says. "They ask, 'Can I do this?' and I simply say, 'No.' Most of the time I'm right."
••••••••
By the mid-1980s, Corti Brothers had expanded to four stores—in South Sacramento, at Arden Fair, at Birdcage in Citrus Heights, and since 1970, at 59th and Folsom.
But the grocery world began changing dramatically in the '80s. Chain supermarkets were inundating Sacramento. When Corti Brothers opened at Birdcage in 1975, there were only a few supermarkets within a five-mile radius. When they closed the store in 1989, Mindermann counted 26. In part because of that competition, and because Arden Fair was remaking itself, Corti Brothers dropped back to the one East Sacramento store by the end of 1991.
In the 1990s, and even more, the 2000s, TV was helping turn America into a nation of foodies and it was minting celebrity chefs. Northern California wineries multiplied and winemakers were the new stars.
As the culinary press grew, so did the number of writers and journalists seeking Corti's counsel. "When I was editing Saveur," Andrews says, "certain subjects would come up and I'd say, 'Here's the number of Darrell Corti. Just don't call a few minutes before lunch, because it'll take a while.' "
Reichl tells a similar story. "When I was at the LA Times [from 1984 to 1993], I called him all the time for advice," she says. "Tell me about this, tell me about that. I could call Darrell about anything, and he just knew, and he was always unbelievably forthcoming."
One absolute truth about Corti: If you ask him a question, be sure you have time for the answer. He doesn't mess around with partial explanations.
Despite the clamor of culinary media and celebrity, proof that Corti still had national resonance came in 2007. For a back-room tasting with his staff involving some particularly high-alcohol zinfandels (they reached about 16 percent), Corti wrote a line on the tasting sheet that said, basically, "please tell suppliers that if a wine is over 14.5 percent alcohol, we will not taste it for consideration of resale." He considered those wines out of balance. The Sacramento Bee's Mike Dunne heard about the notice and wrote about it on the paper's website.
The story reverberated through the wine world. Some newspapers and wine media dubbed it Zingate and said Darrell Corti had drawn a line in the sand against high-alcohol wines. Robert Parker, widely considered the most influential wine critic on the planet, said on his website that Corti's thinking seemed like "a police state's mentality." Britain's Jancis Robinson, maybe the world's second most influential wine critic, wondered why Corti couldn't just sell the wines in a special section.
Corti said he was just doing what he had done with scores of other products through the years—selling what he considered the highest quality.
And he does occasionally carry a few higher-alcohol wines, beyond special or fortified wines intended to be above 14.5 percent. "Those are wines that I happen to like," he says. "I make the law. I can break the law."
••••••••
For all his experience, talents and spirit, he acknowledges that he was no match for his sister Illa when it came to staff management. Illa, who had once been a schoolteacher, oversaw the store's day-to-day operations from 1989 until she died from breast cancer in 2005. "Illa ran Corti Brothers like she ran her classroom," Corti says. "She could make a class of preschoolers do what she wanted. That's really pretty good. That's what she did here."
Through the '90s, brother and sister essentially ran Corti Brothers, though Frank and Gino remained the official heads until 2000 when Frank died at age 84 and Gino retired. (Gino died in 2006; Darrell's mother, Rose, in 2010.) Darrell, Illa and her husband Allan Darrah officially took over at the end of 2000, and Illa worked nearly until her passing.
And her influence was far deeper than operations. She helped push Corti forward publicly, she helped foster his relationship with Mindermann, and she became the store's grounded, emotional center. Corti still misses her and says the store does, too.
"I'm not a good Illa," he says.
That, as much as anything, explains why Corti says he's just a grocer. He grew up in Corti Brothers. It's his whole life, his harbor, and his connection to his family that is gone now. Just as it was when he started, the business and the family are still bound together for Darrell Corti. Now, his staff and his customers are his family.
He is proud that there are so many employees who have worked there so long, like Mindermann, meat department manager Mike Carroll, a 33-year employee, or deli manager Linda Wright, who's been there 35 years. Others have been there more than two decades.
Why have they stayed?
"I don't know," Corti says.
"I'll tell you why," Wright says. "Although it sounds corny, it really is like a family here and Darrell is in the center of it."
"He knows why we're here," says Mindermann. "He doesn't really say it, but I know Darrell loves me, and he knows I love him."
That's another complexity of Darrell Corti. For all his initial brusqueness, people commit to the man because he's fascinating, because he is constantly teaching and because, once he commits back, he gives them so much.
"I'm not sure he wants to accept the responsibility, but I consider him my mentor," says David Berkley. "How do you measure what I learned from him?"
Corti Brothers and Corti are alike in another way. They are rarities. Corti Brothers is one of the last of its kind, an independent, single-store supermarket. It faces a world that gets more competitive almost daily. Specialty food markets continue to pop up, chain grocers are moving into gourmet foods, and stores known for quality food and wine like Fresh & Easy grocers and locally owned Nugget Markets have plans for sites within two miles or so over the next year or two.
And the celebrated grocer is certainly the last of his kind. With no children, he is the only Corti left at the store. "That's a big problem," he says of the lack of a succession plan. "Maybe Corti Brothers has to become something else. What it has to become, what the name will be, I don't know.
As long as I'm around, it's Corti Brothers."
And Corti does plan to be around a while. And why not? He appears 10 years younger than he is, with thick, silver hair, and the square jaw, high cheekbones and solid good looks of an Italian movie star playing a grocer.
Besides, where else would he go, he asks. With no family to take over once he's gone, the likelihood is that Darrah, Mindermann and maybe other top managers like Carroll will band together.
"If I have any say in it," Mindermann says, "it'll always be Corti Brothers."
In the meantime, Corti is at the store every day—seven days a week—when he's not traveling to speak to a group or teach or find something new. And he'll be wearing a dress shirt and tie and a blue grocer's smock.
"He's protecting his father's business," says Carroll. "That's really important to him. This is his place. He cares about his family's business. Darrell wants to do things right.
He's proud of what Corti Brothers is, and he still wants to make his father proud."