The Incredible Edible Eggs
What are superstar chefs like Thomas Keller and Charlie Palmer doing out in the middle of a big, dry field a few miles north of Arco Arena? Fishing. In the wake of global bans on wild caviar, one unassuming  local fish farm is basking in the worldwide culinary spotlight.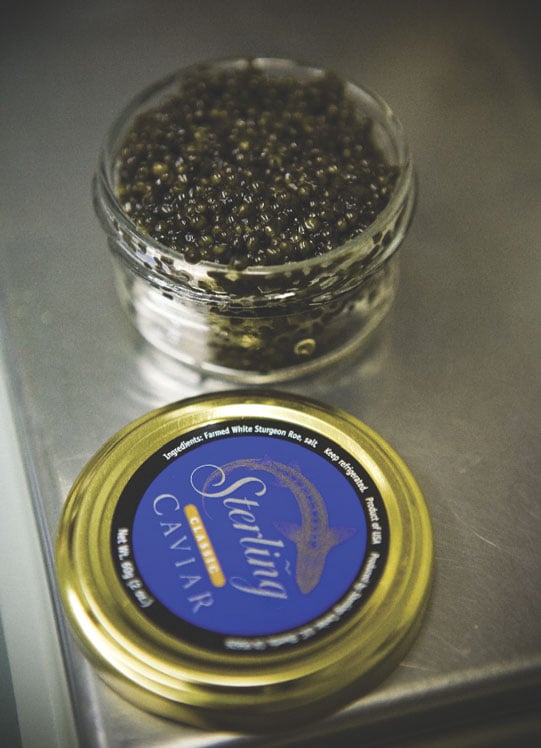 F
Fifteen miles north of the State Capitol, on a parched square of land that feels closer to the middle of nowhere than to downtown Sacramento, stands the nation's caviar capital. There is no sign proclaiming its unofficial title, no pyramid sculpture of giant black-steel fish eggs or greeters wearing plastic fins who spastically wave down passersby. Not that many passersby venture out this way, down a narrow levee road that crosses into Elverta and skirts a pair of long white metal warehouses that, to guess from the outside, might house chickens, hogs or spare tractor parts.
Only after entering the dimly lit buildings on the dusty farm grounds of Sterling Caviar will a visitor learn that what grows here ranks among the planet's most prized food commodities. Hundreds of thousands of white sturgeon—the smallest the size of a pack of gum, the largest as long as a baseball bat—swim in ceaseless circles in dozens of heated water tanks. Endangered in the wild and largely protected from commercial fishing, the white sturgeon inhabits the Sacramento-San Joaquin River Delta and waters along much of the West Coast. The fish bred and raised on Sterling's farm, by contrast, will never know the sea. But the precious eggs harvested from the females in its stock will travel around the world, gracing the plates and seducing the palates of guests at premier restaurants from Paris, Frankfurt and Brussels to New York, San Francisco and Sacramento.
The company produces 25,000 pounds of caviar a year, making it the country's largest supplier of the farm-raised variety of the delicacy and among the top three worldwide. Some 70 percent of its annual caviar sales occur between Thanksgiving and New Year's, when industry revenues spike as consumers indulge their champagne wishes and caviar dreams. Despite the lingering national recession, officials with Sterling and Petrossian Inc., the international fine foods vendor that distributes Sterling Caviar, expect a robust holiday season, their confidence buoyed in part by a glittering client list crowned by Thomas Keller. The celebrated chef serves the brand at his fabled Yountville restaurants, The French Laundry and Bouchon, as well as at Per Se, his three-Michelin-star eatery in New York, and his other Bouchon locations in Las Vegas and Los Angeles. "We like it for a reason—it's a consistently high quality caviar," says Philip Tessier, the chef de cuisine at Bouchon in Yountville.
Sterling Caviar also dresses up the menu at the eponymous restaurants of such kitchen luminaries as Michel Rostang in Paris, Jean-Georges Vongerichten in New York and Michael Mina in San Francisco. Closer to home, Café Americain, a champagne and caviar bar set to debut in mid December in Old Sacramento, will feature Sterling caviar (and grilled sturgeon). Over on Del Paso Boulevard, the upscale Supper Club garnishes assorted seafood dishes and its Yukon Gold potato blinis with Sterling. In October, Matt and Yvette Woolston, the husband and wife team behind the Supper Club, opened their second restaurant, Matteo's Pizza & Bistro in Carmichael; one of its offerings, the Millionaires Pizza, boasts toppings of the caviar, thin-sliced lobster and smoked salmon. "I've tasted Sterling along with some of the best [wild] caviars in the world," Matt Woolston says, "and I prefer Sterling to caviars that cost three times the amount. The flavor is so well-balanced. A lot of caviars are a little too fishy or a little too salty."
The hosannas from chefs echo the praise of The New York Times, Forbes, Wine Spectator and numerous other publications that tout Sterling Caviar, a chorus parroted by high-end food merchants. The company's distinctive royal blue tins line the shelves of the Simon Johnson grocery chain in Australia, Zabar's in New York and, in Sacramento, The Market at Pavilions (the rechristened gourmet store previously owned by David Berkley) and Corti Bros. "As far as I'm concerned," says Darrell Corti, an international food and wine expert, "Sterling is probably the best farm-raised caviar made in the world." As much as its rich flavor, Corti likes the caviar for another reason: "It's available year-round."
The endangered status of beluga, osetra and sevruga sturgeon, whose collective population has suffered from overfishing in the Caspian and Black seas, has led to global and U.S. import bans on wild caviar. The embargo and rising public demand for sustainable farming, coupled with the more affordable cost of farm-raised fish eggs, have boosted Sterling's fortunes since it first began selling caviar in 1994, more than a decade after its founding. A pioneer in an industry that has matured as slowly as white sturgeon in the sea, the company has endured a long, sometimes choppy voyage toward worldwide success. But unlikely as it may sound, this is one fish story that's actually true.
•••••
Peter Struffenegger drops a fistful of fish food into a 3,000-gallon water tank where upward of 5,000 small gray shapes swirl in tight, head-to-tail formation. A few of the 5-month-old sturgeons rise to suck in a pellet, tiny whiskers breaking the water's surface, but most wait until the food settles on the tank's floor.
"They're bottom feeders," says Struffenegger, Sterling Caviar's manager, peering down at fish that range in length from less than 2 inches to half a foot and weigh less than a pound. "That's where they like to find their food."
But unlike wild sturgeon, forced to scavenge along the sea floor for mollusks, worms, clams, small fish and similar fare that will pass through their suction-like mouth, the farm-bred stock receive a steady supply of fish food high in proteins and fats to aid their health. Held in plastic feeders suspended above the tank, the pellets plunk into water that hovers around 70 degrees. The warm temperature speeds the sturgeon's maturation time by, in effect, fooling the fish into thinking summer never ends. In the sea, its growth slows when water temperature drops during winter; as a result, females are typically 15 to 20 years old when they first produce eggs. Sterling's fish reach that stage at 7 to 10 years old, a triumph of nurture over nature.
The sturgeon dates to the dinosaur era and has evolved little over tens of millions of years. The white sturgeon, known by the scientific name Acipenser transmontanus, bears a physical semblance to sharks, with a dark gray body and white belly, sharply pointed dorsal and tail fins and a series of external bony plates called scutes that act as a protective shell. Classified as North America's largest freshwater fish, white sturgeon can grow to 20 feet long, weigh 1,500 pounds and live a century or more, and females may spawn as many as 3 million to 4 million eggs at a time.
Caviar's widespread popularity traces to the latter half of the 19th century. Russia and neighboring countries, among them Iran and Kazakhstan, began exporting fish eggs, or roe, harvested from sturgeon in the Caspian and Black seas. Meanwhile, thanks to bountiful sturgeon found off the West Coast, the U.S. briefly emerged as the world's largest supplier of caviar in the late 1800s. Since then, the global sturgeon population has ebbed and flowed, with periods of overfishing occurring between bans on commercial fishing of the species. The wild caviar trade, at once lucrative and corrupt, has long been buffeted by geopolitics, and three decades ago, upheaval halfway around the world played a role in the birth of what would become Sterling Caviar.
In 1979, revolutionaries overthrew the shah of Iran, a U.S. ally, and later seized hostages at the American Embassy in Tehran. President Jimmy Carter responded by imposing economic sanctions on Iran, an edict that blocked one of the world's top suppliers of beluga, osetra and sevruga caviar from shipping its goods to America. A short time earlier, two Swedish émigrés, Mats and Dafne Engstrom, who ran a small crayfish export business out of a warehouse at 12th and C streets in downtown Sacramento, had learned that sturgeon swam in the Sacramento River. Recognizing that the U.S. could soon face a caviar shortage, but aware that sturgeon were protected from commercial fishing, the couple approached Serge Doroshov, an aquaculture expert at UC Davis, about breeding sturgeon to harvest their eggs.
Doroshov arrived at the university in 1978 after defecting with his family from their native Russia, where he headed the aquaculture branch of a national fisheries research institute. He remembers that the Engstroms were among a few interested parties, including fish farmers in the region, who asked him how to solve the riddle of raising sturgeon outside their natural habitat. "I was not convinced it could be done," he says, his English still inflected with the accent of his homeland. Realizing that white sturgeon took as long as 24 years to produce eggs in the wild, he asked himself, "Who is going to raise this fish and wait 24 years to breed it one time?"
His skepticism didn't deter him from seeking an answer. With the help of a federal grant, Doroshov and a clutch of fellow UC Davis researchers determined that, if fed a proper diet and kept in warm, recirculating water, sturgeon would mature at a faster rate. Doroshov viewed the project purely as an intellectual pursuit; the Engstroms yoked his science to a commercial endeavor. In 1984, following a fire that destroyed the Sacramento warehouse where they first tried to raise sturgeon, the couple found investors and moved the fish farm to Elverta's less urban environs. A series of tangled business transactions ensued, and since 1997, the farm has been co-owned by the Belgium-held Sierra Aquafarms and Stolt-Nielsen S.A., a London shipping and seafood conglomerate. (The Engstroms, who had sold most of their shares in the business by the mid-'80s, went on to form the San Francisco-based Tsar Nicoulai Caviar, which produces caviar from white sturgeon raised on a fish farm in the Central Valley town of Wilton.)
Struffenegger joined Sterling as its production manager in 1986, and in those early years, after gaining state permission to catch about two dozen white sturgeon for breeding, the company gradually grew its own stock. By 1994, after surmounting various  nutritional, health and reproductive problems within its captive fish population, the company finally had enough farm-raised sturgeon to begin producing caviar. The total haul: 30 pounds.
Dressed in jeans and a worn polo shirt that outlines the parabola of a slight paunch, the 54-year-old Struffenegger, whose dark mustache matches his thatch of unruly hair, has the mien of an affable professor. His office at Sterling, decorated with a pair of iron sturgeon sculptures and an aquarium that holds a handful of brightly colored rainbow fish, sits inside a building that is nothing more than a modified single-family home. He laughs at the memory of the company's slow progression. "This is not," he says, "a business in which you get rich quickly."
On a recent afternoon, he led a tour that shows how much the company has grown. In one warehouse, 14 fiberglass water tanks contain some 5,000 sturgeon apiece, all of them hatched on the same day in May; they are the farm's youngest fish at the moment. An adjoining space holds 12,000-gallon tanks with thousands of fish a year older. Roughly a foot to 18 inches in length and weighing up to 8 pounds, they loop around the tanks in a dark gray blur, their powerful tails roiling the water. In a separate warehouse, the oldest and largest sturgeon on-site swim in 75,000-gallon tanks. At 29 months old, they measure 3 feet or longer and top out at 18 pounds; their churning creates a low rumble that sounds like an outboard motor at half throttle.
A sturgeon's sex isn't discernible until it reaches age 3 owing to its complex genetic makeup. At that point, the males are processed for meat and eventually sold to restaurants, caterers and delis. The females wind up at Sterling's satellite farms in Elk Grove, Wilton and a third location that Struffenegger declines to reveal for fear of tipping off animal rights activists. (At any given time, Sterling has some 1.5 million pounds of fish growing at its farms.) Within a few years, when they reach sexual maturity, their eggs will be harvested in a manner that adheres to industry practice: a worker stuns
the fish with a mallet blow to the head before making an incision in its belly to extract the entire ovary. (Most of the fish's body is subsequently processed.)
Eggs can comprise as much as 20 percent of an adult female's weight. Once removed from the ovary, the roe are rinsed with water and decanted to eliminate pieces of fat, membrane and other matter, then placed in a bowl and seasoned with Morton Dendritic ES Salt to add flavor and preserve the caviar. After the roe dry, Sterling's tasters grade their quality on size, color, firmness and flavor. Eggs can fall across a spectrum of color—gold, chocolate brown, metallic gray, coal black—but must be uniform. If a fish's eggs are more than one color, the tasters downgrade them, for the same reason that Sterling refrains from combining the roe of two fish. "It's like drugs," Struffenegger explains. "If you have two different colors and you're expecting somebody to pay top dollar, they think you're cutting the good quality stuff with some low quality stuff."
Roe are also downgraded if they're smaller in size than a BB, yield a muddy flavor—the best caviar is commonly described as "buttery" and "nutty"—or are too soft. "You want eggs that have a really good pop," says James Robertson, Sterling's processing manager, as he stands in the company's tasting area, a bright, closet-like space adjacent to the grading room where the roe are extracted and cleaned. Wielding a small plastic spoon—metal can alter the taste of caviar—he scoops eggs from a freshly opened tin into his mouth, pausing to savor the flavor before swallowing. "When you push them against the top of your mouth, you want to feel a little pptth! When it pops, that releases all the flavors." Tasters assign eggs a grade of A, B, C or R (for reject), the latter of which are sold at reduced price to discount retailers. The roe are then pressed into royal blue tins (coated with an epoxy to prevent the caviar from touching metal) and stored for three months at about 26 degrees—the salt keeps them from freezing—to draw out their flavor.
After producing its initial commercial batch of Sterling Caviar in 1994, the company honed its methods and received good reviews for flavor and consistency. For a taste test of farm-raised and wild caviar in 1998, The New York Times convened a panel that included Eric Ripert, executive chef of Le Bernardin, a three-Michelin-star French restaurant in Manhattan, and Hossein Aimani, owner of New York-based Paramount Caviar, a leading supplier of wild caviar in the U.S. The paper reported that the judges "were stunned to find the Sterling caviar… comparable to the best osetra," lauding the brand's "lively pop" and "deep, pronounced hazelnut flavor."
Despite the praise, however, the company struggled to move its product as the '90s came to a close, hindered both by a lack of business savvy and the popular perception that imported caviar far surpassed American caviar in quality. "We understand the farming end," Struffenegger says. "But we failed miserably at the marketing end because we were just a bunch of stupid farmers trying to market the most sophisticated food there is. We'd walk into restaurants and we didn't know how to sell. We finally realized it wasn't going to work."
•••••
Around the same time, Armen Petrossian, head of the international fine food purveyor Petrossian Inc., recognized that the future of caviar would be farm-raised. With the wild sturgeon population in the Caspian and Black seas dwindling at the turn of the decade, he knew that overfishing in the region presented a perpetual risk. His search for a supplier of caviar harvested from sturgeon grown in captivity led him to Sterling. Yet even with the marketing might of Petrossian Inc.—the company distributes foie gras, truffles and myriad other gourmet foods along with champagne, wine, tea and coffee to dozens of countries—Sterling Caviar proved a tough sell at first.
"Everybody was saying, 'Oh, no, I don't want to touch American caviar,' " says Michel Emery, Petrossian's director of sales. "But we convinced our clients and chefs—it took a couple of years—that it is a great caviar." In addition to restaurants and gourmet grocers around the world, Sterling's roster of customers now includes Lufthansa, Qatar and Singapore airlines and the Crystal and Silversea cruise lines, and its combined caviar and sturgeon sales yield $8 million in annual revenue.
The tide turned when, midway through this decade, U.S. and international governing bodies placed bans on imported caviar that largely remain in effect. (In California, poaching sturgeon carries penalties of up to a year in jail and a $10,000 fine.) Sterling Caviar sales rose as more chefs and specialty food merchants warmed to the brand, drawn by its flavor and affordable cost and the company's sustainable farming.
John Cawley, president of San Francisco-based Pacific Gourmet, which serves as Petrossian's distributor of Sterling Caviar in Northern California, describes farm-raised sturgeon as something akin to a gourmet chef's best friend. "Before, there was this sense of concern over killing these endangered fish," he says. "With the farm-raised [sturgeon], that's not happening. They're being raised and replaced."
Sterling Caviar's lower price compared to that of imported brands has also helped the company weather the nation's economic slump. While beluga caviar is banned in the U.S. and osetra costs as much as $200 an ounce, the highest grade of Sterling runs $88. "When you consider the quality and the value," says chef Philip Tessier of Bouchon in Yountville, "Sterling has really done well in finding a balance."
The company ships its caviar to Petrossian's offices in New York and Paris after the eggs have aged three to four months. Quality-control teams in both cities sample every tin and assign the caviar a rating of (from highest to lowest) imperial, royal or classic based on slight variations in size, texture and flavor. Sterling sells jars and tins ranging in weight from 30 grams to 1,800 grams, with prices of $62 for the smallest jar of classic to almost $5,000 for the largest tin of imperial.
Percy Whatley, executive chef of the renowned Ahwahnee Dining Room inside the Ahwahnee Hotel at Yosemite National Park, favors Sterling's classic caviar as a garnish when he prepares crudo, hamachi and other fish entrées. At Acquerello, ranked by Zagat as among San Francisco's top five restaurants for its food, chef-owner Suzette Gresham mentions Sterling Caviar on her menu when it's an ingredient in a dish. She uses both the royal and classic caviar in assorted ways: as a topping on poached quail eggs, in a vodka cream sauce drizzled over potato-filled ravioli. "I'm a big believer in using locally grown food and food that comes from sustainable farming," she says. "And flavor-wise, Sterling holds its own against the wild caviar. It's excellent."
David Berkley, who sold his specialty food and wine shop last year, seconds the opinion. One of Sterling Caviar's earliest devotees, Berkley has visited the Elverta farm to handpick tins of caviar (as have Thomas Keller and Charlie Palmer, the owner of New York's legendary Aureole), and he still places orders for a few old customers and friends. "They've proven that caviar raised domestically can be of terrific quality," he says.
Sterling's sales dipped last holiday season, but with the recession appearing to thaw, the company anticipates stronger results this year. In the decades ahead, it will confront intensified competition from sturgeon farms in the U.S., France, Italy, Germany and elsewhere. But as Struffenegger reiterates, jumping into the caviar trade is different than thriving in it. "Sturgeon are not like salmon or catfish or other farm-raised fish. With those, you can make money pretty quickly. With sturgeon, you're looking at 10 years."
In other words, even as the prospect of profits lures more rivals into the caviar pond, Sterling, the little Elverta company turned global brand, will remain the big fish for a long time to come.
You Might Also Like
The Fisher King – Bringing cult cured roe to the masses
Our French Connection – The French Laundry's Citrus Heights origins