Sacramento Archives Crawl brings the region's little-seen history into focus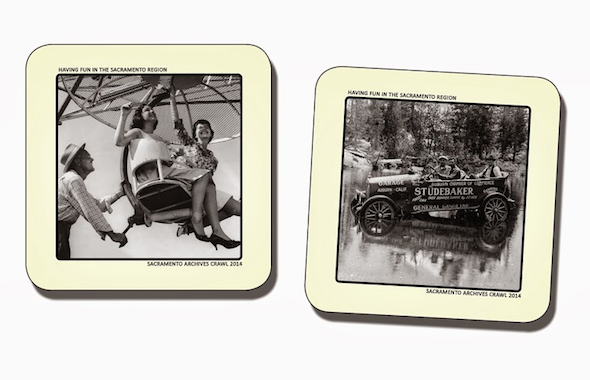 In honor of National Archives Month, four local institutions have selected rarely seen artifacts from their troves to display this Saturday as part of the city's fourth annual Sacramento Archives Crawl.
This year's free event follows the theme "Having Fun in Sacramento." Patterned after a pub crawl, attendees will imbibe Sacramento's rich history and catch a glimpse of what people used to do with their leisure time in the river city—where they dined, what sports teams they watched, what music they listened to—courtesy of the historical archives and collections of the Sacramento Public Library, California State Archives, California State Library and the Center for Sacramento History.
The destinations will display everything from photos of kids riding horses in Land Park during the '50s and '60s to Sacramento dance cards dating from the 1870s to the 1930s. In keeping with October's playoff baseball fever, the Center for Sacramento History will also present its Casey at the Bat mural: an 8-by-10-foot piece that hung in Edmonds Field when the Sacramento Solons played there in the 1950s.
Participants can also wander back to yesteryear by way of film screenings at the Tsakopoulous Library Galleria at the Sacramento Public Library. The California Audiovisual Preservation Project has partnered with 77 archives, libraries and museums to convert film and audio collections into digital media to preserve and document California's history and will unveil four vintage films about Sacramento, including a 1941 film about the California State Fair and a 1971 film about Tower Records when it first opened in Sacramento.
Meanwhile, archivists will be on-site to talk about the displays and give tours of archive rooms, offering insight about what they do as archivists and the important role they play in preserving Sacramento's history. "People use [archival] services and say, 'Wow, you are the best-kept secret in Sacramento,' " says Dylan McDonald, deputy city historian for the Center for Sacramento History. "We don't want to be a well-kept secret. We want to be an asset to people's lives and in the community. All of us have archives in our lives that we want to preserve and pass on—things we hold dear. [Archivists] have the information on how to preserve and keep those things."History buffs can start at any of the four locations, where they will receive a passport for the crawl. They can then walk, drive or take a bus (which come around every 15 minutes) to the next spot. Visitors who have their passports stamped at at least three of the four crawl venues can take home a set of commemorative coasters featuring classic Sacramento leisure activities.
The Sacramento Archives Crawl is a free event that will take place on Oct. 11 from 10 a.m. to 4 p.m. Venues are the California State Archives (1020 O St.), the California State Library (900 N St.), the Center for Sacramento History (551 Sequoia Pacific Blvd.), and the Sacramento Central Library (828 I St.). Visit sacarchivescrawl.blogspot.com for more information.