Sacramento baker releases new cookbook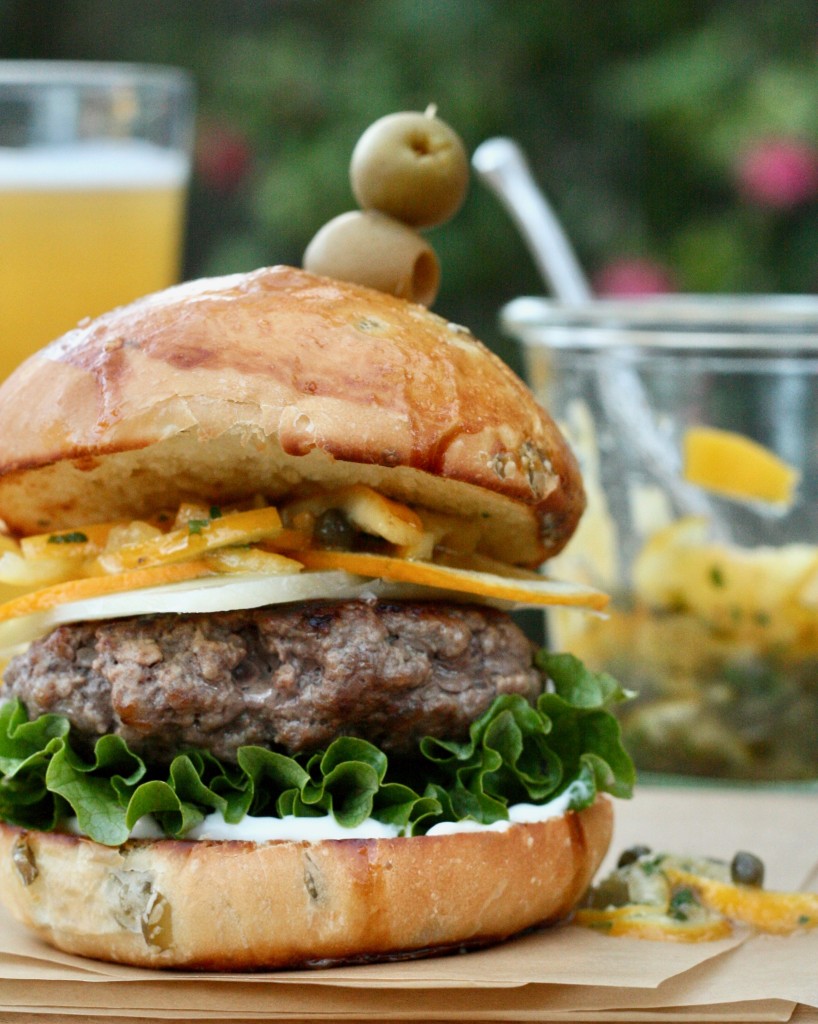 He's long been known to local chefs for having the best buns in a burger-crazy town, but now home cooks can get their hands on Gregory Berger's simple yet stunningly creative recipes. The Sacramento baker, whose breads have taken home the gold at the California State Fair, has just released his debut cookbook, Buns and Burgers: Handcrafted Burgers from Top to Bottom.
The guide, which came out on Sept. 15, features recipes for a whopping 32 different burger buns, ranging from the classic caraway seed to the inventive blue cheese poppy seed. Each set of instructions is paired with a different burger recipe. For example, the jewel-toned red beet bun is matched up with an "Aussie Burger" with fresh beets, pineapple rings and fried egg, and a peanut butter bun is accompanied by "The Elvis Burger," decadently slathered with jam, honey and peanut butter and topped with strips of bacon.
A graphic designer by trade, Berger would often spend his after-work hours trying to emulate dishes he'd seen on Food Network shows like Emeril Live. It wasn't until he used a sourdough recipe from the book Cooked by Michael Pollan in 2011 that he became enamored with breadmaking. "When you walk into the house and you've baked bread, your house smells so delicious," he says. "It's a rewarding process."
While Berger was content to continue as a home baker, a friendship with Sacramento Burger Battle organizer Rodney Blackwell, whose Burger Junkies Instagram page often features Berger's buns, connected him with local chefs. Soon, Berger was whipping up a vegan bun for Federalist Public House's Impossible burger and creating the recipe for Localis' sourdough bread. That said, Berger still wanted his book to be accessible to novice and professional bakers alike, so he tried to make the recipes as uncomplicated as possible. "I wanted to demystify [breadmaking]," he says. "If you can make cookies, you can make bread."
While you won't catch Berger opening up his own bakery anytime soon, he'll be teaming up for a Nov. 16 pop-up with South Korean-born chef Young Keun Ahn (who also goes by his American name, Greg Norrish), a former Sacramentan who worked at Magpie Cafe and managed the Sacramento Food Bank's garden program. He now works as a freelance chef doing pop-ups across the United States and Europe.
The duo will post up at 4 p.m. that day at Camellia Coffee Roasters inside the Warehouse Artist Lofts' public market on R Street, serving two Korean-inspired sandwiches—a cheese dak galbi sandwich with seared Korean pepper chicken, cabbage pickle, kkaennip bugak (deep-fried sesame leaves), and mozzarella cheese between a pair of Berger's gochujang (fermented chili paste) milk buns; and a vegetarian braised "beef" sandwich made with gosari namul (dried fern stems), soy glaze, red onions, pickles and spicy ssamjang dressing between two black sesame buns.
"When [people] are making burgers at home, hopefully they're using the best meat possible and buying their vegetables at the farmers' market, but they're most likely not making their own buns," says Berger, who will also be selling and signing copies of his book at the event. "And I feel like that last step can elevate your home burger through the roof."
For more information on Buns and Burgers, including where to buy the book, visit Berger's website, thefreshbreaddaily.com.
You Might Also Like
The underground Honey & the Trapcat to open in Old Sacramento
New details on downtown's planned mini-golf pub with an upscale speakeasy
A Rockin' Jewish Deli