Sacramento Beer Week 2015: Raise a glass at these 10 can't-miss events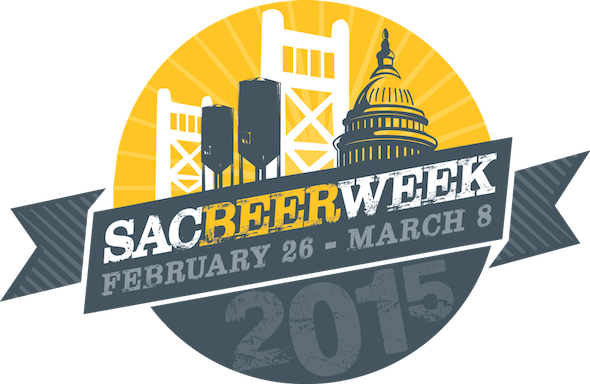 Sacramento Beer Week, which began as a tribute to Sacramento's beer scene by nine brewers in 2010, has grown this year into an 11-day beer bacchanal that will feature over 600 beer tastings, dinners, fairs, festivals and other related events starting Thursday, Feb. 26. Sip on these 10 highlights of this year's SBW, featuring a food-truck throwdown, dessert pairings and more.
Sacramento Brewers Showcase
Feb. 26 Beer Week opens with more than 35 breweries (all from within 45 miles of Sacramento) bringing their best beers to this tasting event at California Auto Museum. Beer enthusiasts can get the first sip of beers made exclusively for the showcase while checking out over 150 classic cars on display, as well as look forward to an expanded outdoor beer garden and food options from Tank House BBQ and Bar, Nugget Market and others. $40. 5:30-9 p.m. California Auto Museum. 2200 Front St. 442-6802. calautomuseum.org
HopBroads' "Riveter Red" Release/After-Party
Feb. 27 The ladies of HopBroads are launching their new collaboration beer with Yolo Brewing Company, Riveter Red—named after the World War II icon Rosie the Riveter. Hop on over to the after-party at Capitol Beer and Taproom to enjoy another keg of the Riveter's toasty and hoppy flavors. Release Party: 6 p.m. Yolo Brewing Company. 1520 Terminal St. West Sacramento. 379-7580. yolobrew.com. After-Party: 8:30 p.m. Capitol Beer and Taproom. 2222 Fair Oaks Blvd. 922-1745. capitolbeer.com
Sip of San Francisco
Feb. 27 No need to leave the capital region, because Rocklin's Boneshaker Public House is bringing the bay to Sactown just for Beer Week. Enjoy specialty release brews from Bay Area breweries, including some that were crafted exclusively for San Francisco Beer Week (Feb. 6-15). Boneshaker Public House. 2168 Sunset Blvd. Rocklin. 259-2337. boneshakerbrew.com
Victory at Sea
Feb. 27 Dive into some hard-to-find Victory at Sea imperial porters from San Diego's Ballast Point Brewing & Spirits. Midtown's Lowbrau Bierhall will serve eight unique variations, including rum barrel-aged, peanut butter and horchata-infused selections. 5-9 p.m. Lowbrau. 1050 20th St. 706-2636. lowbrausacramento.com
Beer Week "Tap Takeover" and Food Truck Rally
Feb. 28 Enjoy a dozen varieties of event-exclusive beers on tap while grooving out to the live funk sounds of local Davis band Big Sticky Mess. From 5-6:30 p.m., six food trucks—including Gyro Stop, Culinerdy Cruzer and Cichy Co.—will throw it down to impress the judges who are providing a set of surprise ingredients that each truck has to create with. $22 at door; $19 with online prepay, which includes first pint and five small plates. 3-9 p.m. Yolo Brewing Company. 1520 Terminal St. West Sacramento. 379-7580. yolobrew.com
Third Annual Capitol City Home Brew Competition
March 1 Eight to 10 home brew club teams will battle it out for a chance to have their winning recipe brewed by the popular San Francisco brewpub 21st Amendment Brewery. 21st Amendment beer—as well as last year's winners' brew Blackbeard IPA—will be on tap all day. 10 a.m. Capitol Beer and Tap Room. 2222 Fair Oaks Blvd. 922-1745. capitolbeer.com
Anchor Dinner at Hook & Ladder Manufacturing Co.
March 3 Enjoy three courses and then some—a grilled octopus salad with purple potato and frisée, grilled quail with roasted Fuji apple, and a Delta pear tart with cinnamon-honey gelato, each carefully paired with a choice of beer or cocktail. Hook & Ladder will be hoppin' with a seafood medley of appetizers, a special presentation by brewmaster Scott Ungermann from Anchor Brewing & Distillers, and a malt, hop and beer tasting station. $55 (limited to 40 guests). 7 p.m. Hook & Ladder Manufacturing Company. 1630 S St. 442-4885. hookandladder916.com
Coffee Stout Flight
March 4 At this beer tasting with a caffeine kick, New Helvetia's rich-flavored Homeland Stout will be blended with beans from four Sacramento-based roasters: Temple Coffee Roasters, Insight Coffee Roasters, Naked Coffee Roasting & Café and Chocolate Fish Coffee Roasters. This flight will be blended in-house only, so drop by to see if you can notice the differences in each stout. 4-9 p.m. New Helvetia Brewing Company. 1730 Broadway. 469-9889. newhelvetiabrew.com
Dark Beer and Desserts
March 5 Ten22 executive chef and resident beer connoisseur Jay Veregge will talk guests through a flavor-strong tasting of desserts—featuring dark chili coco bread pudding, peanut butter cookie and salted caramel, maple bacon tart, and mincemeat pie—paired with five-ounce pours of dark beers. $15. 4-10 p.m. Ten22. 1022 2nd St. 441-2211. ten22oldsac.com
Capitol Beer Fest
March 8 Capping out on Capitol Mall will be more than 110 regional breweries and 20 food trucks. In addition to live classic rock, a cigar bar and other added perks, beer lovers can expect nearly every Sacramento-area brewery—and scores of others from elsewhere around California, Nevada, Oregon and beyond—at this one-stop hops shop. 2-5 p.m. 500 Capitol Mall. capitolbeerfest.com
Visit sacbeerweek.com for a complete list of 2015 events.
Related Links
–A 'bigger and better' Sacramento Beer Week set to take place in February
–Former Enotria restaurant reopens as Cask & Barrel next week
–Track 7 Brewing sets Feb. 21 grand opening for new Natomas taproom