Sacramento fashion designer creates retro baby onesie line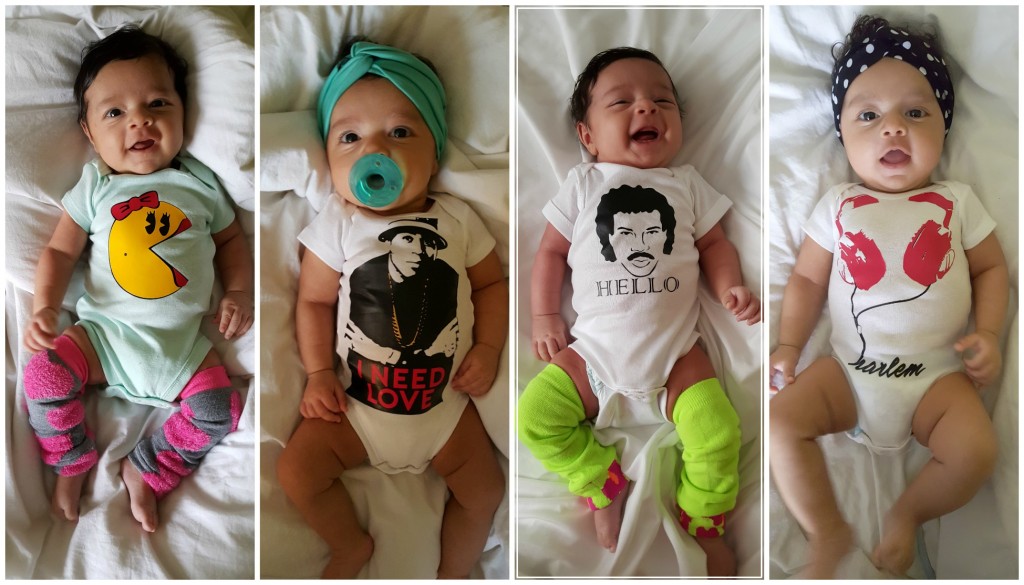 Sacramento fashion designer Maisha Bahati is creating divas in diapers with her new baby clothing line depicting cool throwback designs and retro icons like Lionel Richie and Diana Ross.
Coined ThatGirlHarlem, the line was launched in November and is named after her 3-month-old daughter Harlem and features onesies, leg warmers, headbands and baby booties in brightly colored fabrics.
Bahati crafts each onesie at her Fair Oaks home using a vinyl heat press, and can customize them with different baby names, like one that features her daughter's name under a gold chain. Harlem acts as the model for all the onesies, which are sold online via the designer's website, as well as at the Harlem Haberdashery Boutique in New York.
The designer says she turned to '80s fashion, music and TV shows like The Fresh Prince of Bel Air to create fun looks for the pieces. "I like anything retro—old '70s and '80s albums, pictures, TV shows," Bahati says. "That's where I get my inspiration."
Bahati, whose women's line includes flowy dresses, jumpers, skirts and high heels, has been a showcase designer at Sacramento Fashion Week for the past four years, and her clients include reality TV stars on The Real Housewives of Atlanta and Bad Girls Club. Most recently, Olympic medalist Natalie Coughlin wore her neon-bottom pumps on New York Live.
"I've been doing women's fashion for like 12 years, but I wanted to venture into children's clothing, and when I had my daughter it kind of all worked out," Bahati says.
Bahati is currently developing a new spring line with brightly colored onesies. Check them out at maishabahati.com.
You Might Also Like
Stylish new men's store opens in Oak Park
Benjamins puts best foot forward with stylish shoes made in Sacramento
Sacramento Fashion Week shifts into high-end gear