Sacramento graphic artist creates book based on comic series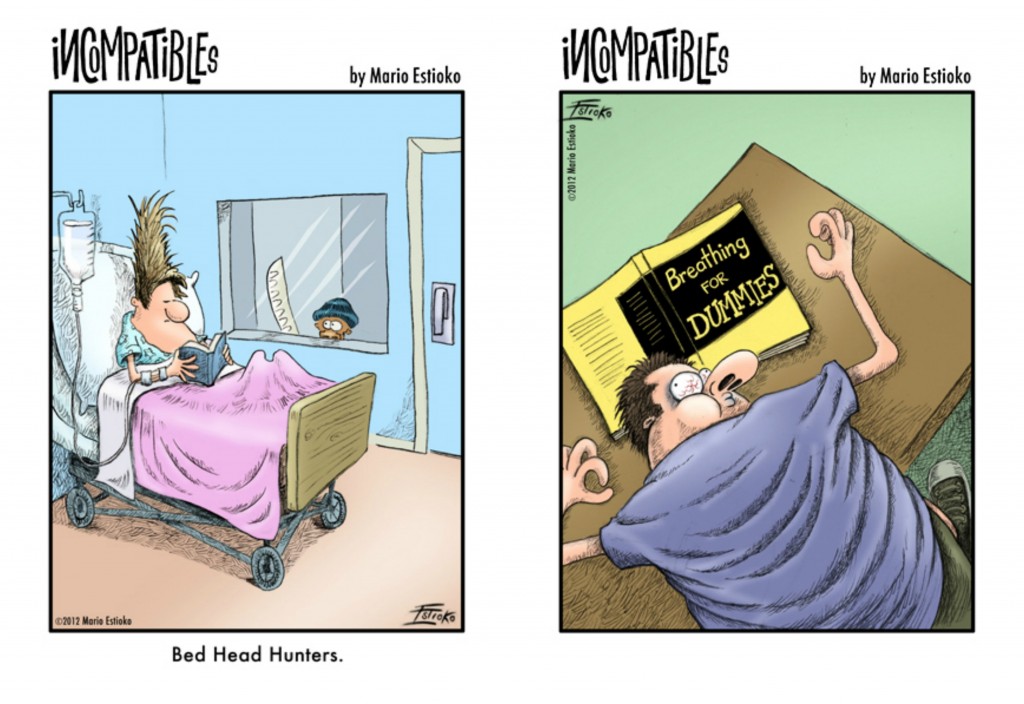 A Rocklin-based artist and Sacramento State graphic design instructor has raised over $9,000 on Kickstarter to publish his 112-page book The Incompatibles, which compiles a comic series more than 20 years in the making.
The series features cartoon drawings that creator Mario Estioko says don't belong together, like a Mickey Mouse tattoo on a large hairy man that says, "The happiest place on Earl" or a mockup of a hand holding "Cannibal Crackers." The collection, written and drawn by Estioko, will come together in a book with the first 100 comics. Inspired by the eccentricities of everyday life, Estioko came up with the idea while he was in college at the University of Utah in the early '90s before transferring to Sacramento State.
"It's really just normal stuff; life is enough fodder to pull from," he says.
Estioko began drawing comics in kindergarten, starting with stories and doodles of superheroes before becoming a staff cartoonist at his high school newspaper and then a political and strip cartoonist in college. He set aside The Incompatibles to focus on his education and career before returning to the passion in 2011.
"I found I had the space needed to finally revisit my ideas," Estioko says.
His comics have been published in the Sacramento-based politic satire magazine Comic Press News before it became the Humor Times, and he has worked on The Incompatibles series for the past few years before deciding to publish a book. The high cost of publishing made crowd funding an appealing option, and the Kickstarter campaign received a major response from donors, surpassing the original $7,500 goal by almost $2,000 in about a month.
"I was very thankful we were able to get it done because I was a little bit paranoid," Estioko says. "They don't take unsuccessful campaigns down, so I remember putting my cursor over the launch button thinking, 'Okay, this is it.'"
Backers of the project will receive various rewards depending on the level of donation, including a PDF version of the book, postcards, a poster or a signed copy of the book. While the campaign is now closed, those interested can pre-order a copy of the book from incompatibles.me. Estioko is also working toward launching it in local bookstores.
View the project on Kickstarter here.
You Might Also Like
The fifth annual Sacramento Comedy Festival brings the big laughs—and the big acts
Comic Genius: a profile of cartoonist Adrian Tomine
5 questions: Steven Wright on comedy, Louis C.K. and his upcoming Davis concert