Sacramento Kings announce three new restaurant partners for Golden 1 Center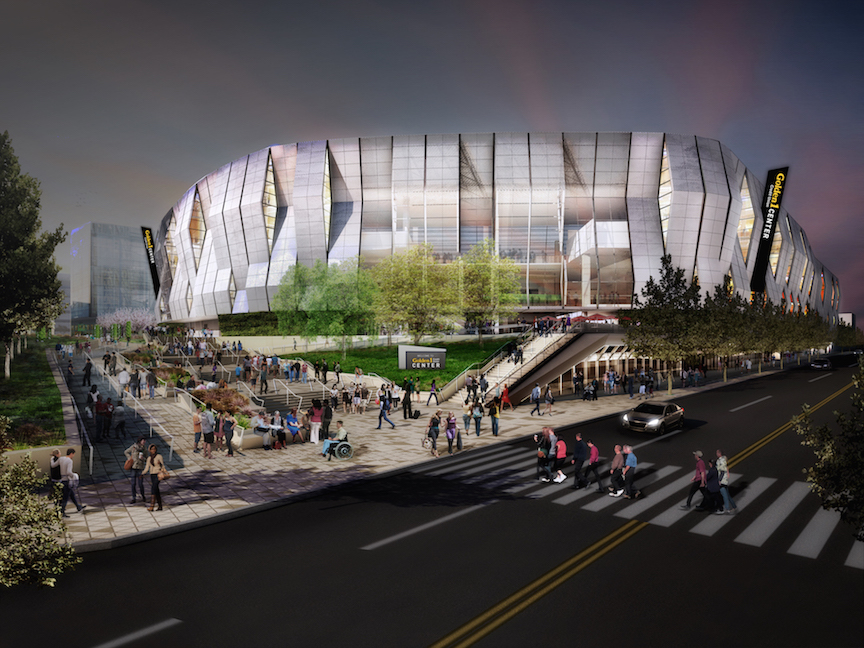 Keeping its pledge to offer local, farm-to-fork fare at Golden 1 Center, which is set to open this October, the Sacramento Kings are announcing three more partnerships with prominent Sacramento-based restaurants today.
Golden 1 Center's executive chef Michael Tuohy, who is developing and overseeing the food and beverage program for the arena with Legends Hospitality, says midtown eateries Mulvaney's B&L and Petra Greek, as well as the Mikuni Restaurant Group (which owns seven restaurants throughout the region), will join previously announced hometown restaurant teams Paragary Restaurant Group, Selland Family Restaurants, Star Ginger and LowBrau Bierhall at the complex.
"Everything about the food [for the arena] is really about Sacramento," Tuohy says. "What better way [to show that than] to partner with some of Sacramento's most successful local businesses and bring them into the fold?"
Petra Greek and Mulvaney's B&L will operate as part of the concession stands on the main and upper concourse levels. Petra will feature gyros, as well as probably souvlaki (grilled meats and vegetables on skewers), says Tuohy. Mulvaney's chef-owner Patrick Mulvaney will serve a red chile pork sandwich with cole slaw—which is a favorite of Kings president Chris Granger—that he says hearkens back to his time living in Arizona where the red chile pork is a staple ingredient.
"I spent five years in Arizona [and] it's what we call in Arizona 'a plate of red,' so we made it into a sandwich," Mulvaney says. "When you're at the arena, you need to be able to hold whatever you're eating in one hand and get up and down, and it needs to be easy to serve and taste good."
For Mulvaney, being a part of the Golden 1 Center is about being a part of something bigger—and showcasing what Sacramento can do.
"I want to be able to share [what we have to offer]," he says. "This is our way of saying to the community that the arena is a good thing and that, 'Yes, we love our city.' "
Mikuni Restaurant Group will take on a slightly different role in the food program, says Tuohy. In addition to the 16 concession stands—which Tuohy refers to as "local flavors"—there will be separate premium food options for the 34 suites, 48 lofts and five club lounges. Ticket holders with access to these spaces will be able to order meals prior to and during Kings games from a set menu, which will include items like Mikuni's signature sushi rolls and nigiri. The club lounges will have buffet stations (which may feature selections like artisan salumi and cheeses and LowBrau sausages) and active cooking stations where Mikuni sushi chefs (and others) will prepare items to order.
As food options at sports and entertainment complexes continue to get better and more chef-driven, Tuohy says the Kings are staying ahead of the game by committing to source 90 percent of its produce from within a 150-mile radius of the capital city.
"Nobody [else is providing] the level of sourcing and sustainability that we are attempting to do," he says. "To find products from the best producers from the area, all within 150 miles from Sacramento—we're the only place in the country that can actually legitimately do it."
You Might Also Like
Sacramento Kings announce top-tier restaurant partners for Golden 1 Center
Sacramento Kings announce Kimpton as operator of new Downtown Plaza Hotel
Sacramento Kings and JMA Ventures announce 3 new restaurants for Downtown Commons