Sacramento's Rock & Radio Museum seeks new home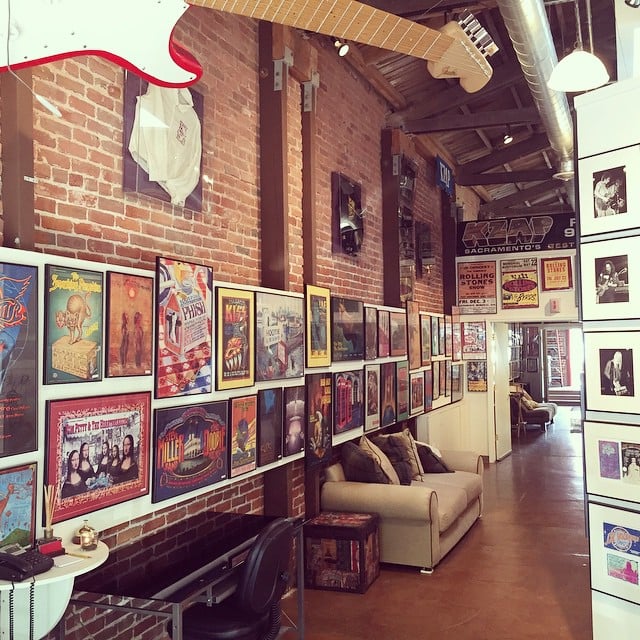 They say rock and roll never forgets. Dennis Newhall—who ran midtown's Sacramento Rock & Radio Museum from 2002 until it closed its doors in January 2017—is hoping this is true.
The 3,000-square-foot museum—which was originally located at the Ray Nakamoto Productions recording studio at 20th and I streets and moved next door to Tucker Media Group in 2011—was open one night a month during midtown's Second Saturday events and chronicled the Sacramento region's rock music scene from 1957 to present day, with over 3,500 artifacts, like posters, handbills, ticket stubs, T-shirts, rock radio charts and memorabilia from the bands and musicians who played here, including local stars like Jackie Greene and international sensations like Ozzy Osbourne.
Newhall says the museum lost its space in early 2017 when Tucker Media Group moved from midtown to El Dorado Hills, and he has since been searching for its new home.
"I grew up listening to rock and roll on my older brother's radio from when I was six," says Newhall, a West Sacramento native who DJ'ed for KZAP from 1972 to 1975 and is now the manager of its revival at 93.3 FM, as well as a host for Capital Public Radio's Thursday night show Excellence in Jazz. "My parents used to take me to the original Tower Records [on Watt Ave and El Camino Ave] and I'd buy tickets to Memorial Auditorium to see rock shows like the Grateful Dead."
The Sacramento Rock & Radio Museum collection features rare items unique to Sacramento, like 400 framed posters, including one advertising 1960s British rock trio Cream performing alongside the Grateful Dead at Memorial Auditorium, which Newhall nabbed after sitting in the third row of the concert in 1968. There's also a poster signed by Australian rock group INXS, a poster of the Rolling Stones' first visit to the capital city in 1964, a handbill from The Who's appearance in 1968 at Memorial Auditorium and 250 weekly radio charts from Sacramento's legendary rock and top 40 powerhouses KXOA and KROY during the '50s and '60s.
Right now, the collection sits in storage while Newhall seeks a new building in downtown or midtown with the ability to house its memorabilia. Ideally, he'd like a space with similar square footage to his former spot (about 3,000) with ample wall space or the ability to build walls, and low lighting to protect the art. As a nonprofit that only requested a $1 donation from each visitor, the museum doesn't make enough to pay rent, he says, but it was a popular attraction on Second Saturdays, when he would witness more than 300 people pass through its halls each hour.
Newhall says he's open to creative ideas and spaces. "[The musuem's collection] tells a story very few cities tell, of the bands that played here, the fandom and the great graphic artists who made the posters. This is Sacramento history."
In the meantime, rock history fans can tune into Capital Public Radio beginning Jan. 20 when the station will travel back in time, hosting a one-hour KZAP program each Saturday night from 7-8 p.m. when KZAP DJs, like Newhall, will take turns spinning classic rock radio tunes.
If you have an idea for a permanent residence for the Sacramento Rock & Radio Museum, email Dennis Newhall at sacrockmuseum@gmail.com or visit sacrockmuseum.org for more information.
You Might Also Like
Now Hear This: Four local podcasts worth iTuning into
Jackie Greene releases new music video, hints at moving back to Sacramento
Through the Glass Darkly: Roseville's Chelsea Wolfe is on the verge of rock stardom