Sactown Magazine wins two Folio Awards in NYC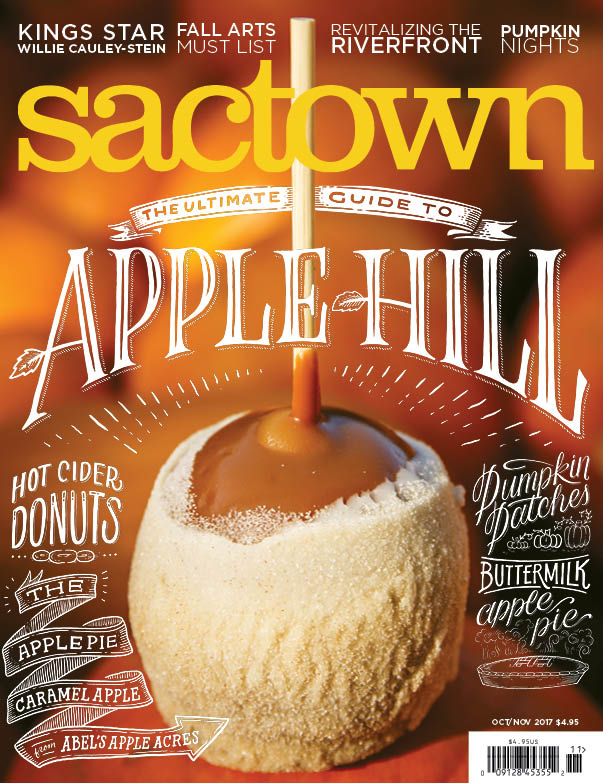 We're thrilled to announce that last night, at a ceremony in New York, Folio magazine, the country's largest trade publication for our industry, handed out its annual Folio Awards, and Sactown won in two categories.
One award was for best cover design for last year's Oct/Nov issue touting our guide to Apple Hill on the front. The award recognizes "outstanding design of a magazine cover as measured in typography, composition, color, balance, immediacy." The photograph of the featured apple pie caramel apple from Abel's Apple Acres was taken by Max Whittaker, and the hand-lettering was done by Emilee Rudd, who also made this beautiful two-minute video about the behind-the-scenes process.
The other award was for best essay for our June/July 2017 piece called "Spanning the Future" by Sactown co-editor Rob Turner. The essay called on the city of Sacramento to reverse course on its design process for its planned $160 million replacement for the historic I Street Bridge, and invite architecture firms from around the country (and the world) to submit ideas for an iconic design. As a result of the article, the city did just that, and a new architecture firm is set to be announced later this month. You can read "Spanning the Future" here.
Other winners this year included national publications like Food & Wine, The Atlantic, ESPN the Magazine, Real Simple, Travel & Leisure, O Magazine and National Geographic. Other regional magazines to earn Folio Awards this year included D Magazine (Dallas), Atlanta, Charleston, Marin and Sonoma.
In addition to the two wins, Sactown was awarded honorable mentions in the following categories: best series of articles (for our Apple Hill guide), best full issue (for our Dec/Jan edition featuring Greta Gerwig on the cover) and best profile (for our Greta Gerwig story).
Sactown has earned a total of seven Folio Awards since we launched in December 2006. Previously, we have been recognized for best single article, best overall design, best feature design and best regional magazine (twice).