Sactown's Best BBQ
Sweet, savory, spicy, smoky… There's no flavor that doesn't come through in the magical realms of barbecue. And there's no better time than these warm-weather days to bite into the meaty marvels grilled up by 10 of our region's best barbecue wizards. Whether you prefer tender ribs straight out of Cajun country or Texas-tinged pulled pork smoked for 18 hours—or a heaping helping of both with three-alarm sauces and five-star side dishes—we've got your 'cue cravings covered. Dig in!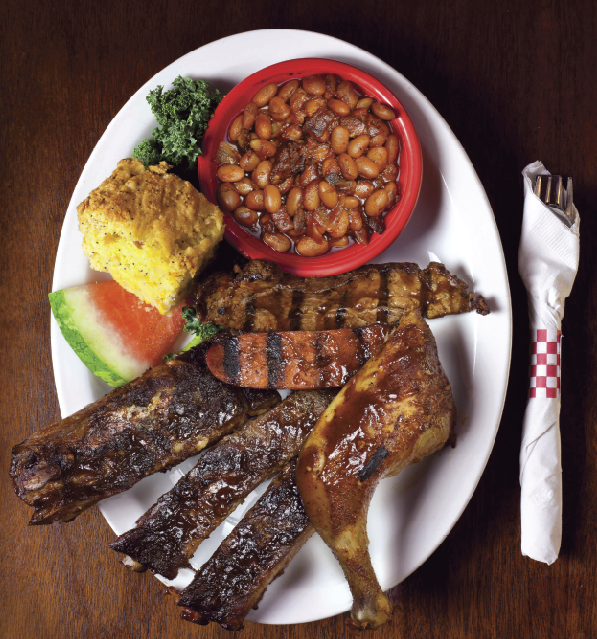 sticky gator
This midtown barbecue newcomer replaced Rick's Dessert Diner on K Street last November, and if you think Sticky Gator's bright red-and-gold façade is distinctive in the neighborhood (note the grinning, lip-licking, bib-wearing reptile mascot lustily clutching two fistfuls of barbecued meats), wait until you try chef Rodney Ray's St. Louis Ribs. Smoked for four to five hours, then served in a half slab (six ribs) or full slab (12 ribs), the meat achieves greatness in both flavor and consistency: The gently brittle exterior hugs every bite and heralds the smoky sensation to follow, while the dense interior holds to the bone without clinging. The result is a deeply satisfying—and refreshingly effortless—experience with a dish that can often require more work (and mess) to eat than its flavor is worth. Sticky Gator's spicy and mild sauces both pair nicely with the ribs and equally well with the juicy, delicate chicken (served in a half or whole portion), succulent pulled pork and tender tri-tip—the latter two of which can be piled onto a doughy roll with a hot link, coleslaw and green chilies as part of the menu's "Bayou Belly Buster" sandwich. It's not just carnivores who can get carried away here, though: With standout sides like the Texas BBQ beans (balanced with brown sugar and subtle spice), the black-eyed peas and the steamy, earthy collard greens, you don't have to eat meat gator-style to get suitably sticky. —S.T. VanAirsdale
2322 K St. 382-9178. stickygatorbbq.com
Smokey pit barbecue
Only Gurmail Singh is allowed to tend to the smoker in the parking lot outside Smokey Pit Barbeque in Auburn, so that's where you'll often find him—the restaurant's owner and resident 'cue guru—dutifully adding pieces of oak to maintain a cooking temperature between 200 and 250 degrees. His practiced hands (which have 23 years experience at the Singh family's North Highlands venture, Pit Stop Bar-B-Q, and nearly three with his own Smokey Pit) and impressive lineup of meats have helped make a destination of his tiny, no-frills eatery. The spot seats 13 people (or 14, if you count the folding chair leaning against the wall) at four tables, where hungry regulars dig into slow-cooked, Texas-style classics like a four-hour tri-tip so moist and pliant that you'll never go back to the chewy varieties too often served by lesser establishments. Another highlight is the beautifully smoky, juicy chicken—Singh gently finesses the meat for four hours before slathering it in his celebrated barbecue sauce (itself a sweet and dusky 25-ingredient treasure that cooks for five and a half hours). The barbecue authenticity doesn't stop with the maestro's epic food prep, either: Smokey Pit serves its meals fast, hot and fresh on Styrofoam plates and with plastic cutlery—grab a seat on the outdoor patio (which seats an additional nine), and you'll feel like you're at an intimate backyard feast with the ultimate neighborhood grill master. —Jennifer Resnicke
160 Harrison Ave. Auburn. 530-889-9080. smokeypitbarbeque.com
 The Double Barrel Smokehouse
The slogan "Don't Mess with Texas" also refers to barbecue, according to Double Barrel proprietor and chef Monte Lokey. The Lone Star State native and his fiancée, Linda, decided to show Californians how it's done when they opened their restaurant in Lincoln last June: The chicken, ribs and pork are seasoned with salt and pepper, smoked at 200 degrees over a mix of mesquite and hickory wood, and are served dry with a side of savory, slightly spicy barbecue sauce with your choice of fixins—try the luscious
made-to-order mac and cheese (with mild cheddar, melted butter, heavy cream and a hearty sprinkle of pepper), or the comparatively healthy okra that has been dusted in corn flour and deep fried for a crispy crunch.
Monte takes his 'cue seriously despite menu items with such cheeky titles as the "I Like Pig Butts and I Cannot Lie" sandwich, which comprises a generous helping of melt-in-your-mouth pulled pork—pork butt massaged with his secret wet rub (which includes brown sugar and vinegar as well as other spices) and smoked for 18 hours—served on a house-baked kaiser roll with a side of pickles and onions. Spunky touches like benches made from Chevy and Ford tailgates give this eatery a rustic charm, and down-home tributes on the menu like armadillo eggs (fried jalapeño poppers wrapped in pork sausage) and the Double Barrel stew (meats like pulled pork, brisket and sausage with corn, onions and potatoes in a barbecue sauce base) will have you
'cueing up like a true Texan. —Jessica Rine
436 Lincoln Blvd. Lincoln. 253-9851. thedoublebarrelsmokehouse.com
Ludy's Main Street BBQ
In 1994, after nearly two decades of designing restaurants in Southern California (including the first two establishments in the Elephant Bar franchise) and a year after returning to his native Woodland, Paul "Ludy" Ludovina opened this eatery where area barbecue buffs have long found themselves in hog heaven. The chef-owner dry rubs his meats with a signature seven-spice recipe, then slow-cooks over hickory wood and finishes on the grill, where he adds a brown sugar molasses glaze to give the victuals a caramelized coating.
The method works especially well on Ludovina's chicken—the meat falls off the bone and arrests the senses with its warm, piquant flavor—and the tri-tip, which is so tender it can be cut with a fork and has crispy, charred edges that emit just a hint of the telltale smoke.
The menu also includes burgers with house-made "Ludy-Q" sauce and excellent sides like coleslaw—crunchy cabbage tossed in a light, creamy dressing with plump golden raisins—and potato salad, made with red potatoes, dill and relish. You can chow down on it all in Ludovina's quirky, spacious dining room (decorated in country kitsch with red-and-white gingham tablecloths, wagon wheel booth partitions and vintage bicycles) or serene patio with its burbling stream, lush greenery and Koi pond designed by Ludovina himself. —Jessica Rine
667 Main St. Woodland. 530-666-4400. ludys.com
Momo's Meat Market
You'll know you've arrived at MoMo's when you spot the trio of meat smokers in the parking lot outside the restaurant's tiny Tahoe Park strip mall on Broadway. In fact, if it weren't for the frequent visits paid by pitmaster Glenn Miller (who is pictured at right and owns MoMo's with his wife, Sharon) to the smokers—turning, flipping and otherwise tending to his
marvelous specimens of ribs, tri-tip, chicken and links—you might wonder if you've stumbled upon a barbecue grill sale. Not quite, but you can join the hungry patrons who flock to MoMo's to buy some of the purest barbecue food and fixins in town. Ribs and tri-tip are particular highlights, emphasizing the nuances of flame, smoke and time in the lean beef and peppery pork that peels cleanly from the bone. All of the meats taste great naked, and they're even better for adventurers who complement them with the Millers' hot sauce, which boosts the ribs' natural flavor with a big blast of spice and a mischievous wink of sweetness.
Even on a slower day the wait for your order might seem unusually long, but it's all good—especially for first-timers, whom the Millers are known to treat to meat samples. In any case, don't overlook the sides, which include pepper jack mac and cheese and the dazzlingly tasty (and deceptively named) deep-fried cabbage: the leafy namesake arrives in an aromatic stew that has more in common with jambalaya than with the brittle, breaded cabbage crisps that the moniker might evoke. Whatever MoMo's calls it, like so many of their selections, it's a winner. —S.T. VanAirsdale
5780 Broadway. 452-0202. momosmeatmarket.net
Sandra dee's
Louisiana native Sandra Dee Johnson grew up cooking with her mother and grandmother from the age of 9, and her family recipes now inspire her eatery's classic menu in the form of fall-off-the-bone pork ribs, tender tri-tip, spicy beef hot links, juicy fried chicken wings and all the tried-and-true sides—from the rich, velvety mac and cheese with oversized
noodles to the spicy collard and mustard greens simmered in bits of smoked turkey. There are some surprises, too, like the fried gator tail appetizer (the meat is also featured in a popular po' boy with sautéed peppers and onions piled on a thick roll). With 17 years of experience serving up Southern comfort food, Johnson's reputation as the queen of Sacramento barbecue is evident in the collage of autographed celebrity photos (including those of Kevin Hart, Ice Cube and The Temptations) that splash the walls. But the proof of this restaurant's repute was already in the pudding—or rather, in a slice of Sandra Dee's warm, house-made sweet potato pie that will have you singing "Some Kind of Wonderful" as did Marvin Gaye, whose likeness graces the exterior with other soul, blues and jazz greats signaling you've arrived at a true downtown landmark.
—Tori Masucci Cummins
601 15th St. 448-6375. sandradeesbbq.com
Tank House
In 2013, owners Tyler and Melissa Williams looked to the past for new inspiration when transforming the former site of an 1880s-era water tank into Tank House BBQ and Bar, a cozy, cool space in midtown with chalkboard menus and monochrome photos of their relatives from 19th-century Sacramento lining the walls. (Even the restaurant's deer antlers once hung over Tyler's grandmother's mantel.) The flavors and techniques here are just as classic, with pitmaster Spencer Hansen stoking the smoker out on the patio, tempting visitors with the rich aroma of meat prepared Texas-style with top-secret dry rubs. The smoker turns out treats like its toothsome baby back pork ribs (which get their addictive flavor from four to six hours over white oak and cherrywood) and the savory brisket sandwich, both ready to be smothered in the tangy or sweet house barbecue sauces.
Don't overlook the sides here, especially the popular "dirty tots"—crispy-crunchy tater tots that give way to a soft, piping hot center, blanketed with mornay cheese sauce and juicy pulled pork. The dish pairs perfectly with one of Tank House's two dozen whiskey offerings or its eight draft beers (including rotating taps from local favorites like New Glory, Device and Sudwerk). It's no wonder the eatery is a popular pit stop for midtown pub crawlers riding the Sac Brew Bike, which parks its wheels on the outside curb every weekend; if anything mixes better than beer and barbecue on a late summer afternoon, we haven't found it yet. —Tori Masucci Cummins
1925 J St. 431-7199. tankhousebbq.com
Macque's bar-b-que
There are no fancy frills at MacQue's—food is ordered at the counter and served on plastic plates—just stick-to-your-ribs barbecue that provides gastronomical thrills. Mack Thomas, who owns the pocket-sized joint with his wife, Charlie, opened the South Sacramento restaurant in 1986 after seven years of catering for such companies as Hewlett-Packard and PG&E. Using white oak wood for a clean smoke flavor, the barbecue staples are cooked between 250-275 degrees after sitting overnight in Mack's specialty dry rub. The chef uses real cane sugar and varying measurements of cayenne pepper and crushed red peppers to produce five variations of barbecue sauce that range from mild (the perfect blend of sweet and savory) to 50/50 (which has a light kick and spicy depth) to 52/50 (which Mack says even the most fanatic heat-lovers are "loony" to try). The spectrum of sauces lend colossal, finger-licking flavor to perfectly smoked bites like the pork ribs, which have gorgeous pink smoke rings in the center, juicy meat and are served with decadent rib tips. The tri-tip sandwich is also stellar—thinly sliced beef on a lightly toasted bun with your chosen sauce on the side for dipping—and while guests can't go wrong with any of the sides, such as red beans and rice or mac and cheese, the mustard greens (drenched in chicken broth and laced with diced onions and fresh jalapeños) are a bright, earthy addition to the meaty entrées at this fuss-free favorite. —Jessica Rine
8101 Elder Creek Rd. 381-4119. macquesbbq.com
Boucane's Smokehouse
Aptly named after the Cajun term for "smoked," Boucane's Smokehouse sits in a modest Folsom shopping complex where sibling owners Nicole Burton and Brandon Ivey have been serving up mouthwatering smoked meats since opening for business last June. Every day Burton cooks her signature ribs using a two-part process, grilling them first, then smoking them using pecan and hickory woods before the slabs hit the plate to be smothered in sweet, tangy barbecue sauce (derived from Burton and Ivey's grandmother in Arkansas). This treatment makes for succulent, sublime morsels of pork that practically leap off the bones to become best friends with your taste buds. The family sauce is liberally used on the slow-smoked meats—the restaurant's motto is "Don't Get Lost in the Sauce"—as well as in the house-style baked beans, a delicious take on the traditional side with ground beef and a rich, garlicky flavor. Burton keeps it in the family with her other sides, too, like her Mississippi grandmother's potato salad—an intriguing, creamy mixture of finely chopped potatoes and onions in a tart mustard-based dressing. Burton and Ivey, who plan to open a second location in El Dorado Hills (where Burton resides) this fall, finish off their cozy
eatery with a rich red interior, wrought-iron accents, sounds of jazz, and a welcoming staff who exude Southern hospitality—an atmosphere that makes even first-time visitors feel like family.
—Jessica Rine
329 E. Bidwell St. Folsom. 817-1015. boucanes.com
Fahrenheit 250
For proof of how far some folks will go for great barbecue, look no further than this East Sacramento spot founded by cousins Ray Lettini and Gino Sardo—and the 7-foot-tall, 3,000-pound steel smoker that the duo had shipped across the country before opening in 2014. The supersized smoker—which landed here after New York City zoning inspectors said it was too big for a Brooklyn restaurant planned by the former pitmaster of Austin's venerated Franklin Barbecue—handles up to 1,000 pounds of meat at a time and requires round-the-clock supervision to maintain a 250-degree temperature (hence the restaurant's name).
The superb results include the signature brisket, which is sourced from Niman Ranch, cooked for more than 12 hours and brought to the table in thick, tender caramelized-edged slices. The recently added brunch menu, meanwhile, features selections like fried pork belly-topped buttermilk waffles and sausage with grits. Fahrenheit's list of exceptional eats extends to sides and appetizers like the creamy mac and cheese spiked with Tabasco, the gracefully plated fried green tomatoes (topped with jalapeño aioli and tangy piccalilli), or the addictive standout: salty-sweet cornbread muffins served with house-made whipped butter elevated by local wildflower honey. The large dining room—which was formerly home to Sacramento's legendary live music venue The Cattle Club, where acts like No Doubt and Nirvana once rocked out—gives off a hip farmhouse vibe (think walls made with reclaimed wood from old Sierra foothills barns and an eclectic mix of vintage chairs), making Fahrenheit 250 just as perfect for a cool date night as a casual family feast. —Tori Masucci Cummins
7042 Folsom Blvd. 476-4508. fahrenheitbbq.com