Sactown's Year in Food: A look back on 2016's most exciting restaurant news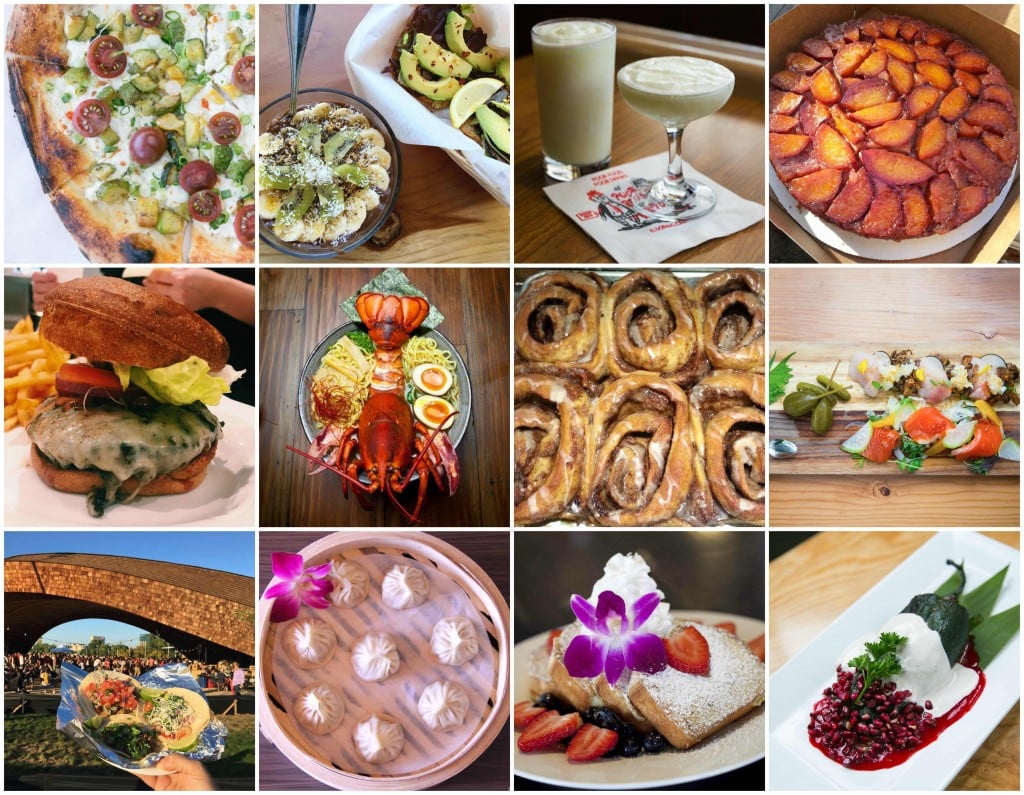 2016 was a major game changer for Sacramento's food scene. Golden 1 Center opened, becoming a local food mecca and helping spawn a ripple effect of new restaurant openings throughout downtown and the region. Sactown brought you news as big as the city's first Jewish deli launching on K Street and as small—but no less significant—as Tower Cafe adding its famed custard French toast to its dinner menu. As we enter the new year, we bring you the gastronomic highlights from the past year. Dig right in.
JANUARY
Inspired by the addictive nature of the The Mill's made-to-order Liège-style Belgian waffles, which debuted in January, we began highlighting our favorite comfort food dishes in a new series called Craving of the Week. Since then, we've rhapsodized about Mayahuel's creamy hot chocolate ice cream, Skool's eye-catching matcha white chocolate cake, and BarnBurner's fluffy angel food cake French toast, to name a few.
FEBRUARY
February began with the exciting announcement that downtown's arena-adjacent Whired Wine bar would be popping its first cork, offering 30 wines by the glass and a small plates menu with options like cheese and charcuterie boards.
The month only got better when midtown's Skool on K was in session. We dutifully nabbed a table and devoured executive chef Toshihiro "Moto" Nagano's squid ink pasta, creative uni flan and impeccably plated fish sampler with king salmon tartare, quail egg, amberjack crudo, pickled mushroom and cured ocean trout.
MARCH
Vibe Health Bar, the veggie-forward cafe with some of the region's best avocado toast, threw open its doors on the first of March in Oak Park. Vibe's team recently partnered with Liquidology juice company and announced that together they're planning to open more health bars throughout the region in the coming years. Açaí bowl and kombucha, anyone?
But when we weren't counting calories, we turned to the comfort food at West Sacramento's Sail Inn Grotto, which opened at the end of the month from the team behind Sacramento's retro-sexy Shady Lady Saloon. The beer-battered fish 'n' chips, savory clam chowder in a bread bowl and the sublime rum-soaked pineapple chicken sandwich, not to mention classic rum drinks like a Hemingway Daiquiri, topped our list of must-tries.
APRIL
April ushered in warmer weather and an announcement from the Kings that three new homegrown restaurants—Mulvaney's B&L, Petra Greek and Mikuni, would be following in the footsteps of Paragary Restaurant Group, Selland Family Restaurants, Star Ginger and LowBrau Bierhall at the Golden 1 Center. That's when you heard local foodies join Kings fans in counting down the days to the arena's opening.
Over in the Gold Rush town of El Dorado, the previously shuttered Poor Red's Bar-B-Q made a comeback, and we could finally hit the bar again for a sip of its legendary Golden Cadillac cocktail. Springtime was looking up.
MAY
In May, we celebrated the opening of the region's many seasonal farmers' markets and lined up when Off the Grid, the popular San Francisco-based food truck festival, announced it was expanding to Sacramento, enlivening places like River Walk Park in West Sacramento, the Barn and the Crocker Art Museum. And just when we thought pop-up dining couldn't get any cooler, the folks behind downtown's Mother and Empress restaurants launched a food cart selling house-made, hand-held food like savory prime rib pockets.
JUNE
The official start of summer brought more reasons to partake in al fresco dining as we unveiled our list of the region's best restaurant patios, from Rio City Cafe's sweeping river views to Aioli's hidden oasis. And with its seafoam blue cafe chairs under sunny yellow umbrellas, Obo' Italian Table & Bar in East Sacramento became a new contender when the Selland family opened its doors mid-June. More impressive still was the new restaurant's interior, featuring a chandelier made of pizza peels and tables bustling with hungry patrons wolfing down house-made pasta dishes.
Over in midtown, we were bellying up to the raw oyster bar at the newly opened Station 16, where it was just as easy to indulge in a succulent lobster roll and kimchi-topped French fries as the restaurant's inventive cocktails, like the Hot El Bombero—a fiery blend of tequila, lime, grapefruit and ginger beer with Thai chilies.
JULY
In July, we got our fill of regional fare at some of the summer's greatest food festivals and rejoiced when the late, great Real Pie Company announced it would make a sweet return to the capital city. The bakery's new downtown location won't open until spring 2017, but we're already dreaming about having a slice of house-made pie à la mode on our lunch break.
AUGUST
Saddle Rock, the midtown reinvention of Sacramento's first-ever restaurant of the same name by restaurateur Chris Jarosz, opened in August and subsequently introduced the city to its revelatory oyster bread—a golden popover served sliced open with a dollop of whipped, dill-infused butter melting into the airy pockets of dough. We got a first look, and found ourselves returning repeatedly to try creative or throwback items like the Hangtown fry and a bourbon cocktail infused with peanuts and food-grade leather (yes, leather).
Meanwhile, at the corner of 9th and J streets downtown, a new Japanese gastropub, Takumi Izakaya, quietly fired up its kitchen, offering sushi, sashimi and decadent small plates like deep-fried stingray fin. But the dish making the biggest splash was the lobster ramen, a showstopper of a noodle bowl topped with a 1.5-pound, in-shell Maine lobster.
SEPTEMBER
September saw the grand opening of Mesa Mercado in Carmichael's Milagro Centre, luring patrons with its traditional fare bursting with flavor like chile en nogada, mole Oaxaqueño and a humble but memorable white button mushroom soup.
In Folsom, one of the year's hottest food trends found a new home in Fishology, a hip poke bar that bowled us over with its dozens of options. The rest of the month was spent satiating our sweet tooths with sticky buns and crepes à la mode at Devine Gelateria's new East Sacramento outpost.
OCTOBER
Fall was in the air at the beginning of October, but the buzz surrounding Golden 1 Center's opening was even more palpable. Chef Michael Tuohy had given us a food-coma-inducing sneak peek of the arena's menu a few weeks beforehand, and just days after the entertainment complex held its ribbon cutting, Sacramento's first Dîner en Blanc took place in its outdoor plaza, with over 1,000 people clad in white eating, drinking and dancing into the night.
On Oct. 17, Journey to the Dumpling opened in Elk Grove, specializing in melt-in-your-mouth xiao long bao, or Chinese soup dumplings, and about a week later The Jungle Bird feathered its nest in midtown, leaving us craving tiki drinks and coconut shrimp.
But perhaps the most anticipated restaurant launch this month was the reopening of chef-owner Billy Ngo's chic and atmospheric Kru in East Sacramento, where we found a visual feast of dishes like the colorful sashimi bowl with whorls of semitranslucent fish furled and glistening jewellike among bright beds of garnish.
NOVEMBER
In November, downtown's beloved Grange Restaurant & Bar closed its doors temporarily for renovations to its dining rooms and bar, reopening Dec. 1 with a stunning bar back of white-washed maple, plush orange leather sofas, local artwork on the walls and new offerings on the menu, include a pumpkin shrub toddy with fall spices and whipped cream, and bites like fried cheese curds and truffle grilled cheese.
We also got word that Spinners Cinnamon Rolls—the local bakery that closed its 28-year-old spot at Downtown Plaza in June 2015 to make way for Golden 1 Center's construction—was reopening at a new South Land Park location inside a 76 gas station along Sutterville Road, carrying jovial owners Larry and Sandy Taing's classic lineup of sticky and sweet cinnamon rolls, coffee and pastries.
DECEMBER
The year ended strong, as news came about Chando's Cantina, the new downtown outpost of taqueria chain Chando's Tacos, as well as the expansion of East Sacramento's Pushkin's Bakery to a full-fledged restaurant on Capitol Avenue in midtown.
Also in December we noticed West Sacramento's dining scene was on the rise, with cool places to eat and drink popping up left and right, like a neighborhood ice cream parlor, a jazz bar above a retro burger joint and a new taproom joining the already-formidable craft brewery scene. Before we knew it, we were riding the west side foodie trail into 2017.
Need a New Year's resolution? Stay tuned to Sactownmag.com and follow us on Facebook, Twitter and Instagram so you never miss a headline!