Science Fare
What happens when you mix Iron Chef with Mr. Wizard? Molecular gastronomy, that's what. How Lounge on 20 is reinventing itself with compressed strawberries, carrot gel and, yes, mango "yolks"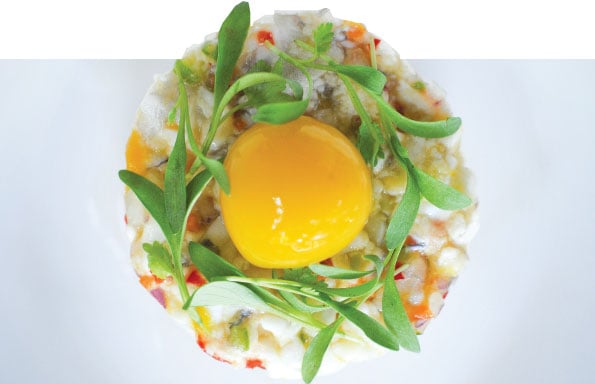 T
Lounge on 20
1050 20th St.
443-6620
loungeon20.com
The diversity of cuisines available in Sacramento is
staggering, from Afghan to Salvadoran to Italian, from upscale to mix-and-match small plates to cheap eats. But one of the top food trends of the past decade—molecular gastronomy, sometimes called modernist cooking—has been largely absent. Until now. Under the guidance of new executive chef and partner Pajo Bruich, midtown's formerly champagne-themed Lounge on 20 has quickly become a molecular gastronomy hot spot.
Seemingly overnight, the restaurant morphed from a bustling lounge emphasizing drinks (though it's always had a strong dining menu) to a sleek, light dining room with traditional banquette and table seating. In some ways, the change isn't surprising; Lounge co-owner Ali Mackani has a background in fine dining (his previous restaurant was the very highly regarded 55 Degrees). But in the shift in menu style, the restaurant's metamorphosis was as rapid and complete as the magic performed by such molecular gastronomy pioneers as Ferran Adrià of Spain's celebrated El Bulli or Grant Achatz of Chicago's Alinea, both Michelin three-star restaurants.
Molecular gastronomy chefs are modern alchemists, using specialized equipment and ingredients borrowed from food scientists to change flavorful liquids into gelled spheres, froth solids into ethereal foams, or vaporize intense tastes into steams diners inhale. Such chefs push the boundaries of what food can be—and how to deliver flavors to eager, if often surprised, guests.
Although Bruich (pronounced BREW-ich; the first name is PIE-oh) is a self-taught chef who has never dined at either of these gastronomic temples (and never will eat at El Bulli, which Adrià will shutter for good on July 30 in order to create a research center), he's the first to bring a menu focused on this style of dining to Sacramento. Bruich learned modernist cooking from tutorials on the Internet, ordering equipment and specialty ingredients from afar, and includes on his menu such gems as cured hamachi with tiny, bright-red, zingy spheres of pickled Fresno chili juice, a clever and delicious riff on the appearance of fish eggs; pork belly cooked sous vide (one of the few molecular techniques that's jumped to more traditional kitchens, it involves cooking vacuum-sealed food in water baths at very slow, low, precise temperatures for perfect and juicy results; the French name literally means "under vacuum") and glazed to order, accompanied with rhubarb gelée. There's also a lamb and beef tartare with whole-grain mustard ice cream made in a Pacojet, a high-end, specialized ice cream maker that, unlike most ice cream makers, requires no sugar. Bruich's experiments are time-consuming and rigorous; the foie gras mousse on his opening menu, with the liver formed into an ethereal cylinder accompanied by compressed strawberry, whipped maple syrup and house-made brioche, took 10 hours to perfect. He's committed to that level of research and hard work. "If I'm going to go to work 15 hours a day, I don't want to do normal food," says Bruich with a smile.
Even though Bruich's techniques are innovative, the flavors are clear, true, and in many cases classic, as in a pairing of moist chicken breast and confited chicken thigh, topped with a scattering of crisped chicken skin, crushed with coriander seeds and panko to add a crunchy breading, and atop a ragout of morels and fava beans: It tastes like a classic roast chicken with spring vegetables, but it looks ultra-modern—with the breast meat forming a pale, perfect cylinder that contrasts with the spongy-textured morels—and all the flavors are wonderfully intensified. A beet salad includes the root vegetables, walnuts, arugula and goat cheese—a combination so common it has nearly become a cliché—but the walnuts are crumbled into an earthy "soil," the arugula is liquefied and painted on the plate, and there's a strawberry-beet sorbet on the side. Briny, clean-flavored Kumamoto oysters get an update on mignonette with a chilly dollop of pickled shallot sorbet—a smart accompaniment that enhances their simple flavor without interfering with the oyster's cool, silky texture.
"I really want to create food that is really good food, that is fun, that is kind of energizing and exciting, without being pretentious," Bruich says. "And without being, if I may use the term, abrasive. I don't want the food to come off as hard or so complicated that people can't understand it."
Bruich comes to that point of view naturally, as a self-taught chef; he turned to cooking as a creative outlet after years of
running the family business, a restaurant supply company. He had studied industrial design in college (an avocation that may account for the gorgeous, geometric precision of his plating), but cooking became his outlet and his way to relax; he pored over Thomas Keller's books, met sommelier Anani Lawson while dining at the French Laundry, and eventually began giving private dinners in collaboration with Lawson (who has worked as a sommelier both at the French Laundry and at Keller's New York restaurant Per Se). He shied away, however, from restaurant apprenticeships. "I felt like I needed to be on the fast track," he says. "After putting in my time in college and school and running my mom's company, I just felt like I didn't want to start at the bottom again. I didn't feel like putting in ten years at a restaurant. I just didn't have time to do that, and I was pushing myself [to learn] harder than anybody could ever push me anyway. I still do."
That self-motivation was necessary to plunge into the arcane world of molecular gastronomy. "I never worked with anybody who was utilizing this equipment or these techniques, so it's been a tough road to say the least," he says. "In the beginning, [molecular gastronomy] was mind-boggling. I thought, 'I don't get it. I'll never cook like that.' So I understand how people feel coming into this because I was the same way."
Though he initially found molecular gastronomy off-putting, he also found it more and more intriguing as he learned more and gained more skill. Bruich tested out his technique-driven cuisine at his private dinners and at Pajo's Boutique Catering in recent years, and he says the enthusiastic response he's received shows Sacramento is ready for more. "In this city, we almost don't give our diners enough credit," he says. "We play it too safe sometimes. And I think it's time to push those boundaries a little bit, without going too far. We know people like their meat and potatoes in this town, but we can still cater to that and have some fun with it." An example of this updated meat and potatoes approach is Lounge on 20's beef dish: rib-eye steak cooked sous vide, so it's perfectly medium-rare and tender throughout, with an airy mound of green garlic mousse, a fluid and bright-orange carrot gel swiped on the plate, and a precise rectangle of utterly classic, creamy potato terrine that wouldn't be out of place in the most traditional of French restaurants. (All the dishes on the menu will change with the seasons.)
For those longing for slightly more casual fare, however, there's also a lounge menu, served on the restaurant's expansive patio fronting 20th Street. It's a bar menu gone uptown, including intriguing touches that enhance crowd-pleasers like deep-fried mac and cheese bites with black truffle cheese in the center; pork tacos adobado with compressed pineapple salsa; and jumbo shrimp ceviche, which is topped with a trompe l'oeil egg yolk made of spherized mango that adds a fruity punch to the dish.
Desserts come from highly regarded pastry chef Elaine Baker, formerly of Grange, who plays along with the theme with plates like a carrot cake with whipped passion fruit and strawberry parfait with an intense cocoa-black pepper shortbread. (Traditionalists can head straight to the simple fresh-fried brioche doughnut holes dusted in cinnamon sugar.) Bruich is delighted to be working with Baker. "Elaine has some great desserts," he says. "She's really pushing the boundaries."
The same might apply to Bruich himself. Though his restaurant has just opened, he's already yearning for more specialized equipment and hoping to do more experimenting. "I really, really want a rotovap—a rotary evaporator, so we can do our own distillations of liquids and fluids. You just can't bring out specific flavors of ingredients any other way. And I would love a centrifuge." Although his spheres and gels are a step forward in terms of Sacramento menus, Bruich sees his opening menu as just the beginning. "Right now, we're very tame, I'd say—in my eyes, at least," he says with a grin. "I have a great desire to not only push myself, but to encourage diners to venture out a little more. Food is fun."
That's an attitude that the new Lounge on 20 reflects perfectly—and, if Bruich is right, it's one that Sacramentans will soon share. "I think our food scene is great here, but I also think that a great food city is a diversified one," he says. "So, not only do we need to have places making an amazing pastrami sandwich and amazing tacos, but we also need a place that specializes in farm to table, and someplace featuring modern techniques. We should hit all those levels."  The new Lounge on 20 makes sure Sacramento does just that.