Sea Worthy
Skool on K's inventive take on fish dishes hooks food lovers, while the new midtown restaurant's playful concept reels in the whole family.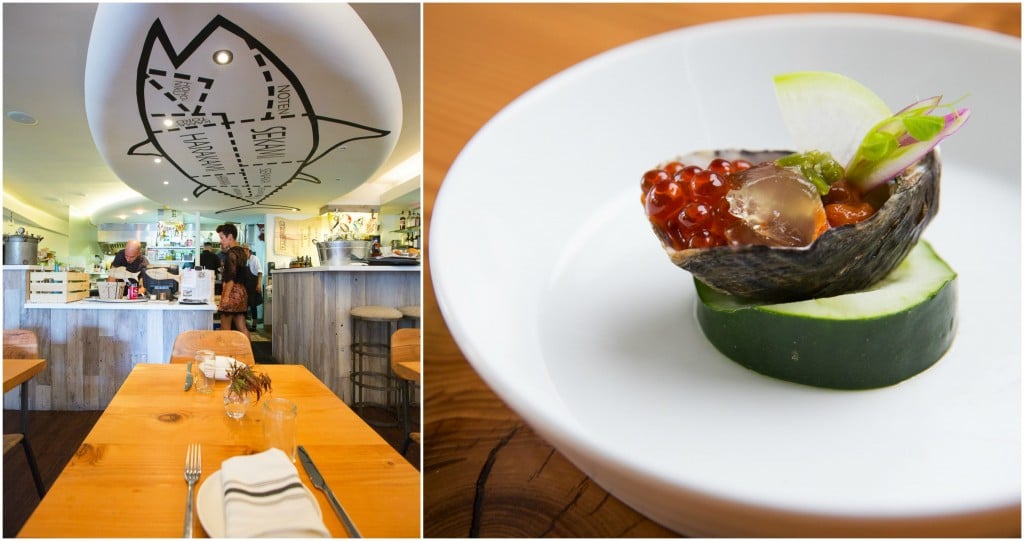 Skool on K
2319 K St.
737-5767
skoolonkstreet.com
R
AA deep bowl of al dente squid ink pasta arrives at the table, fragrant with lemongrass dashi and red-curry-laced broth, surrounded by tender rings of Monterey squid, shrimp and enoki mushrooms, and dotted with dabs of a garlic tomato compote sparked by the Japanese herb shiso. A whole squid follows, fresh off the grill, its body and tentacles sliced and arrayed across an oblong plate swimming in a succulent seaweed butter sauce.
Skool on K is in session. Inspired by Japanese preparations, executive chef Toshihiro "Moto" Nagano's multicultural concept of seafood also honors Europe and California. You won't find sushi, ramen or even rice dishes here. It's a specialized vision Nagano shares with business partner Andy Mirabell.
"We both really appreciate light, clean, fresh flavors," Mirabell says. For example, there's Nagano's sashimi-style fish sampler, which might include cured trout garnished with frisee, tangerine and radish, or his sake-steamed mussels and clams.
Across the street from Sticky Gator BBQ and The Golden Bear in midtown, the name "Skool" is emblazoned on the sidewalk patio area, and a chalkboard sign announces daily Detention Hall (the restaurant's version of happy hour, a playful nod to the tweaked spelling of "school" in its name). Enter the mid-century building that most recently housed Anatolian Table Turkish Bistro, and you'll be handed a menu printed on blue-lined, three-hole-punched paper attached to a board by a yellow pencil and rubber bands, and seated at a Skool-branded pine table, more often than not by Mirabell's wife and restaurant co-owner, Olia Kedik, rocking a pompadour-styled fauxhawk.
Some of the dishes listed are familiar—pan-roasted trout, Nicoise salad, a burger with fries—but it's the more unusual offerings—uni flan, creative crudo, baby eryngii mushroom fries—that have foodies' pulses racing at the thought of discovering the next cool restaurant.
While this beach-chic eatery is new, its partners—which also includes Nagano's wife Hiroko, a pastry chef—have been fine-tuning the Skool concept since launching their first location in San Francisco in 2010. They've established themselves in the city's burgeoning Design District with distinctive takes on seafood and a lively patio environment that lure tech workers and tourists alike.
Pre-Skool, Mirabell and Moto Nagano started working together in 2002 at Blowfish Sushi. The chain—which started as a San Francisco hot spot known for its unconventional Japanese cuisine and high-energy, club-like atmosphere—had ambitious plans, and tapped the duo (Nagano was a sushi chef and Mirabell was director of operations) to train staff and help open Blowfish Sushi locations in San Jose's Santana Row in 2003, followed by Hollywood and New Zealand. It was exciting, but exhausting.
By 2004, Nagano, who grew up in the Japanese fishing village of Yokohama, had sworn off sushi rice and moved on to Bushi-Tei, a now-closed San Francisco French-Japanese fusion restaurant, to work under lauded Japanese chef Seiji "Waka" Wakabayashi, whose résumé highlights include stints at Spago in West Hollywood and Sausalito's Ondine. "He totally blew my mind," Nagano remembers. "Like, I really wanted to change my direction."
Meanwhile, Kedik and Mirabell met in 2006 when she was brought on to do public relations at Blowfish, and started dating almost immediately. By 2009, Nagano had left Bushi-Tei and Mirabell was developing ideas for his own restaurant concept. Mirabell called his old friend later that year, right before Christmas, to share his plan. Nagano was on board. "I was thinking, 'If I'm going to be opening a restaurant, Andy's the best man I can work with,' " the chef says.
Skool's central conceit—a double play on a large grouping of fish—is both purposeful and personal. "I knew what cuisine we wanted to do, but had to come up with just the right name and niche," says Mirabell. "The 'school of fish' [idea] was what I landed on, as it would represent our cuisine, our family-run business, and have some connection to education, as teaching was what I received my [college] degree in."
Kedik and Mirabell married in October 2010, four months after the first Skool opened. She had a hunch that their personal dynamics would help set their restaurant apart. "We are such a team at the front of the house. And we've built that kind of foundation in San Francisco," Kedik says. "All the customers, they love to come see us. They've seen us grow."
With a successful restaurant under their belts, two years ago, the two husband-and-wife teams set out to expand the brand with a second Skool. They considered locations like Marin County and the South Bay, but ultimately decided on the capital city.
"Sacramento was always on my radar, because I love the town I grew up in," says Mirabell, a Jesuit High graduate who was raised in Sierra Oaks. He and Kedik began looking in smaller pockets on the grid and found their midtown location rather accidentally. Mirabell was viewing a property across the street in July 2015, when the agent mentioned the former Anatolian space was available.
He and the other partners took over the remainder of the lease, and Skool on K debuted on Feb. 12 with dinner Tuesday through Sunday and weekend brunch. It's been surfing a wave of positive press coverage and Instagram-fueled word of mouth ever since.
The rustic-modern interior teems with aquatic references: octopus-shaped wall hooks, red fish stamped onto throw pillows that cushion the wooden bench-style seating welded to the wall, and, most impressively, a giant yellowfin tuna diagram that hovers over the open kitchen like an outsize surfboard. Japanese Hibiki whiskey bottle-inspired Edison lights suspended from the ceiling create a warm glow; bottles of sake, apéritifs and gleaming bowls of lemons occupy a small six-seat bar. San Francisco muralists Guillermo Sanchez and Rafael Saenz, friends of Mirabell and Kedik, painted a pirate and mermaid on the bathroom doors.
Meanwhile, daily deliveries from Sunh Fish and area produce purveyors ensure the freshest, highest-quality ingredients and preparations. The menu is divided into categories, such as "Bite," "Raw + Cured" and "Char-Grilled." Start with a selection of oysters—briny, tender and delicious—and a crisp white wine. A must-try is the signature uni flan, a light, silken
concoction that captures the urchin's delicate sea essence and is topped with a decadent dab of fresh uni and ikura (salmon roe). Served in a glass jar, accompanied by crostini, this pâté-like delicacy begs to be shared. Other standouts include the aforementioned squid ink spaghettina and Hiroko Nagano's delicate, lightly sweet flourless matcha tea cake, which is accompanied by seasonal ice cream dusted with imported green tea powder, and housed in a jar with sake-soaked raisins.
Diners will also be heartened by Skool's eclectic weekend brunch mix, which features $1 oysters, the uni flan and other staples, but also a plate of intense squid ink grits topped with daily fish, as well as a dish of panko-fried oysters and waffles. Traditionalists will find bacon and eggs, brioche French toast, smoked salmon eggs Benedict and a nuanced Bloody Mary. "There's really something for everyone at brunch," Mirabell says.
He has been pleasantly surprised by his customers' adventurousness—and not just when it comes to food. "People have a lot of pride in what's immediately around us, from farms to wineries that are really starting to evolve," he says. Pour-over coffee is from Chocolate Fish, and Mirabell's beverage list offers some Wine Country selections, but also boasts more local options like a Berryessa Brewing IPA. Because Skool on K does not have a full liquor license, Mirabell crafted enticing "educational" wine and sake flights, and a shochu apéritif cocktail menu for the eatery's happy hour. Another welcome surprise: Sacramento is outpacing its San Francisco sibling in sake sales.
That's not the only difference. "It's refreshing to have more families—I love families—and young people really excited about trying something new," Mirabell says of his Sacramento diners' demographics. The kids' menu contains pared-down versions of the adult dishes—such as a simplified squid ink pasta and Kobe beef burger—and Skool's fish logo to color.
For their part, although Mirabell and the other principals split their time between the San Francisco and midtown locations, they have all effectively relocated to Sacramento. Mirabell and Kedik live in Arden Park with their 3-year-old daughter, Yana, and the Naganos maintain apartments in both cities, but are busy exploring Sacramento's beer and food scene, documenting their finds—as well as Skool's dishes—on social media. The group's creative director Hiroko runs the restaurant's Instagram account (@skoolonk), which has been a key marketing vehicle.
"Hiroko takes beautiful pictures of food, and it's amazing how many people are coming because of what they saw [on Instagram]," Kedik says. She estimates about 20 percent of guests mention seeing images on the photo-sharing platform.
Ultimately, the two-couple partnership of owner-operators (formalized as 4Fish LLC) works because everyone contributes different talents and skills.
"Hiroko's such a 'team mom'—a leader in concept, and what's new and interesting in the culinary world," Mirabell says. "And Moto, he's just raw skill—no pun intended. Olia is such a people person. She's also so talented—she has a background in advertising and she's designed our logos." As for himself, Mirabell says, "I'm a little more old-school. I'm the business guy."
And the business guy is happy with the warm welcome from all quarters—from the restaurant's neighbors to curious diners to childhood friends who stop in. Kedik, Skool's director of operations, is now a Sacramento evangelist as well. "There are a lot of young, ambitious people who are excited to do more in this town, and I have no doubt
we will [do more here] too," she says. "This is just the beginning."