See what's brewing at the third annual California Craft Beer Summit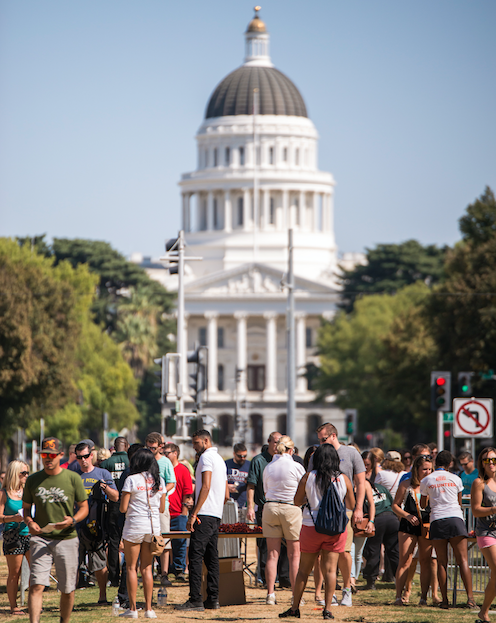 The California Craft Beer Summit is once again doubling down on the notion that today's beer lovers want to do as much learning as tippling. On Sept.7-9, the summit returns to Sacramento for three hopping days of beer discussion, education and tasting, culminating in a mega festival on the Capitol Mall.
At the third annual event, you can hone your sudsy spidey-sense with classes on how to analyze hop flavor profiles, take a historical and geographical tasting tour of the Golden State's brewing industry, or get schooled on beer pairings by Grange chef Oliver Ridgeway at a demo where he'll serve guests a meal that explores the connection between Indian food and West Coast IPAs.
Then on Saturday, Sept. 9, test your newfound knowledge at the Capitol Mall festival, which will feature over 160 stalls manned by brewers from all around California. Some, like Sierra Nevada, are well known, and others are harder to find, like Smog City from Torrance, which only distributes in Southern California. So if you have a "gotta drink 'em all" approach to regional craft beers, this gathering may be your chance to finally track down those rare brews.
To Natalie Cilurzo, co-owner of the Russian River Brewing Co. and board president of the California Craft Brewers Association, which founded the summit, says this celebration stands out because of the public's participation. "We all do a million beer festivals a year, and they're mostly dime a dozen," she says. "We sit around every day and talk to each other, but to be able to share our stories, to share our knowledge and share our passion with consumers—that's what makes this event so unique."
California Craft Beer Summit will take place Sept. 7-9. Classes ($99-$299) will be held Sept. 7-8 at the Sacramento Convention Center (1400 J Street) and the festival ($60) will descend on Capitol Mall on Sept. 9 from 11:45 a.m.–3:45 p.m. For tickets and more information, visit californiacraftbeer.com.
You Might Also Like