Signs of the Times
In the age of social media, cities from Amsterdam to Toronto are recognizing the branding value of civic photo ops and making typography part of their urban topography.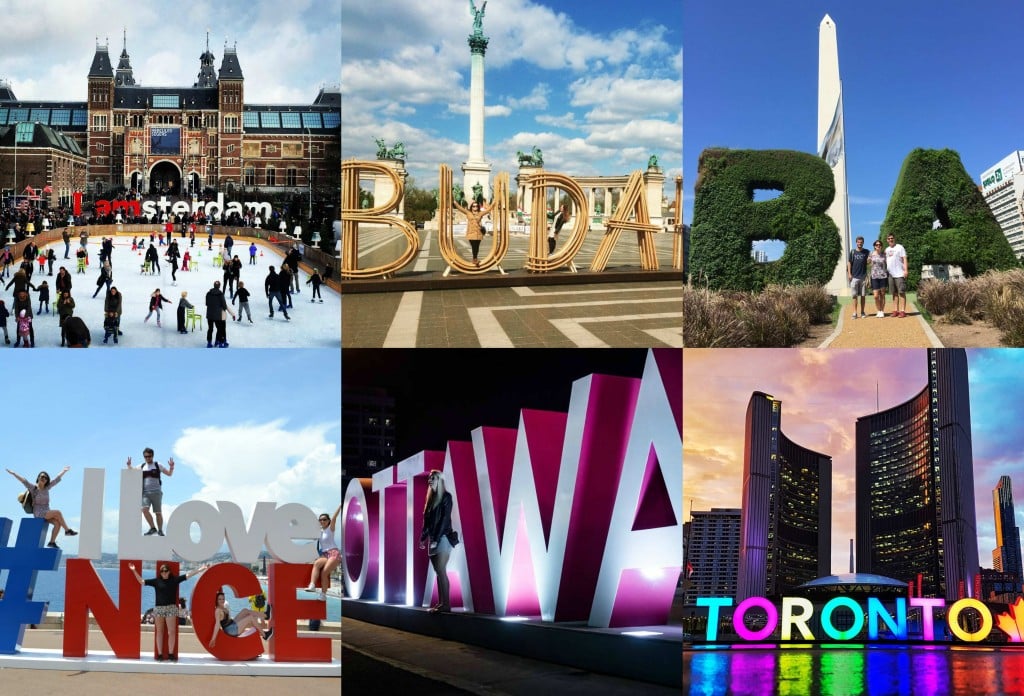 The Idea
When Toronto created a 74-foot-wide sign spelling out the city's name for its turn as host of the Pan American Games in 2015, the installation was supposed to be temporary. But then the 10-foot-tall letters went viral—with a reported 120 million social media views the first year—and talk of keeping them around exploded. One councilman even noted that the sign had become as popular as the town's 1,815-foot CN Tower—North America's tallest structure.
The story is part of a growing global trend of city signs placed at ground level to inspire civic pride and photo ops.
Amsterdam was one of the first cities to make a splash with this concept when it placed an "I amsterdam" sign in front of its most celebrated museum in 2005. The city has since installed a second one at the airport and a third mobile version that travels for major events. Now visitors swarm the signs year-round.
Cities like Budapest, Nice, Buenos Aires and Ottawa have also erected their own versions of these wildly popular civic markers (see Instagram examples above).
Surprisingly, it's a trend that hasn't hit the U.S. yet. Sacramento should be one of the first, with a massive, strategically placed permanent sign in front of a local landmark, perhaps on the Old Sacramento boardwalk with the Tower Bridge in the background, or on Capitol Mall.
The Players​
In Toronto, city staff proposed their sign. In Amsterdam, the tourism bureau took charge.
If Sacramento tackles such a project, it will be up to Mayor Steinberg, the city council or Visit Sacramento to decide who takes the lead on such a project. Initiating a local design contest to come up with the font and form would go a long way toward yielding multiple options to choose from. Perhaps the Downtown Sacramento Partnership and the Sacramento Metropolitan Arts Commission can be involved, too.
The Bottom Line
These signs are proven people magnets and civic brand amplifiers, and Sacramento can either lead or follow other U.S. cities that will do this eventually. The cost could be covered by the city, Visit Sacramento, or through a public-private partnership.
In Hamilton, Ontario, its mayor is leading an effort to raise $185,000 for a city sign.
The temporary Toronto letters, wired with color-changing LED lights, cost approximately $70,000 to design, construct, install and maintain with a lifespan of three to five years, and were paid for by the city. Soon, city leaders there will need to decide if they will replace the letters with a permanent sign.
As Mike Williams, the city's economic development manager, recently remarked, "This is the most successful marketing media branding project I've ever been involved with." With 120 million social media views, it should be clear that letters like these can add up to some very big numbers indeed.