Skyline Cinema
From Austin to Australia, rooftop theaters are blending the best of outdoor films with vertical vistas and lofty lounges. With the best summer nights on the planet, Sacramento is ideally situated to host the ultimate screening room with a view.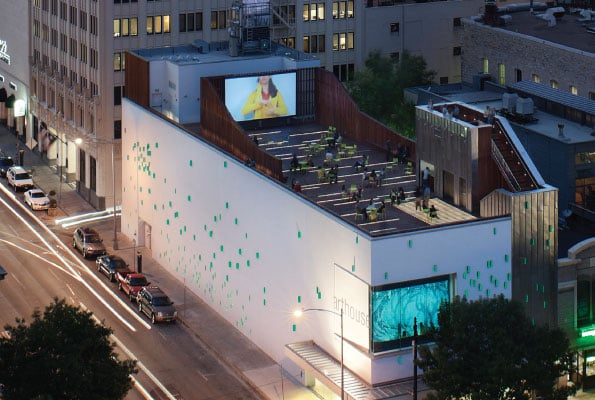 The Idea
In 2010, a downtown Austin museum named Arthouse reopened its doors to the public after a massive modern makeover. And the icing on the cake, or rather the rooftop in this case, was the unveiling of a 5,500-square-foot outdoor theater and event space on top of the museum's 1851 building.
In Melbourne, Australia, a venue called Rooftop Cinema has been hosting film screenings in the heart of the city (and above it) with stunning views, a full bar and 160 trendy deck chairs on top of another historic structure. Both have semipermanent screens and are open for films during the warm months.
Permanent outdoor theaters can be expensive, but there are cheaper ways, too. New York-based Rooftop Films, an organization that hosts independent film festivals in cities from New York to Pittsburgh and L.A., presents films on rooftops and atop parking garages using temporary screens. And here in Sacramento, several local groups rent inflatable screens for outdoor movies in various parks, like the wonderful Modern Italian Film Festival that Hot Italian restaurant puts on in Fremont Park. But a theater set against a back-drop of skyscrapers and surrounded by ground-floor restaurants and bars would create an entirely different kind of visual drama far beyond the screen itself, and take advantage of the city's warm summer nights in a whole new way.
The Players
There are a lot of great old buildings downtown that a smart entrepreneur could capitalize on with a permanent rooftop screening room. K Street, with its dynamic cinematic past and newfound vibrancy, would be one great location, especially with a slew of buildings about to undergo redevelopment. And there are even more options for temporary theaters, such as the top floors of parking garages, perhaps like the one behind the Hyatt or above the Esquire IMAX theater or the massive garage at 3rd and L that overlooks Old Sacramento and downtown. A local group like Movies on a Big Screen—or even theaters like the Tower and the Crest—could host the skyline screenings under the stars.
The Bottom Line
For one-night showings, there are several companies here in Sacramento that rent out inflatable movie screens (like FunFlicks and Prime Time Interactive), with prices starting around $600 for a screen, projector and crew. For permanent theatrical installations, we'll leave that up to the developers. Then the fun part begins—picking out the movies. Our nomination for the first film: Chaplin's City Lights, of course.