Snoopy license plates may score big windfall for California museums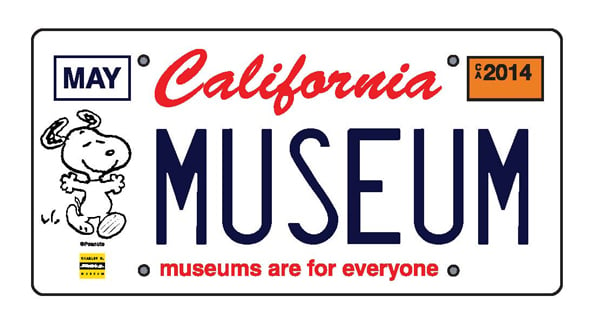 Snoopy, the beloved Peanuts character, is hoping to hit the road in California—on license plates, anyway, in a statewide campaign to raise much-needed funds for California museums.
The California Cultural and Historical Endowment, the California Association of Museums and the Department of Motor Vehicles have reached the halfway point of their joint effort to create a Peanuts-themed license plate, proceeds from which will go to fund a grant program available to 1,400 art and history museums, zoos, aquariums, science centers, botanical gardens and other cultural institutions around the state.
Since SnoopyPlate.com launched in January, drivers have preordered 4,224 license plates featuring cartoonist Charles Schulz's beloved beagle Snoopy dancing alongside the motto, "Museums are for everyone." The DMV requires a minimum preorder of 7,500 plates before beginning production.
Celeste DeWald, executive director of the California Association of Museums, says that both her group and the CCHE expect to reach the 7,500-plate threshold by their self-imposed goal of January 2015, extending that timeline a few months at a time as necessary until the plates are underway. She cites the long-term success of a specialty Arts Plate benefiting the California Arts Council—and featuring the work of Sacramento artist Wayne Thiebaud—as a model for supporters of the Snoopy plate.
"The Arts Plate [was] established in 1994, and they generate $3 million for arts every year," De Wald says. "So imagine the impact for California museums if they had $3 million extra to spend on education and their programs."
Museums across the state have already benefited from $122 million allocated by the Cultural and Historical Endowment after the passage of Proposition 40, a 2002 bond measure dedicated to the preservation of parks and recreation resources around the state. Sacramento's own Crocker Art Museum and California Museum were granted $483,750 and $237,535, respectively, as part of the measure.
DeWald says the museums would further benefit from funds raised by the plates comemmorating Snoopy, whose own ties to historical and cultural milestones throughout the 20th century (for starters, he had a real-life lunar module named after him in the Apollo space program) can be viewed at the Charles M. Schulz Museum in Santa Rosa, a 27,000-square-foot facility dedicated to the Peanuts strip and the cartoonist's influential body of work.
Upon production, the Snoopy plates will become a permanent option for registered drivers in California. Standard plates will cost $50 (with a $40 annual renewal fee), while personalized plates will run $98 (with a $78 annual renewal fee). The California Cultural and Historical Endowment will receive a portion of the income to administer a grant fund that will be established for the proceeds, while the California Association of Museums will receive funds as well to support professional development and training for museums.
"This is a game changer for California museums," DeWald says. "There has never been a state entity that has been specifically devoted to looking out for California museums. I think this is an opportunity for [museums] to take a bigger role in changing the quality of life for all Californians."
For more information about the Snoopy license plate campaign, visit SnoopyPlate.com.