Solomon's Delicatessen to host bagel pop-ups downtown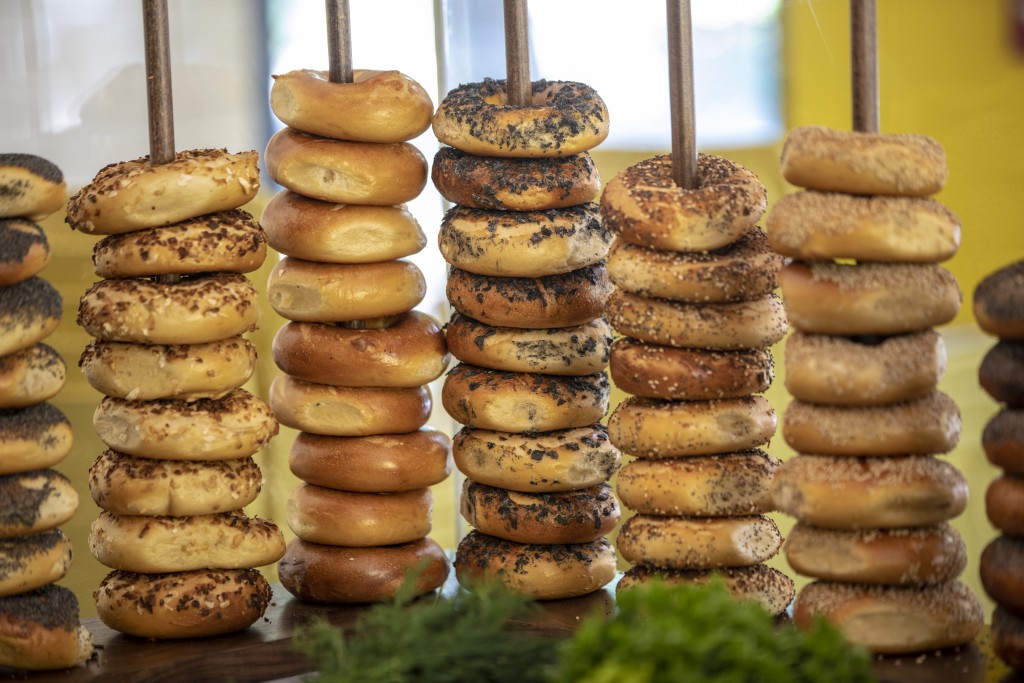 No bagels, no life—that's the motto of Solomon's Delicatessen, the Jewish deli aiming to open its downtown storefront by late January. And if you want a sneak taste of the shop's life-giving orbs (and haven't yet crossed the causeway to Solomon's Davis spot, which opened in May), you'll be able to sink your teeth into one next Friday, Nov. 23, when the deli will host a pop-up event under the psychedelic mural at its soon-to-open 8th and K location.
Solomon's head chef, Aimal Formoli, will be on-site serving up three types of bagels: plain, salted and everything (which features a panoply of sesame seeds, onion, poppy seeds, salt and garlic). You can get your carb of choice with schmear (choose from plain, dill pickle or green onion cream cheese), sans schmear or as a prewrapped sandwich with green onion cream cheese, beets, cucumbers, pickled onions and smashed avocado. Pro tip: Stop by early — there will only be 100 bagels available at this pop-up.
Solomon's house hot chocolate, made with Fox's U-Bet syrup (from Brooklyn's 123-year-old H. Fox & Co.) will also be on offer, along with coffee and cold brew from Oak Park's Brass Clover.
If you miss out on the post-Thanksgiving bagel bonanza, don't fret: The Jewish deli, named in honor of late Tower Records founder and Sacramento native Russ Solomon, plans to host at least one more pop-up prior to its projected early 2019 opening. (Check the eatery's Instagram page for future pop-up dates.)
"We're very excited," says Formoli of the downtown launch. "It's something we've been looking forward to for [almost] two years now, so we're just very eager to get everything set and running."
Solomon's pop-up will be held on Friday, Nov. 23, beginning at 9 a.m. The pop-up will sell bagels until 11 a.m. or until it runs out. 730 K St. solomonsdelicatessen.com
You Might Also Like
Sneak peek at Solomon's Delicatessen on K Street
The Bank food hall sets opening date
New food truck serves up bubble waffle cones stuffed with ice cream