Southern Comfort
A husband-and-wife team launch a new Southern-style restaurant in Southside Park, where family tradition and modern cuisine come together in everything from old-school fried chicken to a new-school burger with bacon confit.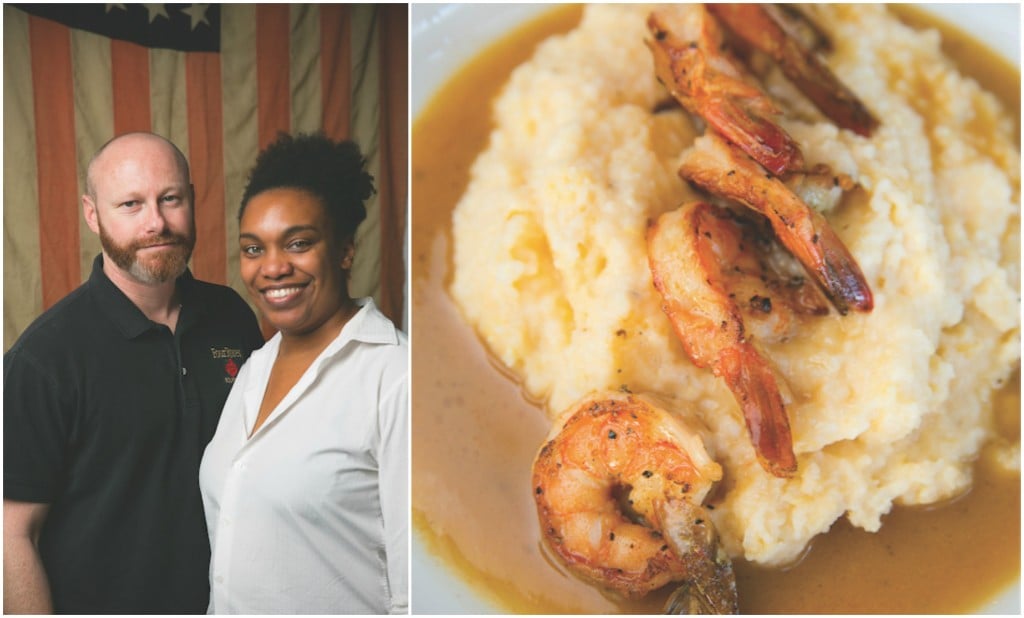 South
2005 11th St.
382-9722
weheartfriedchicken.com
R
AAs do-it-yourself challenges go, most couples would be relieved to survive transforming a kitchen, refinishing a floor, an inside-out paint job or furnishing a dining room with their wits intact. Doing all four, though, while curating and fine-tuning a menu of Southern food classics to boot?
Such is life at South.
The new restaurant, conjured by the husband-and-wife team of Ian and N'Gina Kavookjian, combines family recipes with farm-to-fork flavors—and no shortage of elbow grease—in the space once occupied by a Chinese grocery in downtown's Southside Park. From the gleaming intimacy of its dining room to its signature spins on fried chicken, barbecue and other culinary traditions, the venture reflects its owners' dream of building their own Southern destination in the Capital City.
"This is the food that we feed the people we love—and feed ourselves," says Ian, 37. "We wanted to put our passion and our love and our energy into [South]."
The menu, refined with executive chef Rachel Kelley (formerly the pastry chef at Ella, where she once worked alongside N'Gina, and most recently executive chef at Revolution Wines), emphasizes what the South brain trust divides into old-school and new-school elements. The old-school offerings—including staples like shrimp po'boy and fried catfish—stem from cooking traditions that go back 200 years in N'Gina's family (which has roots in Mississippi and Louisiana) and are dishes she has been preparing since childhood.
"[When] I was around 11 years old, my mom woke me up on Thanksgiving morning and said, 'Get up, you're cooking this year,' " recalls N'Gina, also 37 and a native of Mississippi's Gulf Coast. "I in no way, shape or form wanted to do that, but it was an amazing bonding experience. This was history [she was] passing on to the next generation."
Those enduring family recipes are put to good use in South's signature entrée, Petey's Fried Chicken (coined after N'Gina's mother's nickname), which is brined overnight in a bath of salt, sugar and herbs before being dipped in a seasoned flour blend and dunked into the fryer. It comes to the table piping hot, stacked gracefully on sautéed kale leaves. N'Gina also carefully adapted her family's gumbo to a flavorful stew spotlighting chicken thighs and Andouille sausage. In the future, she says, the Kavookjians envision launching their own sausage-making operation on-site for maximum authenticity. Menus this spring and summer will emphasize local, seasonally available produce like okra from Del Rio Botanical and green tomatoes from Watanabe Farms.
On the new-school front, chef Kelley offers her take on shrimp and grits (melted with cheddar, asiago and mozzarella cheeses) with The Hot Pot, which also comes with scallops, mussels and roasted poblano peppers; the addictive Carolina Gold Rice Balls with smoked country ham (its old-school counterpart is a plate of hush puppies); and a burger dressed with house-made leek-shallot jam, spicy aioli, pickles, Havarti cheese and bacon confit. Meanwhile, the hearty BBQ Platter offers a stick-to-your-ribs trifecta of smoked brisket, barbecued chicken and hot links accompanied by Memphis barbecue sauce, mustard sauce and house-made jalapeño-and-poblano pepper jam, all served on an antique silver platter.
And while Kelley honed her cooking skills in the kitchens of some of Sacramento's top restaurants, the Kavookjians are no rookies to the local dining scene either. They met when both worked as servers at Il Forno Classico in Gold River in the early '00s and since have accrued résumé lines from server to bartender to manager at Esquire Grill, Cafe Bernardo, Piatti and Ella. They say they conceived South after acknowledging their first restaurant—the California cuisine spot Eight American Bistro in Granite Bay, which opened in 2012—didn't reflect their true culinary passion.
"You really just have to do you," N'Gina says. The Kavookjians took that conclusion to heart, shuttering Eight after a year and turning their attention to developing South (motto: "We just want to fry chicken"). Upon securing the location, the couple set to work cleaning and overhauling the space on their own, from the refinished concrete floors to the newly painted white walls that greeted the restaurant's first customers in December. Their menu is presented on a chalkboard by the front counter, while vintage furnishings reclaimed from old restaurants or upcycled from Craigslist inhabit a dining room accentuated with chunky candles and ceramic vases. "It was very design-on-a-dime," N'Gina says.
Today, the couple's hand-painted tables fill up with diners content to chow down on simple, hearty food with family and friends, and the Kavookjians themselves can be found chatting with patrons (often with their kids Isaac, 7, and Isabella, 4, in tow), always eager to share their culinary history with a new generation of Sacramentans.
"When we make this food, we can say my grandmother ate that and her mother ate that and [all of our] cousins ate that," N'Gina says. "You get to continue your heritage, and it's so amazing."