Spring Spark soon to light up Rancho Cordova with Burning Man spirit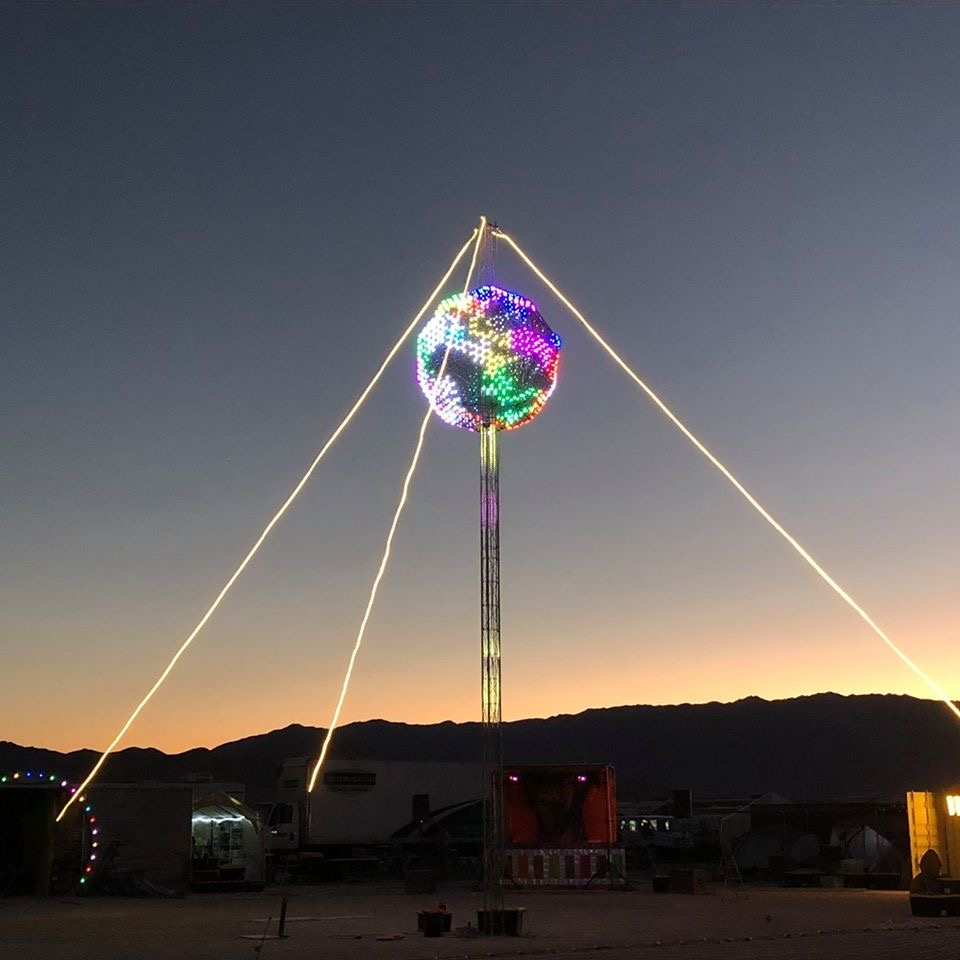 Electronic music, strobe lights and a fire-breathing mechanical horse—just a sampling of the sensory stimuli from the art installations that will be featured at this year's Spring Spark drive-thru event, taking place May 21 and 22 at The Mine Shaft in Rancho Cordova.
Officially recognized by Burning Man, Spring Spark is designed to be a torchbearer of the 10 guiding principles set forth in 2004 to encapsulate the ethos of the Black Rock Desert phenomenon, which canceled its 2020 and 2021 seasons due to Covid. Of those commandments, "radical self-expression" would be the most eye-poppingly evident from inside a car inching forth on the one-mile-long route at a 2 mph speed limit.
"Folks can expect to see something unexpected and handcrafted by regular people—not necessarily museum artists," says Ed Fletcher, a 10-year veteran of Burning Man and the president of Sacramento Valley Spark, the non-profit that organizes the Spark drive-thrus (the inaugural event took place last July, drawing approximately 3,000 visitors). "That's really what attracted me to Burning Man in the first place—seeing the wonder of what people built and what they wanted to share with the world, not because somebody paid them, but because it's what they dreamed of."
Of the 30 art pieces at Spring Spark, at least five installations from past Burning Man events will make an appearance, like Eye of Providence (pictured above), created by Folsom artist and video game programmer Chuck Sommerville. The colorful, five-foot-wide multifaceted "ball" uses video game technology to create 3-D versions of images, like a projection of the globe, onto its 60 sides. Perched atop an eight-foot-high pole, Eye of Providence draws from Burning Man's long tradition of beacon-like creations, meant to guide Burners from camp to camp across the desert.
Also along the lines of adaptive re-use (while not an official Burning Man principle, it seems like it should be), Sacramento artist Scott Parenteau will provide Spring Spark with an updated version of Quadrupod, a large ambulatory machine—described as a "steam-punk mechanical gorilla"—that was set loose at Summer Spark 2020. Quadrupod 2.0, the size of a baby elephant, has four limbs and is designed to explore the possibilities of "electric-legged vehicles" that don't require roads for travel.
Returning Spark artists Robert and Lisa Ferguson are installing The Eagle this year—a 15-foot-wide bird made of donated pennies, nickels and dimes from the Burning Man community. The aggressive hunting stance of the avian sculpture signifies the dark side of American politics and patriotism. You may recognize the couple's mosaic style from last year's event—Bee or Not To Bee. The poster piece of Summer Spark 2020, the work was a 15-foot-long honeybee hovering over a flower made of 33,000 glass marbles.
Also in Burning Man tradition, Spring Spark will feature 12 "mutant vehicles," or art cars—more than double the number that cruised along at last year's event. One of them will take the shape of a large flame-shooting horse called Chester, while another built by Sacramento-based Kate Marusina resembles the Ohmu bug creatures from Hayao Miyazaki's anime film Nausicaä of the Valley of the Wind.
In case you were hoping to order the pulled-pork-topped tater tots or carne asada fries that were popular at Summer Spark 2020 to fuel your Spring Spark 2021 experience, think again. Guests are now encouraged to follow another Burning Man rubric and be "radically self-reliant" by packing their own snacks.
"It won't be the same as going to the desert, but Spark is keeping the spirit of Burning Man alive," says Fletcher. "The festival is a great way to share the joy and art of our Burner community. We've tried to do our best to keep on burning."
$30 per vehicle for a timed-entry ticket. Tickets will be available at the entrance, but Fletcher expects the event to sell out well in advance. $5 for bike-only tour on Sat. from 7-8 p.m. Fri. & Sat. May 21 & 22. 8 p.m.-1:30 a.m (the closing time is one hour later than last year). 2300 Mine Shaft Ln. Rancho Cordova. svspark.org
You Might Also Like
A drive-thru summer art festival brings a taste of Burning Man to Rancho Cordova
Fields of Gold
The Fall & Rise of Hobo Johnson