Stardom is in your hands with Sacramento company's new iPhone game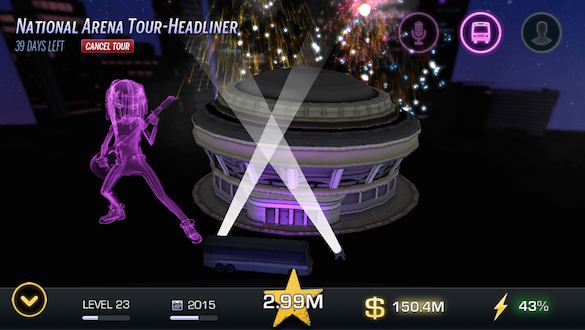 Ever wanted to headline an arena tour? Or sing for a sold-out stadium? Or make an album with the music-industry elite?
Thanks to a Sacramento company, there's an app for that.
This week, music and fan engagement mavens Ground(ctrl) helped launch TourStar, a new iPhone game that lets users hit the road as characters working their ways to cultural superstardom. Starting with a name, an avatar and $10 in one's pocket, players can enlist an agent, producer, backup musicians and other support as they maneuver from coffee houses to concert halls, from bar mitzvahs to the big time.
After players have advanced far enough through the pop, rock, country, hip-hop or R&B ranks—and with enough of a digital fortune—they can apply their wealth to tickets, merchandise, VIP show and travel packages, and other fan perks.
Ground(ctrl) co-founder and CEO Eddie Meehan says the concept stemmed from an idea by Brandon Pankey, the business manager for artists like The Roots, Lil Wayne and Ground(ctrl)'s own client Nicki Minaj. "There are tons of music games out there that are all great," Meehan says. "But [Pankey] wanted to take the game experience and be able to add in these real-world experiences that we've never seen before. I was like, 'That's perfect. That makes sense.' "
Meehan says he envisions the game as an insight into a challenging industry—"part education, part entertainment, and part Friday night enjoyment," he explains. After paying dues at house parties and open mics, players graduate to budgeting and planning for new outfits, tour buses, lighting set-ups and even smoke machines.
"I hope that people are able to play the game and get the inner side of the business—the little details," Meehan says. "Like you start in the business, and your mom is your manager. You're driving around in a Volkswagen bus and you make your way out, and you perform more and you play better gigs and you make better decisions. You get a better manager. Yeah, you have to fire your mom, and you have to get somebody you have to pay more, but you slowly start having these different [decisions]—from your lighting director to your producer to the type of music that you make. It's all encompassing; I never learned that in school."
The iOS app, which is free to download via Apple's App Store, offers advanced levels that players can unlock for a fee. Meehan says his company will be working in the weeks ahead to push new and improved versions live, so players can get to playing live—virtually, anyway.
"It's enjoyment—it's a game," Meehan says. "But I want people to learn the business from the standpoint of being in the business."
Rock on.
Related Link