Taking Flight
With an eye toward family, community and quality, a flock of ambitious young restaurateurs open Blackbird, a seafood restaurant and raw bar in downtown Sacramento that's setting its sights sky-high.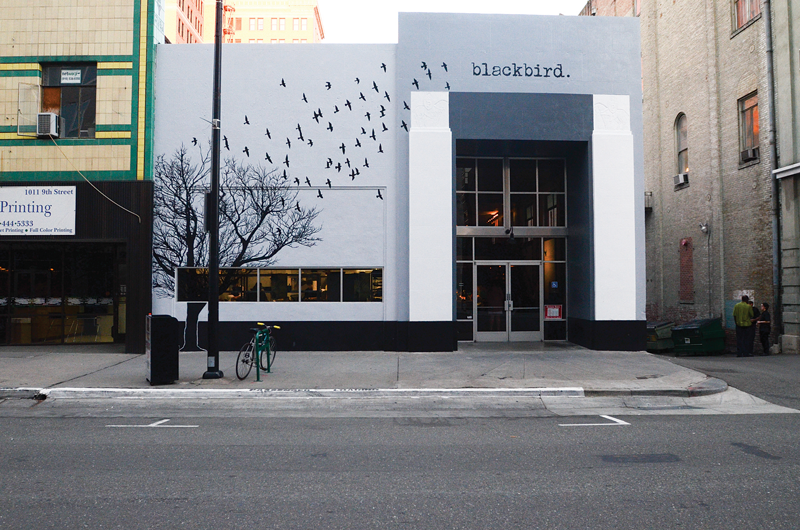 Blackbird Kitchen + Bar
1015 9th St.
498-9224
blackbird-kitchen.com
R
O
On a Monday in April, two weeks after its opening day, the fledgling seafood restaurant Blackbird Kitchen & Bar—a surprise in a once-dilapidated, hand-restored building on a revitalized stretch of 9th Street between J and K that also includes the exciting new Estelle's Patisserie—is still very much a work in progress. Executive chef and co-owner Carina Lampkin (formerly of San Francisco's acclaimed Bar Crudo) is creating new dishes for a soon-to-debut snacks menu. Chef de cuisine Kevin O'Connor (who has worked at The Kitchen and Ella) is poring over the website of Capay Organic, planning out new dishes with spring produce. General manager Dona Bridges, who worked with Lampkin at Bar Crudo, is answering phones and doing a little bit of everything. Meanwhile, outside, local muralist Shaun Burner is using black spray paint to complete a trio of striking blackbird-themed paintings, including a portrait of mother, father and sibling birds that Lampkin says, in part, symbolizes her restaurant family.
That family is local and very much involved in this collaborative venture, too: Lampkin's mother, for instance, found a vast, rough-hewn communal table at a Napa estate sale. That table now forms the centerpiece of an upstairs dining room that's available for private and large parties. Less glamorous tasks Lampkin's mother helped tackle included chipping layers of grease and plaster off the walls to reveal original architectural details like intricate plaster molding. (Formerly Gaesorn Thai and Il Posto, the building was empty for about two years before the Blackbird team took over.) Sister Stephanie also helped with design and construction, and still comes in daily.
This team approach is a key part of Lampkin's vision for Blackbird, where everything from the restaurant's name to the murals to the smaller redwood tables in the main dining room upstairs has layers of meaning that may not be immediately obvious. Those gleaming, rich redwood tabletops, for instance, symbolize the community of Sacramento restaurateurs. "Other restaurateurs instantly see me as competition, [but] I'm only here to collaborate. Why I love redwood so much is because they have to grow in a grove, because their roots go out and not down. If there was just a single tree there would be too much weight to support by itself and it would fall over," says Lampkin of the trees' linked root systems that stabilize the grove. "I think the same is very much true within a community. You have to grow together or you fall down."
Lampkin, age 31, knows all about falling down—and about recovering with the help of a community. When she worked at Bar Crudo, a tiny spot with just five employees, she and two colleagues were in a devastating hit-and-run car accident one night after work in 2006. Lampkin, who had no health insurance, spent a month in the ICU; her friend Gracie Sholl died in the crash. Bridges and other Bar Crudo workers threw a benefit to help with medical bills and funeral costs. "The name is in honor of [Gracie]," Lampkin says, tears in her eyes. "The raven [which is a black bird] is an animal that can transcend between death and life in Native American culture."
Lampkin also finds meanings in birds' migratory patterns: "When birds are flying from north to south, when one gets tired it falls to the back and then someone else goes up front. This project's been so hard that that has happened within our migratory pattern from construction to fruition. So, I get tired and then Dona will take the lead. Or if Dona gets tired, then my mom will take the lead. We support each other as a group." Finally, the eatery's name also refers to the Beatles song "Blackbird," which Bridges and other friends played frequently in Lampkin's hospital room; when she woke up from her medically induced coma, "that song was stuck in my head," she says. "So there's a lot of meaning in this restaurant for us."
After the accident, Lampkin took some time away from the restaurant business, but her love of seafood—and particularly of crabbing off the docks of San Francisco—inspired her to return to food. But, says Bridges, "San Francisco is impossible for young people to open their own businesses. It's too expensive. Everything's already been done there, whereas here we can come and have something unique and actually affordable." After a "gypsy"-like childhood, Lampkin and her family moved to Auburn in 1996. While her family stayed in town (they now live in Roseville), Lampkin left in 2003 to pursue her culinary education at the California Culinary Academy in San Francisco. But Sacramento pulled her back when she wanted to open a restaurant of her own: "We love Sacramento," Lampkin says. "I think Sacramento is gorgeous. We have the waterways. We're the City of Trees. It's truly an artist's community."
Lampkin wants to support not only the renaissance of the K Street corridor—"I see this little area turning into the coolest spot ever," she says—but also that artistic community. The restaurant features local art like Burner's murals inside and out. "I want this restaurant to become a creative powerhouse," she says. "All of the employees that I hired also double up as artists. My kitchen manager is a painter. Everyone on the floor is a painter or a sculptor or has some sort of creative [outlet]. And I consider all ofmy chefs artists."
The kitchen's focus on the visual is the most obvious expression of that artistry for Blackbird's diners. While a raw bar greets entering patrons, and oysters and other simply presented seafood are a major focus of the menu, Lampkin is firm that Blackbird is restaurant first, bar second. To that end, the raw fish small plates are almost painterly in their delicate, colorful arrangements on the plate, like scallops with green pea puree, shaved asparagus and Banyuls vinaigrette, or Kona kampachi with citrus and subtle Thai aromatics. The seasonally changing menu has included dishes like a very popular applewood-smoked clam and seafood chowder; the pan-roasted, crispy-skinned Arctic char with romanesco and fiddlehead ferns; pappardelle with nettle pesto, lobster and roasted beet salad with creamy burrata cheese; and a hefty burger with ramps (a spring wild onion that's rarely spotted on Sacramento menus) and pickled vegetables. Blackbird strictly adheres to sustainable seafood guides and sources fresh catches from San Francisco's Ports Seafood, as well as the Sloughhouse aquaculture establishment Passmore Ranch.
Drinks are just as carefully considered as the food: There's a short, changing list of artisanal cocktails; a fun happy hour menu (on Saturdays, too—another rarity) with extremely affordable specials at $1 (oysters), $2 (fish tacos), $3 (beer),
$4 (fresh-lime margaritas) and $5 (mini lobster rolls); and a hophead's dream list, with beer from local brewery Track 7 on draft and a range of Belgian and hand-crafted brews in the bottle. The wine list is meticulously chosen (by sommelier Tyler Stacy) for affordability (by-the-glass selections hover in the $6 to $8 range and most bottles cost around $30) as well as intrigue, focusing on lesser-known regions and perfect pairings like a  German pinot blanc with the raw plate of scallops.
Indeed, affordability and an open-to-all sensibility is a key part of what has already made Blackbird a hit, even if it was still a work in progress when it opened. "When I first moved to Sacramento I was bummed out because if I wanted to eat a great meal then I had to dress up nice," says Lampkin. "I don't like to wear anything other than a hoodie and jeans. I felt the need to fill the casual dining scene with great food. If you're in a sweat suit, you're welcome; if you're in a business suit, you're welcome as well." As Blackbird spreads its wings and learns to fly, it seems clear that its free spirit was only waiting for this moment to arise.