Taste: New food truck Nash & Proper dishes up tongue-tingling hot chicken, and other dining news for Oct. 18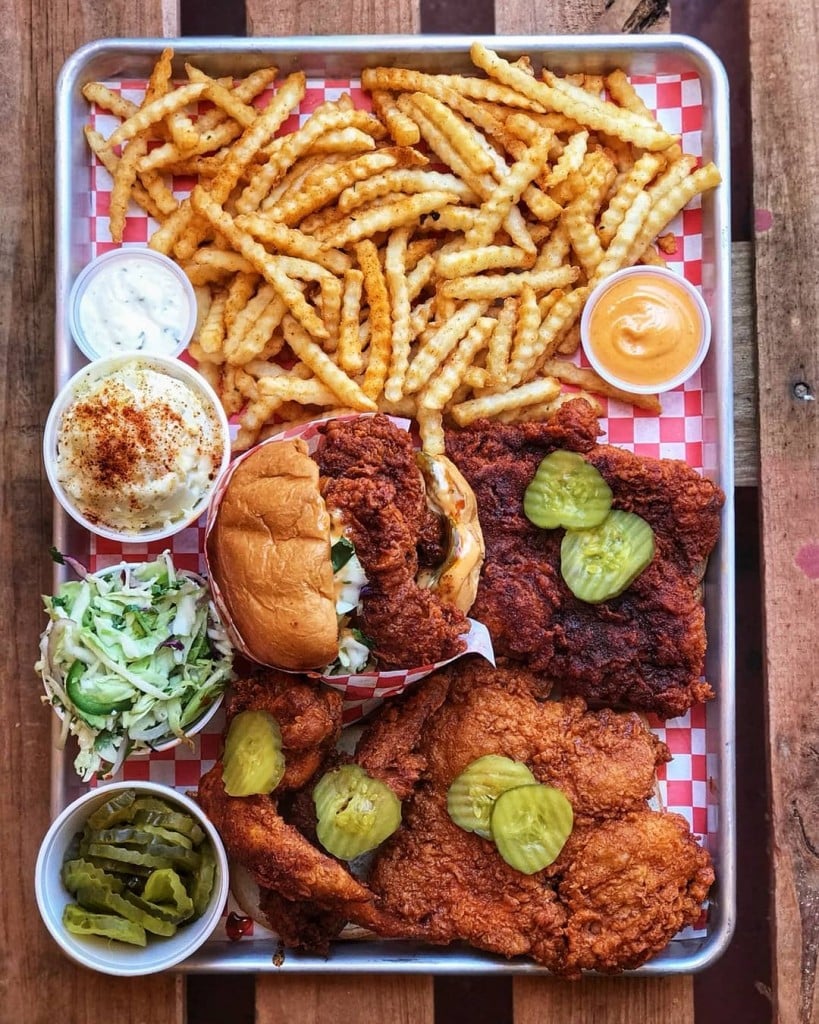 The bird is the word at Nash & Proper, a new mobile hot chicken joint that has been heating up the region's food truck scene since it debuted at the Our Street Night Market along the R Street Corridor in June.
Co-owned by Cecil Rhodes (of food truck Cecil's Taste) and Jake Bombard, Nash & Proper serves hot chicken in classic Nashville fashion (the "Nash" in the name is a nod to Music City, where this particular style of fried chicken originated)—brined and double-fried, dripping with cayenne-red juices, nestled on a bed of white bread and topped with pickles. The "Sammich" version, which had its pilot run last year at Cecil's Taste, features a fried chicken thigh piled with cabbage-jalapeño slaw, pickle brine vinaigrette and a sadistically spicy fuego sauce.
Both the sandwich and the un-bunned options are available in four spice levels that range from the heatless "Naked" to the spiciest "Cluckin' Hot," which the menu subtitles "Get the cluck outta here." (Sides like potato salad, crinkle-cut fries and that aforementioned slaw can help assuage the fiery heat.)
While you can find out where Nash & Proper will make its next appearance via its Instagram—@nashandproper already has more than 4,000 followers—the truck regularly parks in front of T&R Taste of Texas Barbeque from Tuesdays to Thursdays and serves from 11 a.m. until it sells out. 3621 Broadway. 916-426-6712
In Other News:
The smell of freshly baked panes dulces (Mexican sweet breads) will soon be wafting through Historic Folsom when Brissa & Co. opens in December. Owned by Brissa Heredia, whose family also helms Roseville restaurant Carmelita's, the 5,000-square-foot bakery will feature a bar lined with imported talavera tiles and a commissioned brick oven designed to look like a pink concha (a bread with a crunchy, shell-like topping). Guests can nosh on classic plates like enchiladas, flautas and tamales from Carmelita's, and sip margaritas, agua frescas in flavors like watermelon and tamarind, and coffee made from Mexican coffee beans and supplied by Sacramento-based Camellia Coffee Roasters. 409 Natoma St. Folsom
Married couple Katie Kinner-Kerksieck and Jonathan Kerksieck named their neighborhood Italian restaurant, Cacio, which opened in the Pocket-Greenhaven area in August, after an important moment in their courtship history: "Cacio e pepe was the first dish Jonathan made for me when we were dating," Kinner-Kerksieck says. The Roman specialty of pecorino and pepper on pasta—here, tubular bucatini—anchors the menu, along with other pasta dishes like orecchiette with broccoli rabe and house-made sausage, and the requisite spaghetti and meatballs. The bright, intimate space features photographs from Jonathan's travels in Italy and seats just 31 diners in its cozy 900 square feet—a contrast to the larger Sacramento restaurants where the couple cut their teeth (he's cooked in kitchens at the likes of Biba and Paragary's, while she has run front of house for Piatti and Grange). 7600 Greenhaven Dr. 916-399-9309. caciosacramento.com
Popular Taiwanese franchise Ding Tea opened its first River City location in South Sacramento on Oct. 12. The shop's signature drinks are made using black, green, oolong or jasmine teas mixed with flavored syrups, fruits or milk to create menu mainstays like strawberry green and taro milk teas, which folks can customize with toppings like grass jelly, egg pudding and the popular golden boba, small amber-hued tapioca pearls soaked in brown sugar. Co-owner Daniel Pham recommends that adventurous guests opt for one of the colorful, multi-layered Fantasy Butterfly teas, which are made with butterfly pea flowers and come in flavors like honey-lemon and kiwi. 7311 W. Stockton Blvd. dingtea.com
Orangevale will welcome its first post-Prohibition brewery when Palm Tree Brewing opens its doors by the end of October. Hawaii-raised owner and head brewer Derek Clark has been developing his roster of island-style lagers, ales and porters since 2013, and will soon pour them in the 500-square-foot space (plus a 400-square-foot patio) with a shack-chic vibe—think vintage white oak wainscoting, bamboo rafters and Edison bulbs over the bar. Each of Clark's eight beers is named after a member of the palm family, from the full-bodied Loulu Palm Lager to the coconutty Black Palm Porter. While there are no plans for a full menu, Clark hopes to host Hawaiian-style pig roasts a few times each year. 8844 Greenback Ln. Orangevale. palmtreebrewing.com
You Might Also Like
New movie series pairs free flicks with gourmet snacks
Grange to celebrate its 10th anniversary with an all-star chefs' dinner
A sneak peek inside Camden Spit & Larder