Taste: Pete's moves downtown, and other dining news for October 8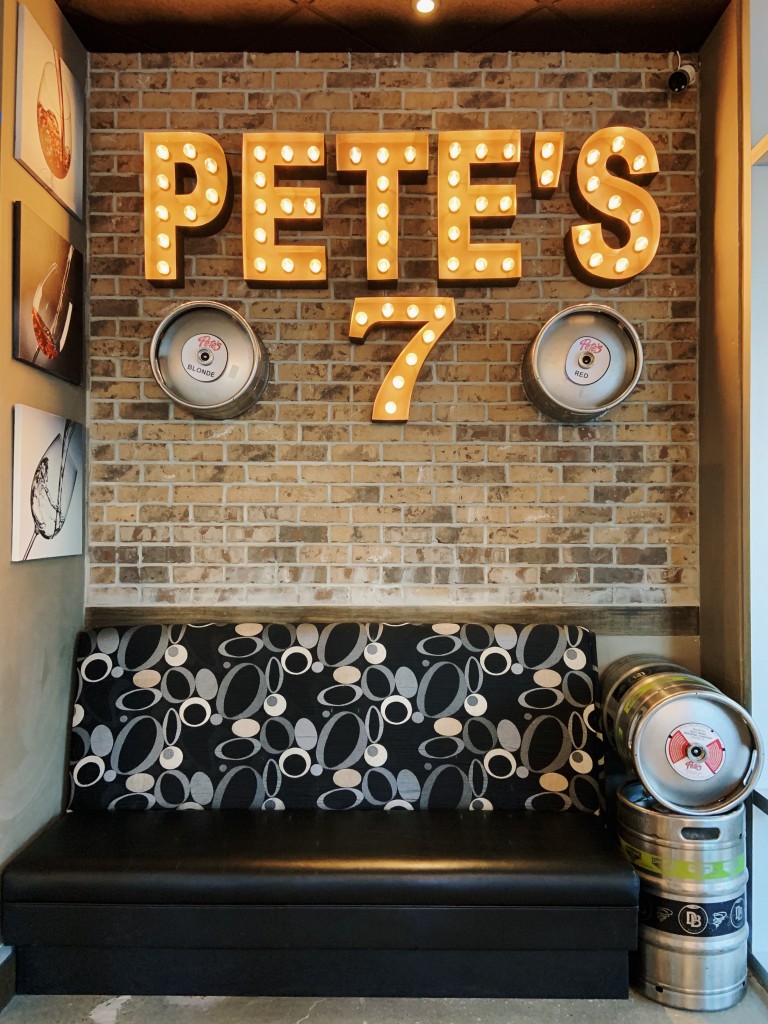 Last Tuesday, Oct. 1, Pete's Restaurant & Brewhouse opened its first Pete's 7 in downtown Sacramento. Swapping sit-down service for over-the-counter ordering, the local chain's new more casual concept features a slimmed-down menu offering the seven most popular varieties of its pizza, wings, sandwiches, soups and salads, such as the Pete's Combo pizza (piled high with meats and veggies like pepperoni, salami, linguica sausage, bell peppers and artichoke hearts) and the steak sandwich with cheddar and BBQ mayo.
Located at 8th and J inside a 3,200-square-foot space that previously housed Wayside Noodles, the offshoot boasts an elevated version of Pete's signature red-and-black décor, with free-hanging Edison bulbs, mod-patterned banquettes and stained-wood ceiling fans. Corporate manager Wilfredo Zepeda, who previously ran the restaurant's now-shuttered midtown location, says the company plans to expand the Pete's 7 brand to other locations, including Arden-Arcade in December and Redding in January. 828 J St. petesrandb.com
In other news
Woodland coffee shop Morgan's Mill's upcoming Sacramento location is set to open in November. In addition to coffee, wine and beer, the K Street spot will boast a number of grab-and-go breakfast bites, like the Goat Waffle with cooked-in green apples, goat cheese, walnuts, green apple and honey. Highlights of the 1,800-square-foot space, decorated with natural blues and grays with gold accenting, will include a living wall, live-edge redwood tables and plush leather couches. 1026 K St. morgansmill.co
South Sacramento-based Hao Bao Dumplings opened a second location downtown on Sept. 13. Diners can choose a filling (chicken, beef, pork or veggie) and type (pan-fried or boiled), then pair their dumplings with sauces like spicy aioli and sweet chili. The cozy spot, with room for 30, also serves bowls of house-made noodles, which can also be added to dumpling soups. 1021 K St. haobaodumpling.com
The Filling Station, a new 450-square-foot taproom from Red Bus Brewing Company owners Erik and Lisa Schmid, is coming to the Folsom Historic District, taking over the space formerly occupied by Rempfer Cellars. Inside, the taproom—which will open on Friday, Oct. 11—will resemble a vintage gas station (hence the name) and serve a rotating selection of handcrafted beers like the 5W-40 porter, with notes of malt and chocolate, and the Smog Exempt Meridian New England IPA, with hints of pear and spearmint. Decked with license plates and retro signage, The Filling Station also features a bar made out of a Volkswagen bus salvaged from the 2018 Paradise fire. 815 Sutter St. Folsom. redbusbrew.com
Canon, which recently earned a Michelin Guide Bib Gourmand award, has revamped its expansive patio. The 1,100-square-foot wooden deck—which underwent the makeover over the course of the summer and was a collaboration between the Land Park-based design group Colossus Mfg and the East Sacramento restaurant's owners Clay Nutting and Brad Cecchi—now features vinyl-backed stained-wood booths, makrut lime trees and succulents, a steel roof and, perfect for cool fall nights, an 8-foot-long tiled firepit. 1719 34th St. canoneastsac.com
Small Bites
Known for their Parmesan-dusted tacos, local Mexican fast-food chain Jimboy's Tacos opened their newest location at DoCo (in between Burger Lounge and Popbar) on Sept. 8. Meanwhile, the previously dinner-only Kodaiko Ramen & Bar is now also open for lunch on Saturdays and Sundays from noon-4 p.m. In related news, Shoki Ramen House rolled out its food truck last month. To chase it down, check out Shoki's Instagram page.
You Might Also Like
Three international food fests to check out this October
A sneak peek at Sactown's October-November Issue
Arch de Triumph