Taste: The region's latest food, drink & restaurant news for September 9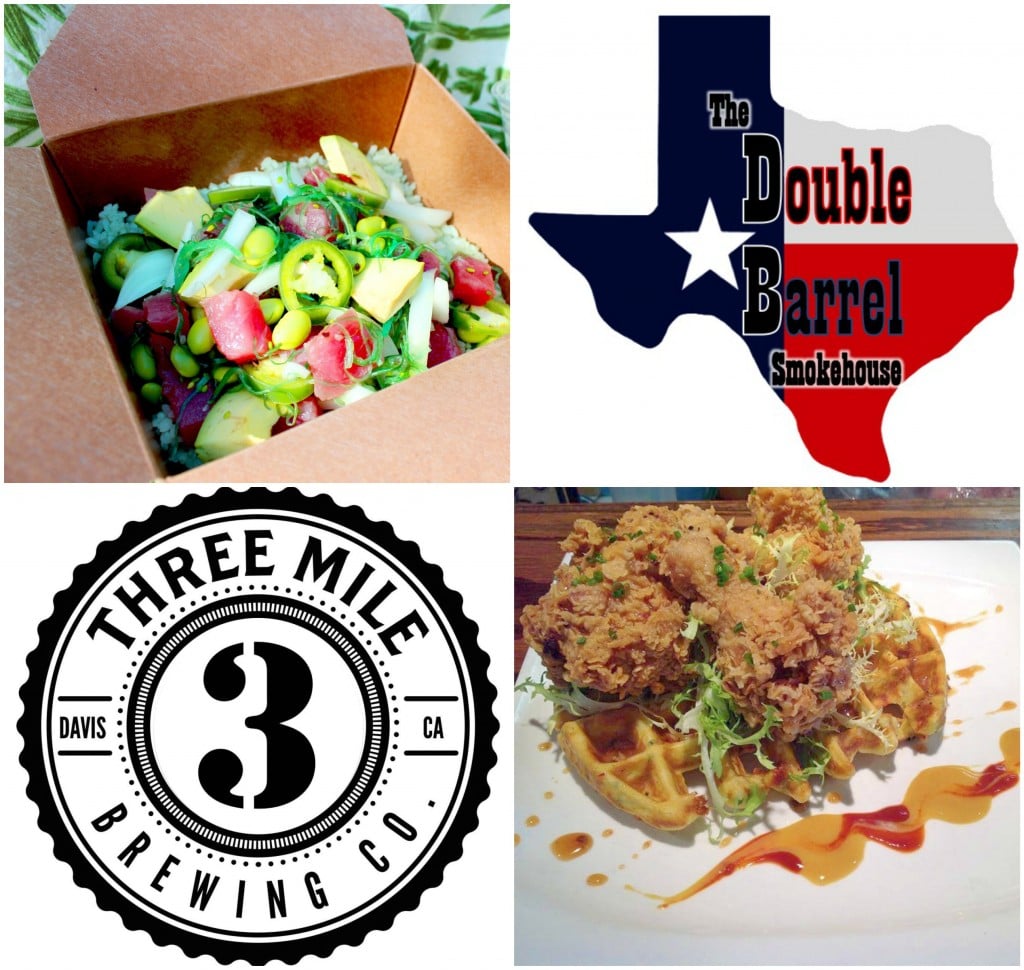 A popular barbecue joint in Lincoln expands, a Southern restaurant in North Sacramento overhauls its menu, Tower Cafe gets creative with new craft cocktails, plus a build-your-own poke bowl spot and a craft brewery open in Davis.
Mama Kim Eats
This Southern-style restaurant in North Sacramento is about to reopen with a revamped menu and look. According to owner and executive chef Kim Scott, the new menu will offer more family-style dinners, such as a chicken and waffles platter (pictured above) with buttermilk fried chicken and a jalapeño-cheddar waffle drizzled with spiced honey or maple syrup, and small plates. Other new items will include the sweet potato soup with caramelized marshmallows or the hearty whiskey sarsaparilla skirt steak served with slaw and pomme frites. As for the renovated space, expect a modern industrial setting with lounge seating and walls decked with paintings by local artists. Scott expects to reopen her restaurant on Thursday, Oct. 1, followed by a grand opening party, which will include three different food stations and live music, the next night. Grand reopening celebration on Oct. 2 from 6–9 p.m. 1616 Del Paso Blvd. 515-9971. mamakimcooks.com
The Double Barrel Smokehouse
This Texas-style barbecue joint in Lincoln is working on a 1,000-square-foot expansion. Owner and chef Monte Lokey is building the addition, which will be in the style of a Wild West town, complete with a blue-sky ceiling, a stained concrete floor made to resemble dirt, sliding barn doors and a swamp shack protruding from the walls. The new space, which will seat about 40 to 50 diners and function as a private room or as overflow dining, will also include façades of a general store, law office, barbershop and a gun shop. Lokey expects the expansion to be complete in October. 436 Lincoln Blvd. Lincoln. 253-9851. thedoublebarrelsmokehouse.com
Three Mile Brewing Co.
This new brewery is expected to open in Davis in November. Co-owner Joe Runner says Three Mile will focus on high-quality, small-batch craft beers, most of which will use hops from Putah Creek Hops in Winters. Design elements of the 1300-square-foot space will include stained concrete, wood and exposed metal to achieve a rustic-industrial setting, plus patio seating in the courtyard. The brewery will launch with a lineup of seasonal ales, including a honey blonde (made with local honey) and an imperial stout. 231 G. St. Davis. threemilebrewing.com
Tower Cafe
This Broadway institution debuted a menu of international craft cocktails last week created by its drink designer Oscar Escobar. The new cocktail list features libations like the Berried Mezcal with puréed raspberries, thyme, ginger beer and small-batch Mezcal Tosba; the Blackberry Basil Margarita, with blackberry purée, agave, basil and oak-barrel-aged tequila served with a cinnamon sugar rim; or the spicy Mango Chilito, with Barbados rum, mango nectar, lime juice, agave and a chili-lime rim. Tower Cafe also now offers international sipping spirits, such as Monkey 47 gin, 16-year-old Aberlour single malt scotch and Japanese whiskey. 1518 Broadway. 441-0222. towercafe.com
Zuma Poke & Lush Ice
Say "aloha" to this new Davis restaurant, which will host a soft opening in November with a menu featuring traditional Hawaiian poke dishes and shaved ice cocktails. Named for Malibu's famous surfing destination Zuma Beach, husband-and-wife team Dustin and Rachael Ryen refer to their first restaurant as a "Chipotle version of sushi," in which customers can build their own poke bowls or order from the menu of sashimi and poke tacos. Zuma Poke's decor, featuring lighting made of surfboards and ocean wave wallpaper, will also boast some isle style. And don't forget the drinks, like the refreshing Hawaiian ice cocktails made with organic juice and fresh fruit, which will come in flavors like muddled mint and mango mojito with Korean soju. 730 3rd St. Davis. zumapoke.com
You Might Also Like
New wine bar to open downtown in October
Hot Italian to open Davis pizzeria this fall
Sweet Dozen opens a doughnut cart and Sacramento Pizza Co. opens in Folsom