TBD Fest coming this weekend to Sacramento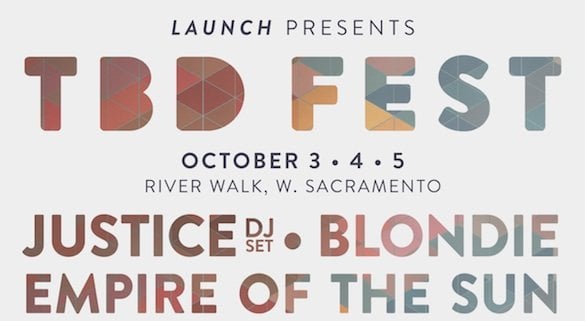 It's finally here: TBD Fest, the three-day music, arts, food and all-around cultural blowout sweeps into the region this weekend, bringing thousands of fans and revelers to the riverfront in West Sacramento.
Headlined by musical acts Moby, Blondie and Justice and nearly 80 other bands and artists from around Sacramento and the world, TBD Fest picks up where Sacramento's Launch festival left off in 2013. Launch organizers Michael Hargis and Clay Nutting say their rechristened gathering at the River Walk (with "TBD" standing for everything from "The Bridge District"—the budding community that will host the festival—to the more commonly recognized acronym "To Be Determined") reflects both their city's and their own wide-open future.
"We took [the Launch festival] as far as it could possibly go, to the point where Mike and I had several conversations saying, 'Maybe the best way to move forward is to just take everything that we've built and deconstruct it,' " Nutting says. "And that's where the realization for what was possible this year started to come out—maybe we needed to go back to our roots. Maybe we just need to take a left turn."
In keeping with the spirit of Launch, event organizers Michael Hargis and Clay Nutting (also the brain trust behind midtown hot spots LowBrau and Block Butcher Bar) say they sought to carefully curate and build a narrative with the boldfaced names that compose the TBD lineup.
"These are the bands that make sense together," Hargis says. "For different reasons, whether they're tastemakers in their own genres or creators of their own genre—from hip hop to rock to electronic music—there's a story that unfolds where all of these bands speak to each other. I think more than anything else, that's what we have the capacity to deliver."
The music kicks off Friday at 3:30 p.m. with local singer-songwriter Autumn Sky and culminates Sunday night in back-to-back sets by Blondie and French electronic music duo Justice (who, like Moby, is performing a DJ set). Single-day tickets cost $69, three-day passes are priced at $159, and three-day VIP passes—which include preferred seating, private air-conditioned bathrooms, access to private bars and other perks—are available for $250.
Meanwhile, food will have its own spotlight every day at The Pit, a wood-fired cooking demonstration zone featuring 14 chefs from acclaimed regional eateries including Grange, Hawks, Hook & Ladder, Lucca and Mother. One chef will face off with another for what TBD Fest is calling a series of "Friendly Fire," in which their teams will have roughly three hours to prepare a dish for festival attendees, who will then vote for a winner.
"It'll be the chefs' version of the stage," says Michael Tuohy, the kitchen mastermind at LowBrau and Block Butcher Bar. "We'll get good chefs who do the right thing local-food wise, and they can take a turn using The Pit, and they can prepare a dish they have to prepare at least 350 tastes of. They get to basically do a pop-up for that time."
Look for food trucks, local beer and craft cocktails as well. Art, architecture and fashion will be represented with installations and a pop-up shopping boutique around the grounds. Visitors can even enjoy a Ferris wheel and swing ride, or take part in yoga sessions on Saturday and Sunday mornings.
Complete TBD Fest line-up, schedule, ticket and transportation information is available at tbdfest.com.