The 8th annual Big Day of Giving offers cash-strapped nonprofits a chance to stay afloat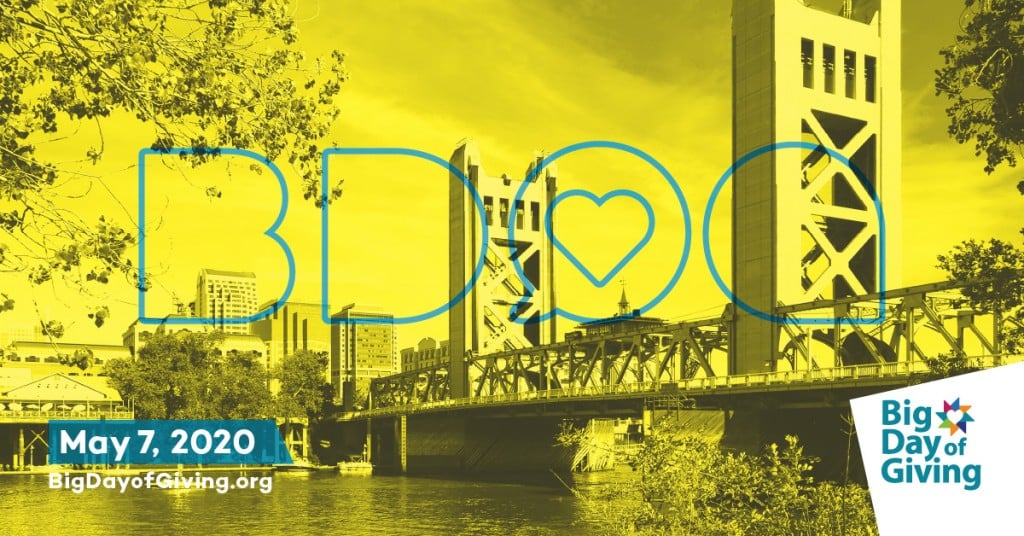 With the needs of the community reaching overwhelming levels during the pandemic, a daily good deed has something of a butterfly effect, in which small acts of kindness can set into motion bigger changes for the better. Creative ways to pay it forward have emerged from this strange and unprecedented moment in history, including picking up the check for a healthcare worker's meal through the city's Feed the Frontlines initiative and leaving care packages for delivery workers on your doorstep. On May 7, the eighth annual Big Day of Giving offers even more ways to help.
The 24-hour fundraising drive, organized by the Sacramento Region Community Foundation, will spotlight the fundraising efforts of over 600 local nonprofits that are severely cash-strapped due to quarantine restrictions. Last year, the Big Day of Giving (also known as "Big DOG") raised an all-time high of $8.4 million, with over half of the donations ringing in at $50 or less.
Since experts at the University of the Pacific recently projected that unemployment in the Sacramento region would reach 18.5% by next month, advocacy groups are in dire need of additional funding to meet increasing demand for their services. River City Food Bank, for example, has seen a 30% increase in individuals in need of food assistance, and the Food Literacy Center, which educates low-income students about healthy eating, is distributing fresh vegetables to food-insecure families while also making their usual classroom curriculum of cooking lessons and kitchen safety available online.
Mental health organizations like the Sacramento chapter for the American Foundation for Suicide Prevention are taking on the uptick in mental health issues like depression and anxiety by posting their suicide-prevention programs online and hosting Out of the Darkness "vigils," which connect high school and college students with mental health resources.
In order to comply with state and local stay-at-home orders, many nonprofits, including performing arts groups that have been forced to shut their doors, are hosting interactive watch-a-thons to raise money. The Sacramento Ballet's 12-hour "Digital Day of Dance," will include free dance classes via Facebook Live, as well as an audience-interactive conversation on the same platform with company member Isabella Vasquez, who will be opening up about her life as a dancer. The Ballet, which closed its 2019-20 season in March (three months early), hopes that its BDOG programming will make a significant dent in the organization's projected $500,000 loss in earnings.
Meanwhile, the Sacramento SPCA will host a livestreamed Facebook wedding for Cookie and Chip, two of the shelter's tiniest doggy residents, and viewers can celebrate by sending a virtual donation to the couple's "wedding registry." Other nonprofits like Joshua's House, a group that provides hospice care for the terminally ill homeless population, are holding "Dash 'n Donate" events in which donors can drop off their monetary contributions curbside.
This year, the Big Day of Giving will continue its tradition of a fundraising leaderboard, which creates an atmosphere of friendly competition among the organizations—reaching certain goals like "most money raised in an hour" or "largest number of unique donors" can trigger additional "prizes" of up to $2,500 from SRCF.
And for those who want to donate time in addition to money, the event has added an option for supporters who donate a minimum of $15 to pledge volunteer hours to any of the organizations.
"At the end of the day I just want to see philanthropy moving through our region," says Linda Beech Cutler, CEO of the Sacramento Region Community Foundation. "Whether people are giving through this event or other relief efforts, there are plenty of ways to help."
For more details and a full list of the participating nonprofits visit bigdayofgiving.org.
You Might Also Like
How can we take care of our mental health during a physical health crisis? A local anxiety specialist provides some answers
Local distilleries working to put elusive hand sanitizer into the palm of your hand
Stay healthy at home with virtual workouts from local fitness studios and gyms