The Bank food hall sets opening date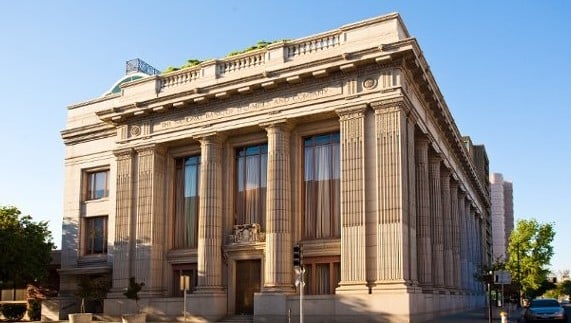 It's almost time for a trip to The Bank, the much-anticipated downtown food hall that is slated to open in the 106-year-old D.O. Mills Building on Nov. 28.
Inside the historic structure at 7th and J streets, which features architectural details like gilded ceilings, patrons with wide-ranging palates will be able to grab bao burgers and lobster rolls from Station 8, fried chicken from Mama Kim Eats, lattes from Chocolate Fish, Swedish pastries from Boy's Bakery, Bloody Marys from Preservation Market & Kitchen, and scoops of ice cream from Gunther's or Conscious Creamery, as well as eats and drinks from more than a dozen other purveyors.
The Bank will also include four event spaces, two of which will be in the basement's Beer Vault, where hop heads can help themselves to beer and cider from nearly 70 self-pour taps.
Opening day, Nov. 28, from 8 p.m.-12 a.m. Regular hours starting Nov. 29 will be Mon.-Wed. 4 p.m.-12 a.m. Thu.-Fri. 4 p.m.-2 a.m. Sat 10 a.m.-2 a.m. Sun 10 a.m.-12 a.m. 629 J St. 916-557-9910. thebank629j.com
For more on The Bank, check out our previous stories on the project, including last spring's announcement of The Bank's first purveyor, Mama Kim Eats; last September's news of the addition of Preservation & Co.; and this summer's reveal of Station 8 joining the collective.
You Might Also Like
New food truck serves up bubble waffle cones stuffed with ice cream
New Glory Craft Brewery opens new taproom and eatery in Granite Bay
A new food hall and market to open along the Broadway corridor