The Bantam Menace
A local fighter steps into the national spotlight in a "hit" reality series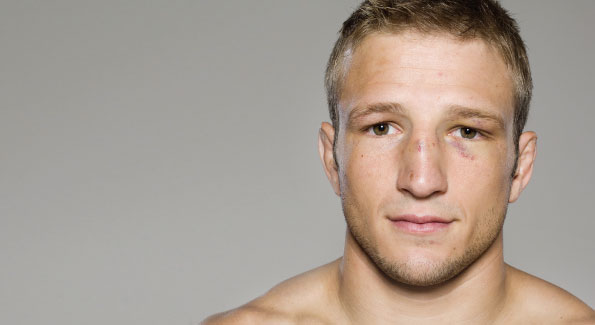 TT. J. Dillashaw is ready to rumble—and for his close-up. The 25-year-old mixed martial arts bantamweight, who lives in East Sacramento and trains at MMA star Urijah Faber's midtown gym, stars in the new season of Spike TV's The Ultimate Fighter, which premiered on Sept. 21. On the popular reality series, he dukes it out with other contestants while living with them in a Las Vegas house (think The Contender meets The Real World) until a winner is crowned on Dec. 3 and earns a six-figure contract with the UFC (Ultimate Fighting Championship) organization. Touted as an early favorite, the undefeated former wrestler talks about the long audition process, his short fuse, the realities of being on a reality show, and why his grandma said knock you out.
First things first: For the uninitiated, can you explain what mixed martial arts—or MMA—is?
It combines all forms of martial arts, so not only is it boxing, but it's also kickboxing, jujitsu, Muay Thai—[the list] is endless. And wrestling, so we also take the fight to the ground.
How did you get into it?
I've been wrestling most of my life, since I was 8 years old [growing up in Angels Camp]. I got a full ride to Cal State Fullerton [on a wrestling scholarship], and my fourth year there, [UFC fighter] Mark Muñoz started coaching us. [After graduation] I felt like I wasn't done competing yet. I started following Mark around and getting involved in the MMA world and started going to some of the gyms in Southern California. I realized I was pretty decent at it and caught on quick.
So you were based in Southern California. What brought you up to Sacramento?
Mark knew Urijah Faber, and I did too, because [when I was in high school] Urijah was an assistant [wrestling] coach at UC Davis and tried to recruit me. Mark said, "You should move up there [to Sacramento, where Faber has a gym for MMA fighters]. I think it's the best camp in the world for lightweights." So as soon as Urijah gave me the invitation to start training at his gym, I made the move. That was October of 2009. So I've been doing MMA for two years.
Has it been a smooth transition from wrestling?
It has been. I owe a lot of my MMA skills to our gym. I just feel like the talent, the trainers and the camaraderie we have at our gym has pushed me to be world-class faster than I could've imagined. You know, Urijah [just had] a title fight. We have a 145-pounder, Chad Mendes, who is ranked No. 2 in the world right now [in his weight class], who will probably get a title shot soon. And we have a lot of good 155-pounders, like [UFC fighter] Danny Castillo. So we have a very stacked room. When you're training against people who can beat you, that's when you get better.
What's it like working with Urijah?
It's very cool. He's a superstar, but he's got no chip on his shoulder. He's a down-to-earth guy who will talk to anybody on the street, which has made the transition from wrestling to MMA for me even easier because I've been able to watch the way that he trains and lives his life. He's so loved in MMA because of how nice he is. So I don't know if I can achieve the exact same endorsements and stuff like that, but I [hope] I can be the people person that he is.
Well now that you're on The Ultimate Fighter, the endorsement deals may be coming your way soon. How did you get on the show in the first place?
In March, I went to New Jersey for the tryouts, where we had to do [things like] grapple in front of [UFC President] Dana White and do interviews—it was all day long. Thousands of people tried out and thousands of people sent in videos to try to get on the show. If you made it past that first contest, then you got interviewed again, and then if you made it past that [second] interview, you went to Vegas to do your medicals, where they made sure you were healthy and that you aren't on any performance-enhancing drugs. They also interviewed you again. The show started [filming in Las Vegas] on June 5. The process of making it on the show was very long.
What were the interviews like?
Oh, gosh. You would think that they would ask you questions like, "Why did you get into fighting?" But they were definitely asking personal questions and trying to get under your skin. They'd ask you stuff like, "What's your sexual preference?" or stuff that probably can't even be published. They wanted to see what kind of person you were when you were pushed to the limit. They wanted to see who was going to be entertaining and who was going to be boring. At the end of the interviews, I didn't know whether I did good or bad, because they were so crazy.
Clearly they liked your responses. Did you feel like you had to say something provocative to make it through?
No, I just acted like myself. I wasn't going to be different for the cameras. I told them how competitive I am. I believe that I'm probably the most competitive guy at our [Sacramento] gym, and there are a lot of tough guys in our gym. I also showed them that I'm outgoing. And that I have a temper. I have a short fuse. They were [probably] hoping that I would blow up on TV.
And did you?
I can't really talk about that. But [the shoot] is six weeks long, and that's a pretty long time to be putting on an act. Everybody's true colors come out. Anyone who started on the show with the intentions of, "I'm going to be this levelheaded guy"—eventually, people get on your nerves. You live with [these guys] every day. All that you get to do is eat, train and live [together]. You get no form of entertainment. You don't get TV, music or books—the only book you could bring was the Bible. They don't want you sitting on the couch watching TV, they want you talking bad about someone and stirring up stuff in the house.
They follow you 24/7 with a camera. I mean, there is not one time, day or night, when you're not being watched. There are cameras mounted up in every room and there are also camera crews following you around the house. And you're miked up at all times—the only time you can take it off is when you're sleeping. You have no privacy. It's a very tough process.
Knowing that would be one of the downsides of being on reality TV, you still wanted to do it?
Being a UFC champion is my goal. I mean, in my mind, I'm going to make it to the UFC no matter what, but this is just kind of a fast track to that goal and creating a name for myself. It's a completely different situation than [a reality series like] The Jersey Shore. We're not out there just hanging out and having fun. We are competing. Fighting is what we've chosen for our career, our only means of living.
The cast for The Ultimate Fighter's new season was announced in late August. What's the reaction been like?
It's been through the roof. My phone alerts me every time I get a new friend [request on Facebook] or a follower on Twitter, and on the day they announced [the cast], because of all the new friends, my phone died twice.
What about your family? Are Mom and Dad excited?
Oh yeah, they're so excited. They're probably even more excited than myself. They have always been very supportive of everything I do, from my wrestling, my schooling, and now my professional fighting career. My dad is a competitive person and was a wrestler himself. And my mom, it's funny. Back when I was wrestling in college, she told me that I was going to be fighting. She just always knew that after wrestling, I was going to be fighting. She would watch The Ultimate Fighter and say, "Oh, I could see you on this show." So when I told her [I was going to be on it], she was like, "I told you!" She's very excited. My entire family is, actually—my brothers, my grandparents. My grandma, Gladys, is where we all get our toughness from.  She's ornery.
OK, so your mom was a fan of the show. Were you?
Yeah. I was in college when the show first started [in January 2005]. All of my friends and teammates and I would get together and watch it. It was like the only TV show about fighting and we thought it was the coolest—we wouldn't miss [an episode]. So I've been watching The Ultimate Fighter for seven years. It's kind of ironic that I'm now on it. It's crazy.
Have you wrapped your head around that yet?
I think it's going to be really cool, but I'm kind of nervous. You watch yourself on a home video with your friends and you think, "Oh man, my voice sounds weird." Now I'm going to be on national TV with millions of people watching. I'll be my biggest critic. I'm going to pick myself apart over things and be embarrassed. But I was just myself and I'm happy about being on the show. I don't regret any of it.