The Boy With the Dragon Tattoo
The list of his regulars reads like a Rolodex of Sacramento's culinary elite. Randall Selland. Molly Hawks. Ginger Elizabeth. Now, two years after opening the sophisticated expansion of his celebrated restaurant Kru—known for its exquisitely crafted sushi—top chef Billy Ngo is going underground, literally, for a new venture with a concept as unpretentious as he is: a basement ramen bar. How did a Chinese boy born in a Hong Kong refugee camp become a thirtysomething star of Japanese cuisine? The story, it turns out, is written in ink. On his skin. And luckily, for those who haven't seen him naked, it's also told in the pages that follow.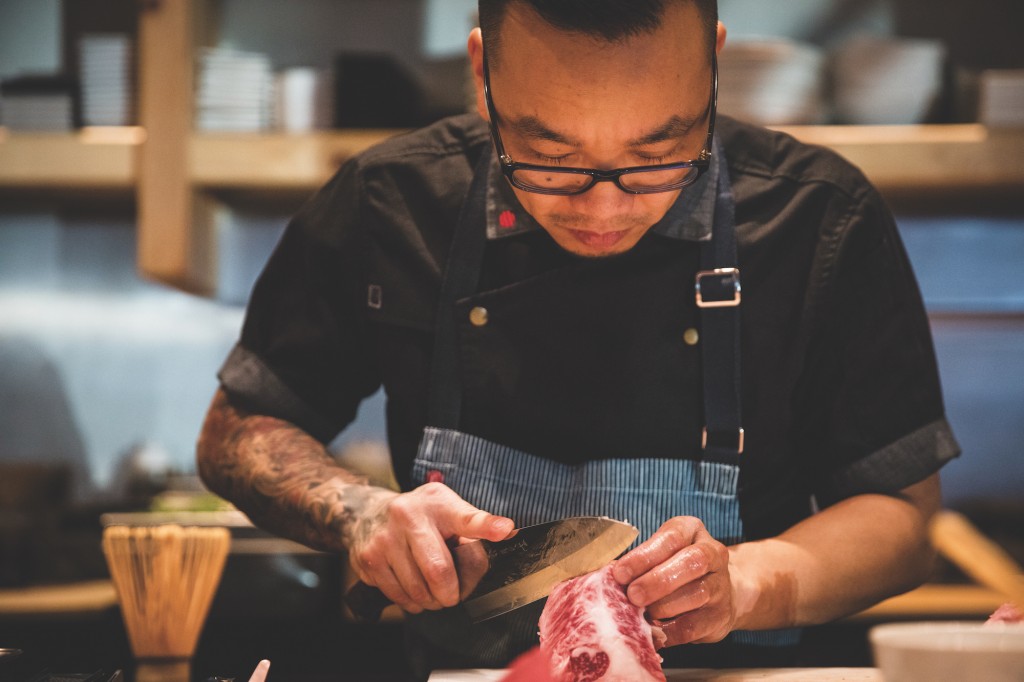 AAccording to Han Dynasty legend, one particularly hell-bent koi, having attempted to ascend a raging waterfall on China's Yellow River for 100 years, was richly rewarded for his perseverance on the day he finally leapt to the top of the cascade: The gods had deemed his determination to overcome both an unrelenting current and the taunts of a demonic peanut gallery worthy of their highest incarnation of power and strength—the dragon.
When Billy Ngo tells me this story, he puts down the toast he's been dipping into the soupy combination of salsa and sour cream that has pooled alongside his Mexican omelet so that he can show me his koi tattoo. Even with such loaded imagery emblazoned on his right forearm—which also includes a hannya, an angry and resentful Japanese female demon that can scare off evil spirits—Ngo's first impression is hardly intimidating. The chef-owner of Kru has a wide perma-grin that's magically devoid of artifice. In this moment, sitting in a corner booth at Fox & Goose, he strikes me as just another friendly Sacramento kid ("I pretty much feel like I'm 22," says the 37-year-old) who's visibly self-conscious about wolfing down a hearty, well-deserved breakfast—he spent the previous night making bigeye tuna nigiri for nearly 900 guests at the annual Tower Bridge Dinner—under the scrutiny of a reporter.
Sporting the urban uniform of a proud native son (a brand-new Kings lid worn low over his eyebrows, Volcom shorts, flip-flops), today he'll traverse the grid for a Starbucks powwow with his business partners, a dog food pickup for a friend, and a Brazilian jiujitsu class. Such apparent normalcy belies Ngo's prominence as one of the city's youngest and edgiest restaurateurs, responsible for elevating sushi—and date nights—in Sacramento since 2005, when he opened Kru in a tiny space near 25th and J streets.
In the 13 years since, Ngo has also become one of the most respected chefs in town—the kind whose culinary creativity attracts many of the biggest names in the local dining scene to his kitchen when they're not helming their own—and he has fine-tuned an unofficial M.O. to bring as-yet-uncharted experiences to his hometown. In 2016, he moved Kru to a bigger location in East Sacramento with a sophisticated design—lofty ceilings, pine surfaces, driftwood accents, an artisan ceramics display and a large mural depicting herons and sea bream fish created by Ngo's tattoo artist, Corey Bernhardt—that's better aligned with the quality and artistry of the Japanese cuisine he's known for. It's also ideal, in size and vibe, for a fashionable, under-the-radar weekend after-hours scene that redefines the typical sushi restaurant experience: Ngo Reservations features "Ngo nonsense late-night eats & drinks," such as an unexpected "holy grail of a burger"—high praise from burger connoisseur Rodney Blackwell, founder of the annual Sacramento Burger Battle cook-off—that combines the luxury of Wagyu beef with the nostalgia of Kraft Singles.
Ngo also helped introduce the mainland food trend, poke—a Hawaiian staple of raw fish, seaweed, soy sauce and sesame oil—to Sacramento a couple of years ago when he opened Fish Face Poke Bar in the WAL building. A second outpost in Carmichael's Milagro Centre soon followed, and a third came online in September 2017 at Emeryville's Public Market, which houses another local export, Hot Italian. And unbeknownst to most folks, Ngo co-founded Healthy Hounds Kitchen in East Sacramento in 2016 with two fellow canine lovers to provide fresh dog food made from top-quality, fit-for-human-consumption meats and vegetables. Even the puppy rice is sushi grade—it's sourced from Rue & Forsman Ranch in Yuba County, which also cultivates the rice that Ngo uses at Kru. A second Healthy Hounds recently opened at the Ice Blocks, and for the grand opening in late October, Ngo made sushi hand rolls for passersby to underscore the top-notch rice and veggies in the dog food.
Ngo seems to have either inherited a supercharged cooking gene or acquired his deep appreciation for food early in life through sheer immersion. The kitchen specialties at his family's South Sacramento apartment included nutrient-rich soups that were highly ingredient-driven, long before "ingredient-driven" was even a thing.
This spring, the chef is set to open Kodaiko, a basement ramen joint on K Street in the shadow of the Golden 1 Center, which he envisions as a pre- or post-event spot to slurp a no-frills, but wholly nourishing, bowl of authentic Japanese comfort food. When Ngo and his partners signed the lease on the space in 2011, the Kings arena was still firmly rooted in Natomas, and the 700 block of K Street was hopelessly blighted. Their foresight did not include springy noodles swimming in a Tokyo-style broth made with pork bones and house-dried snapper. Kodaiko is the ramen bar that almost never was, and may or may not represent a dream unrequited for Ngo, depending on your perspective. But more on this later.
Ngo points to the nape of his neck, the origin of another tattoo. "There's a dragon on my back," he says. Though he's speaking to the literal depiction, ink on skin, of a powerful mythic creature, I wondered if there wasn't something more to his words.
**********
ou'veY heard of boat people, right?" asks Le Chau, Ngo's older sister number four, the one closest to him in age. "That was us. We were boat people." In 1979, a couple of years before her baby brother was born in a Hong Kong refugee camp, the Ngo family, ethnically Chinese, fled their home in the war-torn Vietnam port city of Hai Phong. They arrived in Sacramento in 1981, at the behest of a few aunts and uncles who had already touched down here. Buu "Billy" Ngo—future culinary pioneer of Sacramento, partly responsible for introducing an otherwise meat-and-potatoes ranchland crowd to the elegant and exotic flavors of Japan through such imaginative and now-iconic dishes as uni panna cotta or scallop nigiri topped with shaved foie gras—was just 1 month old.
To be expected, Ngo's early childhood memories of this upstream transition from Third World scarcity to First World opportunities aplenty are vague. However, his older sisters, whom Ngo considers supplementary mothers, have sharp recollections of the first mattress the family ever owned, found behind a dumpster; the countless school field trips they missed out on, unable to afford the mandatory $1 fee; and the candy-dispensing toys they never received, but their brother seemed to effortlessly procure, along with other privileges, just by virtue of his prized ranking in Chinese culture: the only begotten son.
"I'm surprised Bill ended up being the best cook out of all of us, since he never had to do any cooking or cleaning while we were growing up!" says Chau, laughing. Even so, Ngo seems to have either inherited a supercharged cooking gene or acquired his deep appreciation for food early in life through sheer immersion. Thirty years ago, his parents owned a Chinese restaurant in Rancho Cordova called the Emperor—"I remember getting picked up from school and hanging out there while they cooked," says Ngo—where moo shu pork and egg foo young were customer favorites. The kitchen specialties at the family's South Sacramento apartment on Florin Road included nutrient-rich soups that were highly ingredient-driven, long before "ingredient-driven" was even a thing: sea cucumber abalone soup with dried goji berries; Silkie chicken ginseng soup with dried dates and Chinese yam; pork bone and lotus root soup with carrots. Based on traditional Chinese medicine, regular consumption of these potent brews could revitalize energy, sharpen eyesight, and even prevent nosebleeds. Mama Ngo has survived two cancer battles on the stuff.
Ngo's longtime friend and business partner in Kru 2.0, restaurateur Kimio Bazett (Bottle & Barlow, Hook & Ladder, The Golden Bear), recalls how the chef's natural gravitation to soup helped him survive a spring 2015 trip to Japan that was part R&D and—judging from the reports of 4 a.m. in-room massages and countless whiskey highballs—part reenactment of The Hangover. "After a night of drinking, Billy would sip instant kimchi soup from 7-Eleven as a preventative measure," says Bazett. "The guy just loves his broth."
That love shows in Ngo's lusty mushroom dashi soup with a single braised-duck dumpling that is sometimes served during the suimono (broth) course in Kru's indulgent, three-hour omakase "chef's choice" experience. But for a young Billy, it wasn't love at first slurp. "I didn't enjoy soup growing up because I was forced to drink it," he says. "My mom would always say, 'Drink your soup, drink your soup. It will make you stronger.' " Now, of course, he drives to his parents' house in Elk Grove every weekend to pick up a freshly simmered batch of some scratch-made elixir, a loving gesture from a couple of empty nesters, and a corrective measure for their son's vices, extreme departures from his sublime craft that include Jameson shots with Coors Light chasers, AM/PM burritos, Hot Pockets and Mountain Mike's pizza. "Oh, yeah—he's not afraid of junk food either," says Bazett.
**********
On a recent Saturday night at Kru, Ngo is slicing a meaty filet of Passmore Ranch sturgeon at his station, located at the midpoint of the 30-foot-long sushi bar. The pine showpiece is four times the length of the one on J Street, where his sous chefs worked in such close proximity that accidentally knifing each other was an actual job hazard. Here, Ngo jokes that talking to his chefs is no longer a matter of turning his head in their direction and saying something. "Now it's faster to text them!" he says.
Ngo's hand has the steadiness of a surgeon's, slicing the flesh of the fish using one long, blade-length stroke of his prized Nenox yanagi knife. Smooth though the motion may appear, it doesn't exactly seem effortless. Ngo couldn't do this with his eyes closed or with one hand tied behind his back. Between pockets of friendly conversation with guests—including a festive group of fellow Sacramento Kings season ticket holders who invited the chef to partake in their sake consumption—he returns again and again to the quiet concentration required of the cutting edge.
Sloughhouse fish farmer Michael Passmore is mesmerized by Ngo's skill with his prized sturgeon, especially in light of its leathery skin, which the chef turns into crispy "chicharrones" to garnish Kru's braised pork belly dish (incidentally, a nod to the Ngo family recipes). "I love watching someone competent cut a sturgeon," says Passmore, who has had plenty of opportunity to do so, having worn a Norm Peterson-like groove in the corner counter seat at the old Kru, where he once roosted for nine hours, popping sushi the whole time. "I want to see how they attack it. When Bill's hands get going, holy sh-t!"
Ngo was introduced to sushi craft at the age of 16 during his first high school job at the long-running and now long-shuttered Fuji restaurant along the Broadway corridor, which led to gainful stints at other Japanese establishments. At Mikuni, he was encouraged to be imaginative (he cringes at the thought of an early creation, albacore nigiri brushed with hot scampi butter) and at Taka's Sushi in Fair Oaks, he acquired the finer techniques of cutting fish from the owner, Taka Watanabe. "I learn better by doing, not by reading books," says Ngo.
As such, truant behavior at school started early, around the third grade, when his parents sent him to an after-school Chinese language academy. "I'd wait until after they dropped me off, then I'd go to the creek to catch tadpoles and hang out." Consequently, communicating in the family's native tongue still requires the gracious translation services of his sisters, who may have enabled their little brother's misdeeds—while at Valley High School just outside Elk Grove, Ngo added smoking and drinking to his rebellious repertoire—by acting as a four-deep protective buffer. "I graduated with a D average," he says. I remind him that D stands for "diploma." He laughs.
In 2001, when Ngo started at the California Culinary Academy in San Francisco, his marks were strong, especially in classes taught by such renowned chefs as dim sum queen Rhoda Yee. But due to the demanding lifestyle of a student experiencing newfound independence (the rapture of the City by the Bay, with its infinite distractions, proved to be time-consuming, as did his weekend job at Taka's two hours away by car), he was not able to maintain his promising performance out of the gate. Nevertheless, Ngo graduated in 2003 and returned to Sacramento to extern with O.G. restaurateur Randall Selland at The Kitchen.
"Buu has always strived to be better in his cooking," says Selland, whose East Sacramento Italian deli, Obo', shares a wall with Kru. (When asked if this conjoined location feels like a fated, full-circle moment between mentor and mentee, Selland replies, "I'm not that spiritual, but I suppose that's true.") "Buu has a genuine desire to be the best at what he does. Not just for show, either, like a lot of other chefs, but because something inside him demands it. Call it an insatiable curiosity, call it drive. Whatever 'it' is, it's strong."
Those intangible, abstract forces that guide Ngo's trajectory aren't perhaps as mysterious as they may seem. They might include, for example, the manifest differences between him and his straight-A siblings; the pressure of greatness often saddled upon males in Chinese culture; the sacrifices made by his parents, who endured the perils of war and the jeopardy of escape just for the privilege of pulling a used mattress from a dumpster in Sacramento. Motivation enough to make sure you're cutting fish and making sushi better than anyone else in town. The push to the top of the waterfall is constant.
In May 2005, Ngo, then just 24 years old, fueled by all of the above and brimming with "it" factor, opened Kru in midtown. He didn't go it alone; Kru was backed by Taka Watanabe and Peter Kwong, who co-owned Taka's Sushi, and his ever-faithful parents who refinanced their home for their son's solo debut as a sushi chef and restaurant owner. Investment dollars aside, the confidence and trust placed in Ngo was duly filed to the list of debts. Sometimes the faith of others is the hardest tab to settle.
Ngo is slicing a meaty filet of Passmore Ranch sturgeon. His hand has the steadiness of a surgeon's, slicing the flesh of the fish using one long, blade-length stroke of his prized Nenox yanagi knife. Between pockets of conversation with guests, he returns again and again to the quiet concentration required of the cutting edge.
"Opening a business is sink or swim," says the chef. "I know people always say that, but it's true. You feel like that little koi going upstream. Kru didn't make any money for the first few years. There were multiple times that we were ready to close down. It was very frustrating, and I was pissed! I was working six, seven days a week—no manager, no one to help me inventory meat and fish or taste sake and wine. Now I have the help of 45 employees at Kru and I work four nights a week [at the restaurant]. I'm still tired. I think back now and I'm like, 'How did I do it?' "
Just a hunch, but his indefatigable work ethic might have something to do with it; after all, a gritty kind of stick-to-itiveness is required when all signs point to looming defeat. While the Great Recession may have played a part in the early struggle, Ngo mostly attributes these growing pains to the double whammy of being young and being the new kid on the block. "No one knew who I was. I was just a cook for years and I really didn't know how to run a business," he says. Even so, ballsy must you be if such dire circumstances still don't affect your commitment to quality. Ngo credits Selland with indoctrinating an anti-frugality mindset where ingredients are concerned.
Sourcing locally, of course, is a priority, as he does with daily menu staples such as rice, sturgeon and caviar (also from Passmore Ranch). But frankly, the chef believes that the best uni comes from Hokkaido. King salmon from New Zealand is particularly oily, which means more flavor and an unbeatably buttery texture. And Ngo flies his king crab in from Chile and Norway. "Buying the best ingredients is an investment that pays off," says Ngo.
One sign that the investment is paying dividends is that Kru has become a gastronomic getaway for many of the city's top chefs. Molly Hawks and her husband Michael Fagnoni, chef-owners of Hawks Restaurant and Hawks Provisions & Public House, are two of those culinary luminaries who often find themselves at Ngo's sushi counter on their days off. "Just watching Billy [work], one can see the respect he has for the product, the craft and his tools," Hawks says. "Chefs like Billy help push the Sacramento culinary scene forward. It reminds us to push harder and strive for greatness." Meanwhile, Kru regular and former raw fish skeptic Ginger Elizabeth Hahn of Ginger Elizabeth Chocolates credits Ngo's innovative rolls with converting her into an "avid sushi fan." Selland, another frequent patron, was particularly impressed that Ngo was once able to devise a special omakase dinner for his wife Nancy Zimmer, which she found "really eye-opening," wary as she is of certain meats and seafood. And a few years ago, when Sactown asked 25 of the most prominent chefs in town where they most like to eat when they're off the clock, Kru was cited more than any other restaurant in the city. "Billy Ngo at Kru is probably the best chef in town," said Chris Nestor, chef-owner of House Kitchen & Bar and Ink Eats & Drinks. Chef Deneb Williams, who opened the Italian seafood restaurant Allora this past February, gave props to Ngo for his uncompromising commitment to using premium ingredients. "He is just an absolute genius," Williams told us. "He's always bringing in amazingly high-quality fish; he spares no expense."
Ngo also spares no words when it comes to explaining the historically high price of sushi (for reference, the omakase dinner at Kru is $125 per person). "Part of the reason why sushi is so expensive is because we pay for the whole fish, per pound," explains the chef, who sits up a little straighter as he prepares to unleash this pent-up manifesto. "And sometimes they're big fish, and the head is 30 percent of the weight, but you don't get that part on your plate. Same with the bloodline, the skin, the tail and the guts. So even though the fish was sold to us at $17.59 a pound, we really paid $57 a pound for the actual usable product."
Once, when Chau and her husband were having dinner at the old Kru, she thought she witnessed her brother toss some below-grade fish in the trash. "I was like, 'Oh my god, we grew up so poor. Why are you throwing away perfectly good food?' But everything needs to be up to his standards, and I remember being really impressed by that," she says. The chef insists that his dear sister's memory is cloudy, and that he probably just threw away a part that couldn't be used. In fact, many would-be discards get menu-worthy treatment in the Kru kitchen: fish collars are battered and fried for the "tapas" dish, hamachi stomach lining is cut into "ribs" and grilled for an appetizer special, crab shells are used to flavor dashi for chawanmushi, a steamed and savory Japanese custard, and mackerel skeletons are deep-fried for snacking. The aforementioned Sacramento Kings fans asked for the off-menu bones by name, as ballers at Kru often do.
**********
When Ngo's zippy Mercedes GLA screeches into a parking lot on 8th and J, he's 20 minutes late for a Starbucks meeting with two of his Kodaiko partners, Peter Kwong and Curt Pow, who owns the 10th Street bar Elixir and has known the chef since "he was a punk 17-year-old with blond hair" drag racing a souped-up Honda Civic on National Drive in North Sacramento. Ngo's standard coffee drink is waiting for him at the table, a Vietnamese coffee hack—quad shot of espresso in a grande cup, filled to the top with cream—schemed up by Kwong, known for his money-saving savvy. "It costs half the price of an iced latte!" says Ngo.
They're here to discuss such granular items as the point-of-sale system, the soda guns, the security cameras and the cardboard sleeves that will wrap the takeout ramen containers. Under Pow, the bar program will take after Elixir's democratic selection, from domestic drafts to top-shelf whiskey highballs. The fairly minimalist food menu—just a few snacks and noodle bowls—is being crafted by Ngo and another Kodaiko partner, Takumi Abe, a Japanese-American chef who worked in San Francisco restaurants for a few years before decamping to Japan in 2011 to pursue an unofficial ramen education by shadowing acclaimed Tokyo ramen bloggers Brian MacDuckston of Ramen Adventures and Keizo Shimamoto of Go Ramen.
Abe's subsequent Bay Area ramen pop-ups, which he called Kodaiko after the littlest drum in a Japanese taiko ensemble ("We just thought it was a great name for a small ramen shop," he says of the decision to ultimately adopt it for the K Street venture), featured artisan craftsmanship on the order of long-simmered broths from dried bonito and scratch-made gyoza wrappers and ramen noodles. The latter, concedes Abe, who moved to Sacramento in 2013, is best left to heavy machinery ("Homemade noodles will never be as good as ones made by a large machine with the weighted roller. You need a lot of pressure to make them chewy," he explains) and thereby won't be made at the cozy new restaurant. The partners are keeping their eyes peeled for an off-site space just large enough—400 square feet, perhaps—to accommodate a top-of-the-line noodle-making apparatus.
The ramen selection will be tightly curated, with one pork-based broth—a Tokyo-style tonkotsu gyokai made with pork bones and house-dried snapper—and a potentially sacrilegious vegan mushroom broth that gets its satisfying fattiness from cashew cream. "We also want to do miso ramen, but we'll do it somewhere else. After that, we'll do another place that focuses on another [kind]," says Ngo of expansion plans. "I want [each spot] to just do one or two things really well, instead of trying to do everything." While not the first ramen shop in town by a long shot, Kodaiko will be most authentic, space-wise, to the beloved ramen stands found in the underground subway stations and in the basement food halls of large department stores in Japan. In terms of eats, the bowls will feature classic toppings such as marinated eggs, thick-cut chashu pork, and mountains of negi (green onions), and additions to the winter ramen menu might include roasted green chili with stewed pork or charred eggplant with miso. "We have a simplistic approach. You won't be able to add extra spinach or extra garlic," says Ngo, whose recent trip to New York included visiting the Brooklyn outpost of the Fukuoka-based ramen chain Ichiran, famous for its one-person cubicles designed to remove distractions so that the diner can fixate on his or her minimalist bowl of ramen. Ngo captioned an Instagram post depicting a row of these quasi-isolation booths thusly: "When you like ramen but don't like people."
Misanthropes might want to steer clear of Kodaiko, where Ngo wants to eventually launch a ramen version of his interactive chef's tasting experience at Kru. "Everybody's heard of omakase. I think it would be fun to do that revolved around noodles. I love that counter service [concept]," says Ngo. "I'd probably do something like seven courses—a couple of ramens, a couple of sashimi courses, some pickles."
A few months out from Kodaiko's projected spring debut, the 3,300-square-foot underground venue, vintage brick walls and original arched openings still intact, looks more like a bomb shelter than the dark, clandestine tableau—marked on the street not by name but by a neon ramen bowl—of glittery mylar wallpaper and Japanese folk art envisioned by Whitney Johnson, Ngo's longtime friend and interior designer at Sacramento's MTA Hospitality who created the looks of such local hot spots as Shady Lady, Bottle & Barlow, Hook & Ladder and, yes, the new Kru.
The last time I discussed this very same space with Johnson and Ngo was over a year ago, when the concept was for the eponymous Buudai restaurant, a 1930s Shanghai opium-den-inspired space that would serve, via conveyor belt, artfully presented dim-sum-esque plates of Chinese food. A stylistically daring reboot, if you will, of Ngo's failed project, Red Lotus, which he opened in 2010, two blocks away from the original Kru.
"Red Lotus was my version of Chinese food, like I do my version of Japanese food," says Ngo. "When you think of Chinese food, you think of large portions, deep-fried, sweet sauces and cheap. But I wanted to use better ingredients and create more composed plates, do more upscale service. Even the bar only served craft beer and cocktails. Looking back, I was stupid trying to be too fancy. For the time and place, the concept was poorly executed."
Pow, who had been eager to partner with Ngo on a second coming of Red Lotus for years, says, "The [2700] block of J Street with Harlow's and all those places just wasn't ready for anything like Red Lotus." The restaurant closed in 2011, and Ngo worked diligently to repay vendors. "I told him, 'Hey, Bill, I've been there. I am there. Whatever works for you,' " Passmore recalls. "It was an out, but still he paid back every dime. He's such an upstanding dude."
In 2015, Pow and Ngo finally decided to join forces on Buudai. But still, the chef wasn't feeling it, despite the anticipatory coverage in the press and the design sketches by Johnson that made the concept seem more real. Twice shy? Perhaps. Fearing a second failure with a cuisine that happens to be the bedrock of his culture and family life could have been additionally burdensome. The self-imposed pressures of being defeated by the food of his heritage may also be exacerbated by the fact that Ngo is often doubted as a sushi chef because he's not Japanese, and has endured countless grimaces from circumspect diners over the years. (His dream retort: "If you're not Japanese, why are you eating sushi?") At the risk of taking the original metaphor too far beyond its Han Dynasty roots and into Game of Thrones territory, the downside to identifying with the dragon is that slayers are always in your midst, and even in your own head.
Of course, pivoting from Buudai to Kodaiko may simply be smart strategy in play. On the same block, the owners of The Red Rabbit opened Tiger in early November, serving up New American small plates via dim-sum-style carts, and the latest outpost of KoJa Kitchen, the cult Bay Area-based Korean-Japanese fusion chain, is also scheduled to launch this spring. So Buudai and its would-be single servings of modern Asian food seemed kind of redundant. "I think Buudai can work somewhere else down the line, but not right here or now," says Ngo, who envisions another downtown Sacramento location for this so-far elusive concept.
Such vital decision-making skills are sharpened at his weekly Brazilian jiujitsu class, which takes place in an old firehouse near 9th and T streets and focuses on real-world combat for the food-industry pros who arrive smelling of cigarettes and Bengay. "Jiujitsu is a different kind of workout," says Ngo, who traded his boxing gloves for a gi uniform a couple of years ago. "You're exerting energy, but you're also thinking as if you're in a chess game. How do you defend yourself, how do you attack? Learning these moves trains you to think through [various] situations in your life."
Like, for example, when a journalist who has just experienced the wonders of a 20-course omakase dinner at Kru poses the dreaded, but inevitable question, "Do you think you're ready for a Michelin star?" Ngo instantly calculates that the best way to answer this double-edged inquiry is not with the ambition expected of a talented and successful chef and restaurateur, but instead with head-on honesty: "No, no, no," he says unequivocally, citing his restaurant's large size, diverse programming and his suspicion that Michelin inspectors in California don't venture farther east than wine country. But even so, "Michelin likes consistency," says the chef. "I'll be honest with you, we can't [operate like] that because we have so many people involved in every dish."
By contrast, Kodaiko is refreshingly streamlined in its concept: "Noodles and stiff drinks," says Ngo. Add contented diners and a lively atmosphere to that simplicity, and Kodaiko also represents the way the chef prefers to eat out at this point in his life. An emotional return, perhaps, to the familiar coziness and vibe of the old Kru. "What makes me most happy is good friends, good food, good drink and good times," he says. "Doesn't that make almost everyone happy? That's why I do what I do."